Do Kate Hudson and Liv Tyler have something to tell us?
July 21st, 2014 under Do they have something to tell us?, Kate Hudson, Liv Tyler. [ Comments:

none

]

Back in the 2000 movie Dr T and the Women, Liv Tyler and Kate Hudson shared a kiss. Over the weekend, the two daughters of rock stars shared another kiss and I have to wonder if they have something to tell us? No, it's just two actresses celebrating 20 years of friendship, but for a second it was fun to think that there was something going on between the MILFs. Right?
---
BTWF talent shows: Liv Tyler and Jimmy Fallon on Star Search
March 30th, 2011 under Jimmy Fallon, Liv Tyler. [ Comments:

none

]

via Late Night with Jimmy Fallon
Before Liv Tyler was an actress and Jimmy Fallon was a host, they were in the singing group Pleather and Lace competing on Star Search. Is it just me or do they look exactly the same as they did when she 10 and he was 13 singing Cyndi Lauper's All Through the Night on the talent show back in 1987? They seriously have not aged a day in 24 years!
---
Is this how a father and daughter are supposed to kiss?
March 22nd, 2011 under Aerosmith, Liv Tyler. [ Comments:

9

]

WireImage
Steven Tyler escorted his daughter Liv to the premiere of her movie Super and I have to wonder if that is how a father and daughter are suppose to kiss? Seriously what is up with that lip lock? I think this tops Angelina Jolie and James Haven's smooch at the Oscars in 2000 in creepiness, don't you agree?
Now having said all of this, I do think they look really cute together…when they aren't lip to lip.
---
Joaquin Phoenix should stick to rap
January 22nd, 2010 under Joaquin Phoenix, Liv Tyler, Miley Cyrus/Metro Station. [ Comments:

none

]

A clean cut and shaven Joaquin Phoenix has finally emerged after last year's lunacy to do a PSA with Miley Cyrus and Liv Tyler. After watching that video, I think he was better off when he was rapping than doing that.
While TWLOHA is all about a good cause, that video is anything but.
---
Kate Hudson and Liv Tyler are so cute together
October 21st, 2008 under Kate Hudson, Liv Tyler. [ Comments:

1

]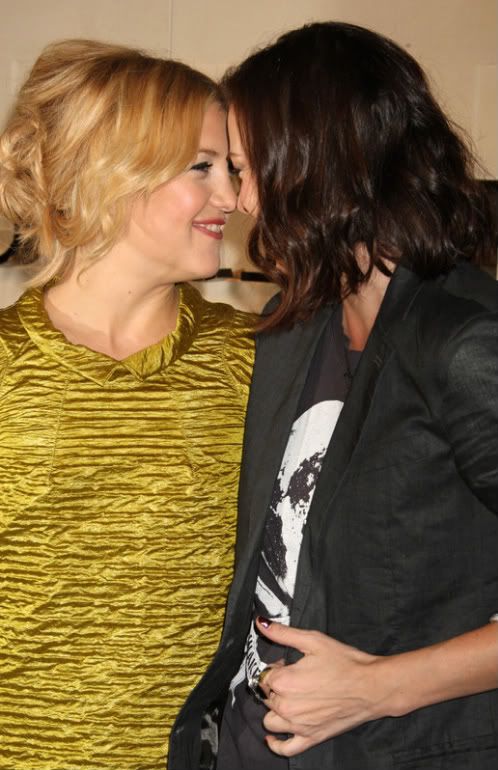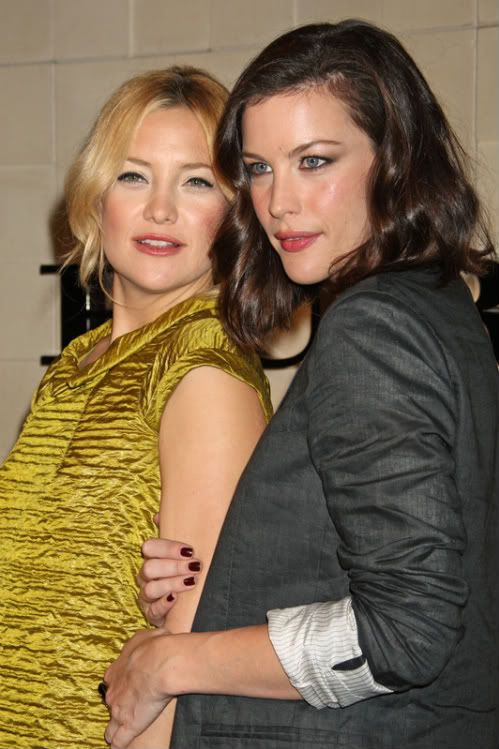 Seriously how cute are Liv Tyler and Kate Hudson together? When are they going to arrange a play date with Milo and Ryder?
---
Liv Tyler's son Milo is saying tisk tisk to the paps!
August 1st, 2008 under Liv Tyler. [ Comments:

none

]

Celebrity Baby Scoop
How precious is that picture of Liv Tyler, Milo and his daddy and I think her husband Royston Langdon. I can't keep up, didn't they get back together after she announced that they were separating?
---
Liv Tyler splits from her husband
May 8th, 2008 under Liv Tyler. [ Comments:

4

]

(photo from WireImage/RJ Capak)


Liv Tyler confirms the recent rumors that her and her husband of five years have split according to People.
"Liv Tyler and Royston Langdon have confirmed their separation. They remain good friends and devoted parents to their son Milo and are requesting that their family's privacy be respected at this time."
I really thought they were going to last, guess not.
---
Who is the biggest MILF in this picture?
April 12th, 2007 under Gwyneth Paltrow, Kate Hudson, Liv Tyler. [ Comments:

1

]
Gwyneth Paltrow, Naomi Watts, Kate Hudson or Liv Tyler? Kate Hudson always looks great, but I think Liv Tyler just looks like a mom.
---
Liv Tyler or Ugly Betty?
February 19th, 2007 under Liv Tyler, Ugly Betty. [ Comments:

none

]
If it wasn't for Milo I am not sure I would be able to tell which one is which? Who knew that looking like Ugly Betty would be the latest trend?
---
Liv Tyler bothered by the pressure to lose baby weight immediately
September 17th, 2006 under Admirable People, Liv Tyler. [ Comments:

none

]
Liv Tyler has slammed celebrities who lose weight too quickly after giving birth. The 'Lord of the Rings' star gave birth to her son, Milo, with musician Royston Langdon, in December 2004, and insists she had no desire to lose her pregnancy weight quickly, despite the pressure on actresses to stay thin. She told Britain's OK! magazine: "Dieting is always a pain. I wanted to enjoy my time out with my son and not be frantic and miserable about not eating and working out. "It bothers me that there is this culture about having to immediately lose you extra weight and I wasn't interested in getting into that." Liv, 29, says 20 months after giving birth she is still struggling to shift the last of her pregnancy pounds. She added: "I've been having a hard time losing the last bit of weight I'd gained during my pregnancy.
Good for her because she always looks amazing whether she is skinny or has a little meat on her bones!
---