I love Nick Jonas Just the Way You Are at The Edge of Glory!
July 3rd, 2011 under Disney Kids, Katy Perry / Lady Gaga. [ Comments: none ]

Nick Jonas was performing an outdoor show on Friday and besides singing his own songs, he sang some covers. He sang his older brother Joe's See No More, Lady Gaga's The Edge of Glory and Bruno's Just the Way You Are. After listening to his takes on the songs, he just became my favorite Jonas Brother. And I am not alone because here is what the Fame Monster Tweeted after she heard him do her latest hit, "Swoon! Nick Jonas singing The Edge of Glory. On my way to press conference in Taichung, listening to it. So dreamy! X" Dreamy is right!!!
---
Joe Jonas got laid!
April 24th, 2011 under Disney Kids. [ Comments: none ]

Ooops that was a typo, I meant Joe Jonas got leid!!! Sorry it was too easy not to go there!
---
Joe Jonas, what big eyes you have
April 10th, 2011 under Disney Kids. [ Comments: none ]

Joe Jonas Tweeted this picture of him with unusually big eyes and I thought it was so cute in a funny sort of way I had to share it with you.
I think that is the most fun I have ever seen the middle Jonas Brother have. Seriously doesn't seem a little uptight?
---
Joe Jonas is a free man
March 17th, 2011 under Disney Kids, Twilight. [ Comments: none ]

(photo from Fame Pictures)


A day after Joe Jonas gushed about his girlfriend in Details magazine, their reps confirmed to Us Weekly he has broken up with Ashley Green. A source told Us Weekly that he "wasn't that into it." Which is a lot different than what he told Details, because he said their relationship "feels good." I wonder what happened that it went from good to bad so quickly???
So now that the Twilight/Disney pairing is over, who will be the next manufactured, I mean, crossover relationship?
---
Joe Jonas hit on his sister-in-law
March 16th, 2011 under Disney Kids. [ Comments: none ]

Joe Jonas is opening up about the Details in his life to the magazine and he told them he once hit on his brother Kevin's wife, Danielle Deleasa. Here are the Details about that, "'Actually, I hit on her first,'" Joe says of meeting his future sister-in-law when the band of brothers were on vacation in the Bahamas. "'And after that she and Kevin hit it off, of course.'" I wonder if now that she knows that the oldest Jonas Brother is such a loud snorer if she wishes she chose Joe over Kevin?
In the magazine that is out on March 29, he also goes in Details about going solo, dating Ashley Green, the gay rumors, who broke his heart, drinking and basically just growing up. It is a surprising good read with sexy (yes I just wrote that) pictures to go with the story.
---
Take a minute to remember the Class of 2008
February 14th, 2011 under Disney Kids, Twilight, Zac Efron. [ Comments: none ]

WireImage
Back in 2008 Zac Efron was starring in his final High School Musical movie, everyone wanted a Jonas Brother and we were about to get to know everything about all the Twilight stars. Now 3 years later HSM is a thing of the past, no one cares about the Jonas Brothers anymore and the Twihards are starting to move on. So what happens to Zac Efron, Joe Jonas and Kellan Lutz in 2011? Well the three former-hotties go to a fashion show together and we remember the Class of 2008.
---
The Oompa Loompas claim their next Golden Ticket winner…Joe Jonas!!!
November 24th, 2010 under Disney Kids. [ Comments: none ]
\
via David Arquette's Twitter
So remember in Willy Wonka and the Chocolate Factory every time one of the Golden Ticket winners ate a forbidden candy, the Oompa Loompas would take them away? Well I want to know what candy Joe Jonas ate because whatever got the little orange men to come and take him away, is something we need to give to other annoying celebrities. Sorry Joe I wish I could it was nice knowing you, but just like Veruca Salt we're not going to miss you.
Oompa Loompa doom-pa-dee-do
I have another puzzle for you
Oompa Loompa doom-pa-da-dee
If you are wise, you'll listen to me
---
The Jonas Brothers 15 minutes are almost up!
November 8th, 2010 under Disney Kids. [ Comments: none ]

In case you were wondering if the Jonas Brothers 15 minutes are almost up, looks that is the case because Disney Channel has cancelled Jonas LA according to TV Guide. What you didn't know that they had a series on the Disney Channel? According to the amount of people that were tuning in each week, looks like we were not alone.
Well there is some good news, their career can guest star as a Zombie on AMC's The Walking Dead because unlike their show it got picked up for another season!
---
Mean Joe Jonas
July 22nd, 2010 under Disney Kids. [ Comments: none ]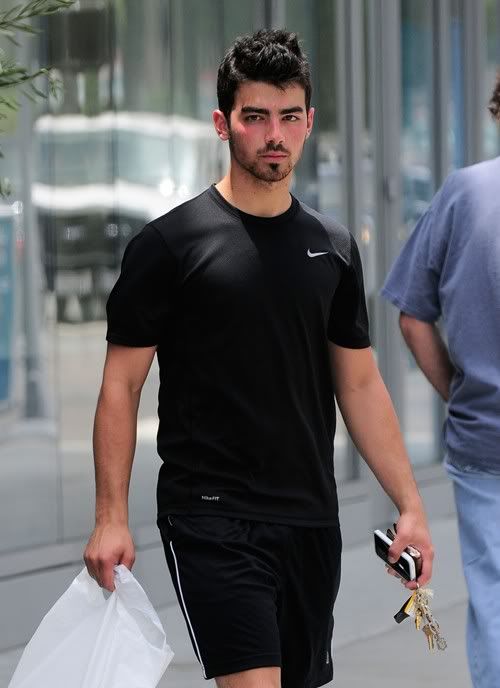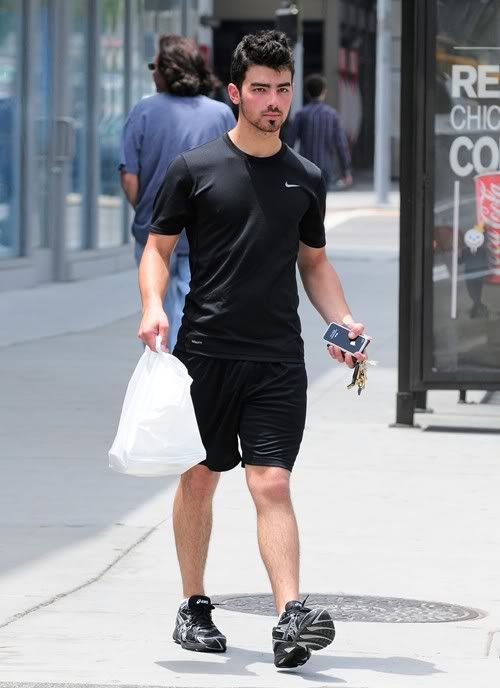 Fame Pictures
Who knew that anyone from the sweet little Jonas Brothers could have a death stare, but looking at these pictures of Joe Jonas we can tell that he knows how to look mean. I don't know why he is so pissed about getting his picture taken because you would think by now he would be used to it.
---
Joe Jonas looks to be on Team Jacob!
July 2nd, 2010 under Disney Kids. [ Comments: none ]

WireImage
Joe Jonas attended the London premiere of The Twilight Saga: Eclipse and it looks like he is on Team Jacob. Remember when Joe was the cute Jonas Brother? Well now he is the hairy one. He seriously needs to shave and get those eyebrows plucked so he no longer has that unibrow. Oh and he desperately needs to lose those glasses.
On a positive note at least he is dressing better, his last few suits looks they were bought at Nerds'r'Us.
---