Mark Wahlberg challenges Michael Fassbender to a big d!ck contest!
February 9th, 2013 under Inglourious Basterds, Marky Mark. [ Comments:

none

]

via Daily Mail
Mark Wahlberg and Michael Fassbender were guests on The Graham Norton Show and the host asked Marky Mark about his ability to do voices. It was then that the Ted star said that the Inglourious Basterd was also good at voices, so Wahlberg had a challenge for him. He challenged him to a big d!ck contest, but then Wahlberg said he would lose because he left his at home. So I guess he kept that prop from Boogie Nights which I am sure his wife is very happy about.
And on that note Mark Wahlberg also talked about how his youngest son like to punch as hard as he can in the balls. In fact when Brendan met Dwayne Johnson that is exactly how the 4 year greeted him. I like his kid!
---
Mark Wahlberg singing still has The Touch!
January 18th, 2013 under Jimmy Kimmel, Marky Mark. [ Comments:

none

]




Mark Wahlberg was on Jimmy Kimmel Live! at 11:35p yesterday and the ABC late night host asked the band to play The Touch from Boogie Nights when he came out. Well as soon as Marky Mark heard the song he walked right over to the band, grabbed a mic and started singing the song like he did in the movie. Surprising both Kimmel and us with a nice a little treat. The only thing that would've made it more
awesome is if he recreated that scene at the end of the movie. You know the one where Dirk Diggler reveals how huge his d!ck is!!!
Wahlberg wasn't there to talk about the movie that came out 15 years ago, he was there to talk about Broken City that comes out today. The actor/producer revealed how he made the movie for such a low budget and listening to him tell the story convinced me to go see it.
BTW in case you forgot how awful Mark Marky sang Stan Bush's song The Touch in Boogie Nights, you can relive it below.
---
Mark Wahlberg kisses a manmaid!
January 11th, 2013 under Marky Mark. [ Comments:

none

]

Mark Wahlberg was on Despierta America and he kissed a man dressed up as a cleaning lady. Raul Gonzalez, the show's host was having fun pretending he was in love with Marky Mary and the actor played along with him. In fact before Wahlberg kissed him, he grabbed the Univision host's funky bunch!
I love that Wahlberg is having more fun with the press and not being so uptight during interviews. It has really helped his image.
---
Mark Wahlberg says hi to Philly's Mother Nature!
January 9th, 2013 under Marky Mark. [ Comments:

none

]

Mark Wahlberg was a guest on Fox 29 News Philadelphia this morning and he did something he hasn't done before, and never should do again. He did the weather and traffic for WTXF and it was as messy as the roads after an ice storm. Where are some trees when you really need them?
Actually he wasn't that bad, at least he looked like he had a lot of fun with it.
---
Pain & Gain looks like you will gain pain if you see it
December 19th, 2012 under Marky Mark, The Rock. [ Comments:

none

]

When I saw the paparazzi pictures of Mark Wahlberg and Dwayne Johnson filming Pain & Gain in Miami, I wanted to see the film because I am a fan of both actors. But now that I've seen the trailer, there is no way you could get me to see it when it comes out in April. Granted I should've known it would be unwatchable as soon as Michael Bay's name came up on the screen.
---
Will Broken City be your January fix?
October 4th, 2012 under Marky Mark, Russell Crowe. [ Comments:

none

]

The trailer is out for Broken City and I don't know how I feel about this movie. Part of me thinks it looks good, but the other part of me thinks it looks Lifetime movie with a much bigger budget. How do you feel about the film that comes out on January 18th?
---
Why did Mark Wahlberg give up pot?
June 29th, 2012 under Conan O'Brien, Marky Mark. [ Comments:

none

]

Mark Walhberg was on Conan O'Brien's TBS late night talk show and the host asked him if he has given up anything since he became a dad. Well Marky Mark told him that one day his daughter was driving in the car with his wife and the little girl asked what a smell was. Rhea Durham told her it was a skunk and she said daddy smells like that all the time. Once he heard that story, he stopped smoking weed. He then added that he was OK with it until he started shooting Ted.
And that wasn't the only bad influence the movie had on him. One day he decided to check out Seth MacFarlane's show Family Guy and because it is a cartoon he decided to watch it with his kids. Well you and I know what type of show it is but he didn't. So when his wife caught him watching the animated comedy, he got in trouble. In fact he told Conan he gets in more trouble than his kids. You know what that makes him sounds like a really cool dad.
---
Don't sit next to Mark Wahlberg at the movies
June 25th, 2012 under Marky Mark. [ Comments:

none

]

Mark Wahlberg was on The Late Late Show and he told Craig Ferguson that he is going to take his kids to see Brave two weeks after his film Ted comes out this Friday. That sounds normal enough a father taking his children to see a family movie, but there is something the father of four does that makes me not want to sit next to him at the movies. Marky Mark told the CBS late night host he doesn't let his sons go to the little boys room during the movies, but instead makes them pee in their Slushee cup. I hope they don't spill that cup before the movie is over.
BTW I can tell you where exactly that part of the interview is, but I have never seen Marky Mark that relaxed during a late night chat that I think you will enjoy watching the whole interview. Like where he tells the Scot he would be perfect for his show Boardwalk Empire and what he would do to him if he decided to guest star on the show.
---
The many faces of Mark Wahlberg
June 22nd, 2012 under Marky Mark, The Many Faces of. [ Comments:

none

]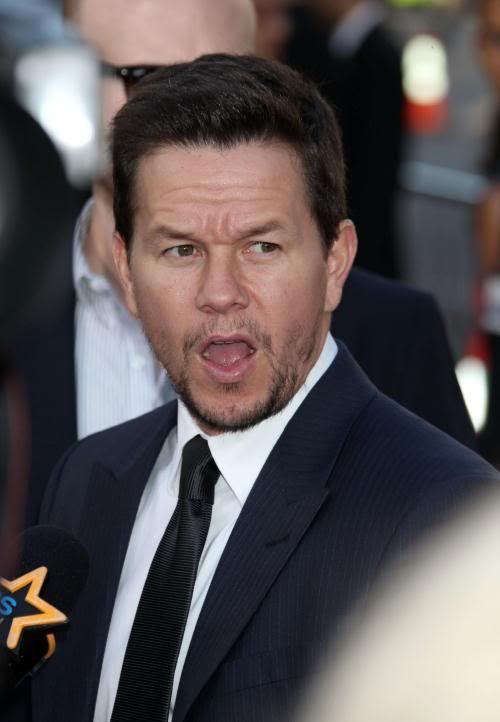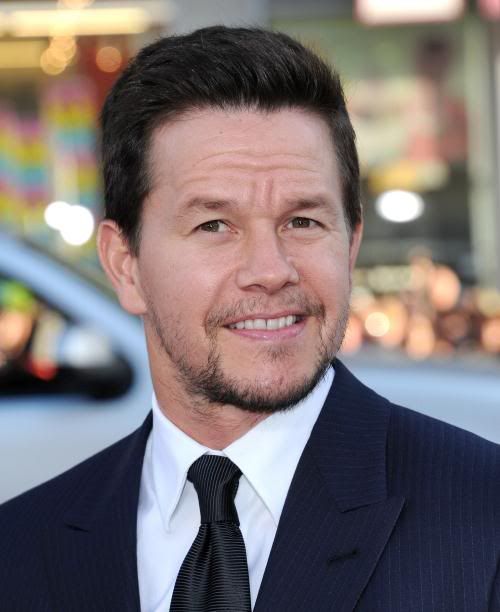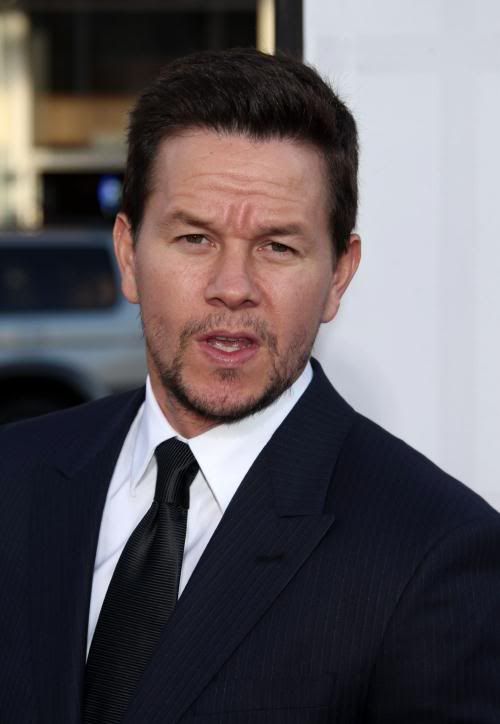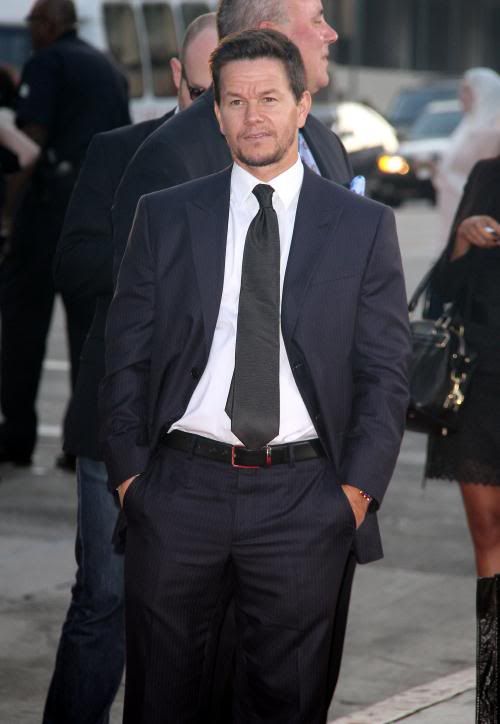 Fame Flynet
Marky Mark, I mean Mark Wahlberg, attended the premiere of his new movie Ted and he looked more animated than the talking Teddy Bear who stars in the movie. I won't say anything negative about him because he kind of scares me. I mean, I know he is more like Ted, but still there is just something so intimidating about him. Although in these pictures, not so much.
---
Mark Wahlberg has a handful of himself
June 21st, 2012 under Marky Mark. [ Comments:

none

]

Mark Wahlberg posted the above picture on Facebook and said, "Kids, don't try this at home." But all I could think is someone asking him just how big he is and him saying "it is close, but no cigar". I know it is an old joke, but it seems to fit perfectly here.
---