This is how kids would kill off Charlie Sheen on Two and a Half Men
June 30th, 2011 under Charlie Sheen, Chuck Lorre. [ Comments: 3 ]

Ever since the rumor came out that the producers of Two and Half Men plan on killing Charlie Sheen off, most people have put in their two cents how they should do it. Well Jimmy Kimmel Live decided not to ask people that are the same age as the Two, but instead asked the ones that are the same as the Half one. Well after listening to how the kids plan on doing it, I think they have watched South Park one too many times and they thought they were asked how they would kill Kenny off.
Hopefully Chuck Lorre is listening to the kids because they did offer some good suggestions!!!
---
Is this how Two and a Half Men is going to get rid Charlie Harper?
June 27th, 2011 under Chuck Lorre. [ Comments: 1 ]

(photo from WireImage)


Ever since Charlie Sheen was fired from Two and a Half Men and the show was picked up for another season with Ashton Kutcher joining the show, we have wondered how the CBS show would write off Charlie Harper. Well TMZ is reporting that they are going to kill him off in the season premiere.
So did they hit the nail on the coffin, I mean head. Co-executive producer Lee Aronsohn, who was not publicly ridiculed by his former star, took to Twitter to talk about the report and in doing so proved why he works in comedy! He Tweeted, "TMZ is wrong. Charlie Harper doesn't die in a car crash. Ep. 1 will reveal he changed his name to Chaim and joined a kibbutz." OMG, I wish and hope that is how they opt to get rid of him because that would be absolutely brilliant. Don't you agree?
When it comes to how they will chose to get rid of him, I think we have to wait until the show comes back to find out because it will be one of the most guarded secrets in television since the Lost finale.
If they choose to have Charlie Harper meet his maker on 2.5, it would not be the first time that a sitcom went that way after the star was fired. When a reported salary dispute lead to Valarie Harper being fired, they killed her off in a house fire and Valerie became The Hogan Family. The show went on for a few more seasons without her. Will Two and a Half Men be as lucky if they put their nemesis 6 feet under?
---
Jon Cryer getting his Duckie on?
June 9th, 2011 under Chuck Lorre. [ Comments: none ]

WireImage
Jon Cryer attended the premiere of Company and in that suit I think he looks like his most famous role from Pretty In Pink. Seriously couldn't you see Duckie wearing that suit with that tie today, especially because he brought back that hairstyle from the 1986 movie. Tell I am not quack and you see it too!!!
---
Ashton Kutcher asks "What's the square root of 6.25?" A: Two and a Half Men!!!
May 12th, 2011 under Ashton Kutcher Demi Moore, Chuck Lorre. [ Comments: 1 ]

(photo from WireImage)


There were rumors earlier today that Ashton Kutcher was now the lead contender to replace Charlie Sheen on Two and a Half Men and he pretty much confirmed the news on Twitter after The Hollywood Reporter said sources told them it was a done deal. Mr Demi Moore didn't straight out say he got the job, but instead Tweeted "what's the square root of 6.25?" Well the answer to that question is 2.5, which is the nickname of CBS's #1 sitcom.
I like Ashton, but after hearing that Hugh Grant wasthisclose to getting the role up until two days ago, he is kind of a let down. Plus I don't know how they are going to work him into the show and make it feel natural. He is too young to be the Harpers unknown brother because their father would've died way before he was born. I don't think their mom Evelyn, could've hidden a pregnancy from her sons. Although they might've missed it because they were preoccupied with themselves. So I am not sure how he will fit into the show.
Now when it comes to him fitting in with the current cast (Chuck Lorre you better keep Holland Taylor and Conchata Ferrell and up their roles on the show), I think he is too young to star along side them. Granted he is married to a woman, who is 15 years his senior, so he might be prepared to work older people than himself. Although his new co-star Jon Cryer starred in his first movie No Small Affair with Demi Moore in 1984 back when Ashton was just 6 years old. That will be an awkward conversation.
So basically I am not loving his casting on the show, but I will probably give it a few chances to see how it all turns out. What do you think of him landing such a plumb role?
Oh and when it comes to how he broke the news, sometimes I forget he was actually Pre-med before he became a model turned actor.
BTW it really has to piss off Charlie Sheen that that kid who married the woman who was engaged to his older brother in the mid-'80s is the guy who is taking over the role he so desperately wants back?

UPDATE: Here is what Ashton's new boss Chuck Lorre had to say about all he has been experiencing since the Sheenigans began and how it is changed him on tonight's Vanity Card after The Big Bang Theory:
CHUCK LORRE PRODUCTIONS, #345

What doesn't kill us makes us bitter. I used to believe that to be both funny and true. Years later I learned that pain could also be the touchstone for personal growth, which of course points back to the original saying, "what doesn't kill us makes us better." Not funny, but perhaps closer to the truth. Or at least the truth I choose to believe in these days. So, having recently experienced a bit of pain, am I better? Well, let's review: I think I'm fairly immune to name-calling now. I'm not sure I could have made that claim a few months ago. I've also come to see that the things I used to think were big deals, are not. Problems appear to be relative. If you have a big one, it makes all the others seem almost charming in comparison. And finally, when your life takes a path you could never have foreseen, it's humbling. In a good way. It's kind of like a friendly reminder from the universe that while you may think you have the starring role in the movie of your life, you're actually just a bit player trying to grab a quesadilla off the craft services table when no one's looking.

So, to sum up: I now have a thicker skin, I'm less likely to sweat the small stuff, and, perhaps most importantly, I have a renewed sense of humility. All in all, better. That being said, I still try to stay reasonably bitter in order to maintain my eligibility in the Writers Guild of America.
---
Hugh Grant & Charlie Sheen could have something in common besides hiring hookers?
May 11th, 2011 under Chuck Lorre, Hugh Grant. [ Comments: 2 ]
WireImage)


In one of the strangest developments since the Sheenigans began, Deadline Hollywood is reporting that Hugh Grant wasthisclose to replacing Charlie Sheen on Two and a Half Men. She said it was so close that they were in final negotiations up until last night when the deal fell through because of "creative differences". She also claimed they were offering him over a $1 million per episode, so I think it definitely wasn't the money that was holding him back from doing it.
I really hope he reconsiders because I think if he was to take over for Sheen the ratings would go through the roof. I already watch the show, but I am sure it would find a whole bunch of new viewers because who doesn't love Hugh Grant? C'mon he has to do it, what else does he have going on? Plus he can hire a lot of prostitutes with all that extra cash!!!
---
Chuck Lorre talks about the monkey on his back!
April 28th, 2011 under Chuck Lorre. [ Comments: none ]
Chuck Lorre has pretty much been silent since all this sh!t went down with his star of Two and a Half Men Charlie Sheen. Well not exactly silent, you know the expression the pen is mightier than the sword? Well the show creator took to his Vanity Card at the end of the show to describe a monkey, and that monkey sounds a little like someone he worked with… Or he could be talking about the actual monkey on the show, but for some reason I don't think he is.
I have always been a fan of his Vanity Cards, and ever since Sheenigans other people are starting to realize how brilliant he is!!!
---
Kaley Cuoco uses the Shake Weight for practice!!!
March 28th, 2011 under Chuck Lorre. [ Comments: none ]

Kaley Cuoco is on Ellen today and she learned 8 Simple ways to embarrass herself during a talk show. The Big Bang Theory star told the host that she ordered the Shake Weight for practice and from that moment she was left red faced and kept digging herself into a deeper hole. Finally when she put down the Shake-A-Weight (as she calls it) she added that "OMG this brings back such memories!" Poor Kaley just couldn't catch a break and then she finally realized why Ellen makes so make so many jokes about it. Seriously how cute was she as she tried her hardest not to make a double entendre about it, but she kept just kept doing it over and over again.
BTW as someone who owns a Shake Weight, I can tell she was so right it is great for practice…at least that is what the men in my life keep telling me…
---
Jon Cryer will f*ck you up!
March 28th, 2011 under Chuck Lorre, Comedy Central. [ Comments: none ]

Jon Cryer was a presenter at the Comedy Central Comedy Awards and the One and a Half Men star told the audience what he is doing now with all his free time. Duckie is now working on his music and he is previewing the first single from his upcoming album. After watching just that short snippet, I can't wait to see the full performance of Jon Cryer Will F*ck You Up when the Comedy Awards on Comedy Central on April 10th!!!
Actually doesn't Alan Harper look completely uncomfortable during the dance number, which makes him just that much cuter!!!
---
Jon Cryer confirms what Charlie Sheen said about him
March 10th, 2011 under Chuck Lorre. [ Comments: none ]

So the day before Charlie Sheen was rushed to the hospital and opted for in-house rehab, Jon Cryer was Conan O'Brien. When he was on the show he said, he had to to check the tabloids to see if he has to go to work. Well since then he hasn't been to work because of Sheen. If that was not bad enough for Ducky, his TV brother has bashed him and called him a troll.
Up until now he has been silent, but today he broke his silence and said his peace on Conan on TBS. He came forward and admitted he is a troll. Good to see he still has a sense of humor about everything because he will need that when he does finally go back to work!
---
Roseanne sums up Charlie Sheen perfectly!
March 8th, 2011 under Chuck Lorre, Roseanne Barr. [ Comments: none ]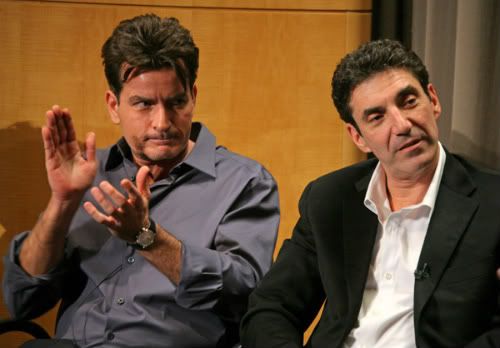 (photo from WireImage)


Long before Charlie Sheen had his own show that he lost, there was Roseanne who had her show on and off of the screen. Well from one Macadamia Nut to a Tiger
Blood drinking one, here is the advice she has for him in a post she title, "charlie sheen makes me look sane;".

this thread is for charlie sheen talk and mental illness talk. Charlie is not on drugs, though he can get them from the porn star goddesses that come and go, but his urine shows clean–i think charlie is in a manic high, and is unable to get any drugs to bring him down anymore—his tiger blood statement is from that "eye of the tiger" focus that manics have. Manics can really work hard and play hard at the same time, until they hit a wall, and then they are in bed and depressed for a long time, so they start taking drugs again to get energy to work. Charlie, take a break dude. Go to Greece, Paris, China, look at great art and lay low. you got fired, dude. anybody can do your job, really. other guys are funny and not repulsive to intelligent women, though those shit chuck lorre lines could choke a fucking horse, and render any actor who recites them stone cold soul dead. No grown man could really look himself in the mirror knowing that he delivers shit jokes and adolescent sniggering over breasts and women's body parts lines to the Tea partier types who are big fans of Chuck's hilarious hijinx. I fired Chuck Lorre for being a big drunk on my show, and he went on to become one of tv's most successful writers (about dick jokes). Maybe Charlie can start producing porn movies now!!
If I were him, I would follow what she says because if she says he makes her look sane, then he is pretty bad off.
Poor Chuck has had his handful of stars like Roseanne, Cybill Shepard, Brett Butler and Charlie Sheen. As much as I love Chuck, maybe it is him and not his stars???
---