Goldie Hawn is a sucker!
June 27th, 2016 under Goldie Hawn. [ Comments:

none

]

Goldie Hawn's grandson came for a visit and they decided to have fun. The Butterflies are Free star showed us that you are never too old to suck on a pacifier. Especially when you can't suck on the thing you want to suck on because you grandbaby is there. If you know what I mean!
---
Goldie Hawn looks just like Oscar
March 2nd, 2014 under Goldie Hawn. [ Comments:

1

]

via ETNow
Oscar winner Goldie Hawn showed up to the Oscars in a gold dress and I can't help but think that she looks like the Oscar statue she is standing in front of. Seriously if she posed like him, I wouldn't know which one is which. Would you?
---
Goldie Hawn and Kurt Russell's young love
March 29th, 2012 under Goldie Hawn. [ Comments:

none

]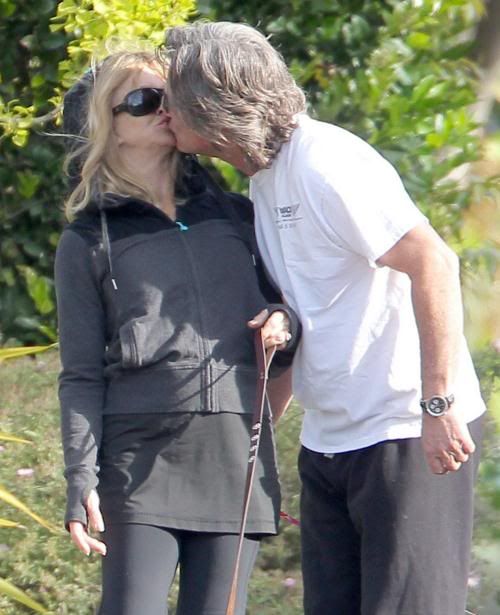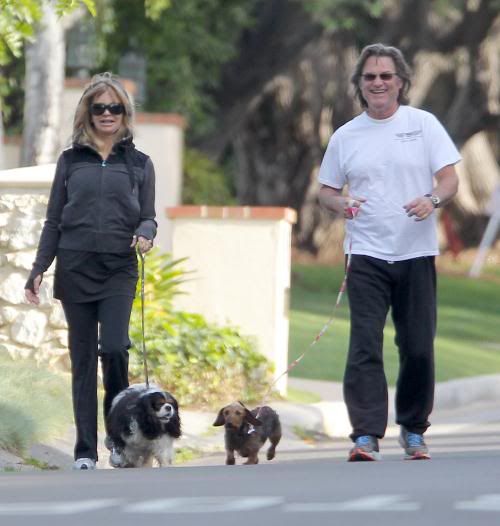 Fame Flynet Pictures
Even though Kurt Russell and Goldie Hawn have been dating for almost 30 years, the couple in their 60's showed the world they are very much in love. The love birds took their dogs on walk and when they were caught by the paps, Snake Plissken decided to give Private Benjamin a kiss on the lips.
How sweet is it to see that a couple that has been together for almost three decades is not afraid to show some PDA?
---
Strange Encounters: Goldie Hawn and 50 Cent
August 12th, 2011 under 50 Cent, Goldie Hawn, Strange Encounters. [ Comments:

none

]

50 Cent Tweeted the above pictures and said, "I had lunch with Goldie hawn she is complete sweetheart." What the rapper and Private Benjamin have in common is beyond me, but she seemed their meeting because here's what she Tweeted about their strange encounter, "Lunch was especially sweet today cause I met @50cent. His smile lit up the room." Maybe the two of them will do a movie together or better yet a duet? Why not?
---
A Death Becomes Her reunion!!!
April 13th, 2011 under Goldie Hawn, Mamma Mia. [ Comments:

none

]

WireImage
Goldie Hawn and Meryl Streep were reunited at the Good Housekeeping's Annual Shine On Awards Honor Remarkable Women and even though they were enemies in Death Becomes Her they look like the best of friends now! Can you believe that movie came out 18 years ago because the 65 year old Goldie and 61 year old Meryl look as beautiful now as they looked when they made that film. Maybe the Oscar winners have been taking that potion???
BTW in case you forgot how much fun that movie is, here is the trailer to remind you!!!
---