Jim Carrey and his woody!
November 20th, 2014 under Jim Carrey. [ Comments:

none

]

Jim Carrey is promoting Dumb & Dumber To around the world, but Dumb or is it Dumber isn't able to tour with him. Since Jeff Bridges is tied up, Lloyd Christmas brought a Harry Dunne puppet with him to help him deal with the press.
I guess they have grown rather close because here is the two of them sleeping together in London after a long day of press. How sweet is this photo?
BTW I would be afraid to stick my hand up that doll's butt because we know what came out of it in the first movie…
---
Jim Carrey gave free bowl cuts!
November 14th, 2014 under Jim Carrey, Jimmy Kimmel. [ Comments:

none

]

Jim Carrey was on Jimmy Kimmel Live yesterday. Before he started his interview on the ABC late night show, he gave a man and a woman his Dumber and Dumber Lloyd Bowl Cut on Hollywood Blvd. The first one turned out better than the second one, but he definitely left his mark on her head.
You know if this acting thing doesn't work out for him, I don't think he has a future as a barber. Do you?
---
Johnny Depp, Steven Tyler, Jim Carrey and who invited Adrien Brody?
July 30th, 2014 under Aerosmith, Jim Carrey, Johnny Depp. [ Comments:

none

]

Steven Tyler Instagrammed this photo of himself with Johnny Depp, Jim Carrey and, I assume, a very stoned Adrien Brody. I get why the Aerosmith singer, Jack Sparrow and Ace Ventura are all hanging out like bros; but why is the guy from The Piano with them. Yes, he's an Oscar winner, but he is no icon like the other three. I mean, I guess I can photoshop him out the photo to make it the most awesome picture since Liza Minnelli's wedding one with Dame Elizabeth Taylor and Michael Jackson. But he's there so I'll leave him.
Now forgetting about him, how bitching is it to see Depp, Carrey and Tyler hanging out together? Way like cool! Seriously, how is that fire alarm not going off? Because those three are too hot to handle! They are a total three-alarm fire.
---
Dumb and Dumber and Dumbest!
June 11th, 2014 under Jim Carrey, Jimmy Fallon, TV News. [ Comments:

none

]

The first trailer is out for Dumb and Dumber To and Jim Carey and Jeff Daniels are promoting it like crazy. Last night they debuted it on The Tonight Show with Jimmy Fallon and today they talked about it on Today. To mark the occasion, Matt Lauer dressed up as Harry Dunne. And I think that is the dumbest he has ever looked. That says a lot because he dressed up as a Baywatch Babe this Halloween.
Now, the one thing that is far from being the dumbest is the highlarious trailer for the sequel that is coming out in November. I snorted twice while watching it because it is so freaking awesome.
---
Remember Jeff Daniels also stars on The Newsroom!
September 10th, 2013 under Jim Carrey. [ Comments:

none

]

Jeff Daniels' career has been all over the place he's done dramatic movies, horror movies and even raunchy comedies. In recent years he has been known as Will McAvoy on HBO's well-written intense drama Newsroom. So to see him back as Harry Dunne in Dumb and Dumber To, will make it very hard for me to take him seriously this Sunday when I watch the show. And when I see the movie, I will have a hard time adjusting to him being so dumb. But I am sure after a few gags, I will get over it.
BTW I wonder what it is like for him to go from the brilliant and wordy Aaron Sorkin to the goofy but lovable Farrelly Brothers. It's gotta f*ck with your mind on some level.
---
Jim Carrey has some really huge feet!
February 25th, 2013 under Jim Carrey. [ Comments:

none

]

WENN.com
Jim Carrey arrived at Elton John's Oscar Viewing Party barefoot and I never realized what gigantic feet he has. And you know what they say about men with big feet… Too bad he wasn't wearing tighter pants to see if that is myth is true.
---
The Incredible Burt Wonderstone looks magical!
December 23rd, 2012 under Jim Carrey. [ Comments:

none

]

The first trailer is out for The Incredible Burt Wonderstone and I can't wait to see it when it comes out on March 15th. Seriously this is the first Steve Carell flick that I have wanted to see of his since he did The 40 Year Old Virgin. But he isn't the only reason I want to see this movie, it also looks like Jim Carrey is back doing movies that fit his humor like a rabbit in top hat…perfectly.
---
BTWF roles: Jim Carrey in The Sex and Violence Family Hour
August 29th, 2012 under Before They Were Famous, Jim Carrey. [ Comments:

none

]

Before Jim Carrey was doing a bunch of different characters on Living Color, he was doing it for The Sec and Violence Family Hour. He is just as funny now as he was when he was just 20 in that 1983 special.
---
New Line's Dumb and Dumber mistake
June 19th, 2012 under Jim Carrey. [ Comments:

2

]

Fans have waited over 17 years for a sequel to Dumb and Dumber and then two months ago they got the news they have been waiting so long for. Dumb and Dumber To was going to start shooting in September with Jim Carrey and Jeff Daniels. Well today those fans got some news they are not going to like because JoBlo says that Lloyd Christmas has dropped out of the film because he reportedly didn't feel New Line was showing enough enthusiasm for the movie. He said in statement, "I would have thought Dumb and Dumber To was a no-brainer, after all it's implied in the title." And if they do they do the movie without him, then the studio would be Dumb and Dumber. Daniels and him are the only ones who can be Dumb and Dumber.
---
Jim Carrey magically gets a new look
January 16th, 2012 under Jim Carrey. [ Comments:

none

]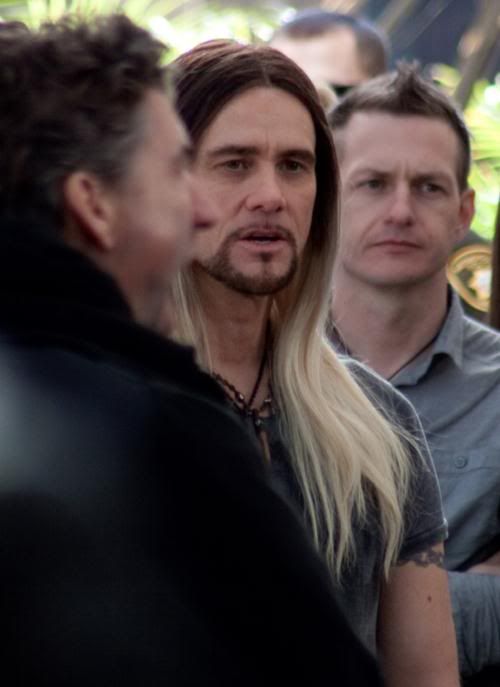 Fame Pictures
Jim Carrey was spotted in Las Vegas with long blonde hair and a goatee, so why is the grandfather going around with a weird new look? Thankfully it is for a role in the movie Burt Wonderstone where he plays a street magician. Hopefully he will make that look disappear when it is done filming. That look is so not magical for him.
---