No, no, no, Noah
November 15th, 2013 under Russell Crowe. [ Comments:

none

]

The first trailer is out for Noah. I would rather be forced to listen Russell Crow singing in Les Miserables in loop than go see that movie on Match 27th.
---
Do Russell Crowe and Jimmy Fallon really have to pee?
June 11th, 2013 under Jimmy Fallon, Russell Crowe. [ Comments:

none

]

Jamie King, who choreographed for Michael Jackson, was on Late Night yesterday; and he taught Jimmy Fallon and Russell Crowe how to do some of his signature dance steps. One of the moves was MJ's infamous crotch grab and you just have to watch the video to see how (put your own adjective here because you will have one) it looks when they do it. That screenshot is just a little preview, and yes it is all that good.
You can watch the full video below and enjoy it over and over again!.

There is some news about The Tonight Show with Jimmy Fallon that debuts next year; Amy Ozols, a longtime Late Night with Jimmy Fallon write, has been promoted to be the producer of the show.
---
Les Miserables doesn't look as misrable
November 9th, 2012 under Anne Hathaway, Hugh Jackman, Russell Crowe. [ Comments:

none

]

The second trailer is out for the much buzzed (and I am not referring to Anne Hathaway's haircut) Les Misrables. It looks better than the first one, but not enough for me to go see it on Christmas Day. I saw the Broadway play and I wasn't impressed by it so why would the film be any better. Are you planning on doing a Jewish Christmas when it comes out or are you planning on waiting til it is on cable?
---
Russell Crowe's Les Misérables love news?
October 14th, 2012 under Russell Crowe. [ Comments:

none

]

(photo from WENN.com)


Russell Crowe and his wife Danielle Spencer have reportedly split according to Adelaide Now. No reason was given for the separation, but the newspaper says it was amicable.
Now that they are no longer together why do I think the bad boy we used to know will be back? Danielle really calmed him down and without her I fear for any reporter that asks him about what went wrong. Joking!
The two have been married for 9 years and have two sons Charles, 8 and Tennyson, 6.
---
Will Broken City be your January fix?
October 4th, 2012 under Marky Mark, Russell Crowe. [ Comments:

none

]

The trailer is out for Broken City and I don't know how I feel about this movie. Part of me thinks it looks good, but the other part of me thinks it looks Lifetime movie with a much bigger budget. How do you feel about the film that comes out on January 18th?
---
When did Russell Crowe turn into Meathead?
September 3rd, 2012 under Russell Crowe. [ Comments:

none

]

Russell Crowe had to be rescued by the Coast Guard yesterday when he got lost 10 miles off of Long Island on a kayaking trip with a friend according to The NY Daily News. Now I was all prepared to make fun of him for doing a meat head thing like getting lost at sea, but then I saw the picture of him with his rescuers and I thought he looked more like Rob Reiner than he does himself. So I had to make fun of him about that. Seriously doesn't he look like Meathead with that slicked back hair and bushy beard? Not a good look for him, but then again which recent look has been a good one for him?
---
BTWF plays: Russell Crowe in The Rocky Horror Show
October 28th, 2010 under Before They Were Famous, Russell Crowe. [ Comments:

none

]




via Daily Mail
Before Russell Crowe refused to wear tights in Robin Hood, he had no problem wearing them in The Rocky Horror Show. You can't even recognize the 24 year old future Oscar winner in that 1988 play when he played both Eddie and Dr Scott.
---
The men of Robin Hood serenade us Beautiful Girls
May 15th, 2010 under Russell Crowe. [ Comments:

1

]

Scott Grimes Tweeted this video of him with Russell Crowe and two of the other Merry Men (Alan Doyle, Kevin Durand) from Robin Hood singing Sean Kingston's Beautiful Girls at the Spanish Steps in Rome. You know what the quartet actually sound really good together, they should hit the road. They even have their group's name already picked out for them…Russell Crowe and his Merry Men!
BTW maybe if they had made Robin Hood a musical the critics would have liked it more?
---
Russell Crowe the bad boy is back!!!
May 14th, 2010 under Russell Crowe. [ Comments:

1

]

Before Russell Crowe got married and had kids, he was known for not having one of the best temperaments and was also known for walking out on an interview or two if he didn't like the questions. Well since he settled down we haven't heard of any such issues. That is until today, because the Robin Hood star walked out an interview with BBC Radio 4 when the host critiqued his accent. I have to admit after listening to the interview, I side with the Oscar winner on this one because Mark Lawson was really egging on him on. What do you think?
BTW that critique on his Robin Hood accent reminded me of that brilliant line that Cary Elwes uttered in Robin Hood: Men in Tights…"Unlike some other Robin Hoods, I can speak with an English accent." If you never heard him speak that famous line in his native accent, here it is!
---
Russell Crowe's Robin Hood cursed with injuries?
July 6th, 2009 under Russell Crowe. [ Comments:

none

]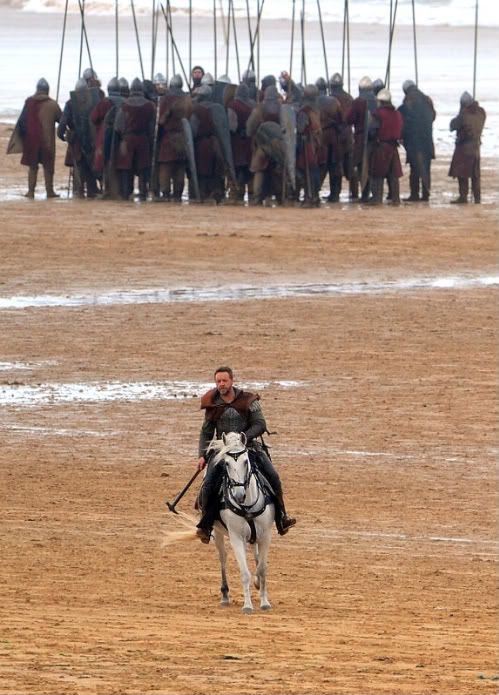 (photo from Splash News Online)


Russell Crowe's new epic Robin Hood seems to be plagued with behind-the-scenes injuries, so far 3 people have injured according to JAM! Showbiz.
1 – Ridley Scott epic was brought to a halt after an unnamed actor was hurt during the filming of a battle scene in Wales.
2 – An unnamed actor has reportedly broken his ankles after missing a crash mat in a high-wire fall at Pinewood studios in Buckinghamshire, England.
3 – In a separate incident a studio worker has suffered neck injuries from falling into a pit at Shepperton Studios in Surrey, England.
Yikes, sounds like a dangerous movie to work on. Who knew Robin Hood would be such a hazardous film to work on? Positive note, at least none of the injuries were to due to Russell Crowe's past temper which he really seems to have under control these days.
---