George Clooney looks even more like a d!ck when he sings
May 5th, 2016 under George Clooney, Gwen Stefani, James Corden, Julia Roberts. [ Comments:

none

]

It is time for a new edition of Carpool Karaoke on The Late Late Show and this time James Corden is driving Gwen Stefani around. The two of them were chatting, singing her songs and acting out Emojis when they suddenly hit traffic.
They realized that the best way to beat it, was to get in the HOV lane. Only problem is that they needed two more people. Where are they going to get them? That's when the CBS late night host called his friend George Clooney who in turn called his co-star Julia Roberts. Ironically enough they have a movie coming out, so this worked out perfectly for them.
Anyways, once they had their seatbelts on, it was time to belt out some songs. The first tune was Hollaback Girl. Clooney guessed what he thought it was about and the the woman behind it told him that he was close. But she didn't tell us what it's about, just that she won.
But did they win Carpool Karaoke? That went to Julia Roberts who I think I actually came off as really likable in this bit. Unlike Clooney, who I think came off even more detestable in it. Who did you think won the ride down Stefansi's musical lane?
---
Julia Roberts takes Jimmy Fallon's balls to the face!
August 1st, 2014 under Jimmy Fallon, Julia Roberts. [ Comments:

none

]

Julia Roberts was on The Tonight Show yesterday and Jimmy Fallon challenged her to a game of Face Balls. Basically the two of them throw big clear plastic balls at each others face and then we watch the slo-mo replay of it.
So ladies, if you ever wondered what we look like when we take balls to the face, now you know. We get smushed and it's not pretty.
---
Sally Field is one bad MoFo when it comes to a curse off against Julia Roberts!
May 6th, 2014 under Jimmy Kimmel, Julia Roberts. [ Comments:

none

]

Yesterday on Jimmy Kimmel Live they had the Steel Magnolias mother and daughter on the show, and Sally Field and Julia Roberts were anything but the dainty Southern Belles they played in the 1989 movie. The two Oscar winners took part in a curse off and you'd think that Pretty Woman would've mopped the floor with the Flying Nun and you would be so so so wrong. Sweet little Gidget that told us, that we love her, we really really love her, was using a lot of other four letter words in the competition and none of them were love. What they were is sadly left to the imagination because the showdown aired on broadcast television and curse words are not lot to be uttered on it. So instead we heard bleeps and saw their mouths pixelized. Now even though we don't what America's Sweethearts said that doesn't mean we can't laugh with them as they blushed after each naughty word/phrase they said.
Now I have always loved Sally Field because how can you not. But hearing her say dirty dirty words makes me love her a whole more.
And I want to say f*ck you to Jimmy Kimmel because the f*cking bastard actually made me like Julia Roberts for the first time in a really really really long time. Seriously, didn't she actually come off as likeable and not the snob she always appears to be?
---
Ellen DeGeneres makes Julia Roberts pee in her pants
March 23rd, 2012 under Ellen DeGeneres, Julia Roberts. [ Comments:

none

]




Ellen DeGeneres loves to scare people, so imagine how much satisfaction shes got from scaring someone that surprised her? She so enjoyed it so much. You can see how much happiness it brought to her when she hid Julia Roberts' bathroom and jumped out at her as she walked in. The Pretty Woman on the other hand was so shocked that she peed in her pants.
But it didn't stop there, while the daytime host was interviewing the Oscar winner on her show she had a man dressed as Snow White also scare her. I am not sure if she wet her pants again, but she definitely screamed like a Runaway Bride who was caught by her broom on their wedding day.
Now before you feel bad for Erin Brokovich, she loves to scare her kids so karma is a bitch and her name is Ellen.
---
Mirror, Mirror on the wall, whose the worst casted evil Queen of them all?
November 15th, 2011 under Julia Roberts. [ Comments:

none

]

The trailer for Mirror, Mirror is out and Julia Roberts was so miscast in this movie it isn't even funny. She is dreadful as the evil Queen, I have no idea why they cast her in the role. I wish I had a magic wand to make this movie go away, but I think the lack of people going to see it when it comes out will act like a wand for me.
Seriously after watching the trailer, I am even more grateful for Once Upon a Time because at least someone is doing Snow White justice. And on another TV note where is Grimm when you really him?
---
Jonah Hill totally destroyed 21 Jump Street
November 2nd, 2011 under Julia Roberts. [ Comments:

1

]

After watching what Jonah Hill/Channing Tatum have done to 21 Jump Street I have no intention in that piece of sh!t when it comes out in March. The only thing that is like the series is that they are cops who are undercover in high school, other than that it is not like the show that made Johnny Depp a star.
If the movie look somewhat watchable I would go see it, but that movie looks like it will be such a huge dud I can't see any one going to see it. It looks as bad, if not worse, as when Colin Farrell and Jamie Foxx remade Miami Vice. Seriously doesn't that look painfully awful.
---
A mini-My Best Friend's Wedding reunion!
October 13th, 2011 under Julia Roberts. [ Comments:

none

]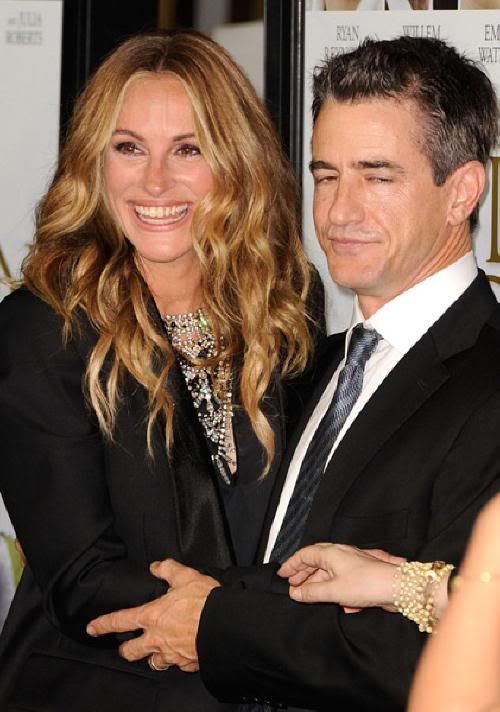 WireImages
Back in 1997 Julia Roberts and Dermot Mulroney played BFFs in My Best Friend's Wedding and even though it has been over a decade they still look like best friends. Can you believe he is 47 and she is 43 because they look just like they did when they made movie over 14 years ago!
---
I don't think Tom Hanks will be on The Late Show again anytime soon!!!
July 1st, 2011 under David Letterman, Julia Roberts. [ Comments:

none

]

Julia Roberts was on The Late Show when David Letterman asked her how well she knows her Larry Crowne bosom buddy. On cue Tom Hanks came out to play the Newlywed Game like game with her. At first it seemed like they were taking it seriously, but then it quickly changed; and it was obvious he wasn't and she was. When asked "who does Tom consider to be the finest actor of his generation?" she at first said Abe Vigoda (who is still alive) and then she said Maude. I guess she is not a Golden Girl fan because how does she not know Bea Arthur's name? Anyways back to the game Tom's answer was one that proved that the two-time Oscar winner really loves himself because he said…"Tom Hanks!" I can say it because I am not him (and I think he is), but it is a little conceited that he he said it! Of course Forrest, Forrest Gump was joking because unlike Julia Roberts he can name an actor or two he respects.
Now on the next question, I guess Erin Brokovich was getting bored with the game as much as I was watching her trying to be funny and said, "is any of this really going to get people to go see our movie?" Dave said "yeah, oh yeah" and before he could get the third word out, Hanks said "Hopeless, nobody does this show to get people to see their movie." Me and ow. Dave looked pissed and Hanks looked like a proud little boy coming up with the ultimate diss that everyone laugh including Dave's own staff!!! I am sure even though he is a Late Show favorite he won't be back any time soon. Even if he has a movie to promote.
The game went on and Hanks true humor was coming out with the answers he had to the ridiculous questions. The one that caused me to have the biggest Julia Roberts was the last question. So brilliant on his part! I just love him! Don't you?
---
Put on Larry Crowne on July 1st!
March 16th, 2011 under Julia Roberts. [ Comments:

none

]

For the most part I like Tom Hanks movies, but I can't the same the for Julia Roberts' ones. Now having said that after watching the trailer for Larry Crowne, I can't wait to see the movie on July 1st because Roberts seems tolerable in it. The movie seems to have that feel of those sweet romantic comedies that Hanks made back in the '80s and '90s. That and I want to see his cute butt in those tighty whiteys on the big screen. Seriously doesn't the movie look like the perfect movie to watch on a hot summer day with some buttered popcorn?
---
Does Julia Roberts chest look bigger?
September 16th, 2010 under Julia Roberts. [ Comments:

1

]

(photos from WireImage)


Star Magazine posted pictures of Julia Roberts in bikini a year apart and said that her breasts looked larger. I thought that the increase of cup size was due to a little increase of weight throughout her body. But then I noticed the picture of her at the Rome premiere of Eat Pray Love today and noticed her boobs did seem to look a little bit bigger than they did when she was on The Late Show with David Letterman back in June.
Do you think her chest looks bigger or she got a Wonder Bra that worked wonders or her posture works wonder for her boobs?
---