A Happy Days reunion!!!
March 12th, 2013 under Reunions. [ Comments: 2 ]

WENN.com
Happy Days are here again because Mrs C was reunited with her Richie! Don't you just love seeing the 84 year old Marion Ross together again with her 59 year old TV son Ron Howard at ATAS's 22nd Annual Hall of Fame Induction Gala. It's like even though she started playing his mom almost 40 years ago, she still sees herself in the role. Don't you adore the way she is grabbing his face like only a mother can!
I seriously got so happy when I saw the two of them together again that it brought a big smile to my face. One I am still wearing now as I type this.
---
A Silver Spoons reunion!
March 4th, 2013 under Reunions. [ Comments: 2 ]

Over a week ago I posted a picture of Ricky Schroder reunited with his Silver Spoons BFF Alfonso Ribeiro and today I am sharing a picture of Ricky with his TV dad and stepmom from the show! Joel Higgins and Erin Gray came out to watch their TV son get roasted at The Friars Club on Friday. Even though it has been over 30 years, 31 years to be exact, since they started working together as a family on that classic sitcom they look as close now as they did then.
I hope someone gives them a reunion show because I am curious how The Strattons would've turned out. Can you imagine all the toys they would be playing with? C'mon networks make this happen!!!
---
A Silver Spoons reunion!
February 25th, 2013 under Reunions. [ Comments: none ]

Back in 1984 Alfonso Ribeiro and Ricky Schroder met each other on Silver Spoons, and now almost 30 years later they are still friends! Ricky's wife Andrea Tweeted a picture of the two of them at Alfonso's birthday party and even though both men are now in their 40′s they look just like they did when we got to know them as teens on that sitcom! Isn't it great to see that Ricky and Alfonso are still buddies after all of these years?
BTW you can see Ricky and all of his kids starring in the Hallmark Movie Channel film Our Wild Hearts on March 9th that was co-written by the actor and his wife.
---
A Cabaret reunion!
February 3rd, 2013 under Reunions. [ Comments: none ]

It has been 40 years of people saying Willkommen to Cabaret and to celebrate the honor four of the cast members got together to talk about the Oscar winning musical. On Thursday night life was a Cabaret for Liza Minnelli, Joel Grey, Michael York, and Marisa Berenson at the Ziegfeld theater and that is just the beginning of the celebrations. On Tuesday the musical is coming to Blu-ray with a 40-page booklet full of photos and the history of the movie. It is also part of TCM's 10-city national Road to Hollywood tour that will conclude with the TCM Classic Film Festival on April 25-28 in Los Angeles.
So whether you have seen it more times than you can count or maybe this time will be your first, you will want to own it on Blu-ray this Tuesday so you can enjoy it whenever you want.
---
A mini The Facts of Life reunion!
January 28th, 2013 under Reunions. [ Comments: none ]

Lisa Whelchel Tweeted the above photo and said "A perfect ending to my trip to Atlanta…dinner with my dear friend of almost 35 years, Kim Fields. #oldandgold". But to us fans of The Facts of Life it is a perfect picture of Blair Warner and Tootie still hanging out after all of these. Plus the 49 year old Lisa and 43 year old Kim look like they are reuniting after 5 years and not 35. Don't look fabulous?
You take the good, you take the bad, you take them both and there you have two beautiful friends who have lived the facts of life together!
BTW I love how Survivor has reignited Lisa Whelchel's career and I can't wait to see what she does next.
---
A Popular reunion
October 15th, 2012 under Reunions. [ Comments: none ]

WENN.com
The cast of Popular were reunited at the 28th Annual AIDS Walk Los Angeles and it was great to see Carly Pope, Bryce Johnson, Tammy Lynn Michaels, Anel Gorham, Christopher Gorham, Sara Rue, Tamara Mello and Leslie Bibb together again! They look just as close now as they did when we got to know them in 1999. Can you believe it has been that long?
BTW I guess the rumors are true that Leslie Grossman and Sara Rue can't stand each other and so much so that they reportedly will not appear at the same event as the other one. I mean why else wasn't she there?
---
A Boy Meets World reunion!
September 17th, 2012 under Reunions. [ Comments: none ]

Danielle Fishel and Rider Strong aka Topanga and Shawn spent the night together and Cory's wife and his BFF look closer than they ever did when they starred on Boy Meets World together. Can you believe it was almost 20 years ago that we got to know the 31 year old actress and 32 year old actor because they look great.
BTW am I the only one who wanted Shawn and Topanga to hook instead of Cory and her? Not that I didn't like Ben Savage, I just thought they were a better pair.
---
Shannen Doherty and Holly Marie Combs' Charmed reunion
April 19th, 2012 under Reunions. [ Comments: 1 ]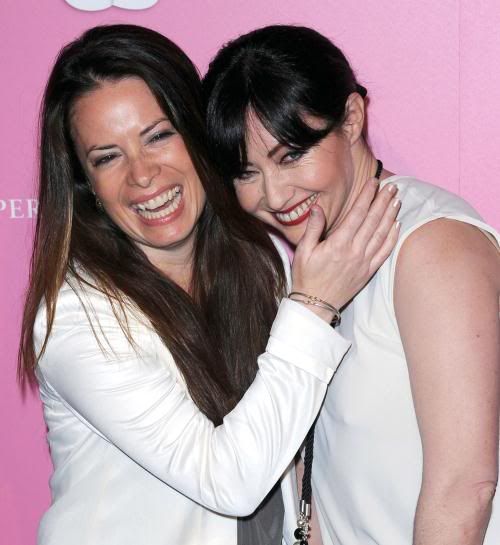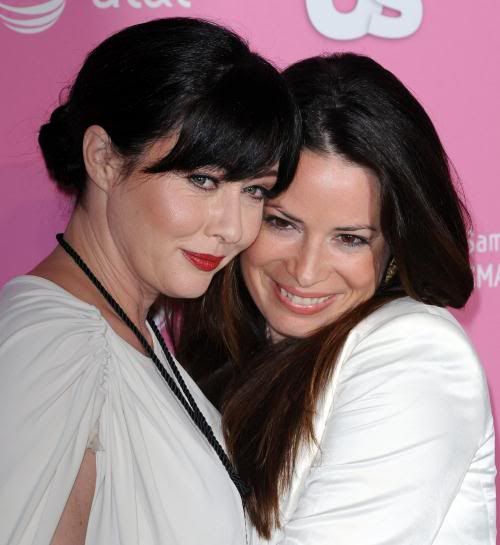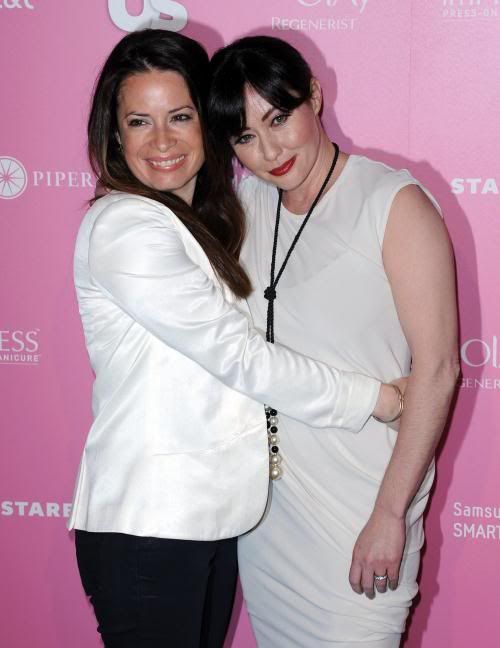 Fame Flynet Pictures
Shannen Doherty and Holly Marie Combs were reunited at the US Weekly Annual Hot Hollywood Style Issue Event, and Piper and Prue look just as close as they did on Charmed. Can you believe it has been 11 years since they played sisters?
---
Will & Grace reunited!!!
April 9th, 2012 under Reunions. [ Comments: none ]

Six years ago we said goodbye to Will & Grace, but Debra Messing and Eric McCormack can't say goodbye to each other. Grace is NY filming Smash and Will is there starring in the Broadway show The Good Man, and the two had a chance meeting in the Big Apple. McCormack Tweeted, "So my boy and I are in Central Park and who do we run into? @DebraMessing! Twice in one week!" Messing attended the opening of his show earlier. Even though Manhattan is filled with millions of people, these two former-roommates can't help bumping into each other.
Seeing the two together like that makes me miss the comedy even more. It is like the sitcom never ended for these two co-stars/friends.
BTW you can watch Debra Messing in Smash tonight on NBC at 10p.
---
A mini-V reunion
April 5th, 2012 under Reunions. [ Comments: none ]

If you are like me and you are still pissed that ABC cancelled V for shows like Scandal and Charlie's Angels, then this picture of four of the castmates getting together will make you as happy as it did me. Laura Vandervoort aka Lisa Tweeted a picture of her hanging with Christopher Shyer aka Marcus, Mark Hildreth aka Joshua and Charles Mesure aka Kyle yesterday. No word why they were reunited or if they had rats for lunch?
You know I really hope they were getting together to talk about V maybe coming back but on another network that would actually treat the show right. ABC made such a mistake for not bringing the show back because that season finale was f*cking out of this world.
---