Dolly Parton's Coat of Many Colors is as impactful as the song!
December 10th, 2015 under Dolly Parton. [ Comments:

none

]

Back in 1955, when Dolly Parton (Alyvia Alyn Lind) was just 8 years old, she had a lot of things happen to her in a 9 month period of her life that changed her forever. Tonight at 9p on NBC, you will see why that time period means so much to her in this beautiful story Coat of Many Colors.
Parton was the fourth child to Robert (Ricky Schroder) and Avie Lee Parton (Jennifer Nettles) and there was always something special about her. She had the voice of angels and everyone knew she was going to be a star including her. She was a rambunctious girl, and that is what made her Dolly Parton. Her mother was expecting her 9th child and the little girl couldn't wait for him to be born. Even though he was her brother, she thought of him as her baby.
Then tragedy strikes when he is born early and dies shortly afterwards. His death causes tension between her parents, her mom goes into a deep depression and Dolly stops singing. Her older sister knows this needs to stop, so she tells her mother that their songbird Dolly has lost her voice. This was the push her mom needed, and she decides to get through her grief by making a Coat of Many Colors for her daughter. Even though they were very poor, Dolly felt so rich and special in her new coat that was just like Joseph's from the Bible.
You see, Dolly's grandfather (Gerald McRaney) was a Preacher and her mother was very religious. Her father was 17 when he first saw his future wife, who was just 15, sitting in that Church, and yet he never went in. The two of them have very different opinions about religion and the death of their son will make the divide even greater.
But this is a very strong family of ten and they will overcome this. When the end of this 9 month period is over, young Dolly will know where her life is going. She is going to be a star and her family is going to be there by her side. If they can get through this, they can get through everything.
Parton and her manager, Sam Haskell, had been talking about making a movie of her life for a while. After speaking with NBC President Bob Greenblatt, they went through her musical library and knew this song should be the first story they told. When they spoke with Greenblatt about making this particular film, he told them that this needs to be a Christmastime movie. It is not about Christmas, it is about a family and that is what this time of year should be about.
The song as we know is a very potent one from Dolly, and the movie is just as powerful. The cast will leave you in awe with their outstanding performances. Schroder and Nettles are perfect as her parents, but the real star is Lind. She might only be 8 years old, but she is just as lovable and mesmerizing as the person she is playing. So much so, you would think it was actually Dolly playing herself.
A few months ago, at the NBC TCA Summer Press Day, Dolly Parton answered if there really was a Coat of Many Colors. She said, "Absolutely there was a coat of many colors. I had even a little picture made in it, a school picture." What happened to it? She revealed, "But you don't think about you're going to be a star; you're going to have that carried with you. You don't know that so mama tore that down, I'm sure, and sewed it into a quilt or blanket or into something else. We do have a little replica of it my mom made from memory as best she could remember at the time. But that was just a memory in my head, and so it's been recycled, I'm sure, knowing my mama."
If tonight's movie is a hit, as it should be, they will do another one. Which one of her songs will be the inspiration for that one? Jolene. If you want to see that song come to life, then you need to watch the movie tonight. Actually, you need to watch it this because it a throwback the movies of the week that would bring families together back in the day. We need more of those and I think this one will be the start of the revolution. Don't miss out on the revolution and tune in for a tale that will be watching every Christmastime.
---
Donald Trump and Dolly Parton get their 'hair' wet for the ALS IBC!
August 28th, 2014 under ALS Ice Bucket Challenge, Dolly Parton, Donald Trump. [ Comments:

none

]




Ever since the ALS Ice Bucket Challenge got popular, I have been wanting to see two people do it. Today, Donald Trump and Dolly Parton heard my prayers and let their hair get wet for ALS.
In a millions years, OK since the viral sensation is dying down, did I expect either one of them to accept it. However, today both of them braved the water and we got see what their 'hair' looks like when it's drenched.
I honestly thought that Donald Trump was going to look like Cousin It from The Addams Family, but sadly, he didn't. In fact, it didn't look like that front section was that long. So how does it create his look? Some mysteries I guess will always be left to the unknown. But there was one mystery solved today, and that is that Trump's hair is real because fake hair could not have survived that.
Now when it comes to Dolly Parton, the Country Crooner, is just so gosh darn cute. Plus, her wig really held up to the challenge and stayed on. And you boys got to see her in a wet T-shirt. Something I am sure made you guys really happy.
Happy as I am that they accepted the challenge and donated money for a good cause.
---
Dolly Parton wants you to lay your hands on her
June 30th, 2014 under Bon Jovi, Dolly Parton. [ Comments:

none

]

Dolly Parton is touring the United Kingdom and she has been bringing Richie Sambora on stage with her. Then she sings one of his biggest hits that he co-wrote for Bon Jovi, Lay Your Hands on Me, with him in her own special way. Out of all of their tunes, that is the one that she picks? Because let's be real how many times have people wished they could lay their hands on her bangin' bod! And that song is inviting them to do so.
BTW how much do you love hearing that song done Country?
---
Dolly Parton raps to Miley Cyrus about her wrecking balls!
October 18th, 2013 under Dolly Parton, Queen Latifah. [ Comments:

none

]

Dolly Parton is on Queen Latifah's show on Monday and the country singer will perform a rap on the daytime talker. I don't want to spoil it for you because it is all types of awesome. Words cannot express the joy you will get from watching it, so hit the play button right now.
I sincerely adored it so much that I so want her to do a rapping special for Christmas. I know it would make my holiday season so much better. I mean, imagine her rapping about her chestnuts that are roasting on an open fire!
---
The many poses of Dolly Parton
January 10th, 2012 under Dolly Parton, Guess who?. [ Comments:

3

]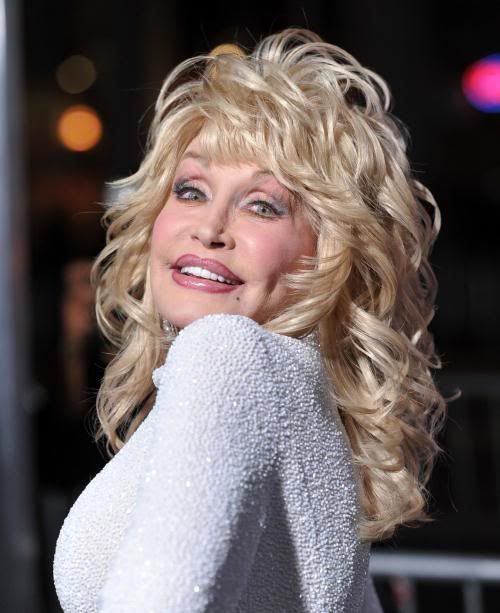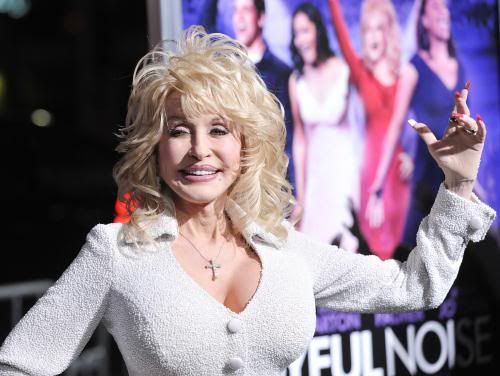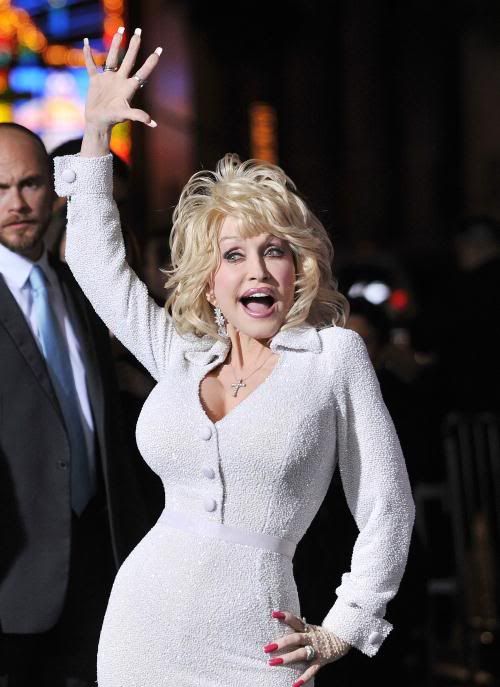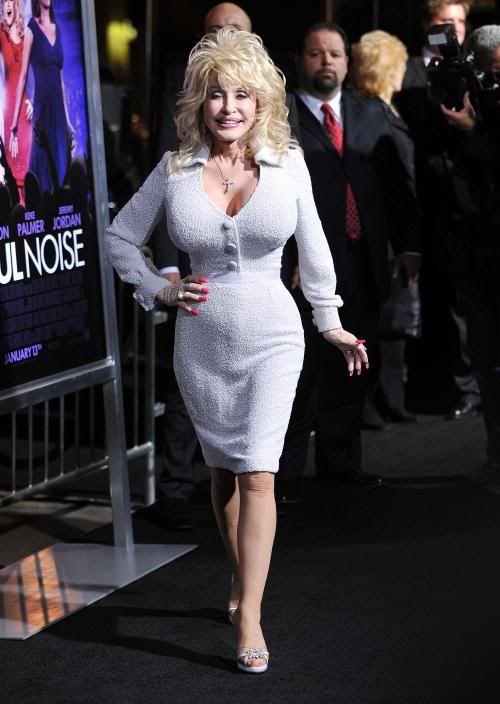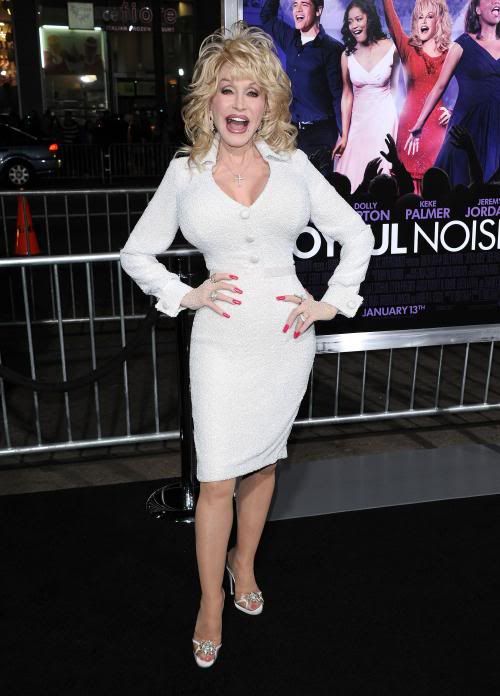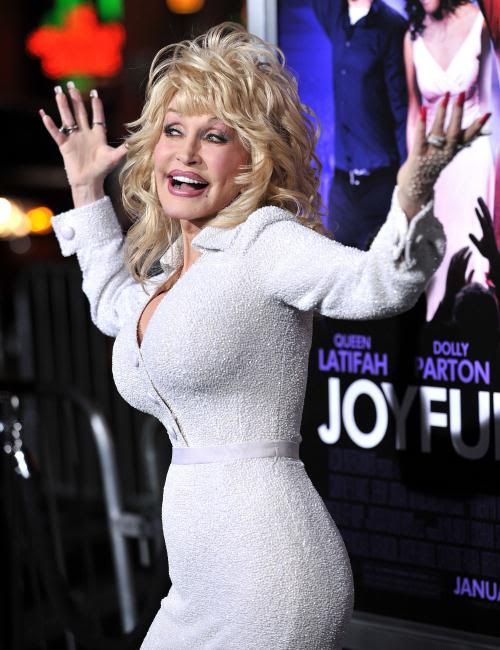 Fame Pictures
Dolly Parton walked the red carpet at the premiere of her new movie Joyful Noise and the singer worked it with her poses like the Best Little whore in the house. No matter which way she turned she made sure those Tennessee Mountains were standing out and begging to be climbed. She might be days away from turning 66, but she looks year younger than her actual age. I love the way she brought Dollywood to Hollywood in a way only she can.
---
Dolly Parton pigs out and wigs out!
January 2nd, 2012 under Dolly Parton. [ Comments:

1

]

(photo from WireImage


Dolly Parton sat down with Parade magazine and did some straight talking with the interviewer about her life when she isn't working 9-5.
So what does the singer like to do on lazy Sunday? She said, "When I'm home, I spend Sunday with my husband. If we're not cooking, we travel around in our camper, stop at fast-food restaurants, and picnic. We love that stuff that will harden your arteries in a hurry." Who would've thought that someone that skinny actually eats greasy food. I guess instead of going to her hips and thighs, it all goes to her breasts.
Now we didn't know she likes to eat bad food, but we did know she has a lot of wigs. So how many does she have? She said, "I put one on every day for some reason or another, so I must have at least 365. I don't wear wigs when I'm home" At least she has a good hair day every day. Now I want to know what her real hair looks like? Does she have curly red hair? Or short stick straight jet black hair? I want to know, don't you want to know too?
---
Dolly Parton's sexy sillohuette
July 18th, 2011 under Dolly Parton. [ Comments:

1

]

Dolly Parton was performing in Knoxville, Tn and WireImage captured those silhouette pictures of her playing the violin. I just love cool pictures from concerts, so I had to share them with you.
Now I know many of you wanted to see her infamous Dollywoods, so here are two pictures showing the two roller coasters that so many men have wanted to ride and have not been able to because she has been married to the same man for 45 years!!!
---
Ellen DeGeneres gives Dolly Parton makeup advice!
May 27th, 2011 under Dolly Parton, Ellen DeGeneres. [ Comments:

none

]

Dolly Parton is on The Ellen Degeneres Show today and the big chested singer shared with her that she almost always has her makeup on and sleeps with a wig near her bed In Case of Emergencies. So the talk show host said she came up with a solution, so that she doesn't have to spend so much time putting on her face and her hair, and you know what it is a beautiful remedy! Especially after we see Ellen try it out!
---
Blame Shock and Awe for postponing Dolly Parton's tour
February 11th, 2008 under Dolly Parton. [ Comments:

1

]
Dolly Parton was forced to postpone her tour because she has a bad back thanks to her breasts according to
Reuters.
"Hey, you try wagging these puppies around a while and see if you don't have back problems," the folksy singer-songwriter said in a statement.
She will have to rest for 6-8 weeks and then back on the road she goes. Get well soon!!!
Wonder if she will be getting as breast reduction anytime soon?
---
Dolly Parton names her best assets!
February 10th, 2008 under Dolly Parton. [ Comments:

1

]
Dolly Parton has named her boobs Shock and Awe appropriately so, according to
Page Six
.
"They do seem like public property in a way. They served me well — I don't know if I'm supporting them or they're supporting me," the country legend, 62, tells next month's Ladies' Home Journal.

"I've always had nice ones but of course I've had 'em jacked up a bit. And they're part of the persona — it always takes a little pressure off me."
Dolly Parton is just so cute!
---