Is Zac Efron showing us where babies come from?
May 8th, 2013 under Zac Efron. [ Comments: none ]

Fame Flynet
Zac Efron is filming his movie Townies and the paps caught some interesting pictures of him. First he was seen with his hand over his junk, and then another with a baby doll over his bum. So I am wondering if that is his way of telling his co-stars about the birds and the bees? Either that or his way of saying that having a baby now would be sh!tty and that's why he dropped a condom on the orange carpet at The Lorax premiere so he that won't be having one anything soon.
---
Zac Efron talks about that condom falling out of his pocket!
April 25th, 2013 under Craig Ferguson, Zac Efron. [ Comments: 1 ]

So remember last year when Zac Efron was walking the orange carpet for The Lorax premiere and a condom fell out of his pocket? Well Craig Ferguson asked him about it on The Late Late Show tonight and we found out why he had the rubber in his pants. Basically he didn't change his slacks from the night before and that's why it was in there. So not only was he embarrassed that a prophylactic fell out before the premiere of the kids movie he was starring in, we also found out he didn't get any the night beforehand.
BTW I also loved the CBS host's reaction when he found out more details about the incident. One of the rare times that Craig not doing his research made him regret what he just asked.
---
Matthew McConaughey told Zac Efron to keep his shirt on!
October 5th, 2012 under Jimmy Kimmel, Zac Efron. [ Comments: none ]

Zac Efron was on Jimmy Kimmel Live yesterday and the ABC host asked him if he got any advice from his Paperboy co-stars. Zac, who spent most of the movie in just his underpants, said the Shirtless Wonder aka Matthew McConaughey told him, "Wouldn't seem like it is important, but you got to stop taking your shirt off, too much." Then he added, "People take it real seriously, man. You know, you'd think it wouldn't matter, but you know people care." I hope the High School Musical star doesn't take his advice.
Efron also talked about the infamous scene in the movie that everyone has been talking about, and he ruined it for me. For months we have been hearing how Nicole Kidman pees on him. I thought it was during a sex scene, but turns out she does it when he gets stung by a jellyfish. Oh well, I will not be seeing that movie now because that was the only reason to see it.
---
Zac Efron dancing horizontally with a pro?
August 22nd, 2012 under Dancing with the Stars, Zac Efron. [ Comments: none ]

(photo from WENN.com)


Zac Efron is one of Hollywood's most eligible bachelors and looks like a new woman might've danced her way into his heart. According to In Touch the Lucky One was seen flirting on a dance floor with Dancing with the Star's two-time champ Cheryl Burke at a night club recently. The source told the mag, "They hooked up after partying all night together." The mag added that her rep denies they left together, but a source said that they did meet up afterwards. Since both of them know how to dance, imagine what they could do in the bedroom?
And maybe if we are lucky, she can convince him to do Dancing with the Stars? I would like to seem in a tux doing a Quick Step, don't you want to see that too?
---
How cute Zac Efron tries to grow a mustache
July 5th, 2012 under Zac Efron. [ Comments: 1 ]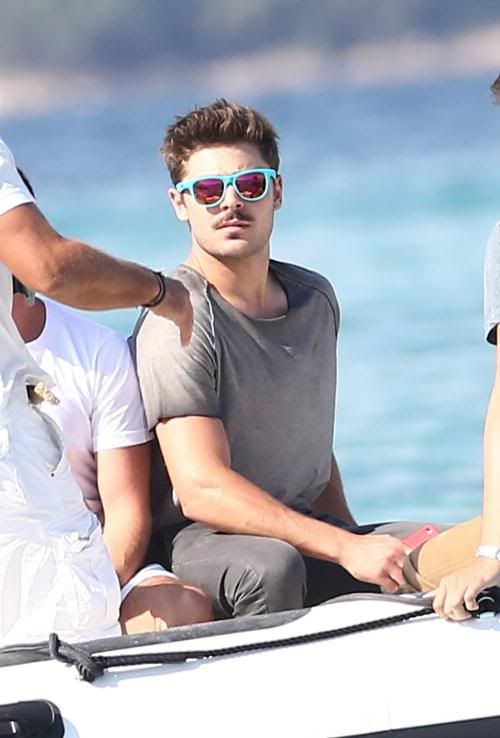 Fame Flynet
Zac Efron in on vacation in St Tropez and he debuted his new facial hair. The High School Musical star is proving that he is all grown up by growing a mustache. Hopefully when he gets home, he will shave it off because I just don't think the pornstache is working for him.
---
Zac Efron has a new beard
June 11th, 2012 under Zac Efron. [ Comments: 1 ]

WENN.com/FayesVision
Zac Efron walked the red carpet for Rock of Ages, that is out on Friday, and he debuted his new look. The Hairspray star was donning some facial hair and I want someone to buy him a razor ASAP. Yes it brings out his eyes, but it also hides his face. Plus he looks as miserable with it as I feel seeing him with it. Zac shave the beard please.
Saying something nice about him, how cute does Troy Bolton look with his High School Musical classmate Sharpay Evans (Ashley Tisdale)?
---
Jimmy Kimmel challenges Zac Efron to a bra-off off
April 17th, 2012 under Jimmy Kimmel, Zac Efron. [ Comments: none ]

(starts at 2:30 in)


Last week video surfaced from Australia of Zac Efron showing off his skills on how he can take the bra off of a woman with one lucky move. So yesterday when he was on the former-Man Show host Jimmy Kimmel's show, the now ABC late night host challenged him to a bra-off off. Kimmel had to remove four bras from Guillermo and Zac had to do the same with the another Guillerno (a part I would've volunteered for had I known) in the quickest time. Well both men did their best in challenge that was so not High School Musical friendly and only one man stood victorious. That man is someone, who I am sure has taken off a lot of bras, and he is Zac Efron by a hook. And he wouldn't let Kimmel off by finishing what he started, Link Larkin walked over and used his move to unlatch that last bra. And as I watched that move, I felt my bra unhook simultaneously.
You know now that I know Kimmel is so good at removing bras, I am going to make sure to always wear one when I go to see the show… Just saying.

UPDATE: The pictures are even better than the video:
---
Is this Zac Efron's sexy face?
April 13th, 2012 under Zac Efron. [ Comments: none ]

WENN.com
We have seen Zac Efron drop a condom on the red carpet. We have seen him show how he can take a bra in just one step. And now I think we are seeing his sexy face. You know it worked because my bra just suddenly came undone and there is a wrapped condom on the floor because the Lucky One actor is just that good. Even in pictures, his technique works.
---
Zac Efron shows off his Lucky One and off with the bra move!!!
April 12th, 2012 under Zac Efron. [ Comments: none ]

Zac Efron was being interviewed by Mel & Matty for Hot30 Countdown in Australia and they were curious about a scene in his upcoming movie The Lucky One. In that film he takes off his co-star's bra with just one hand in one quick move and they wanted to see if he was really that good when the cameras aren't rolling. So Mel brought a bra to demonstrate his technique and guess what he is a natural at removing women's bras.
So between dropping the condom on the red carpet and teaching other guys how to remove a bra in one swift move, who knew he was such a playa? Seriously any woman that dates him truly is a Lucky One.
---
The many faces of Zac Efron
April 9th, 2012 under The Many Faces of, Zac Efron. [ Comments: none ]

WENN.com
Zac Efron attended the premiere of his movie The Lucky One in Sydney, Australia and he showed many different faces to the press. No matter how goofy he looked, all I saw were those beautiful blue eyes of his. They say eyes are the window to one's soul and his are the color of a window that I want to open up and climb through.
---