The truth is still out there because The X-Files is coming back!!!
March 24th, 2015 under X-Files. [ Comments:

none

]
Fox announced today that David Duchovny and Gillian Anderson will reprise their X-Files roles of Mulder and Scully for a 6 episode mini-series event. Chris Carter is back running the show that has been on hiatus from television for the last 13 years.
Production begins this summer and all other details are being held hostage by the FBI for the time being.
I don't know about you, but I can't wait for The X-Files to come back to TV. Hopefully, if it does well enough, Fox will make it regular series again. There is always something out there for Mulder and Scully.
---
David Duchovny is in love with a big boy!
November 24th, 2014 under X-Files. [ Comments:

none

]

David Duchovny is living in the age of Aquarius, so I guess he decided to go all Californication with his co-star of the day, Bob's Big Boy.
Just when you think you can't love Agent Mulder anymore than you already do, he does something the Joneses would never do like this.
---
David Duchovny and Jimmy Fallon play an eggcelent game!
January 12th, 2013 under Jimmy Fallon, X-Files. [ Comments:

none

]

David Duchovny was on Late Night yesterday and he played Egg Russian Roulette with Jimmy Fallon and it was eggciting. Basically there was a carton full of a dozen eggs, 8 were hard boiled and 4 were raw. Each man would have to pick an egg and smash it against his head. The man who got egg on his face twice lost.
The game would've been more eggciting if the other man has smashed the egg against the other one's head, so I guess as a consolation to us we got to see both men look like penis heads with those pink bathing caps. I think Duchovny's was bigger than Fallon's!
---
David Duchovny rotates his hips for Jimmy Kimmel!!!
August 14th, 2012 under Jimmy Kimmel, X-Files. [ Comments:

none

]




David Duchovny was on Jimmy Kimmel Live yesterday and he told the ABC late night host how his kids got him a Carvel cake for his 52nd (yes he is that old) birthday. Then the two of them went into a 5 minute discussion about how the yummy ice cream cakes are and the wacky television ads they had for the place back in the '80s. Finally he told a joke he used to tell when he was a kid and he wound up rotating his hips in such a way that I so wanted him as much as I wanted a Carvel ice cream cake right then and there.
It also didn't help that before I went to sleep last night I was reading Fifty Shades of Darker and just finished the part where Christian Grey spreads ice cream all over Anastasia Steele. So when I woke up this morning and watched JKL, I was picturing The X-File man as Grey rubbing his Fudgie the Whale down to my Cookie Puss and I was, well you have read the books, I was as happy as Ana Steele would be!
OK, I am off to buy a Carvel cake so that I can cool down. Then I will eat it while watching Californication and The Rapture. Rapture how appropriate, Mr Duchovny, how appropriate you Red Shoe Diary teaser.
On a serious note if Christian Grey wasn't 27 years old, couldn't you see him in the lead role. He has that kind of appeal of a man who could get any woman to do what he wants,
---
David Duchovny is a hairy man who loves Goats
July 9th, 2012 under X-Files. [ Comments:

none

]

Goats has David Duchovny and Alan Ruck in it; so I should want to run out and see it but wild goats couldn't drag me to see this movie when it comes out on August 10th. Why would anyone pay to see Duchovny looking like that? I know I won't.
When it comes to the story, I know this movie will find an audience. It just won't be me.
---
David Duchovny and Tea Leoni eX-Files…again
June 29th, 2011 under X-Files. [ Comments:

none

]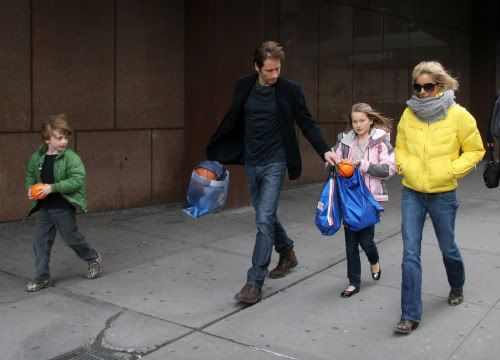 (photo from Splash)


Two and a half years after David Duchovny and Tea Leoni split and then got back together after he went to sex rehab, they have split again. According to TMZ the two separated again yesterday after 14 years of marriage, but have no plans to file for divorce just yet.
Hopefully the two of them will get back together again because they really seemed to make it work after the last time.
---
David Duchovny and his mini-me
April 23rd, 2011 under X-Files. [ Comments:

none

]

WireImage
David Duchovny took his son to a NY Knicks game and we got to see how much the Californication star looks like Kyd. Seriously isn't his awwwdorable 8 year old son his mini-me?
---
An X-Files reunion!
November 23rd, 2010 under X-Files. [ Comments:

4

]

WireImage
David Duchovny and Gillian Anderson were reunited at the opening of his Broadway show The Break Of Noon and Scully and Mulder look like they are ready to investigate The X-Files all over again. There has been talk that they might be suiting up again for the roles that made them famous once again and I hope it is true.

UPDATE: Here is the awesome trailer for season 4 of the always moody Californication that is back on Showtime January 9th!
---
The many faces of David Duchovny
July 23rd, 2010 under The Many Faces of, X-Files. [ Comments:

none

]

WireImage
David Duchovny was promoting his Showtime show Californication at Comic-Con and looks like he was living up the second part of his character's name…Moody. I am not sure if the post should be titled The Many Faces or the Many Hair Changes of David Duchovny because the X-Files' star's locks seem to have a mind of their own. Can someone at Comic-Con please give him a comb and a razor because he desperately needs it. Seriously Zac Efron's hairstyle is so not working on him.
---
BTWF roles: David Duchovny in Don't Tell Mom the Babysitter's Dead
June 15th, 2010 under Before They Were Famous, X-Files. [ Comments:

1

]

Before David Duchovny was investigating The X-Files, he was investigating Christina Applegate in Don't Tell Mom the Babysitter's Dead. OMG the 30 year actor looks like such a douche with the slicked back hair in the 1991 movie.
---