Black Sabbath's music will make your plants grow!
April 23rd, 2013 under The Osbournes. [ Comments: 2 ]

How many times have you thought that the calming sound of classical music would make your plants grow? Well you would be completely wrong because turns out that the hard core beats of Black Sabbath does wonder for your green friends. According to The Guardian garden guru Chris Beardshaw tried out 3 different types of audio to see which sounds would make his flowers prosper and the buds were not paranoid to bloom when they heard Ozzy Osbourne's voice. While the ones listening to classical music grew shorter than the ones in the silent house. So who was the greenhouse killer? Turns out Sir Cliff Richard's voice is not one you want your plants to hear, unless you want them to die.
Who would've ever guessed that The Prince of Darkness is the complete opposite to plants?
Also we found out from this study that if they make The Happening 2, just make M Night Shyamalan listen to Cliff Richard and that should quickly kill off any notion of a sequel!
---
Ozzy Osbourne admits he relapsed
April 16th, 2013 under The Osbournes. [ Comments: none ]

(photo from Fame Flynet)


For the past week there have been rumors that Sharon and Ozzy Osbourne have ended their 30 year marriage and yesterday he took to Facebook to clear things up.
For the last year and a half I have been drinking and taking drugs. I was in a very dark place and was an asshole to the people I love most, my family. However, I am happy to say that I am now 44 days sober.
Just to set the record straight, Sharon and I are not divorcing. I'm just trying to be a better person.
I would like to apologize to Sharon, my family, my friends and my band mates for my insane behavior during this period………and my fans.
God Bless,
Ozzy
Hopefully he will remain clean and get his family back to where they were before he relapsed. And hopefully recording with Black Sabbath again is exactly what he needs to get through this.
---
CSI investigates Black Sabbath!
April 10th, 2013 under CBS, The Osbournes, Uncategorized. [ Comments: none ]
While most bands debut their new songs on late night shows, Black Sabbath is doing it on a primetime show. Ozzy Osbourne's band will perform End of the Beginning on the season finale of
CSI
. According to the press release, "D.B. Russell (Ted Danson) when he and Conrad Ecklie (Marc Vann) attend a Black Sabbath show." Could you imagine if a band that hasn't released a studio album in 35 years starts a new trend? Maybe more musicians will follow suit next season. Since MTV doesn't do music anymore, it makes sense that is a great alternative to get their music out there. Especially if they are a band like this one that you could never see on any of those squeaky clean singing competition shows.
---
Prince Harry told Sharon Osbourne to f*ck off!
August 27th, 2012 under David Letterman, The Osbournes, The Princes. [ Comments: 1 ]

Sharon Osbourne is on The Late Show tonight and she told David Letterman about time that Prince Harry rightfully told her to f*ck off. She was at an event at Buckingham Palace and she had to go to the loo, so she asked the Prince to watch her purse. He told her to f*ck off. She says he was joking, but I am sure he was a little bit serious. I mean the only way I can see him watching a purse would be if he was playing nude pool and he needed something to hide the royal jewels from someone who is going to sell the pictures to the highest bidder.
---
When did Sharon Osbourne turn into Mrs Roper?
July 18th, 2012 under The Osbournes. [ Comments: 1 ]

Sharon Osbourne Tweeted the above picture before she did tonight's America's Got Talent and I think she looks like she about to walk on to the set of Three's Company instead. Seriously with her red hair and that Moo-Moo, doesn't she look like Mrs Roper? If Audra Lindley was still with us, I am sure she would ask the AGT judge where she got that dress.
---
Delta gave Kelly Osbourne a black eye?
July 7th, 2012 under The Osbournes. [ Comments: none ]

Kelly Osbourne claims a Delta flight left an impression on her and she took the Twitter to show us how just how much. She Tweeted the above picture and said, "Thank you so much Delta 4 this wonderful black eye Fix your f*cking seats Getting smashed in the face w/ a tv is so fun" Even though she hates the airline, she did have some praise about her trip, "regardless to how sh!t @delta is the stewardess really looked after me! She was amazing!"
So how did Delta give her a black eye, her is what she says happened "Really?The asshole infront of me almost knocked me out putting her seat back Might get a black eye Im going2 kick her seat all the way to LA." Then she added, "After kicking her seat form giving me a black she confronted me and laughed at the fact she gave me a black eye! What a ‪#EuroTrashCunt"
Maybe next time she should fly JetBlue. If the same thing would've happened on that airline, I could have titled this post Kelly Osbourne flies Jet Black and Blue. But I don't I think I will ever be doing a post like that because I love flying JetBlue and I have never had any issues flying them.
Now when it comes to her injury, I feel bad for her because that totally sucks.
BTW this her second flying horror story in a month, in June she got so drunk on a flight from Los Angeles to Atlanta that she had to be helped off according to The NY Daily News. Maybe she consider traveling by ground only for a little while?
---
Did Sharon Osbourne get Conan O'Brien to admit he has a small pen!s?
June 20th, 2012 under The Osbournes. [ Comments: none ]




Sharon Osbourne was on Conan O'Brien's TBS late night show yesterday and he asked her why Simon Cowell wants to fire her. She thinks it is because she said he suffers from small pen!s syndrome and that is why he has to brag that he banged all of those women. Then Conan said he knows about "small pen!ses" but once he realized what he just said he totally backtracked on that statement. So I wonder is that his way of admitting he is like Cowell down there?
And talking about down there, Sharon also told Conan about the nude picture that her husband Ozzy Osbourne Tweeted her. He was standing their butt naked with a rose coming out of his arse. I hope he made sure the stem was thornless or that will hurt like the Dickens when he pulls it out. But then again according to Sharon it sounds like it might hurt when he pulls his big willy out, so maybe it is about time he experienced the pain…
---
Jack Osbourne diagnosed with Multiple Sclerosis
June 17th, 2012 under The Osbournes. [ Comments: none ]

Jack Osbourne just became a dad two weeks ago and instead of enjoying being a new father he found out he has Multiple Sclerosis. He told People, "I was just angry and frustrated and kept thinking, 'Why now?'" He then added, "I've got a family and that's what's supposed to be the most important thing." Hopefully they caught it early and he can get on the right medication and regiment to ease symptoms from the illness so he can he can enjoy his daughter.
---
Sharon Osbourne's true face
May 10th, 2012 under The Osbournes. [ Comments: none ]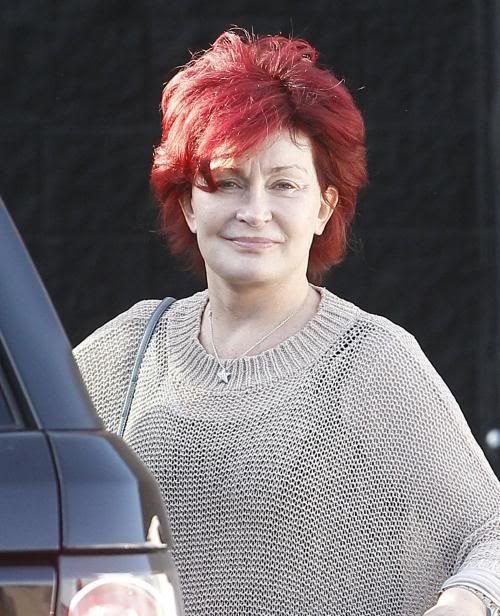 Fame Flynet Pictures
Sharon Osbourne is a brand new grandmother, so I guess she didn't have time to put on her face before she ran out to do some errands. You know what I think the granny looks better without all of the eyeliner and such, that maybe she consider doing it more often. What do you think of the America's Got Talent judge without any makeup?
---
Ozzy Osbourne prefers David Letterman over late night sex
March 26th, 2012 under The Osbournes. [ Comments: 1 ]

There is very little that Sharon Osbourne won't discuss, so why should it is still shock me when she openly talks about her sex life with Ozzy Osbourne. She shared her latest TMI with The Sun by saying, "We have sex at a particular time. Ozzy loves David Letterman. We lie in bed and watch it and he says, 'Oh, we've just got time before Letterman's monologue'." While her husband is thinking of the late night host, she is thinking of someone very different than him. Instead of fantasizing about the Prince of Darkness, she is thinking about the Queen of England. Why do I now have an image of a three-way between the Queen, the Prince and Sharon? And why do I think that two of the three of them have already thought about it.
---