F*ck The Wolf of f*ckin' Wall Street is in the f*ckin' record books!
January 3rd, 2014 under Leonardo DiCaprio. [ Comments:

none

]

The Wolf of Wall Street is in the record books for using the word f*ck the most times in any movie. According to Variety you can hear the f-word 506 times during the 180 minute film, that is 71 more times than the next film on the list, Summer of Sam. Overusing the word is nothing new for Martin Scorsese, who has two other movies in the Top 20. Those films are Casino with 422 and Godfather at an even 300. So maybe the Oscar winning director's middle name should be fuckin' as in Martin Fuckin' Scorsese, since I am sure that is what a lot of people already call him when describing his work.
---
Do Cameron Diaz and Leonardo Dicaprio have something to tell us?
May 27th, 2013 under Cameron Diaz, Do they have something to tell us?, Leonardo DiCaprio. [ Comments:

none

]

Fame Flynet
Cameron Diaz and Leonardo DiCaprio were seen together on the red carpet at Tag Heuer Yacht Party in Monte Carlo and I have to wonder if the two former co-stars have something to tell us? You know they should consider it, if they haven't already, because they actually make a cute couple.
---
Leonardo DiCaprio stands out in a crowd!
August 27th, 2012 under Leonardo DiCaprio. [ Comments:

none

]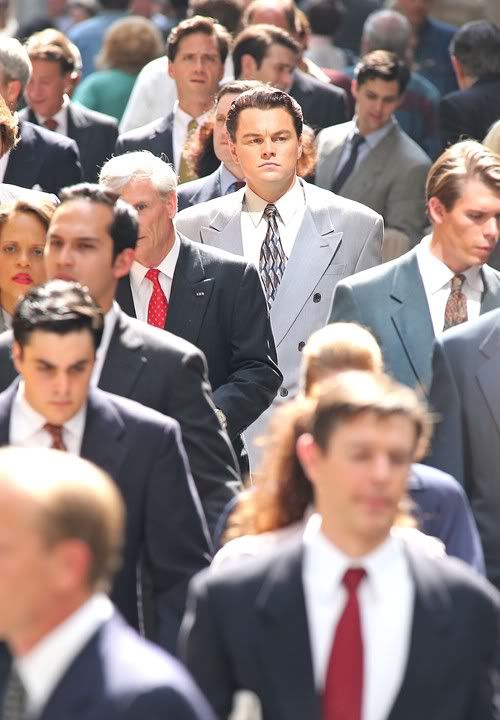 Fame Flynet
Leonardo DiCaprio finally cleaned up to star in Martin Scorsese's The Wolf Of Wall Street and he looks so good that you can immediately spot him in a crowd of business men who look just like him. Seriously doesn't he look great now that he lost that beard and put on a suit? He should only play stock brokers from now on because that look suits (no pun) him well.
---
Do you want to see Inception?
May 11th, 2010 under Leonardo DiCaprio. [ Comments:

1

]

I have no freaking idea what Inception is about, but I want to experience the Leonardo DiCaprio movie when it comes out on July 16th because it looks visually stunning. Seriously how amazing does that film look visually?
---
BTWF ads: Leonardo DiCaprio for Bubble Yum Gum
May 19th, 2009 under Before They Were Famous, Leonardo DiCaprio. [ Comments:

none

]

Before Leonardo DiCaprio went down with the Titanic, he was blowing bubbles for Bubble Yum Gum. OMG how adorable was the 14 year old star back in 1988?
---
Leonardo DiCaprio entering The Twilight Zone
July 26th, 2008 under Leonardo DiCaprio, Stupid Sequels/Remakes. [ Comments:

none

]

Leonardo DiCaprio is close to bringing his favorite show The Twilight Zone to the big screen according to The Hollywood Reporter.
The studio and production company are quietly putting out word to creators that they are looking for pitches and script ideas based on the show for feature development.
The companies are not seeking to remake an episodic movie, as the only big-screen version of the show did 25 years ago, but rather hope to build one continuing story line based on one or more episodes.
Warners is negotiating for rights to the Rod Serling-penned episodes,
I wonder if M Knight Shyamalan is going to pitch something for this because his movies are more like Twilight Zone episodes than feature length films.
Hopefully since The Twilight Zone is one of Leo's favorite shows, that he will do it justice when he brings it to the big screen.
---
Leonardo DiCaprio's documentary, 11th Hour comes out this Friday!
August 15th, 2007 under Leonardo DiCaprio. [ Comments:

none

]
Leonardo DiCaprio's "The 11th Hour" is a feature length documentary concerning the environmental crises caused by human actions and their impact on the planet. The 11th Hour documents the cumulative impact of these actions upon the planet's life systems and calls for restorative action through a reshaping of human activity.

The 11th Hour opens in Los Angeles and New York on August 17th, in select markets on August 24th, and nationwide on August 31st.
Hopefully Leonardo DiCaprio will finally get the Oscar he so richly deserves for this movie especially for something he so believes in and is passionate about! Just looking at that trailer, I will have to run out and see it this weekend!
---
Leonardo Dicaprio and Kate Winslet together again
March 23rd, 2007 under Leonardo DiCaprio. [ Comments:

4

]
Leonardo Dicaprio and Kate Winslet have both signed on to do Revolutionary Road.
Variety
reports that the Sam Mendes film is about "heart-rending and bleak tome, celebrated for its storytelling style, follows a seemingly happy suburban couple with two children in the mid-1950s who find themselves caught between their true desires and the pressure to conform — with explosive consequences." The two have not worked together since Titanic and it will be interesting if we will be able to see them as anything but Jack and Rose.
And if this movie has them go 30 years into the future does that mean their next movie together will be based in the '80s?
---
Jack Nicholson wears a dildo in The Departed
September 24th, 2006 under Jack Nicholson, Leonardo DiCaprio. [ Comments:

1

]
Quirky movie great Jack Nicholson is set to shock fans in his new thriller The Departed by wearing a sex toy in a sleazy scene. The Chinatown star, who threatened to set fire to co-star Leonardo DiCaprio to heighten the tension in one scene, felt he'd add to the sick sexual nature of his character Frank Costello by strapping on a dildo. And, as shocked as co-star Matt Damon was, he admits Nicholson's last-minute decision to wear a sex toy impacted his whole performance in the Martin Scorsese film. Damon says, "It's Sunday night and I'm looking over the script and I'm getting ready and I get a phone call: 'Hello, its Marty… Jack had some ideas for the scene tomorrow in the XXX movie theatre where he meets up with your character and he's gonna wear a dildo.' I said, 'Alright, I'll see you at seven!' "So, we went in the next day and we rehearsed and Jack said, 'Here's the deal – I'm gonna come in and I'm gonna sit there in the overcoat and turn around and I'm gonna pull out the big dildo and we're gonna laugh.' "I thought that was a good idea to get into the scene. Jack brought this incredibly new layer to that character. He made him more obscene in a way that felt authentic.
Ewww Ewww Ewww. Actually it is kind of hot, not!
---
A Cat dating a lion?
August 6th, 2006 under Leonardo DiCaprio, SYTYCD. [ Comments:

1

]
Leonardo DiCaprio is reportedly dating a British TV presenter.The 'Titanic' star has been spotted enjoying several dates with blonde Cat Deeley, who shot to fame by presenting British music show 'CD UK' and America's 'So You Think You Can Dance' The 31-year-old – who was recently said to have rekindled his romance with Brazilian supermodel Gisele Bundchen – is said to be smitten with Deeley's natural beauty and sexy accent. A source was quoted in Britain's Daily Star newspaper as saying: "Leo was attracted by Cat's fresh-faced looks and English accent."She looks very different from an identikit Los Angeles girl" The Aviator' star is said to have first approached Deeley at a Beverly Hills restaurant, after overhearing her tell a friend she was considering posing for a nude magazine shoot.
The source added: "When he heard her talking about posing naked, he couldn't help interjecting to advise her not to ruin her English Rose appeal."Meanwhile, it has been suggested Cat's motives for dating the global superstar could be a way to advance her own career in America.
---