The shocking way that Adam Sandler keeps looking so young!
May 15th, 2014 under Adam Sandler, David Letterman. [ Comments:

none

]

Adam Sandler was on The Late Show tonight and David Letterman wanted to know how he keeps his youthful appearance. Little Nicky revealed he would never get plastic surgery, so then how does he do it? When Zohan is filming a closeup, he has an assistant stand behind him and pulls his facial skin to the back of his head. It's like an instant face lift without any knives.
Not a bad way for him to keep looking like he did when he started on Saturday Night Live back in 1990. While it is not bad for him, it totally sucks for his assistant. I'd hate that job!
---
Has Jay Leno ever gotten an erection in the middle of an interview?
January 22nd, 2014 under Adam Sandler, Jay Leno. [ Comments:

none

]

Adam Sandler was a guest on The Tonight Show yesterday and he turned the table on Jay Leno by asking him questions. One of the things Billy Madison had to know is if the NBC late night host ever accidentally got an erection during the middle of interview. If you think about it, it is a given for any host because of the tight outfits some of the actresses wear on the show. Which explains why all the hosts are behind a desk. It is to hide when their mic wants to stand straight up and have that guest hold him. At least that is what Leno was hinting at when he answered the question.
---
The third time's the charm for Adam Sandler & Drew Barrymore!
December 17th, 2013 under Adam Sandler, Drew Barrymore. [ Comments:

none

]

Adam Sandler's best movies are with Drew Barrymore like The Wedding Singer and 50 First Dates. Now the two actors are at it again in Blended and I can't wait to see the movie when it comes out on May 23rd.
It looks like good things come in three just like the bad ones thanks to this duo doing their third film together.
---
Is Shaq carrying Adam Sandler over the threshold?
July 11th, 2013 under Adam Sandler, Do they have something to tell us?. [ Comments:

none

]

Shaq was pictured carrying Adam Sandler like a groom holds his wife on their wedding day and I have to wonder if they have something to tell us? No it was just the two of them having some fun on the red carpet of their movie Grown Ups 2 by Happy Madison.
BTW doesn't Sandler look so little in Shaq's big arms?
---
The Grown Ups 2 cast do a Harlem Shake to end all Harlem Shakes!
April 28th, 2013 under Adam Sandler. [ Comments:

none

]

The cast of Grown Ups 2 did their own version of the Harlem Shake and it is so epic that I don't think anyone can top it.
So sit down and watch it because it is a million times better than the movie that they are promoting. Sorry guys, but at least we got something funny out of it!
---
The Grown Ups 2 cast sucks at impressions!
April 17th, 2013 under Adam Sandler, Ellen DeGeneres. [ Comments:

none

]

The main cast of Grown Ups 2 was on The Ellen DeGenres Show and she asked them to impersonate each other. You'd think this would be an easy task because Kevin James, Adam Sandler, David Spade, Chris Rock and Maya Rudolph are all comedians and that is what they do. Well I guess not because the ones that actually got to try their best impression of their co-star sucked more than then one that went before them. Seriously it was so bad that it will make the unfunny movie a little bit funnier because anything has to be better than that.
---
Adam Sandler went to great lengths to see Shaq's penis!
April 9th, 2013 under Adam Sandler, Conan O'Brien. [ Comments:

none

]

Adam Sandler was a guest on Conan O'Brien's TBS show yesterday and Mr. Deeds told the host about something he had to see while he was filming Grown Ups 2.
Shaq has a part in the movie, and when the opportunity came up for him to see how huge the basketball giant's penis was he jumped at chance. Not because he has a man crush on him, but because curiosity was killing him as it does you and me. So while Shaquille O'Neal was in the shower, The Waterboy tried to sneak a peek. You have to listen to what happens next because it makes his story even bigger. I know I got excited listening to it.
BTW let's be real if you had the chance to see the pole between #34's basketballs, wouldn't you do all you could to see it first hand and grab it with the second one?
---
Jack and Jill went up a hill and the movie looks like a thrill!
July 9th, 2011 under Adam Sandler. [ Comments:

none

]

Adam Sandler is playing Jack and his twin sister Jill in the movie titles Jack and Jill and I can't wait to see the movie on 11/11/11 after watching the trailer. It seriously looks like it going to be so beyond awful that it will be as funny as hell. The only thing that will be bringing down the flick is Katie Holmes as Jack's wife. I don't know why she keeps getting all these plumb roles because I don't think she can act, especially in comedies. The only funny thing she ever did was marry Tom Cruise.
Now back to Adam, I think he looks better as Jill than he does Jack in the film. What's up with that?
---
Adam Sandler's Sunny day!
March 18th, 2011 under Adam Sandler. [ Comments:

none

]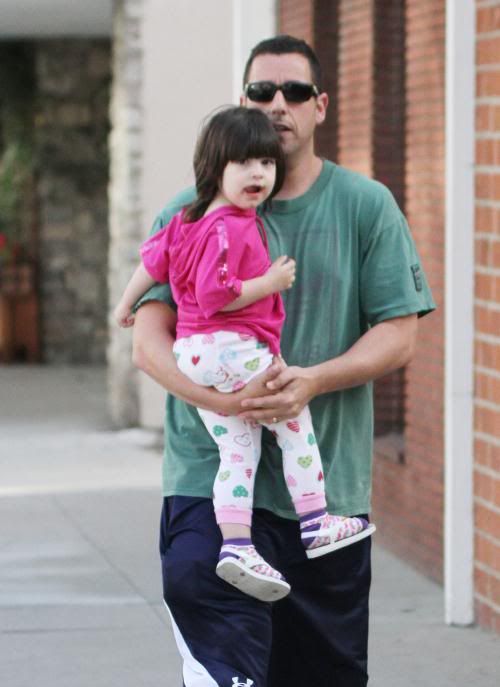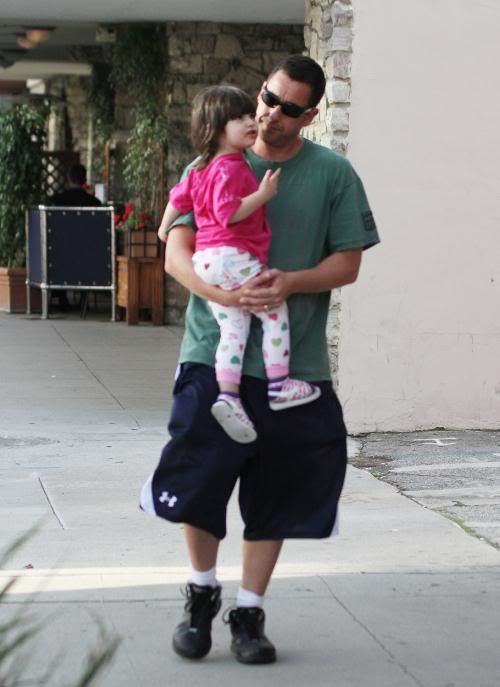 Fame Pictures
Adam Sandler thought he would go for walk outside, his daughter Sunny was calling his name, he heard her call. They just couldn't stay inside all day, they had to get out get them some of those rays and everybody's smiling. Seriously aren't you have a Sunshine Day looking at the proud papa with his two year old daughter?
---
Adam Sandler's kids are impressed by his shiny star!
February 2nd, 2011 under Adam Sandler. [ Comments:

none

]

WireImage
Adam Sandler got a star on the Hollywood Walk of Fame and the honor was a family affair. Billy Madison took his wife and their two daughters Sadie and Sunny to show off of his bright shiny star. I am not sure if his little girls are happy their dad's name has been immortalized in the sidewalk or they like how pretty it looks. Considering that the cuties are four and two, I think they like how pretty it looks…just like them.
Seriously how cute are his two little stars in the making.
---