Stephen Colbert will interview Matt Damon or die trying!
August 9th, 2013 under Comedy Central, Matt Damon. [ Comments:

none

]

Yesterday on The Colbert Report, Stephen Colbert went to get a soda from the machine during the show and it feel down on him, crushing him in his nice suit. He screamed for help and Matt Damon rushed in to rescue him. While trying to lift the heavy object off of the conservative anchor, Colbert started asking the Oscar winner some questions about his career and his new movie Elysium that is out now, as blood poured out of him. Did Matt Damon do a Jason Bourne or is Comedy Central looking for his replacement? You will have to watch that video find out.
---
Matt Damon's house of lies about George Clooney!!!
January 31st, 2013 under Don Cheadle, Matt Damon, Showtime. [ Comments:

none

]

It seems like Matt Damon is all over the place these days and on Sunday at 10p he is going to be on Showtime's House of Lies. The Oscar winner goes to the consultants to find a charity that is bigger than George Clooney's thus making Jason Bourne look better than the Fantastic Mr Fox. Once he is in the meeting he then goes off on his Ocean's co-star to Marty Kaan (Don Cheadle), who gets what he is going for. Which makes me wonder if these 2 Ocean's stars are trying to tell us something about the man who was was their leader in the movies?
---
Ellen DeGeneres highly recommends kissing Matt Damon!
January 30th, 2013 under Ellen DeGeneres, Matt Damon. [ Comments:

none

]

Catherine Zeta Jones is on Ellen today and she talked about her husband, Michael Douglas, kissing Matt Damon in Behind the Candelabra. The actress said, "I know if my husband's going to kiss anyone let it be Matt Damon." It was then that Ellen DeGeneres admitted she had the privilege of kissing him and then she told her audience "I highly recommend anyone if you get a chance kiss Matt Damon." I wonder how her good friend Jimmy Kimmel is going to handle what she said? You know I just wish those two guys would kiss and make up in front of the cameras already! How hot would that be after last week's brilliant Jimmy Kimmel Sucks episode!
Now back to kissing Matt Damon, after getting such high praise from Ellen I so want to kiss him! Why does he have to be happily married?
---
Matt Damon didn't have time for JImmy Kimmel!!!
January 25th, 2013 under Jimmy Kimmel, Matt Damon. [ Comments:

none

]

After 1,205 times of Jimmy Kimmel bumping Matt Damon from Jimmy Kimmel Live!, Matt Damon finally got his revenge on the ABC late night host. Almost a decade of "apologies to Matt Damon, we ran out of time", Damon showed Kimmel what that feels like and it doesn't feel good.
The Oscar winner tied him up and took over the show that airs at 11:35p for the full hour. He started off doing the monologue and bashed the tied up man as much as possible. Then he replaced Guillermo with Oscar nominee and his Ocean's co-star Andy Garcia and JKL's bandleader and BFF Cleto with Sheryl Crow. But it didn't stop there when it was time for the jokes in the monologue, he brought out the man who won an Oscar with a little movie he wrote called Good Will Hunting. That's right Robin William had us in stitches, a feeling Kimmel could related to at that moment.
Then when the monologue was over, it was time for the guests. First up was Oscar winner Nicole Kidman, who had never been on the show before last night. She mentioned Oscar winner Gary Oldman and then he was there. He said Oscar nominee Amy Adams' name and she appeared.
Then after a commercial break Matt Damon joked how easy it is to book a celeb in this town. So he had Andy Garcia throw a rock and bam a celebrity would magically appear. The first to be hit was Oscar winner Reese Witherspoon and the next throw got them Demi Moore. So when the couch was full with 3 Oscar winners, an Oscar nominee and Demi Moore and there was no room left for anybody else on it, it was time to move on to the next segment. Matt Damon brought out his f*cking buddy and Kimmel's ex-girlfriend to chat with her.
The show wasn't over yet, Sheryl Crow performed her new single and it wasn't about a doping ex. Once the fat (OK she's not fat) lady was done singing, it was time to end the show. Matt Damon promised he would un-gag Kimmel and let him have a few words on Jimmy Kimmel Sucks!, but sadly for him they ran out of time!
I know this is going to make me sound like a Benedict Arnold, but after watching the show for almost 6 years I have to say I think that was the best episode I have ever seen of Jimmy Kimmel Live! yet. Sorry Jimmy don't hate me, but it was a f*cking brilliant episode. So sit back and enjoy it as much as I did.
Oh and since Matt Damon was not technically a guest on Jimmy Kimmel Live!, he can still apologize to Matt Damon for running out of time, right? Something Jimmy Kimmel told me a few weeks he was going to do anyways.

UPDATE: Jimmy Kimmel Sucks! was the #1 show last night in its timeslot in households and the key demo. Garnering its best ratings yet in that timeslot and the show has been airing at 11:35p for less than 3 weeks. I think JKL! is starting a well deserved trend for itself!!!
---
Are Matt Damon and Jimmy Kimmel into some weird bondage games?
January 24th, 2013 under Jimmy Kimmel, Matt Damon. [ Comments:

none

]

After almost 10 years of Jimmy Kimmel ending every show with him not having time for Matt Damon, JKL! has finally made some time for Matt Damon tonight at 11:35p on ABC. But it looks like Matt Damon doesn't want to share the screen time with Kimmel as witnessed in the above video has hit the internets this morning and it looks like Jason Bourne has does something worse to him that f*cking his ex-girlfriend. That's right Matt Damon has kidnapped Kimmel according to ABC. The network had this to say in a press release, "Damon has taken matters into his own hands. The Oscar winner accepted Kimmel's invitation to finally be a guest on his show tonight, but then arrived at the JKL studio this morning and promptly took Kimmel hostage." No word if any ransom was offered and if anyone would pay it if it were. So I guess we will have to tune in to see one of late night's greatest rivalries tonight to see what happens next? Although I kind of like the idea of Kimmel remaining taped up as Matt Damon hosts the show. What about you?
---
Jimmy Kimmel finally has time for Matt Damon on January 24th!
January 11th, 2013 under Jimmy Kimmel, Matt Damon. [ Comments:

none

]

After almost 10 years of Jimmy Kimmel not having time for Matt Damon on his ABC late night show, he will finally have Jason Bourne on Jimmy Kimmel Live! at 11:35p this January 24th. I guess now that Kimmel is on earlier, it not past Damon's bed time so he is able to stay up and do the show that beat Leno and Letterman in the key demo yesterday on its third night in its new timeslot.
So now that he has time now for the man he didn't have time for, how will Jimmy Kimmel end his show every night starting on January 25th? He told me today, "I don't know. We will probably the continue the same nonsense. I'd think Matt would be disappointed if we drop him. He's become a part of the show" Then he added, "He almost become a good luck charm for us."
Well in less than two weeks we will see if Kimmel's good luck charm is still that after he finally sits down with Damon, the man that has been the show's joke for almost a whole decade.
---
Is this what Matt Damon sounds like in bed?
December 23rd, 2011 under David Letterman, Matt Damon. [ Comments:

none

]

Matt Damon is starring in the family movie We Bought a Zoo, but did you know he also voices the animals in the film? Well David Letterman got his hands on the video showing it and aired it on The Late Show. I wonder how Matt got so good at doing animal impressions? Is that what he sounds like in bed? Actually I don't want to know because can you imagine hearing his seal impression when you are in the throws of it? Talk about a moment killer.
---
I thought that Matt Damon only sat on Ben Affleck's lap?
December 7th, 2011 under David Letterman, Matt Damon. [ Comments:

none

]

Yesterday while Matt Damon was on The Late Show he sat on David Letterman's lap for their 2011 Holiday Card. I don't know about you, but I thought that was something that Damon only did with his BFF Ben Affleck. I wonder if his co-Oscar winner will make a revenge Holiday Card sitting on Jay Leno's lap when he sees this just like he did when Damon recorded a video with Sarah Silverman and Jimmy Kimmel and him made their own special video as retaliation? I am sure The Tonight Show host would be up for it and he does have that photobooth they can use. Hey Leno please take me up on it!
---
Matt Damon shows us the apples of his eyes!
April 18th, 2011 under Matt Damon. [ Comments:

none

]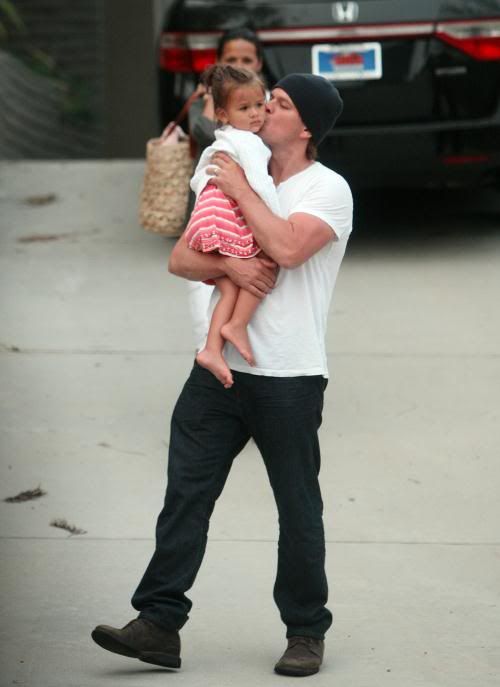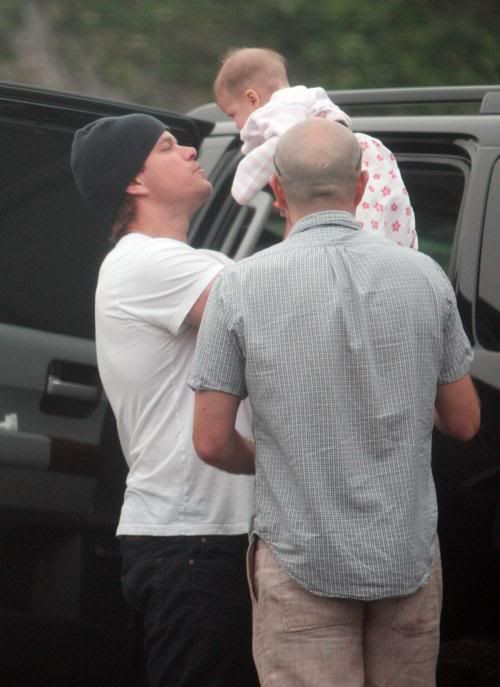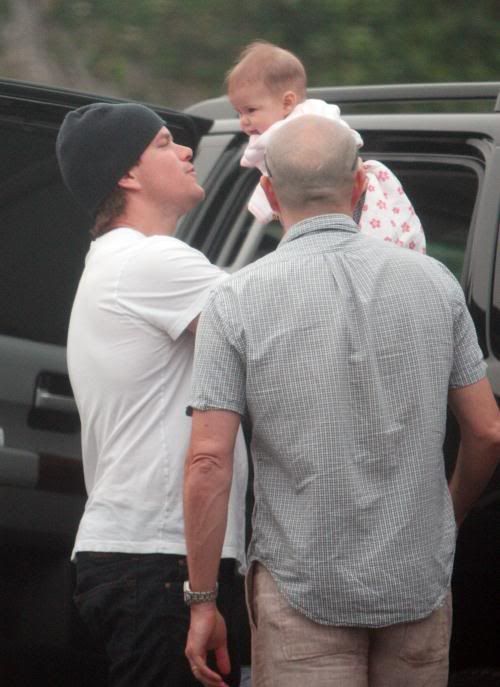 Fame Pictures
Matt Damon took his girls to celebrate his best friend Ben Affleck's wife, Jennifer Garner's birthday and it was us who got the biggest gift because we got to see his two beautiful youngest daughters. The Oceans stars gave his 2 year old daughter Gia a big kiss and he doted over his nearly 6 month daughter Stella as though she was the only apple of his eyes. And those are some apples I like!
He might play an action star in on the big screen, but in real life he is just a sweet dad who loves his little princesses!!!
---
Matt Damon says George Clooney wants to adopt an 18 year old Russian girl
March 1st, 2011 under Ellen DeGeneres, Matt Damon. [ Comments:

none

]

(photo from WireImage)


Matt Damon will be on Ellen tomorrow and besides revealing stuff about himself to her during his first appearance on the show, he also let her in on a secret about his Ocean's 12 leader, George Clooney. Jason Bourne told her, "George Clooney used to have a joke. When people would say, 'Are you going to have kids?' And he'd say, 'No, but I'm going to adopt an 18-year-old Russian girl.' Laughs He was younger. It wasn't so weird then."
After reading what he said last week, I still think it was creepy of him to say it even if he was younger. That and aren't his girlfriends barely over 18? I stopped keeping up with all the chicks, as he put it, f*cked.
Besides dishing on Clooney, he is also told how he met his wife and if they are going to have more kids. His answer to that is what led that slip up!

UPDATE: Ellen DeGeneres is kissing and Tweeting about Matt Damon being on her show for the first time.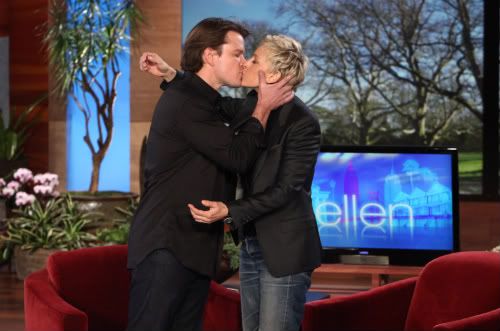 ---