Jason Biggs tried to breast feed his wife
July 15th, 2014 under American Pie, Conan O'Brien. [ Comments:

none

]

Jason Biggs was on Conan O'Brien's show yesterday and the actor talked to the TBS host about his 5 month old son. Well actually he spent more time talking about his wife's breast milk. Believe it or not, the American Pie star admitted he tried to breastfeed from his wife and she wasn't having it. So instead he bottle fed himself the stuff. Before he got to say if he liked it or not, Conan and Andy Richter were completely grossed about it for different reasons. Conan because ewww and Andy because he has had it twice before. Their reaction to it all is so funny, you just have to watch it. It's like someone should pitch a sitcom based on this interview because it would be a funny show to watch.
---
Maybe that apple pie confused Jason Biggs about sex?
June 17th, 2014 under American Pie. [ Comments:

none

]

Jenny Mollen Instagrammed a photo of her husband, Jason Biggs, wearing just her book (I Like You Just The Way I Am that's out today) over his crotch. If they didn't have a kid already, I would wonder if he knows how to have sex after that infamous scene in American Pie.
Seriously, this picture gives new meaning to morning wood. You know, since paper is just very thin wood.
---
All that apple pie f*cking finally gave Jason Biggs a baby!
February 18th, 2014 under American Pie. [ Comments:

none

]

Jason Biggs, and his wife, Jenny Mollen, welcomed their first child together this Saturday. Sid Biggs lives up to his name, according to his mom, who said this along with his first photo on Instagram, "Full head of hair, huge penis, 10k twitter followers. #babybiggs" As we learned from American Reunion, like father, like son when it comes to their man parts.
Below is the precious video of the loving parents as they saw their beautiful son for the first time. Sid is a lucky boy, that is until his friends seeing American Pie and then it is all over for him.
---
Do you like Jason Biggs better with a pornstace or Hitler's?
January 8th, 2014 under American Pie. [ Comments:

none

]

Jason Biggs is days away from being a dad and he shaved off his beard so that his face matches his son's butt. When you do take off the facial hair, you have to do it in stages and he shared the pictures with us on Instagram. First we see him with a beard, then with a pornstache, followed by the despicable Hitler and finally with a fresh face. So of the four looks, which one do you like the most and the least? I am shocked to say this, but the American Pie star actually makes the pornstache work.
---
Is Jason Biggs pregnant?
October 22nd, 2013 under American Pie. [ Comments:

1

]

Jason Biggs and Jenny Mollen are expecting their first child together in a few months and it looks like the American Pie star is suffering from a sympathetic pregnancy. You know what they say, a couple that is pregnant together, stays together.
---
An Orange beehive Is The New Black curls for Jason Biggs!
September 18th, 2013 under American Pie. [ Comments:

3

]

Jason Biggs' wife, Jenny Mollen, Tweeted this beautiful picture of her husband dressed as a woman, and I'm thinking the American Pie star should get a sex change. Seriously he is much better looking as a woman than he is a man. I'm not saying he isn't an attractive guy, I'm just saying being a lady really works for him. What do you think?
When it comes to why he is dressed as a housewife from the '50s, we don't know and with this couple you never know.
BTW if you haven't seen him in Orange is the New Black on Netflix, what are you waiting for? It's their best original series to date.
---
Jason Biggs gave up the pie long enough to make a baby!
July 17th, 2013 under American Pie. [ Comments:

4

]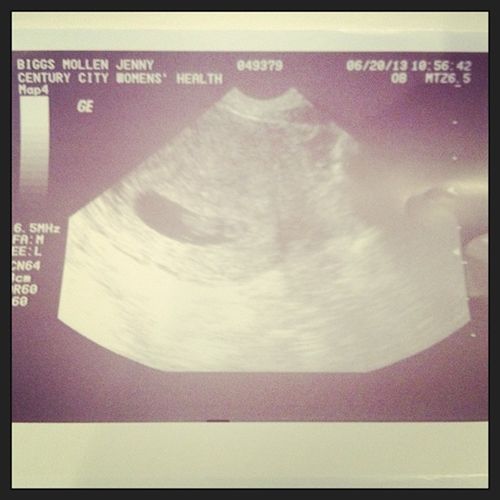 Jason Biggs and his wife Jenny Mollen have no problem posting their very intimate, maybe too intimate, pictures on Twitter. Well today the couple who have been married for 5 years announced that they are expecting a baby by posting pictures of her sonogram and 4 positive pregnancy tests. At least I am assuming they both are going to be parents because here is what she Tweeted with the proof positive pictures, "Decided I'm not releasing the name of the father."
BTW imagine what this kid will go through when their friends realize what Jason Biggs to a pie in American Pie? That should be an interesting conversation about the bird and the bees for the future little Biggs. In fact that is a great name for the baby, Little Biggs!
---
The perks of being Jason Biggs' housekeeper!
April 22nd, 2013 under American Pie. [ Comments:

none

]

Being a housekeeper for a celebrity might not be an ideal job, but Jenny Mollen is giving you a reason to apply to work for her husband Jason Biggs and her. When the American Pie star is at home and not working, he catches up on some much needed sleep. So his loving wife of 5 years leaves a message on him for the housekeepers while he is resting; and she left a message on Twitter for those who want to apply for the job by saying "Thought I'd leave a little something extra housekeeping today…" Depending what you do to him when you take the pictures, will determine how much money you can make off of the photos you take. Although we saw him naked in American Reunion, what is there left to do for him!
---
Jason Biggs might've taken his love of The Bachelor a little too far!
February 19th, 2013 under American Pie. [ Comments:

none

]

Jason Biggs and his wife Tweet about The Bachelor every Monday in their own special way and yesterday he added this picture to their gallery of TMI pictures dedicated to the show that has included one of his testicles with a happy face. Well now he has recreated that infamous scene from American Pie with an Us Weekly and said "Oops, just took his virginity." I just don't know what to say about that photo. They say a picture is worth a 1,000 words and this one only leaves me one, "ewwwwwwwwwwwwwwwww!"
---
Imagine Jason Biggs playing Matthew McConaughey's role in Magic Mike
July 13th, 2012 under American Pie. [ Comments:

none

]

Jason Biggs auditioned for Matthew McConaughey's role in Magic Mike, but for some reason he didn't get. I have no idea why he didn't because in the audition tape that was released by his assistant, he showed off his sexy moves and I was like Schwing. Between seeing his huge schlong in American Reunion (which is out on DVD now) and this video, I know have a new go-to fantasy man during sex. Is anyone as turned on as I am?
---