Will Daniel Radcliffe go naked again in his new play?
June 15th, 2016 under Broadway, Harry Potter, Stephen Colbert. [ Comments:

none

]

A few years ago when Daniel Radcliffe starred in Equus on Broadway and he went fully naked. In a few weeks he is hitting the stage again and Stephen Colbert wanted to know on his Late Show if we are going to see the actor's magic wand again in Privacy. Harry Potter told him, "I mean, one of the great things about the show is that it is going to be changing on a nightly basis. Based on things the audience is doing, so who knows?
According to Playbill's description of the off-Broadway show, "Privacy explores our complicated relationship with technology and data through the funny and heart-breaking travails of a lonely guy (Radcliffe), who arrives in the city to figure out how to like, tag, and share his life without giving it all away. The play uncovers what our technological choices reveal about who we are, what we want and who's keeping track of it all. This provocative theatrical event will ask audiences to charge their phones, leave them ON during the performance and to embark on a fascinating dive online and into a new reality where we're all connected…for better or worse."
I hope that the audience asks for a nude Selfie from him every night! If they he'll be playing to packed houses every night. Heck, I'd fly across the country to see that.
---
Who made Miriam Margolyes cream her knickers?
January 19th, 2016 under Graham Norton, Harry Potter. [ Comments:

2

]

Miriam Margolyes has been acting for over 50 years now and Graham Norton wanted to know if she ever got star stuck. Then she told him about the time she met Sir Laurence Olivier at a stage door to get his autograph. She described their encounter as, "He came out, I remember so distinctly, that I started to cream in my knickers," adding, "I could feel it."
I don't know what was better, her saying, "cream in my knickers" or Matthew Perry's reaction to what she said? She wins because now I am going to say, "cream in my knickers," whenever I see a guy that makes me, "cream in my knickers."
Have you ever been so excited to meet a celebrity that you creamed in your knickers? I have met several celebs on my To-Do lists and sad to say none of them made me "cream in my knickers."
---
Daniel Radcliffe has the cutest laugh!
November 11th, 2015 under Harry Potter, Jimmy Fallon. [ Comments:

6

]

Daniel Radcliffe was on The Tonight Show yesterday and Jimmy Fallon challenged him to a game of Water War. Basically, they play the card game war, but the loser of each round gets a glass of water poured or thrown on them. Well, Harry Potter found the game quite magical. So much so, that every time someone lost a round, Radcliffe couldn't stop laughing. He laughed harder when he won, but he didn't stop when he was all wet. His giggling put such a spell on me, I was giggling along with him. Did he put the same spell on you too?
---
Victor Frankenstein is everything wrong with modern tellings of classics
August 18th, 2015 under Cheezy Flicks, Harry Potter. [ Comments:

8

]

The first trailer is out for Victor Frankenstein starring James McAvoy and Danielle Radcliffe and it looks awful. It is another take on the classic and modernized to like sh!t. When a tale is a scary enough on its own, it doesn't need to be CGIed to max to tell it. This movie looks like it is more about the visuals than the legendary story. It's like hey were making a movie that will work great in 3D, get two of the biggest stars to act in it and it will be a hit. I for one say, "no," and I hope you join me by boycotting this movie on November 25th.
We need to stop the overuse of CGI and bring it back to the good old days of scary creatures that made you lose sleep for several nights. Not a movie that makes you forget how scary it was by the time you get to your car. Enough is enough.
I am not saying that CGI is bad, I am just saying that the overuse of is horrendous.
They need to start making movies like they did when they made The Cat and The Canary. The classic thriller is available from Cheezy Flicks for a mere $4. That is a lot cheaper than going to see Victor Frankenstein in theaters, a whole lot cheaper.
---
Has Daniel Radcliffe hit some hard times?
July 15th, 2015 under Hard times, Harry Potter. [ Comments:

none

]

Every since Daniel Radcliffe did the Harry Potter movies, his career hasn't been as magical.
Well about a few weeks ago, the actor was seen working as a receptionist for Nylon magazine, so has he hit some rough times and needs a new career? Nope, he said he was doing it for research for a role, although it was never really explained why he took the job for an hour. By the sounds of it, he will never ever do it again, which sounds like everyone at the magazine is A-OK with it. Including Joe Jonas!
---
Daniel Radcliffe wants to be in Sharknado 3!
August 8th, 2014 under Harry Potter. [ Comments:

none

]

Daniel Radcliffe was on Ryan Seacrest's show this morning and the radio host had to know more about his love for the Sharknado movies. That's right, Harry Potter is enchanted by the telemovies that have taken the world by storm. He loves them so much, he has written some scenarios for his cameo in the upcoming sequel.
So, what do you get an actor who has everything? If you are Seacrest, then you get Tara Reid to surprise him on the show. If you are Tara Reid, then you give him the first bottle of your perfume, Shark. Finally, if you are Syfy, then you give him a role in your biggest franchise to date.
How awesome would it be to see Daniel freaking Radcliffe in a Sharknado movie? It would be just as good as seeing Robert Hayes flying a plane and Judd Hirsch driving a cab in NYC. Oh, wait they did that. So there is nothing left for them to do, but to cast him.
Who wants to sign the petition for him to magically appear in it??? Daniel Radcliffe for Sharknado 3 and 4 and 5 and…
---
Daniel Radcliffe works his magic as he shaves a guy's head?
July 30th, 2014 under Harry Potter, Jimmy Kimmel. [ Comments:

none

]

Daniel Radcliffe was on Jimmy Kimmel Live yesterday and he did something he has never done before. He shaved a guy's head. Why? For some reason the ABC late night show was shaving men's heads to cool them off from the hot summer days, and Harry Potter got to work his magic on one of the victims. Let's just say, the actor is better off keeping to his day job. Not that he did such a bad job, he just didn't do a great one either.
Would you let him shave your head?
---
David Letterman knows 'how to sex a turtle!'
March 26th, 2014 under David Letterman, Harry Potter. [ Comments:

none

]

Emma Watson was on The Late Show yesterday to talk about her new movie Noah and David Letterman wanted to know, "Who sexes the animals?" The Harry Potter actress gave him her best, Whatcha talking about Willis? face. Then the CBS late night host tried to explain his question by saying his son will take his pet turtles to him to find out if it is a boy or a girl. Harry does that because as Letterman puts it, he knows "how to sex a turtle!" Once Dave realized what he said, he knew it was time to move on to a new question faster than a turtle can run to the other side of his cage.
---
It was all about the little white dress at the Gravity premiere!
October 2nd, 2013 under Harry Potter, Sandra Bullock. [ Comments:

1

]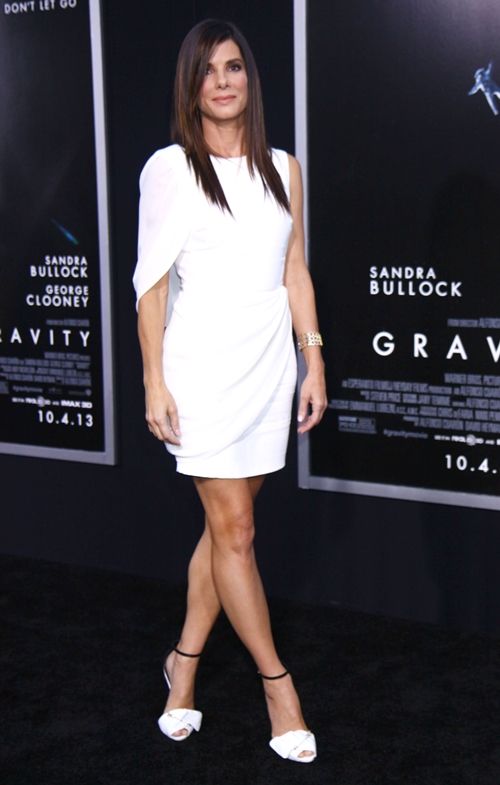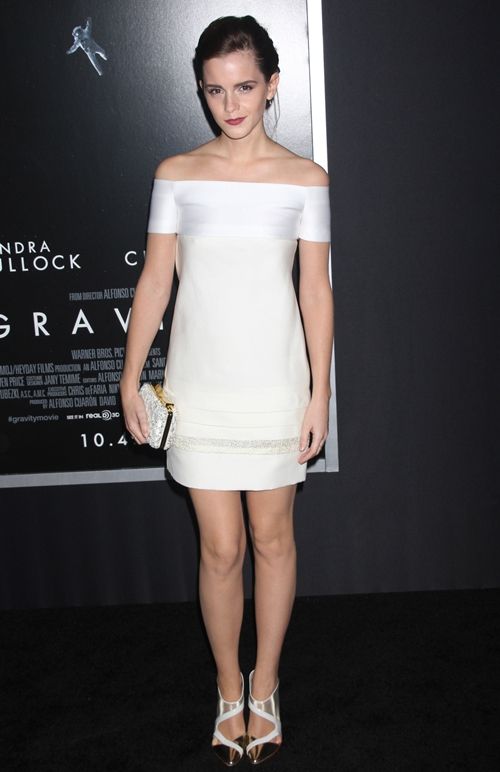 Fame Flynet
Whoever said you can't white after Labor Day, might be changing their tune after yesterday premiere for the much-buzzed movie Gravity. The movie's star Sandra Bullock and Harry Potter's Emma Watson wowed on the red carpet in little white dresses. Proving you can wear white all year round. The only time you can't do that is when you are a guest at a wedding.
---
Is Emma Watson trying to look like a sexy nun?
September 4th, 2013 under Harry Potter. [ Comments:

none

]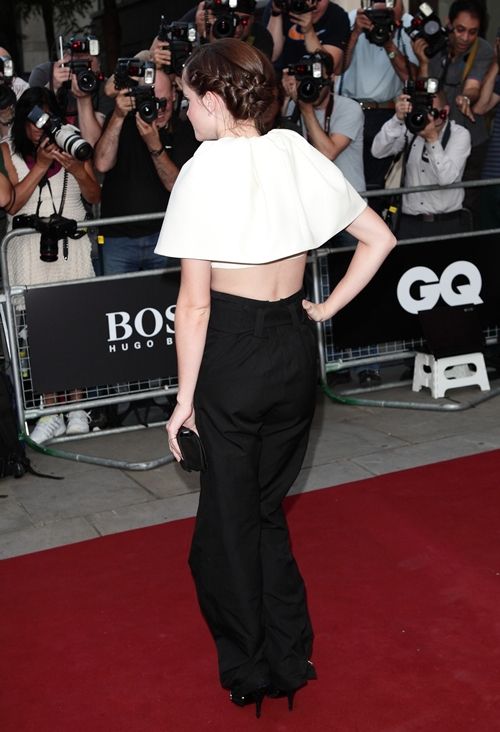 Fame Flynet
Emma Watson attended the GQ Men Of The Year Awards yesterday and it took me a few minutes to realize what her outfit reminded me of. Then it dawned on my it looks like she went to a costume shop, bought a nun's habit, worked her Harry Potter magic on it and abracadabra that is what she came up with it. I have to say she must've gotten into black magic recently because no good witch would let her go out in public looking like that. It's like Voldemort designed that pants suit just to get revenge on her for what she did to him.
What do you think of that look?
---