Rosie O'Donnell's 17 year old daughter is missing
August 18th, 2015 under Rosie O'Donnell. [ Comments:

none

]

It has been a rough year for Rosie O'Donnell, she split with her second wife, quit her job at The View and today she announced that her 17 year old daughter Chelsea has been missing for a week.
She posted the below statement on her blog:
Rosie O'Donnell's 17 year old daughter, Chelsea O'Donnell was reported missing. Nyack, New York police authorities have been looking for her in the Rockland County area since Sunday, August 16. She was last seen Tuesday, August 11. She was wearing a black sweatshirt hoodie, dark ripped blue jeans, women's grey converse sneakers and a black backpack. Chelsea has a large tattoo on her right side of a dream catcher with the word 'Breathe.' She left home with her 6 month old therapy dog named Bear. The dog is a 9 lbs brown and black terrier. Chelsea stopped taking her medicine and is in need of medical attention. Any information please contact authorities at 845-358-0206 or 911.
If you see the runaway and/or her dog please call the numbers above. Sadly, there is a lot of public transportation in the Nyack area and she can be anywhere by now. Hopefully, she stayed close to home and will be sleeping her own bed soon and back on the medication she needs.
UPDATE: Rosie just Tweeted this great news, "chelsea has been found and is safe in police custody – thank u all for the help and light #missingchildren."
---
BTWF game shows: Rosie O'Donnell on Cross Wits
October 24th, 2014 under Before They Were Famous, Rosie O'Donnell. [ Comments:

none

]

via The TV Page
Before Rosie O'Donnell had her own talk show, she appeared on the game show Cross Wits. She looks the same now as she did when she was 24 in that 1986 episode.
---
Rosie O'Donnell is a married woman
August 27th, 2012 under Rosie O'Donnell. [ Comments:

none

]

Even though Rosie O'Donnell has said she was postponing her wedding to Michelle Rounds because of her health issues, turns out they have been secretly married the whole time. According to People they married on June 9th days before her wife's surgery in a private ceremony that included just the two of them.
Rosie announced the news on her site in a way only she could by saying:
my wife michelle
was diagnosed with desmoid tumors in june
a mysterious rare – too often fatal disease
that affects 3 in a million people

we were to wed 10 days ago
but her illness forced us to postpone the wedding
luckily –
as i was in ICU that day

when it rains …
things grow
like love and flowers
humans too

so on we go
we married in private
before her surgery
just the 2 of us

when we r both well enough
will have the wedding of r dreams
surrounded by those we cherish
thankful for the love and support
so many have given us
during these trying times

including all of u
stranger-friends
connected thru invisible strands
of wi fi
Hopefully they both will be well enough to have the wedding party sooner rather than later. Two close calls to death makes you appreciate what you have even more and it appears they are really appreciating what they have together.
---
Rosie O'Donnell suffered a heart attack
August 20th, 2012 under Rosie O'Donnell. [ Comments:

none

]

(photo from WireImage)


A week after Rosie O'Donnell announced that she was putting her wedding on hold so her fiancee, who suffers from desmoid tumors could get better, the comedian had her own very serious health problems. She posted a blog letting the world know that she suffered from a heart attack on Tuesday. She explained in her own way what she did right and what she did wrong, and all of women should learn from her. Because we don't suffer the same symptoms as men. Thankfully she on the mend now.

my heart attack

August 20, 2012
its a semi-sunny monday
the light bouncing off the flat hudson
mish is sitting next to me
i am happy to be alive

last week i had a heart attack

here is what happened
on tuesday morning
while walking in a parking lot in nyack
i heard a loud commanding voice

"can u help me"

more of a demand than request
a challenge – a plea
i turned and saw an enormous woman
struggling to get out of her car

she was stuck

"can u help me? she asked again
as i walked toward her
"oh u r rosie odonnell"
yes i am

the ghost of christmas future
me – if i did not wake
there r no accidents i thought
as i braced myself and lifted her

it was not easy
but together we did it
she was up and on her way
with gratitude

a few hours later my body hurt
i had an ache in my chest
both my arms were sore
everything felt bruised

muscular – i thought
strained or pulled tissue
i went about my day
the pain persisted

i became nauseous
my skin was clammy
i was very very hot
i threw up

maybe this is a heart attack
i googled womens heart attack symptoms
i had many of them
but really? – i thought – naaaa

i took some bayer aspirin
thank god
saved by a tv commercial
literally

i did not call 911
50% of women having heart attacks never call 911
200,000 women die of heart attacks
every year in the US

by some miracle i was not one of them
the next day i went to a cardiologist
the dr did an EKG and sent me to the hospital
where a stent was put in

my LAD was 99% blocked
they call this type of heart attack
the Widow maker
i am lucky to be here

know the symptoms ladies
listen to the voice inside
the one we all so easily ignore
CALL 911

save urself

xxx
---
Rosie O'Donnell and Dance Moms' Abby Lee Miller need I say anymore
December 21st, 2011 under Lifetime, Rosie O'Donnell, Strange Encounters. [ Comments:

1

]

Rosie O'Donnell and Dance Moms' Abby Lee Miller met up at the show Lysistrata Jones and I wonder how Broadway was able to hold the two of them on one stage. Not only because of the size of their guts, but also because of the size of their mouths. Can you imagine these two women together? Even ear plugs wouldn't be able to save you from their loud voices.
Someday we might find out what the these two women are like together because Rosie wants to book her on own OWN show. At least we can hit the mute button when that happens. My dream come true if that happens is to actually see Abby Lee Miller dance? Seriously has she ever done anything other than scream and complain on the addictive Lifetime show that is back on January 10th. Tell me I am not alone at wanting to see how she dances since she always says that she is such an amazing dance instructor. I just want to see her dance, dance, dance!
---
Ouch Rosie O'Donnell's show is averaging less than 200,000 viewers
November 15th, 2011 under Rosie O'Donnell. [ Comments:

none

]

It really should come as no surprise that people don't really want to watch Rosie O'Donnell anymore, but what is a surprise is that her new show on OWN is averaging only 171,000 viewers overall according to TV Guide. Yep the proper amount of digits are in that number. I mean I can't even think of a comparison of how bad that is because those numbers are just so low.
Those numbers have to be painful for Oprah Winfrey and her OWN network. And the news got even worse for the former Queen of Talk today because her BFF Gayle King will be ending her show on the Oprah Winfrey Network to co-host the CBS morning news according to TV Newser. Ouch, ouch, ouch…
You know how loud she can raise her voice when she was doing Oprah's Favorite Things, well try to imagine how loud she must've been screaming when she found out the King is leaving the Queen? Ear plugs anyone?
---
The many faces of Rosie O'Donnell
October 26th, 2011 under Rosie O'Donnell. [ Comments:

1

]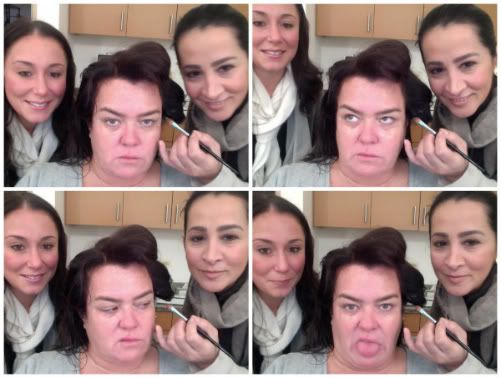 Now that Rosie O'Donnell has her own show on OWN she has to do something she doesn't like to do. The talk show host Tweeted the above picture and said, "the joy of make up … oy vey" While it might not be a joy for her, those of us who watch her show in HD really appreciate that she suffers for her art!
---
Oprah Winfrey OWNs Rosie O'Donnell
August 5th, 2010 under Oprah Winfrey, Rosie O'Donnell. [ Comments:

2

]

(photo from WireImage)


The bad news is Rosie O'Donnell is returning to TV, the good news is that she will be on Oprah Winfrey's new network OWN and who is going to be watching that channel?
Here is what the two daytime ladies had to say about her show doing on the upcoming network.
"Rosie is an undeniable talent who has captivated TV audiences for nearly 20 years," said Oprah Winfrey. "She's a true original, who brings her authentic voice, dynamic energy and pure passion to everything she does."
"It's an honor and a privilege to work with Oprah Winfrey on her network," said Rosie O'Donnell. "I'm excited to be back on daytime television."
No air date and time slot was mentioned, but since OWN has gone through so many changes before it has even launched maybe this show will not see the light of day when OWN debuts in 2011.
---
Barbara Walters isn't going to like this
April 21st, 2010 under Rosie O'Donnell, The View. [ Comments:

1

]

WireImage
Current View host Whoopi Goldberg was photographed hugging former View host Rosie O'Donnell and I don't think Barbara Walters is going to like that. Oh to be a fly on the wall when Baba Wawa saw the picture. Good thing Whoopi has an Oscar winner before her name or I think she would be gone…unless that is her goal?
---
Rosie O'Donnell wants back on TV
March 20th, 2010 under Rosie O'Donnell. [ Comments:

1

]

(photo from WireImage)


Rosie O'Donnell is plotting a TV comeback and she wants to replace Oprah Winfrey who is leaving her show in 2011. According to Showbiz411 the show won't be like her old one or The View, but "it's going to be big: Broadway performances, all her friends, and lots of laughs." Considering her Variety show failed big time and it is not 2002, I don't think her show will be the next Oprah. If America's sweethearts Marie Osmond and Valerie Bertinelli couldn't get their shows on the air, why does she think her's will be a go? Maybe she should try to do Dancing with the Stars or Jenny Craig like Marie and Valerie and then she might have a fighting chance? Would you watch her show if she got one?
---