Heather Locklear had a workout video!
June 25th, 2013 under Conan O'Brien, Heather Locklear. [ Comments:

none

]

Heather Locklear was a guest on Conan O'Brien's TBS talk show tonight and he unearthed a workout video she did in 1990. I am sure you boys will be adding it to your late night video viewing, if you know what I mean.
And since you guys have been good to me, here is a much longer clip of her workout video. Plus I am including some bonus footage of her doing aerobics back in 1982 on TJ Hooker. You are welcome!



---
There will be no Melrose Place wedding for Jack Wagner and Heather Locklear
November 15th, 2011 under Heather Locklear, Jack Wagner. [ Comments:

none

]

(photo from WireImage)


Yesterday Heather Locklear was seen at the The Breaking Dawn premiere without Jack Wagner and the engagement ring he gave her; and today we found out why. Her reps told The New York Daily News, "Jack and Heather are no longer engaged." After four years of dating and four months of being engaged, the Melrose Place actors are no more. No reason was given for the split but is it wrong for me to hope that it is Amanda Woodward and Dr Jack Burns worthy?
---
Jack Wagner and Heather Locklear are getting married!
August 12th, 2011 under Heather Locklear, Jack Wagner. [ Comments:

3

]

(photo from WireImage)


Seventeen years ago Jack Wagner and Heather Locklear started playing lovers on Melrose Place, and today Dr Peter Burns and Amanda Woodward are going to get married in real life. The pair that have been dating for four years and have finally decided to tie the knot their rep confirmed to People. The actress was seen earlier in the week with a big diamond ring on her wedding finger and that started speculation that they were taking the next step in their relationship.
No date has been set or if they will be getting married at Melrose Place, and yes I am hoping for the latter.
This is her third marriage to a rock star and his second to a co-star.
---
Heather Locklear looks different?
March 4th, 2011 under Heather Locklear. [ Comments:

none

]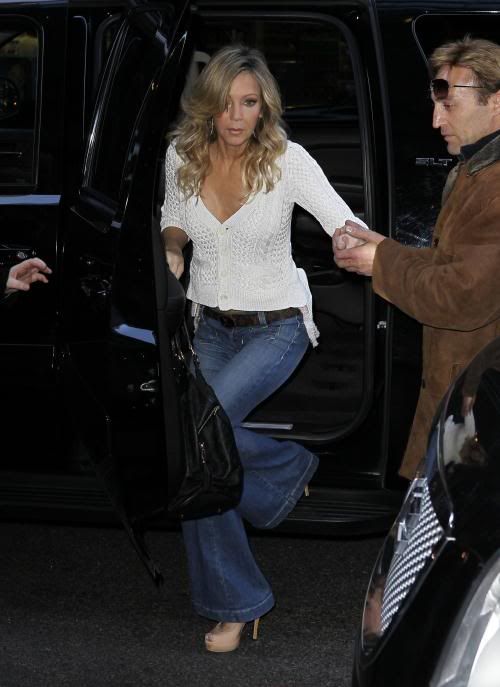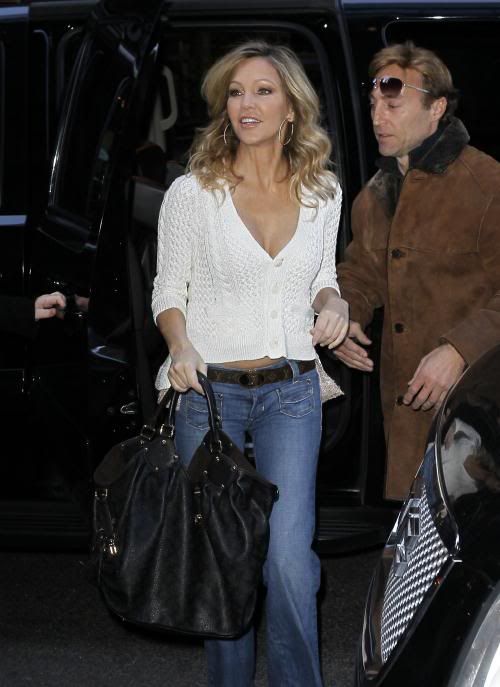 Fame Pictures
Heather Locklear stepped out yesterday and the Melrose Place beauty looked different than how she normally looks. Some are saying that maybe she got some work done, but I am wondering if it is because after all of these years she finally changed her hair color. That more natural look really works wonders for her. She should avoid going back to over bleached blonde after this. Why do you think she looks different?
---
BTWF roles: Heather Locklear on CHiPs
November 17th, 2009 under Before They Were Famous, Heather Locklear. [ Comments:

none

]

Before Heather Locklear was fearless on Melrose Place, she was afraid of some bikers on CHiPs. Even back when she was 19 in 1980, Heather Locklear had great hair!
Side note: Although I did not paste the YouTube clip, Star Trek's Chris Pine made his acting debut in this episode in his mother's belly who was pregnant with him at the time.
---
Heather Locklear arrested
September 28th, 2008 under Heather Locklear. [ Comments:

2

]
Heather Locklear was arrested in Santa Barbara last night for suspicion of driving while intoxicated according to
TMZ
.They added that the suspicion of intoxication was not for alcohol, but for drugs although nothing is confirmed at this time. She was also released today without paying bail.
Heather entered rehab back in June, wonder if she will be going back again soon.
In the last year we have seen a very different side of Heather, a side we never knew exsisted
UPDATE: KSBY has more details about her arrest:

California Highway Patrol spokesman Tom Marshall says Locklear was arrested around 4:30 p.m. Saturday in Montecito in Santa Barbara County. A citizen called 911 after seeing Locklear leaving a parking lot and driving erratically. Marshall says Locklear was believed to be under the influence of prescription medication, but he did not know what kind. He says Locklear was not under the influence of alcohol.
UPDATE 2: The Insider posted her mug shot and you can tell she is visibly upset about her arrest.
---
Heather Locklear is in treatment for anxiety and depression
June 24th, 2008 under Heather Locklear, Rehab. [ Comments:

2

]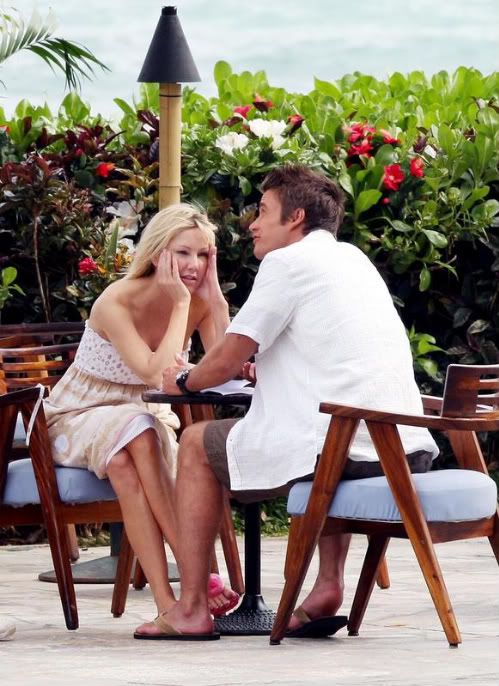 Heather Locklear has entered a treatment facility in Arizona for anxiety and depression according to
People
.
"Heather has been dealing with anxiety and depression. She requested an in-depth evaluation of her medication and entered into a medical facility for proper diagnosis and treatment," says Locklear's rep, Cece Yorke. "This is a confidential medical matter and no further statement will be released."
Hopefully she will get the help she needs.
---
Not a good look for Heather Locklear
April 28th, 2008 under Heather Locklear. [ Comments:

2

]
Looks like Heather Locklear's face is swollen from either too much water or sun.
Hopefully when she is back from vacation she will look at these pictures as a reason to keep staying away from plastic surgery because she normally looks great even though she is 46!
---
You are invited to the Rules of Engagement Party tonight on CBS at 830p!
November 5th, 2007 under David Spade, Heather Locklear. [ Comments:

none

]
Tonight Russell (David Spade) find outs that Barbara (Heather Locklear) has filed for divorce and much like real life he wonders if he will have a chance with her! And much like real life will he? Find out tonight on CBS at 8:30p on
Rules of Engagement
!
---
Heather Locklear and David Spade are dating again!
October 1st, 2007 under CBS, David Spade, Heather Locklear. [ Comments:

2

]

Well at least on CBS's Rules of Engagement tonight at 9:30p! I can't wait to see how this plays out because Heather Locklear has signed on for a few more episodes!
---