Jessica Alba in bed
January 18th, 2016 under Jessica Alba. [ Comments:

none

]

Jessica Alba was having a lazy Saturday, so she spent in bed reading a book and didn't even bother to put on makeup. If this is what Cash Warren wakes up to every day, he is a very lucky man!
---
Who's the hottest MILF in this photo?
September 27th, 2015 under Dallas, Jessica Alba, Kristen Bell, The OC. [ Comments:

none

]

Kristen Bell, Jessica Alba, Jordana Brewster and Rachel Bilson all came out to support Alliance of Moms and the four of them are some pretty sexy moms. Proving just because you have a child, doesn't mean you lose your looks.
They are all equally MILFable; so I can't pick one, can you?
---
Did Jessica Alba get her lips done?
June 4th, 2015 under Jessica Alba. [ Comments:

none

]

Jessica Alba is looking different days and I couldn't figure out what it was. Then I realized it's her lips, to me it looks like she went to the Kardashians' person to get them done. So what do you think of her plumper kisser?
If you want to gives those lips the kiss off, don't worry they will be gone faster than the swelling goes down from that lip challenge you shouldn't try at home.
---
Dr Google sent Jessica Alba to the hospital in the middle of the night!
February 13th, 2013 under Jessica Alba, Jimmy Kimmel. [ Comments:

none

]




So Jessica Alba was on Jimmy Kimmel Live! yesterday and she told the ABC late night host about her recent hospitalization. She woke up in the middle of the night last week and her arm went numb, then she had a cold sensation go from the back of her head to the the front and finally her face went numb. So she did like so many of us do and went to Dr Google to find out what was wrong with her. All the websites said she was having a stroke, so she tried to wake her husband up but Cash Warren had been through this before with her and just wanted to sleep. So she called her kids' pediatrician who said she had the symptoms of a stroke if she were 50 which she is not. So eventually the doctor told her to come in to check her out, so Cash and her drove to him at 3 in the morning. He could not diagnosis her, so he said go to the hospital because it might be stroke but probably isn't. Eventually she had an MRI that determined that she didn't have a stroke, but instead she suffers from Carpal Tunnel. So thousands of dollars later, she found out she needs to stop spending so much time on her computer playing doctor and do it with her husband instead. Although leads to Carpal Tunnel too.
That story was so freaking cute, I just had to share it with you!
Here is my Dr Google story because we all have one. So my cat had a black spot on her chin and when I went to look up what it was every site said it was cancer. So I rushed her to the vet with tears in my eyes and the pet doctor told me she didn't have cancer, but kitty acne. Now even though I should've stopped going to Dr Google after that, I still find my self going to his office for a visit and driving myself crazy. What is your Dr Google story because I know you have one?
---
BTWF roles: Jessica Alba in The Secret World of Alex Mack
January 3rd, 2013 under Before They Were Famous, Jessica Alba. [ Comments:

none

]

Before Jessica Alba was the Invisible Woman in Fantastic Four, she wished no one could see her in The Secret World of Alex Mack. She looks the same now as she did when she was 13 in that 1994 episode.
---
Didn't Jessica Alba have her second baby just 4 months ago?
January 2nd, 2012 under Jessica Alba. [ Comments:

2

]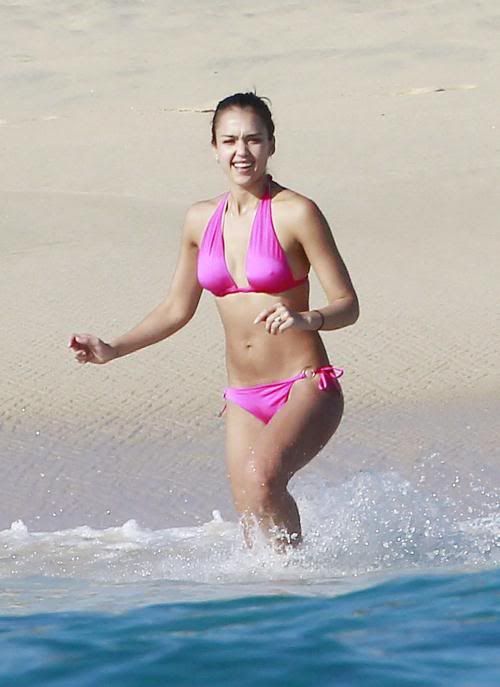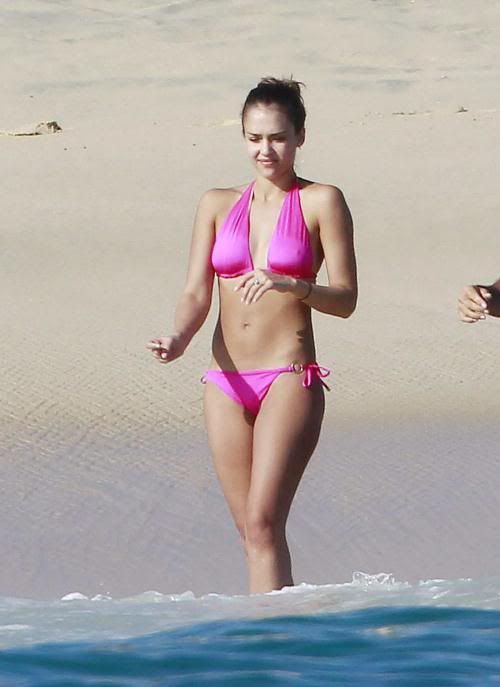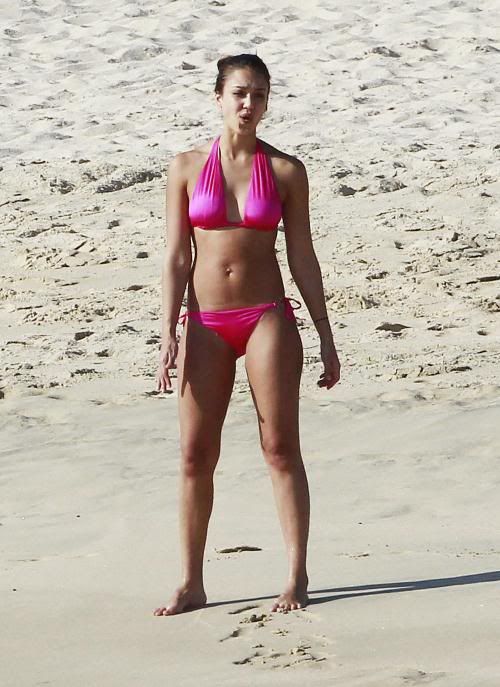 Fame Pictures
On August 14th Jessica Alba gave birth to her second daughter Haven Garner and 4 and a half months later she was showing that she already has her abs back. The mother of two is on vacation in Cabo San Lucas and she was showing off her toned body in hot pink bikini.
Seriously how is it even possible that her belly looks that flat and tight after two babies?
---
Didn't Jessica Alba just have a baby two weeks ago?
September 1st, 2011 under Jessica Alba. [ Comments:

none

]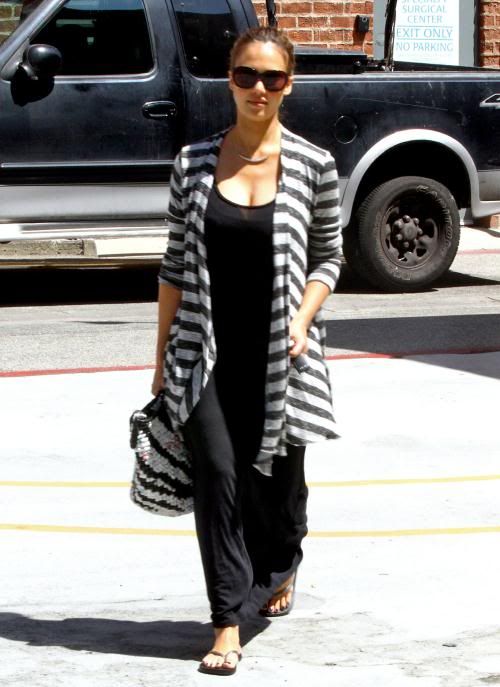 Fame Pictures
Jessica Alba gave birth to Haven Garner on August 13th and she already looks like she lost most of her baby weight. I just have one word to say about it…bitch!
---
Jessica Alba has another daughter!
August 14th, 2011 under Jessica Alba. [ Comments:

none

]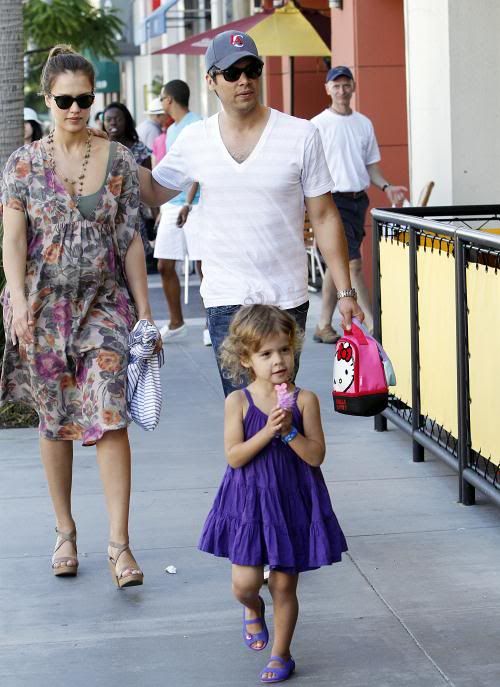 (photo from Fame Pictures)


Jessica Alba gave birth to her second daughter this weekend. She posted the news on her Facebook and said "Hope you're enjoying the weekend. Cash and I are so excited to announce the birth of our daughter, Haven Garner Warren. She was born on Saturday, weighed 7lbs, and was 19 inches long. Healthy and happy! Big Sister Honor couldn't be more excited about the new addition to our family." No reason was given why she named her Haven Garner, but I am wondering if it is because she is a fan of the Syfy show Haven and also of Jennifer Garner? I am sure when she does the mandatory post-birth photoshoot with whichever weekly magazine she chooses, she will explain the name.
BTW she also didn't mention if Jimmy Kimmel was in the delivery room with her, afterall he attended birthing class with her earlier in the week.
---
Jessica Alba is Jimmy Kimmel's birth coach!!!
August 10th, 2011 under Jessica Alba, Jimmy Kimmel. [ Comments:

none

]

Jessica Alba was a guest on Jimmy Kimmel Live yesterday, so the ABC late night host thought it would be fair to be her guest at a birthing class. I am sure the pregnant actress regretted her decision as soon as he said vagina for the first time. In fact he said it so much, even she had to say it. But it didn't stop just with words, he also was the class demonstrator and at one point he opted to birth a baby with Jessica as his birthing coach. It is a side of Jimmy Kimmel we have never seen and I pray we never seen it again.
Can I tell you that bit was great birth control for me because if the father of my baby acted like Kimmel did in that birthing class, I will be a single mother by the time my baby is born.
---
Jessica Alba makeup free!
June 2nd, 2011 under Jessica Alba, No makeup. [ Comments:

none

]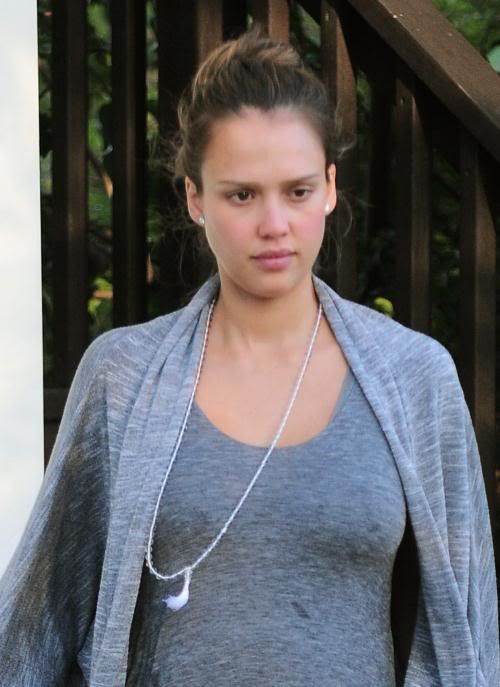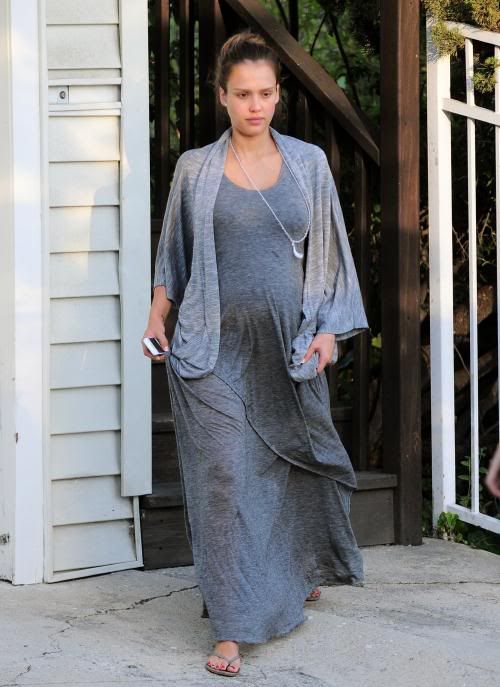 Fame Pictures
Jessica Alba is very pregnant with her second child and I guess she doesn't have time to put makeup on. But you know what it doesn't make a difference because she looks the same with or without it. I wish I had that problem!
---