Real Housewives of NJ was a real hair puller
August 4th, 2014 under Bravo. [ Comments:

none

]

Yesterday on Bravo's Real Housewives of New Jersey, Nicole Napolitano and Amber Marchese got into a catfight and Nicole wound up taking home a hairy prize. As in, she pulled out some of Amber's hair.
I guess that is why they were all dressed up as firefighters; they knew that the party was going to turn into an inferno. Granted the costumes didn't help to put out the fire before the damage was done.
---
I actually agree with Joan Rivers on something
April 18th, 2014 under Bravo, Gwyneth Paltrow, The Comedy Central Roast of Joan Rivers. [ Comments:

none

]

I normally don't agree with the stuff that comes out of Joan Rivers' mouth, but I agreed with what she said about Gwyneth Paltrow on Bravo's Watch What Happens Live. Rivers was asked by a viewer, what was the worse backlash that she has received for anything she has said on her show, Fashion Police. She made some faces as she told her, "The worst criticism was from Gwyneth Paltrow." Then she added, "She came and yelled at us. She stood up. She can't sit down because she has a stick up her rear end." If ever that joke worked, that was it.
No word how Paltrow responded to slam, but I am sure the stick and her will not be Conscious Uncoupling anytime soon after hearing what Joan said.
---
Kathy Griffin Tweets the least sexiest photo ever
December 9th, 2013 under Bravo. [ Comments:

1

]

Women know how to be sexy and one of the least enticing things a woman can do in front of a man is put on her pantyhose. There is nothing about it that can turn on a man, but yet Kathy Griffin thinks if we see her do it that one man might get excited. To them it is just as thrilling as having phone sex with the red-headed comedian because her voice is like nails on a chalkboard.
Do ya want her body and do ya think she is sexy in this picture? Come on, honey, let me know.
---
Kathy Giffin is on the C-List as in cancelled
April 6th, 2013 under Bravo. [ Comments:

none

]

Kathy Griffin's talk show Kathy has been cancelled by Bravo according to TV Line. All I can say is good riddance because, I know I am in the minority, but I don't think she is funny. I say the less she is on the air, the better.
---
Ethan Hawke says that William Hurt is a son of a b!tch
October 4th, 2012 under Bravo. [ Comments:

3

]

Ethan Hawke was on Watch What Happens Live and Andy Cohen played Plead the Fifth with him. The first question was stupid, but the second one was a good one. Cohen asked him who is the most difficult star he ever worked with. At first he hesitated and then he said, "William Hurt is a son of b!tch." Then he added, "Holy sh!t! He's a problem." Wow, I wish more actors were that honest about their co-stars like that.
The two of them worked on last year's Encore movie Moby Dick together and sounds like Hurt put the dick in Moby Dick. Not his dick in the whale, but as in he was such a dick that he was perfect for the movie because half of the title suited him.
Now Hawke tried to play it off as though maybe it was just Hurt getting into his character of Captain Ahab, but for some reason I don't think that is it. To me he always comes off as extremely cold in movies. I have tried to watch a few of them but I always find his on screen performance as a turn off. As in I turn off the movie because I don't want to watch him in it.
---
Why can't Kathy Griffin keep her clothes on?
June 4th, 2012 under Bravo. [ Comments:

none

]

WENN.com
Kathy Griffin joined Gloria Estefan on the stage in Florida and for some reason she lifted her dress to show off her granny panties. Why does the 51 year old comedian think it is so funny to show off her old body. Yes she has a good figure, but that doesn't mean anyone wants to see it. I think by looking at the Conga singer's faces, she agrees with me.
Please Kathy keep your clothes on, my eyes beg that from you.
---
Shear Genius starts cutting tonight
February 3rd, 2010 under Bravo. [ Comments:

none

]

Tonight on Bravo at 10p the third season of Shear Genius premieres and it is a cut above the other 2 seasons! This season's 12 contestants are all personalities and you can tell the conflict is going to be good this season between them. Besides all of them having their own interesting characteristics, they also have own unique but really cool way to style hair. They come from all over the world and they are of all ages. And the one thing you will see is age doesn't always mean you are always better. What is also interesting in the first two challenges the ones who came out on top in the first challenge don't do as well in the second and vice versa, so you never know who will win and who will be eliminated.
Also new this season is that Matthew McConaughey's girlfriend Camila Alves is the new host of the show and she is just so likable and has such a great rapport with everyone. Also joining the show is Jonathan Antin and he gives an interesting perspective as a Judge.
Seriously if the rest of the season is as good as the season premiere of Shear Genius, I can't wait to watch this show every Wednesday at 10p on Bravo.
---
Shear Genuis is back on February 3rd!
December 2nd, 2009 under Bravo. [ Comments:

none

]

Shear Genius is back on Bravo February 3rd with a new host Camila Alves aka Matthew McConaughey's baby mama. The show that pits hairstylists against each other for who can do the best hair in the different challenges given to them. In each episode, the stylists compete in a short cut challenge – testing technical hairstyling skills, and in the elimination challenge they test creativity and advanced skills.
I have always loved this show, so I can't wait to see what they do with it for the third season. Plus the stylists look like they look like they are going to be a lot of fun, making this season a cut above the rest.
Finally I always wondered what Camilla Alves sounded like because I have only seen her in pictures, and now we know.
---
Kathy Griffin muzzled!!!
March 10th, 2009 under Bravo. [ Comments:

none

]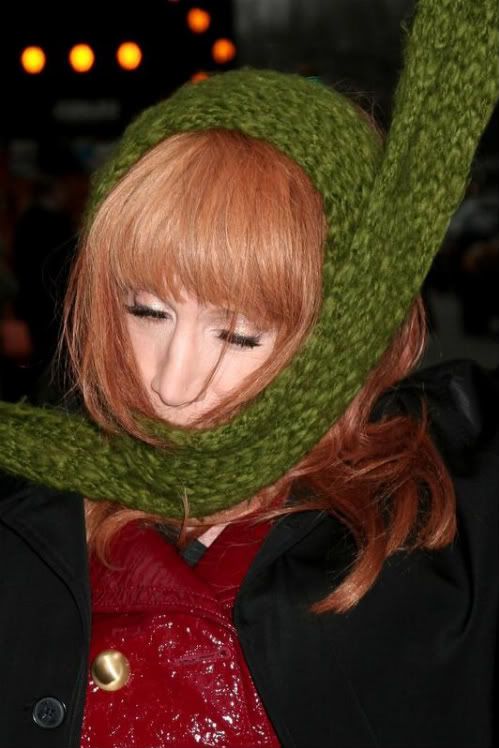 It is a cold day in NYC and Kathy Griffin used her scarf to keep her face warm. After I saw this picture, I wished Los Angeles was colder because I love a muzzled Kathy Griffin. Her voice just grates on me.
---
Diane von Furstenberg does Project Runway tonight
September 3rd, 2008 under Bravo. [ Comments:

none

]

Diane von Furstenberg is the special guest Judge on tonight's Project Runway at 9p on Bravo and it is going to be interesting to see if the designers will be intimidated because they are designing for her. I am sure they will be, how can you not be.
And stay tuned after Project Runway to watch the season premiere of Top Design.
---