Tyga's defense on the Paul McCartney and Beck Grammy party mishap
February 17th, 2016 under Jimmy Kimmel, The Beatles. [ Comments:

none

]

On Monday night, Tyga had a post Grammy party and several celebrities wanted to go. Three of those celebrities were Sir Paul McCartney, Beck and Foo Fighters drummer Taylor Hawkins, but they ran into a little snag when they got there. The bouncer said their names weren't on the list and they couldn't get in. What do you do? If you are them, then you leave and go to another party.
Yesterday, when Tyga woke up, he was bombarded with messages about the incident. He took to Twitter and said, "Why would I deny @PaulMcCartney stop it. He's a legend 🙏🏾," following it up with, "I don't control the door. I had no knowledge SIR PAUL was there. I just performed and left."
He should know who Sir Paul McCartney is because his girlfriend's sister's husband recorded a song with him. When it comes to Beck, he should also know who he is because his girlfriend's sister's husband dissed him at last year's Grammys. And with that I believe his story that he had no idea what happened until the next day.
If you still don't believe him, then maybe this will help. Here's what he told Jimmy Kimmel yesterday, "I really wish I knew he was outside, I would've went out there with the mic, brought him in to perform Rack City with me."
To make amends about the whole situation, Tyga invited Sir Paul to his show in LA on February 26th. This time he will make sure his name is on the list.
---
I imagine, John Lennon wrote his song for moments like this!
January 13th, 2015 under The Beatles. [ Comments:

none

]

via Lam Hua
On Sunday, almost 4 million people gathered in Paris to attend a rally for unity after the horrible week they had in their city due to those murderous terrorists. During the peaceful gathering, someone played John Lennon's Imagine, and the crowd sang along and applauded to it.
I imagine, this is what he intended his song to be used for when he wrote back in 1971. Not for contestants on singing competition shows, but for getting the word out there about peace. I wonder if he was like Nostradamus as he jotted down these words. "Imagine there's no countries. It isn't hard to do. Nothing to kill or die for. And no religion too. Imagine all the people living life in peace" In that moment we all imagined it as we saw their heads moving to his music and heard his words coming from their mouths. Those lyrics never had more meaning than they did for those few inspirational minutes.
This video gave me chills because when we have thought of Imagine in the past, we thought of it for a time like this. It is the perfect interpretation of the World's most powerful song ever have been recorded.
I conclude this post with another one of his songs, "All we are saying is give peace a chance."
---
Disney no longer lives in a Yellow Submarine!!!
March 15th, 2011 under The Beatles. [ Comments:

none

]

In the era of remakes, I am happy to share with you that Disney has officially sank Robert Zemeckis' plan to redo The Beatles' Yellow Submarine. But sadly The Hollywood Reporter is saying he can shop around the movie to another studio. Although considering how badly his films A Christmas Carol and Mars Needs Moms have done at the Box Office, I doubt another studio would want to take on a Beatles classic done by him in his animated style. It wouldn't be worth the loss financially to them.
---
Imagine Brad Pitt as John Lennon?
January 7th, 2011 under Brangelina, The Beatles. [ Comments:

none

]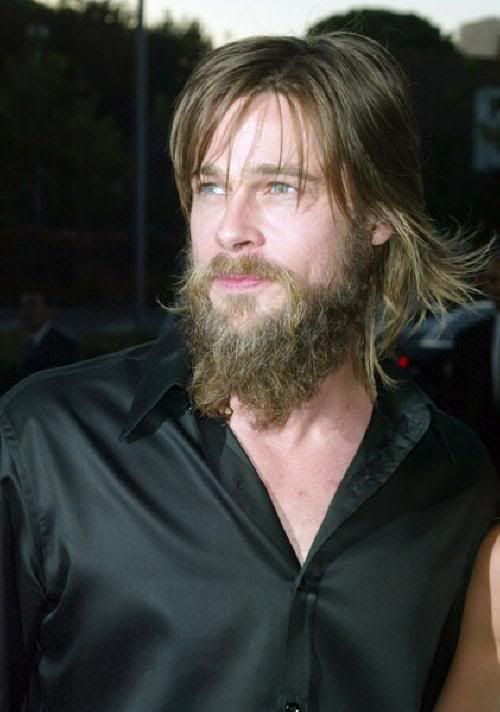 (photo from WireImage)


Imagine Brad Pitt as John Lennon, I wonder if you can…because I can't but that might be what we will have to do. According to Daily Express Angelina Jolie's man is considering starring in a biopic about The Beatle so much so he reportedly talked to Yoko Ono about it. A source told the mag, "Brad already has a writer working on the script. And Yoko has given the project her blessing so long as it's true to John's life. Brad wants to do all the singing himself and plans to take voice lessons. If he can't pull it off they'll use John's own voice. Brad has also been immersing himself in videos and books so he can get Lennon's mannerisms down pat."
I like Brad Pitt, but he is 7 years older than when Lennon was taken away from us and I think he is too old for the role. Plus he looks nothing like the man who wanted us to Give Peace a Chance. So I might not be able to Imagine it, but can you?
---
Paul McCartney and Ringo Starr play Radio City together again!!!
July 8th, 2010 under The Beatles. [ Comments:

none

]




Ringo Starr turned 70, yes the big 7-0, and to celebrate he played Radio City Music Hall with his All Starrs! The biggest All Star came out during the second encore to wish him a very special happy birthday and that was his former bandmate Paul McCartney! The two surviving Beatles jammed to their hit Birthday and what a f*cking performance it was. The 68 year old and the birthday boy were playing like it was 1968 and not 2010. Seriously they were totally moving like they did when they were fab four. I can seriously watch that performance over and over again because it was that f*cking awesome. Just like I wish I was alive to have seen The Beatles play live, I wish I was there yesterday to see just that one song in person. Seriously wow!
BTW Paul McCartney wasn't the only surprise from his Beatles past, John Lennon's widow Yoko Ono joined him to sing Give Peace a Chance and good to see that they are giving peace a chance.
---
EMI sells Abbey Road Studios
February 16th, 2010 under The Beatles. [ Comments:

1

]

EMI is selling off Abbey Road Studios, the place The Beatles made legendary according to ITN. The record label is parting ways with the landmark because they need the money. Too bad Paul McCartney lost half his fortune to Heather Mills, who reportedly pissed almost all of her divorce settlement in two years, otherwise he probably would've been able to buy it. Hopefully whoever buys it turns Abbey Road Studios into a museum and doesn't destroy the place.
---
Where is John Lennon's Hollywood Walk of Fame star?
December 22nd, 2009 under The Beatles. [ Comments:

none

]

Beatlestweet noticed that John Lennon's star is missing from its spot on The Hollywood Walk of Fame and it was replaced by a black plastic bag. LAist speculates that it might be being replaced because of damage it has suffered since being placed there in 1988 or it could be because the HWoF is getting ready for the addition of fellow Beatles' member Ringo Starr's star. Some others speculate it might've been stolen, but let's be real that is not an easy thing to steal. Although it has happened 4 times in the past, 3 of the times were during construction and only once was a star sawed out of its spot and that was Gregory Pecks. In order to prevent that they added surveillance camera to make sure it doesn't happen again, but maybe they missed a spot? Either way it is a big mystery what happened to John Lennon's star, but hopefully it will be solved soon.

UPDATE: Ana Martinez from The Hollywood Chamber of Commerce just Tweeted this update on the star, "Yes, as a gift to fans, we moved John Lennon's star next to George Harrison's and Ringo's will be there soon 2. Just waiting for Paul now!" It would be nice to some day have the 4 Beatles reunited for an eternity on The Hollywood Walk of Fame…that is if Paul McCartney gets his star and as long that HWoF exists!
---
Disney set to destroy, I mean remake Yellow Submarine
September 11th, 2009 under Stupid Sequels/Remakes, The Beatles. [ Comments:

none

]

In one of the saddest remakes to date and there have been some really sad one, Disney announced that they are remaking Yellow Submarine according to MTV's Movie Blog. The 3D movie will be directed by Robert Zemeckis, who also worked on the animated movies The Polar Express and the upcoming A Christmas Carol. Here is how is planning on destroying it…
The "new voyage to Pepperland" will include all 16 Beatles songs featured in the original film. Sounds an awful lot like it's going to be a (fairly) straight remake of the original, in which The Beatles set off on a voyage to save the undersea kingdom of Pepperland from the nefarious Blue Meanies. I'm honestly not sure whether to feel thrilled or mortified.
Yellow Submarine is all about The Beatles, how do remake their movie with half of them no longer with us. Such a sacrilege. So wrong. Too bad John Lennon is too peaceful to haunt Zemeckis and convince him not to touch the classic, but maybe George isn't as nice?
---
Win a Beatles lithograph!!!
September 9th, 2009 under Contests, The Beatles. [ Comments:

none

]

In honor of the release The Beatles: Released being released today (9/9/9), you can have a chance to a win a lithograph from The Beatles right here on Seriously? OMG! WTF?!!! All you have to do is E-Mail me at SeriouslyOMGWTF@yahoo.com bymidnight tonight pst with your name and address! One winner will be selected at random!

Apple Corps Ltd. and EMI Music are delighted to announce the release of the original Beatles catalogue, which has been digitally re-mastered for the first time, for worldwide CD release on Wednesday, September 9, 2009 (9-9-09), the same date as the release of the widely anticipated "The Beatles: Rock Band" video game. Each of the CDs is packaged with replicated original UK album art, including expanded booklets containing original and newly written liner notes and rare photos. For a limited period, each CD will also be embedded with a brief documentary film about the album. On the same date, two new Beatles boxed CD collections will also be released.
The albums have been re-mastered by a dedicated team of engineers at EMI's Abbey Road Studios in London over a four year period utilizing state of the art recording technology alongside vintage studio equipment, carefully maintaining the authenticity and integrity of the original analogue recordings. The result of this painstaking process is the highest fidelity the catalogue has seen since its original release.
The collection comprises all 12 Beatles albums in stereo, with track listings and artwork as originally released in the UK , and 'Magical Mystery Tour,' which became part of The Beatles' core catalogue when the CDs were first released in 1987. In addition, the collections 'Past Masters Vol. I and II' are now combined as one title, for a total of 14 titles over 16 discs. This will mark the first time that the first four Beatles albums will be available in stereo in their entirety on compact disc. These 14 albums, along with a DVD collection of the documentaries, will also be available for purchase together in a stereo boxed set.
Within each CD's new packaging, booklets include detailed historical notes along with informative recording notes. With the exception of the 'Past Masters' set, newly produced mini-documentaries on the making of each album, directed by Bob Smeaton, are included as QuickTime files on each album. The documentaries contain archival footage, rare photographs and never-before-heard studio chat from The Beatles, offering a unique and very personal insight into the studio atmosphere.
A second boxed set has been created with the collector in mind. 'The Beatles in Mono' gathers together, in one place, all of the Beatles recordings that were mixed for a mono release. It will contain 10 of the albums with their original mono mixes, plus two further discs of mono masters (covering similar ground to the stereo tracks on 'Past Masters'). As an added bonus, the mono "Help!" and "Rubber Soul" discs also include the original 1965 stereo mixes, which have not been previously released on CD. These albums will be packaged in mini-vinyl CD replicas of the original sleeves with all original inserts and label designs retained.

The Stereo Albums:
Please Please Me*
With The Beatles*
A Hard Day's Night*
Beatles For Sale*
Help!*
Rubber Soul*
Revolver*
Sgt. Pepper's Lonely Hearts Club Band*
Magical Mystery Tour*
The Beatles*
Yellow Submarine*
Abbey Road*
Let It Be*
Past Masters
---
John Lennon's boys together again!
May 19th, 2009 under The Beatles. [ Comments:

9

]
I just love seeing John Lennon's boys Julian and Sean together!!! I wish they would do a duet togther, maybe someday.
---