It's True, Spandau Ballet are working on an album!
August 3rd, 2014 under 80s. [ Comments:

none

]

It has been 25 years since Spandau Ballet released an album of new music and now the band is finally working on a new one after a quarter of a century according to NME. The musicians broke the news on their Twitter account that they are working with the legendary producer, Trevor Horn, on it but have not yet said when the CD will be coming out. Hopefully they will create some more huge hits that will last the span of time like True and Gold.
---
Did Kevin Arnold & Winnie Cooper have sex in The Wonder Years' finale?
July 15th, 2014 under 80s. [ Comments:

none

]

via UPROXX
For years we have wondered if Kevin Arnold and Winnie Cooper finally had sex in the series finale and Fred Savage and Danica McKellar finally answered that question as part of the special features included in The Wonder Years' DVD that comes out in the fall. Sort of.
You see, Josh Saviano and Savage say it is left up for us, the audience, to decide, but McKellar reveals the truth. She explains, "In the first draft of the script it said, 'Kevin and Winnie make love'." Then she added, "And in the revision' after your mother (Savage) got involved, it was taken out."
So the answer is just like our teenage years, when our parents found out that we were going to have a sex, they made sure to put a stop to it. Unlike what happened to us, his mom actually got her way. Which is sad because I think it should've been left in. The show started with a kiss, why shouldn't it have ended with the big bang?
So do you think they lost their virginities in that scene or do you still think they remained innocents?
---
Three legendary singers from the '80s all in one picture!
April 17th, 2014 under 80s. [ Comments:

none

]

Kenny Loggins Facebooked this photo of Steve Perry, Tracy Chapman and him from an event they attended yesterday, and I think it is like totally awesome to see these three together. Loggins said he was the only one of them who sang at the Beverly Hills Bar Association dinner honoring Lee Phillips as Entertainment Industry Lawyer of the Year, but imagine if they harmonized as a trio? Their voices together would literally make sweet sweet music.
---
This Radio Shack ad is like totally tubular!
February 3rd, 2014 under 80s, Ads. [ Comments:

none

]

As we all know, yesterday's Super Bowl was a total snoozefest. That is for everything except the above Radio Shack ad, that put the Rad in Radio.
After the much buzzed ad aired, Erik Estrada Tweeted, "Thanks to Dee Snyder, Hulk Hogan, MaryLou Retton, Kid N Play, Cliff Clavin, Teen Wolf, Alf, Jason, Chuckie and the entire Radio Shack team!!" And I would like to thank all of the above too for most awesome commercial that aired yesterday.
BTW is it wrong of me that I want the store to stay in the '80s and not become new and modern after that commercial?
---
An '80s girl wet dream!
January 6th, 2014 under 80s, Ralph Macchio. [ Comments:

none

]

Christopher Atkins shared this photo of him with two Outsiders and Renegade from the Hollywood Collectors Show this weekend and several Gen Xers got all excited. That is because the Blue Lagoon star, Ralph Macchio, C Thomas Howell and Lorenzo Lamas all look as sexy now as they did in those '80s teen mags like BOP and Dynamite. Can believe besides the Soul Man that all of those guys are over 50 because they sure as heck don't look their age?
Atkins suggested in his Tweet that they do a movie together, and I agree with him. Who wouldn't like to see this Fab 4 on the big screen in one movie together? I'd pay for it!
---
Corey Hart modernizes Sunglasses at Night!!!
November 6th, 2013 under 80s. [ Comments:

1

]

Believe it or not Corey Hart's Sunglasses at Night is 30 years old, yes the big 3-0. So 3 decades later the Canadian singer has updated his huge debut hit for the new century with the song Night Visions (Sunglasses) featuring Papercha$er. He mashes up his first big song with his latest one and what we get is a tune that will have us dancing like we will never surrender! I seriously can't stop listening to it and bobbing my head to beat. I sincerely love that his voice is just as sexy as it has always been and so is he.
Can I tell you guys a little secret? He has been on my To-Do list since I heard his song Komarade Kiev. The way he sings ooh on the track makes me want to have sex with him just to hear how he sounds in bed. Don't tell anyone or I will have to wear sunglasses 24 hours a day!
BTW if you are as huge of a fan of his as I am, then you probably would like to know he is doing a huge concert on his 52nd birthday in Montreal on May 31, 2014. Let me know if you are going because maybe you will see me there!
---
A homage to the great '80s movie chase scenes put to a music video!
June 3rd, 2013 under 80s. [ Comments:

1

]

So Jon Marco shot a music video for his song Rhianna with the help of some friends, and I am so glad that he did.
The music video pays homage to some of the greatest movies from the '80s in a way that has never been done before, through the legendary chases. Like the one that Marty McFly had in the future part of Back to the Future II. Followed by ET: The Extra Terrestrial, Return of the Jedi, The Shining, Die Hard, Ghostbusters, Pee-Wee's Big Adventure, Stand By Me, Indiana Jones and the Temple of Doom, Goonies, Dirty Dancing, Back to the Future, The Breakfast Club, Risky Business, Ferris Bueller's Day Off, Fast Times at Ridgemont High, Teen Wolf, Blues Brothers, Tron and Terminator. I think I got them all, if I missed any let me know.
But back to the future, I mean video, how brilliantly did he mesh it all together. It makes me want to see all those movies again, just to compare what he did to what they did. Although I might get depressed because he might've done it better then the movies he replicated.
But if I do get sad, then I can cheer myself up and watch the bloopers after the video to make me feel better.
---
Justine Bateman is a college freshman at UCLA
May 31st, 2013 under 80s. [ Comments:

none

]

Justine Bateman is a 47 years old and she's a college freshman at UCLA, at least that is what is her College Life Tumblr says. The Family Ties star isn't majoring in fashion, but instead she is taking classes like Engineering Ethics and Computer Science according Us Weekly.
Since her TV brother Michael J Fox has his new show coming in the fall, I don't think he will be able to help her study like he used to.
But in all seriousness, congrats to her for going back to school at this stage in her life. The only way I'd go back to school is in my nightmares.
---
Ric Ocasek's body is just Magic
July 20th, 2012 under 80s. [ Comments:

1

]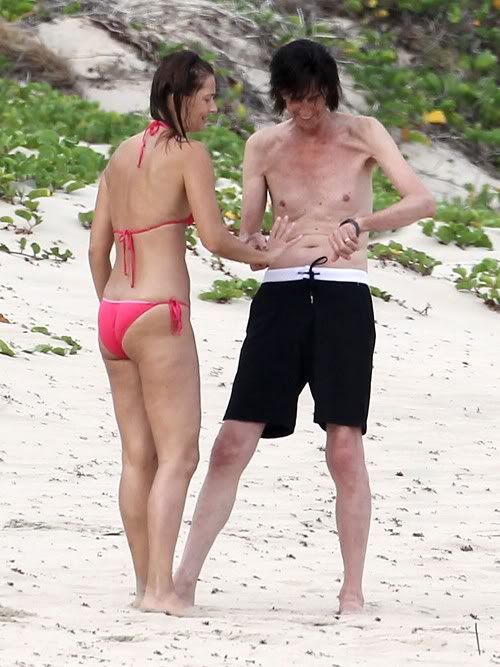 Fame Flynet
Ric Ocaseck took his family to St Barth for some fun and sun and we get to see him in just trunks. You might think I'm crazy, but I think that The Cars singer look sexy for 63. And by the looking at pictures above it looks like he still drives his wife Paulina Porizkova crazy. On that note how cute are their beautiful teenage boys Jonathan Raven and Oliver Orion.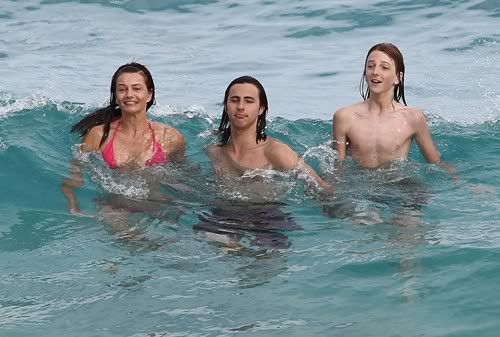 ---
Is there any Cure for Robert Smith's hair?
July 2nd, 2012 under 80s. [ Comments:

9

]

WENN.com
Robert Smith was as known for his hair as much as his music with The Cure, and I am wondering if that is why it looks like he hasn't brushed it since the '80s. You know like he has been trying to preserve that look that he has had forever and he is afraid if he does anything to it no one will know who he was/is. Either that or if he ran a comb through that rat's nest it would come off with one stroke.
I mean is anyone else scared of him and that thing on the top of his head or is it just me? Seriously it is more terrifying than the Lullaby video.
---