Hey Janice Dickinson is it duck season?
March 25th, 2013 under Janice Dickinson. [ Comments:

1

]

Fame Flynet
Janice Dickinson never has a problem posing for the cameras, but that doesn't mean she always should. Seeing the self-proclaimed World's First Supermodel do the duck face, makes me wish it was duck season so we can kill that facial expression. Seriously make it stop.
---
Janice Dickinson sexy?
June 4th, 2012 under Janice Dickinson. [ Comments:

none

]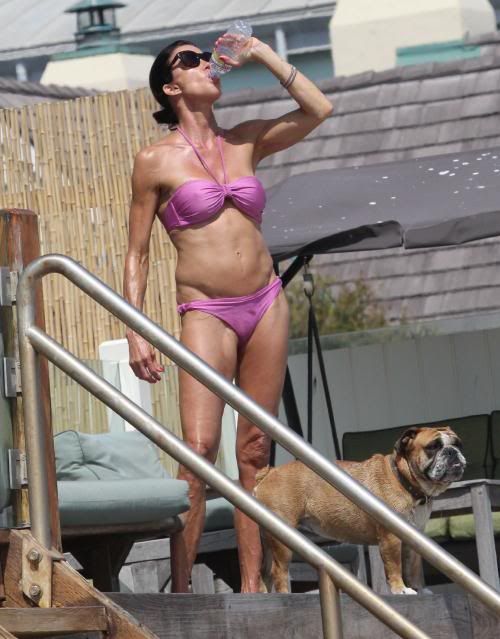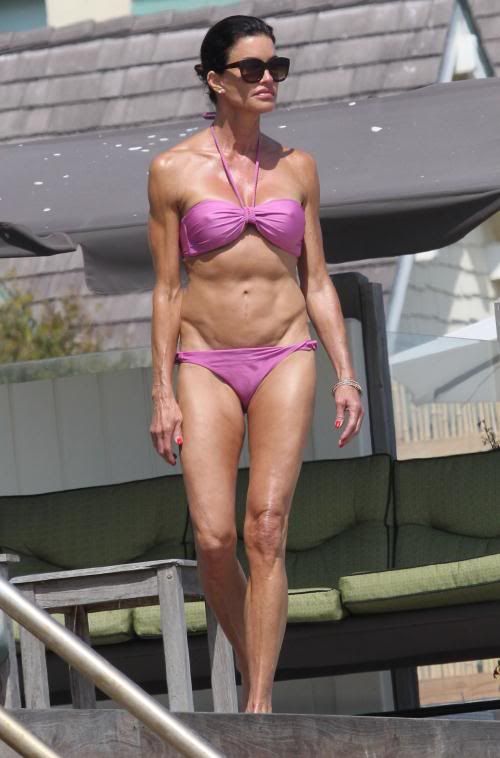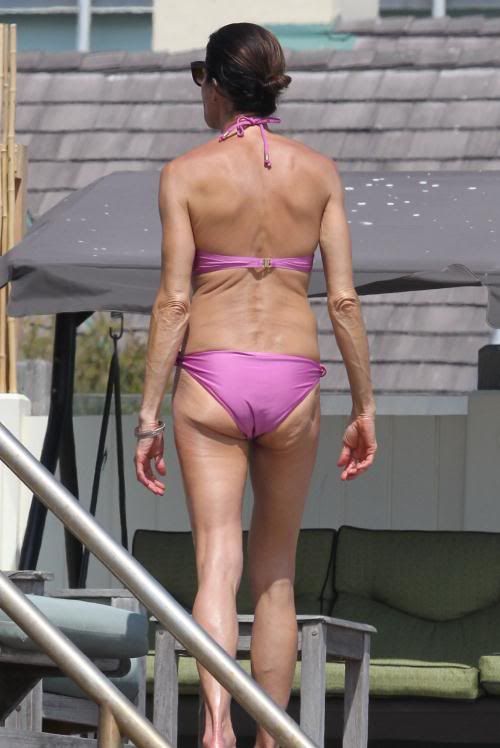 Fame Flynet Online
Janice Dickinson spent the day soaking up the sun in a hot pink tiny bikini and I think the "World's First Supermodel" needs to wear a one piece instead. She is 57 years old and I don't think anyone wants to see her cellulite a$$. I know I don't. Do you?
---
A smile goes a long way on Janice Dickinson
February 15th, 2012 under Janice Dickinson. [ Comments:

2

]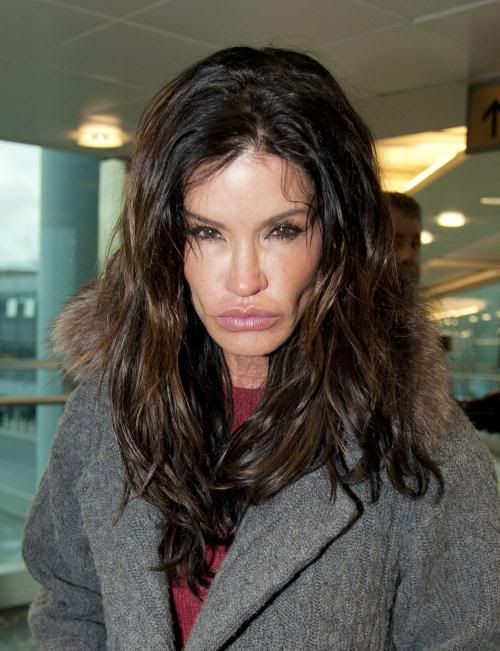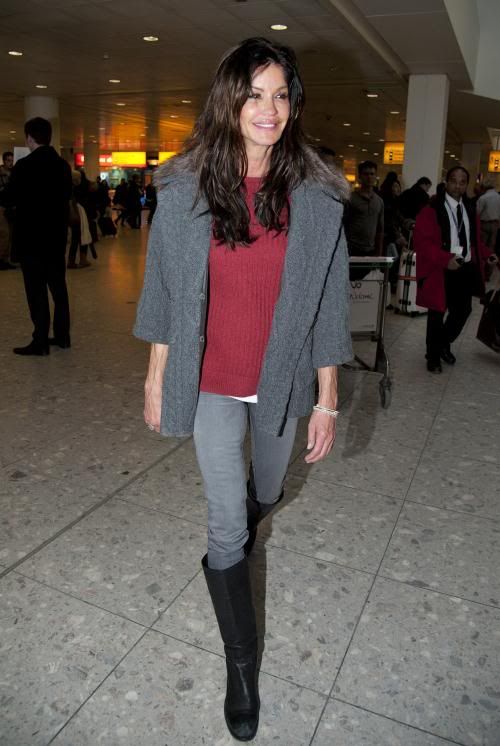 Fame Pictures
Janice Dickinson arrived in London for some interviews and I arrived at the conclusion that she should only smile for the rest of her life. Because when she isn't showing us her happy face, I think she has a very scary face. You know they say a smile really brightens someone up and to me with the World's First Supermodel it makes a world of difference.
I just have a message for your eyes, "I'm sorry, please forgive me."
---
Janice Dickinson lost two teeth
May 19th, 2011 under Janice Dickinson. [ Comments:

none

]

(photo from Fame Pictures)


When you declare you are the World's First Supermodel that means you are older than all the other ones. And with age comes things like loosing your teeth and that is what happened to Janice Dickinson so she got falsies to replace them. Well she would not go out without a full smile, but she will eat without them and that lead to an embarrassing moment for her.
She told Page Six, she recently had lunch with a friend and she placed the two teeth in a napkin. When she was ready to put them back in, she couldn't find them. So she got down on all fours (a position we are familiar seeing her in) and started to look for them. A patron noticed her under the table and asked if she need help. Not being shy, she got everyone in the place to help her out. She said, "I was like Lucille Ball on crack…I was under the table and it was sticky." And once she found them that is what she is did. She went into the bathroom, washed them off, stuck them back in and flasher her smile like something else she is likes to flash.
Typical Janice is all I can say.
---
Janice Dickinson is a Celebrity…Get Her to a Hospital
June 15th, 2009 under Janice Dickinson. [ Comments:

none

]

Janice Dickinson was rushed to the same hospital as Heidi Pratt in Costa Rica for an undisclosed reason according to TV Guide. Tonight at 8p on NBC's I'm a "Celebrity"…Get Me Out of Here we will find out what is wrong with her physically and if she will continue on the show. I hope she stays just so we can torture her some more!
UPDATE: Janice is OK and back on the show. Basically Janice was full of sh!t…literally!!!
---
Janice Dickinson, I'm a Celebrity…Get Me Out of Here
May 14th, 2009 under Janice Dickinson. [ Comments:

none

]

Janice Dickinson is weeks away from appearing on the NBC dud I'm a Celebrity…Get Me Out of Here, but Hollywood.TV caught her last night already living up to the title of the show in Los Angeles! Seriously what was up with the reaction? Why was she so upset about an upskirt shot? It isn't like she hasn't shown that us to before. Or maybe she is acting that way to get ready for when she does NBC's biggest failure since giving Jay Leno the Monday-Friday 10p slot???
---
Brian Kehoe takes Janice Dickinson to Christina's Court
November 3rd, 2008 under Janice Dickinson. [ Comments:

3

]

Janice Dickinson was constantly calling Brian Kehoe an alcoholic on Oxygen's The Janice Dickinson Modeling Agency and now he is taking her to Christina's Court saying she has ruined his modeling career. I don't know about you, but I am really hoping he wins because she needs to learn something about thinking about before you speak. Some of the stuff she said on the show this season made me go from a fan to removing the show from my DVR.
So tune into Christina's Court today to see if Brian Kehoe finally wins one against Janice Dickinson and how many crocodile tears she sheds on the show.
UPDATE: Janice won because the Judge was biased towards before the show even started. Kehoe so deserved the win. Hopefully Kehoe will make it big because that is the biggest FU there is for him to her!
---
Tonight's episode of JDMA p!ssed me off
October 7th, 2008 under Janice Dickinson. [ Comments:

1

]




On tonight's episode of the Janice Dickinson Modeling Agency, Janice is forced to bring on two plus-size models and vehemently hates doing it. She seems so obnoxious to average sized women (one woman is a size 14) and even her own models who are not size 0 that I was sickened by the episode. She believes models should be skinny. But hey I don't like looking at a model with as much plastic surgery as her, but yet I watch the show every week. It is amazing that someone who claims to be so nurturing to her models and preaches against eating disorders can be so against models that are not a size 2 or less. Not everyone can achieve that size and not everyone should struggle to be a size that is not attainable to them???
So tune into Janice Dickinson Modeling Agency on Oxygen tonight at 10p and see if you have the same reaction as me.
---
JDMA puts on a burlesque show tonight!
September 30th, 2008 under Janice Dickinson. [ Comments:

none

]

After a Couture audition goes bad Janice Dickinson teaches the girls how to use their sensuality to get the jobs and rule the runway! But when the girls show off their moves to their male roommates, relationships and friendships take a nasty turn on the Janice Dickinson Modeling Agency. Which friendships and relationships are over because of some sexy moves and which ones get started tune into Oxygen at 10p tonight to find out? This show gets sexier and hotter by the week.
Also find out if the girls will be able to get hired for their first Couture job or will the Janice Dickisnon Modeling Agency not be able to do the high fashion jobs she so longs for…
---
Love is in the air tonight on The Janice Dickinson Modeling Agency
September 23rd, 2008 under Janice Dickinson. [ Comments:

none

]

Put a bunch of gorgeous models in one house and you are bound to have a lot flirting going on. Tonight on The Janice Dickinson Modeling Agency we see just that with a several couples hooking up! So tune into JDMA tonight at 10p on Oxygen to see who gets it on.
And for those of you who thought you saw the last of Kehoe you were wrong, he is back trying to get back in…see if Janice will let him back.
---