Salma Hayek sketches nudes!
October 19th, 2015 under Salma Hayek. [ Comments:

none

]

Salma Hayek might have one of the most envied bodies in Hollywood, and during her off time she sketches naked bodies that belong to other people. Last week, she took an art class and sketched a nude woman, and she shared a photo of herself hard at work. So for the one time in her life, she wasn't the female that people were staring at in the picture.
Are you able to find her in the class or are you only able to find the model?
Want to see if the Oscar winner is as good of an artist as she is an actress, then click here!
---
Salma Hayek on her small hands covering her big boobs!
August 5th, 2015 under Live with Kelly and Michael, Salma Hayek. [ Comments:

1

]

Salma Hayek posed nude for Allure magazine and she used her hands to cover up her areolas. Today when she was on Live with Kelly & Michael, Kelly Ripa wanted to know how her breasts remained looking as good as they do because she knows that the Oscar winner nursed.
Hayek then said that she had to apologize and Michael Strahan (because he is a man) was wondering for what. She told them, "I just thought that my hands were bigger." Then she explained, "When I was doing it, I thought my hands were bigger, but obviously they are not big enough."
I want to say to her, as a bigger chested woman, unless you have hands as big as Strahan's, they are not going to cover up the girls. She should know that, we have had men try to cup our whole breast and they haven't been able to do it with their hands. Not all, but I've had a few who were unsuccessful. And none of those men were upset their hands were too small. Same way that no man is upset her hands were too small in that photo.
---
Salma Hayek Belly Dances!
June 17th, 2015 under Salma Hayek. [ Comments:

1

]

Salma Hayek did a a collaboration with artist Youssef Nabil and french actor Tahar Rahim, and they asked her to do some Belly Dancing. Although we didn't get to see her shake her hips, we got the next best thing. We got to see her dressed up as a Belly Dancer. Boys, if that doesn't get the thing between your hips to do a dance, I don't know what will?
---
Watch Salma Hayek eat a whole cricket!
April 20th, 2015 under Salma Hayek. [ Comments:

none

]

I know there are guys who will find this video of Salma Hayek sexy, but I am beyond creeped out. Especially when she bites down and you hear the crunch. I cringe every time I hear it. Now that Instagram has autoreplay, that's every few seconds because I keep forgetting to hit stop.
---
This is what Salma Hayek looks like in bed!
April 6th, 2015 under Salma Hayek. [ Comments:

1

]

Have you ever wondered what Salma Hayek looks in the morning before she gets out of bed? Well, over the weekend, she made your dreams come true as she introduced her pets to the world wide web.
Not only do you get to see her in bedroom glory, you also got to meet Zsa Zsa, Toto, Blue and Diva. Sadly though, with the five of them in the bed, unfortunately there's no room for you.
BTW she even looks fabulous when she just wakes up in the morning which makes me so jealous of her.
---
Salma Hayek teaches Jimmy Fallon how to self massage!
October 15th, 2012 under Jimmy Fallon, Salma Hayek. [ Comments:

none

]

Salma Hayek was a guest on Late Night and she wanted to show Jimmy Fallon how to message his neck. So she grabbed him by the tie and started to loosen it up. As you can see by his face the NBC host rather enjoyed what was happening him. Then when she was done, she told him she was not going to massage him. So he said he was going to have to self-massage. A joke I am not sure she got. And of course she followed it up by saying first you need to get some moisturizer which is something we all know is needed for a male self massage!
Now it was time for the big reveal on how to do it and basically she wants to you beat the tip of the chin with your hands over and over and over again until you are satisfied.
Then once the demonstration was over, she told Fallon "You can dressed now, we're done."
I have to admit I actually felt for Fallon on that one because with all of that lead up she gave him, he really wasn't left with much. But I am sure his wife was very happy when he got home!
BTW am I the only one who can't stop messaging herself after watching Salma do her thing.
---
Oliver Stone savagely checks out Salma Hayek's boobs!
September 19th, 2012 under Salma Hayek. [ Comments:

none

]

WENN.com
Salma Hayek and Oliver Stone were in London to promote their movie Savages and the director looks like he was more interested in her massive cleavage than talking about his failed film. I mean could he be any more obvious? It's like he is a savage who has never seen boobs before and she seems oblivious to it all.
---
Salma Hayek shows off her curves
June 11th, 2012 under Salma Hayek. [ Comments:

none

]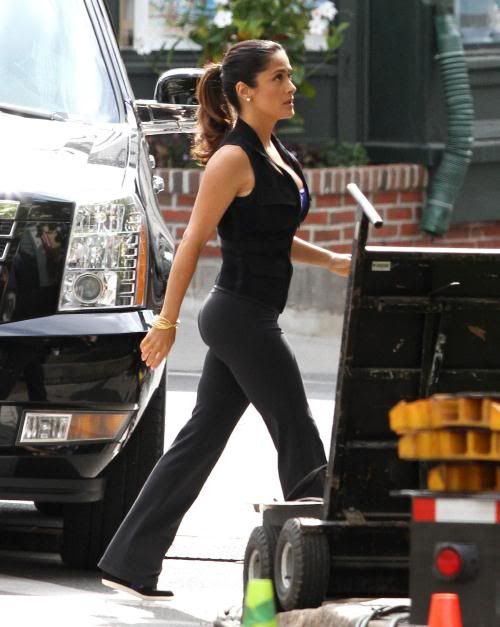 Fame Flynet Online
Salma Hayek is starring in Grown Ups 2 and several boys/men are going to grow up after they see these pictures of her. I knew that she had a big chest, but I never realized until now that she has a booty to match. Seriously does she have any flaws?
---
Salma Hayek in a see-thru dress!
October 20th, 2011 under Salma Hayek. [ Comments:

none

]

WireImage
But sorry boys you don't see anything. Although it looks like Antonio Banderas is trying to see if it does!
---
Do Antonio Banderas and Salma Hayek have somthing to tell us?
May 11th, 2011 under Antonio Banderas, Do they have something to tell us?, Salma Hayek. [ Comments:

none

]

WireImage
Antonio Banderas and Salma Hayek were spotted looking very chummy together in Cannes and looking at these pictures I have to wonder if they have something to tell us? Nope it is just the two actors promoting their film Puss In Boots.
BTW I am the only one who is a little bummed that the two of them are already married to other people because they make a cute couple?
---