The Grammys sweet dreams answered for The Beatles tribute!
January 6th, 2014 under Beatles. [ Comments:

none

]

The Grammys announced today that The Eurythmics are reuniting for music's biggest night of the year to pay tribute to the biggest band ever, The Beatles.
On February 9, 1964, the Fab Four played The Ed Sullivan Show and music was changed forever. Exactly 50 years later, The Grammys is airing and they have some of the biggest names in music singing the tunes of John Lennon, Paul McCartney, George Harrison and Ringo Star. Annie Lennox and her former partner, Dave Stewart, will get high off The Beatles' hits with a little help from their friends Alicia Keys and John Legend, Maroon 5, and John Mayer and Keith Urban.
Sorry if this doesn't seem like a sweet dream to me, but Ken Ehrlich's tribute to 2/9/64 was such a bust at the Emmys that I have low expectations for this one. I mean are we going to go into every commercial break with some music legend singing a Beatles song. I like most people went through a Beatles phase and understand their greatness, but do people under 30 feel the same way? Their Beatles is Nirvana, and to be honest I am not sure they know their songs well enough to care to hear them performed at The Grammys.
And if you are going to do the tribute to The Beatles, then you are sure as hell better have Sir Paul, Sir Ringo, Yoko Ono, Julian Lennon and Sean Lennon, Stella McCarthy and the rest of the second generation doing something during the show. Otherwise to me the tribute is a complete bust.
Finally, whatever else Ehrlich has planned for the night; please don't have Carrie Underwood sing Yesterday again because that was beyond painful to our ears. I love her, but I hated her rendition of the Macca song.
---
Do you still love Paul McCartney in a bathing suit when he's over 64?
March 15th, 2012 under Beatles. [ Comments:

3

]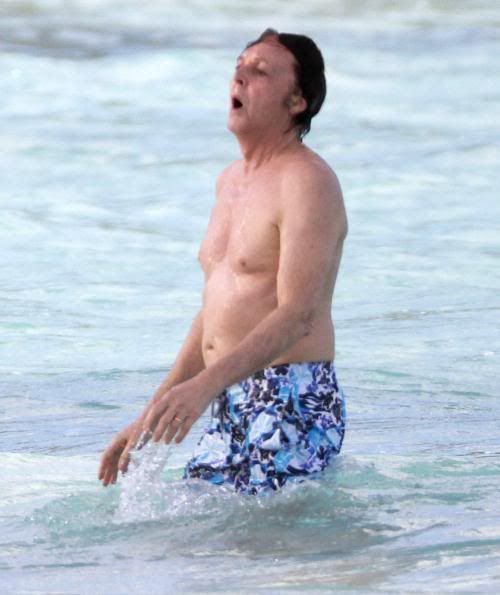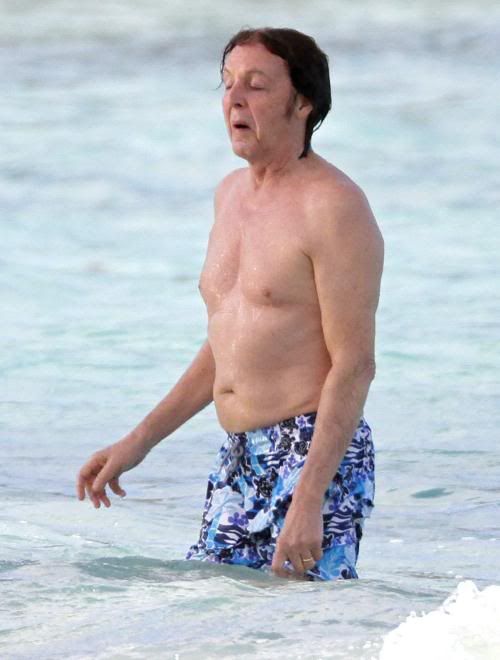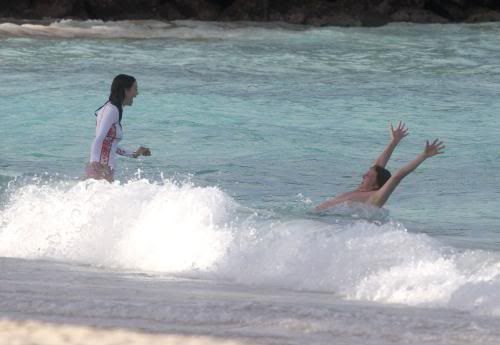 Fame Flynet Pictures
Back when Paul McCarthey was a young lad, he asked the world if we would still love him at 64. Well now the Beatle is 69 years and wearing only swimming trunks while on vacation in St Barths; and I have to say the answer is yes. I can't believe what a good body he has months before he enters his seventh decade.
---
Paul McCartney's heartfelt meesage
January 29th, 2008 under Beatles. [ Comments:

none

]
I don't know I find it kind of strange that it took Paul McCartney so long to deny that he didn't have an angioplasty, don't you think. I am glad he is doing well and passed his medical tests with flying colors!
---
Israel apologizes to the Beatles!
January 28th, 2008 under Beatles. [ Comments:

none

]
Israel is apologizing to the surviving Beatles for banning them 43 years ago and will invite them to play Israel's 60th anniversary in May according to EarthTimes.
Here is what the Israeli UK Ambassador said is in the letter while he was in Liverpool this weekend.
"we would like to take this opportunity to rectify an historic missed opportunity which unfortunately took place in 1965 when you were invited to Israel.

"Unfortunately, the State of Israel cancelled your performance in the country due to lack of budget and because several politicians in the Knesset had believed at the time that your performance might corrupt the minds of the Israeli youth.

"There is no doubt that it was a great missed opportunity to prevent people like you, who shaped the minds of a generation, to come to Israel and perform before the young generation in Israel who admired you and continues to admire you."
The Ambassador will give the letter to John Lennon's sister today at the Beatles' museum and will send the letter to George Harrison's relatives and to Paul McCartney and Ringo Starr.
Hopefully Paul and Ringo will follow John Lennon's words and Give Peace a Chance and do Israel's 60th Anniversary celebrations!
---
Paul McCartney had an angioplasty
January 1st, 2008 under Beatles, Sick Bay. [ Comments:

1

]
The Sun
is reporting Paul McCartney, who had his share of heart break from Heather Mills, recently got an angioplasty.
A source said: "Paul had been complaining about not feeling well and saw a Harley Street specialist at The London Clinic.

"Tests were carried out and the decision was taken to operate. Paul had the angioplasty in a private hospital. It was all very routine but any work on your heart is a big deal."

A friend of the legend said: "Luckily Paul is in very good shape. He does regular exercise and is fit.

"He eats well and does not carry any excess weight. He has always been in exceptional health, which is remarkable when you think of the rock 'n' roll lifestyle he once had."

Last night Macca's spokesman said of the hush-hush angioplasty performed in the autumn: "It was a routine medical operation."
Poor Paul, but he looks like he is doing so much better. Hopefully the stress of going back to court next month with Heather will not be too much for his heart.
---