Gwen Stefani sings about being a good friend!
April 7th, 2016 under Gwen Stefani, Sesame Street/Muppets. [ Comments:

5

]

Gwen Stefani is going to be on Sesame Street and she sings a called Be a Good Friend with the friendly neighbors. No Doubt, I think, there are a few people who might disagree about her singing a song like that? But I am pretty sure we don't speak about it, right?
---
Gwen Stefani wears money like a Rich Girl
December 9th, 2015 under Gwen Stefani. [ Comments:

1

]

Gwen Stefani is coiny, at least she was yesterday on The Voice. The No Doubt singer wore a dress made out of 2 pences. Before you think, what a rich bitch to flaunt money around like that, 2 pences is worth about 3 pennies in the US. So basically that dress cost maybe $10.
While it looks a lot of bucks, you couldn't get me to wear it. Not only because it is must be so heavy. I hate the smell of coins.
What do you think of her money dress?
---
No doubt, Gwen Stefani's marriage is over
August 3rd, 2015 under Gwen Stefani. [ Comments:

none

]

Gwen Stefani and Gavin Rossdale have mutually decided to end their nearly 13 year marriage. The couple released this statement to E!, "While the two of us have come to the mutual decision that we will no longer be partners in marriage, we remain partners in parenthood and are committed to jointly raising our three sons in a happy and healthy environment. To that end, we respectfully request privacy from the media during this time." No reason was given for the separation, so of course their privacy will not be respected. Expect to see something about their split in the tabloids by the end of the week.
The former couple, who were together for nearly 20 years, have 3 sons, 9-year-old Kingston, 6-year-old Zuma and 1-year-old Apollo.
This is the second Voice judge to file for divorce in as many weeks. Blake Shelton filed for divorce from Miranda Lambert late last month. Which makes you wonder, what's in the water?
---
Gwen Stefani has The Voice!
April 29th, 2014 under Gwen Stefani, The Voice. [ Comments:

none

]

For a little over a week it has been rumored that Gwen Stefani is joining The Voice and today NBC made the news official. The No Doubt singer will be joining the singing competition in the fall along with Pharrell Williams and his hat. In case you are one of the few people who doesn't know who they are, they will be performing on Monday's show. Stefani will get the audience rockin' to Hollaback Girl and Williams will get them happy with Come Get It Bae.
So in other words, The Voice gets Gwen Stefani, Pharrell Wiliams and his hat, and American Idol got Harry Connick Jr and Jennifer Lopez. Is there any doubt why Idol's rating are dropping fast and The Voice's are going up faster? I mean, the NBC show gets artists that are charting now and Idol gets ones that haven't charted since their contestants were born. You gotta respect the crap out of Mark Burnett for not only knowing which musicians are hot, but also for having the ability to get them to do his show. Everyone of their coaches has not needed the show to get them liked again (see J-Lo) and yet they still do it! Pharrell Wiliams' hats off to Reality Show Mogul!

Side note: That photo was taken in at the 2005 Billboard Music Awards when Gwen won Digital Song of the Year for Hollaback Girl. I was looking for photo of them together, thought that one was perfect, picked and then found she won for the song she will be singing on Monday. Total kismet.
---
Gwen Stefani lets her hair down!
June 3rd, 2013 under Gwen Stefani. [ Comments:

none

]

Fame Flynet
Gwen Stefani attended the Elizabeth Glaser Pediatric AIDS Foundation's 24th Annual A Time For Heroes Event over the weekend and she didn't look like her signature self. Her hair was down and she wore a lighter shade of lipstick as she posed for the cameras on the red carpet. Personally I think she looks a lot prettier with the softer look, except for those shoulder pads that went out with the '80s for a reason.
---
Kingston Rossdale back to blonde
March 24th, 2012 under Gwen Stefani. [ Comments:

none

]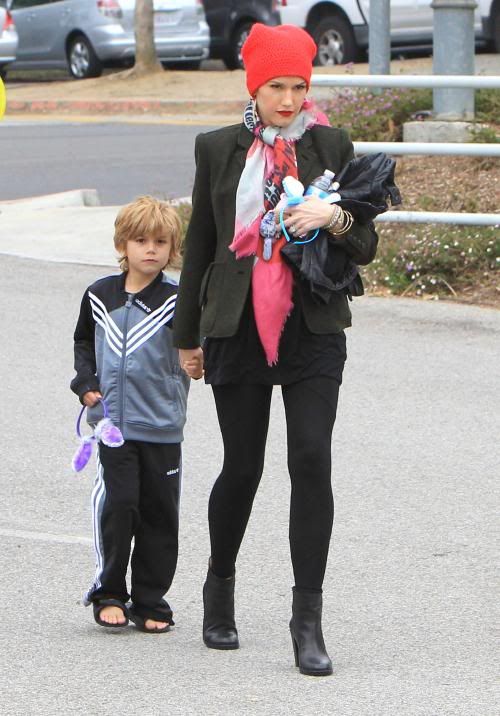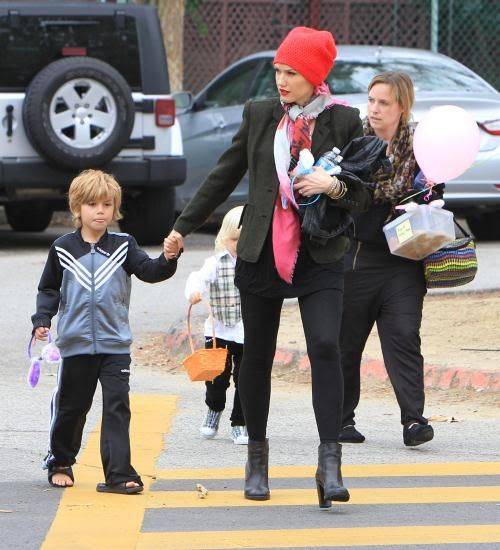 Fame Flynet Pictures
Earlier in the month I posted pictures of Kingston Rossdale with brown hair and now it looks like Gwen Stefani's oldest son is back to being blonde. Whether he is a blonde, a brunette or dons a blue mohawk, the toddler makes every hair color work.
---
Kingston Rossdale goes dark
March 4th, 2012 under Gwen Stefani. [ Comments:

2

]

WENN.com
For most of his life Kingston Rossdale has followed his mother Gwen Stefani's blonde hair color, but it looks like now he is a brunette like his dad Gavin Rossdale.
I swear I think the five year old has dyed his hair more than I have.
---
Hey Gwen Stefani the '80s called and they want their hairdo back
October 5th, 2011 under Gwen Stefani. [ Comments:

none

]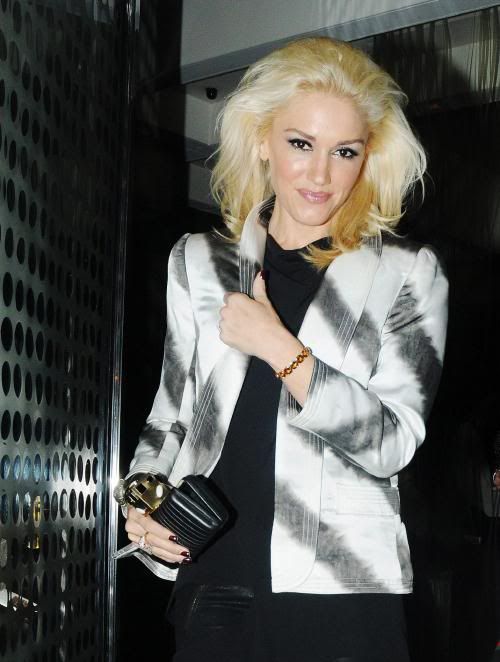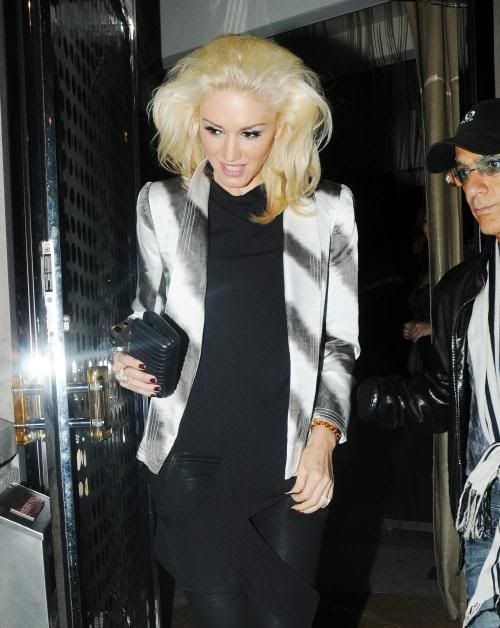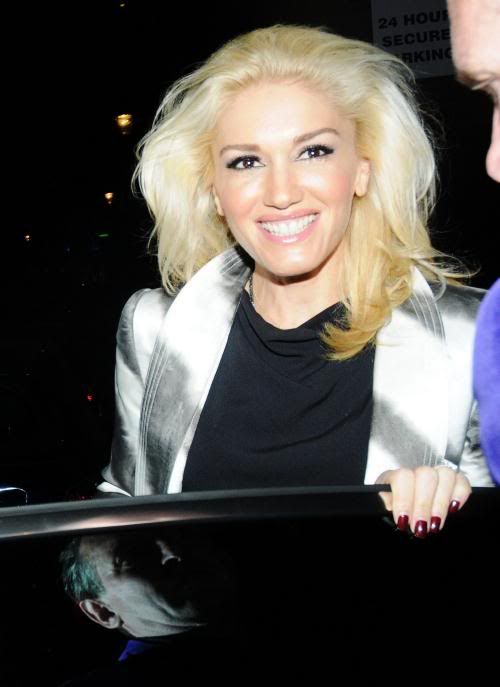 Fame Pictures
Gwen Stefani is normally ahead of the times, but her head was anything but when she went out yesterday with a hairdo that looked almost as old she is. Seriously the next time she goes out looking like that her husband Gavin Rossdale should give her one of her ponytail holders and stop her from looking that. Either that or a brush would do miracles!
BTW it isn't only her hair make her like she is one of Krystle Carrington's daughters on Dynasty, that jacket looks like something Alexis Carrington would rip it off of that bitch.
---
Come on down Gavin Rossdale!
September 27th, 2011 under Gwen Stefani, Jimmy Kimmel. [ Comments:

1

]

There are three things we know about Gavin Rossdale: one he is the lead singer of Bush, two he is married to Gwen Stefani and three he reportedly had an affair with male singer Marilyn when he was teen. Well now there a fourth thing you will know about him, he loves game shows and he has even added lyrics to the instrumental music that plays when a contestant comes on down or when they are waiting to guess the answer. As you can see in the video that aired during Jimmy Kimmel Live, there is a reason why we only know him for the first three things.
---
Kingston Rossdale rockin' new hair
July 5th, 2011 under Gwen Stefani. [ Comments:

none

]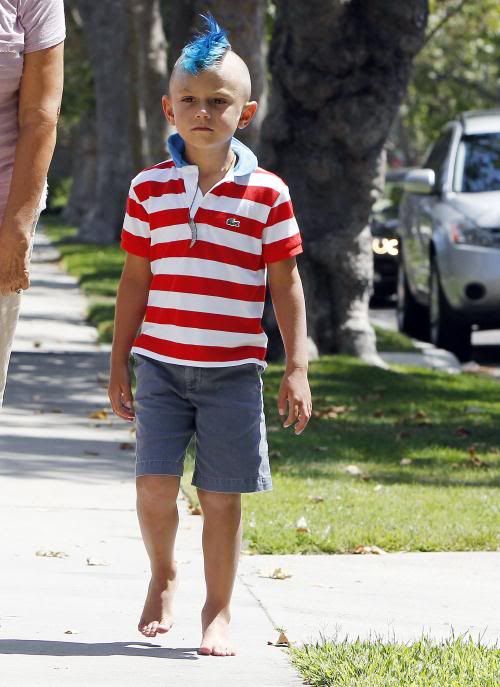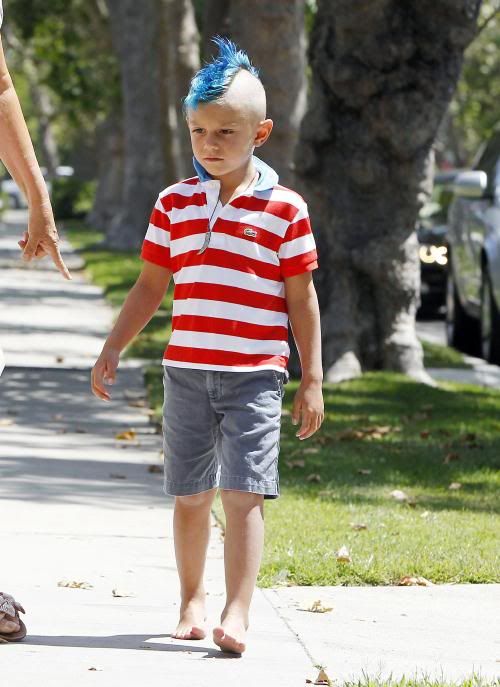 Fame Pictures
Kingston Rossdale is the most stylish 5 year old in Hollywood and now he has a rockin' hairdo to go with his clothes.
Maybe I am old school, but I liked him better without the blue mohawk. He is still cute, but I like him better with his natural blonde tresses. Well that and I have always hated mohawks.
---