Kingston Rossdale rockin' new hair
July 5th, 2011 under Gwen Stefani. [ Comments: 1 ]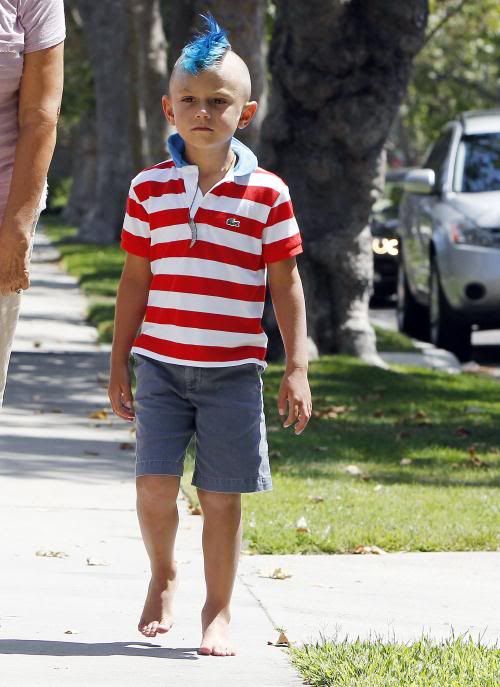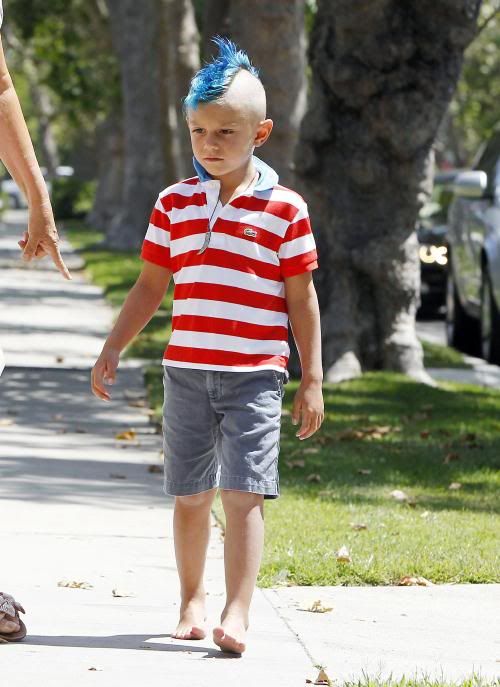 Fame Pictures
Kingston Rossdale is the most stylish 5 year old in Hollywood and now he has a rockin' hairdo to go with his clothes.
Maybe I am old school, but I liked him better without the blue mohawk. He is still cute, but I like him better with his natural blonde tresses. Well that and I have always hated mohawks.
---
Zuma Rossdale tranforms into Captain America
July 5th, 2011 under Gwen Stefani. [ Comments: none ]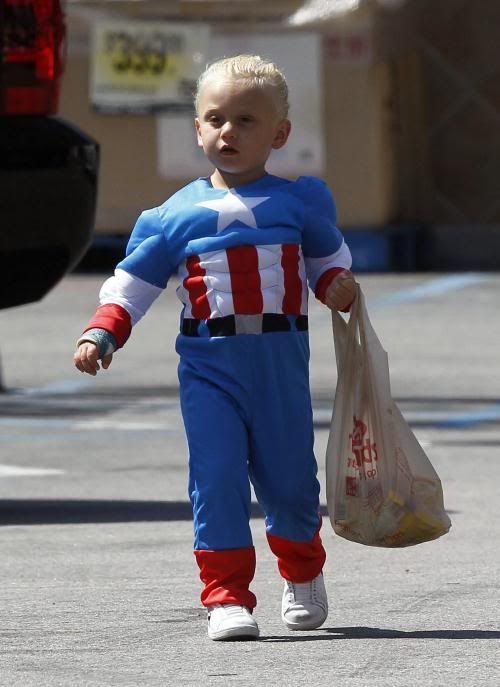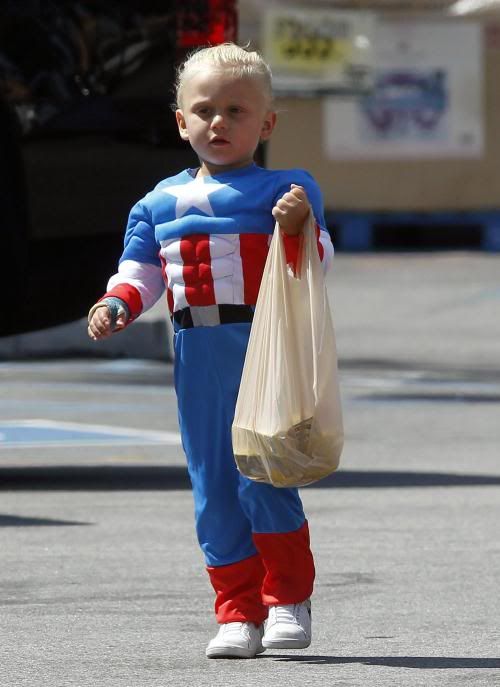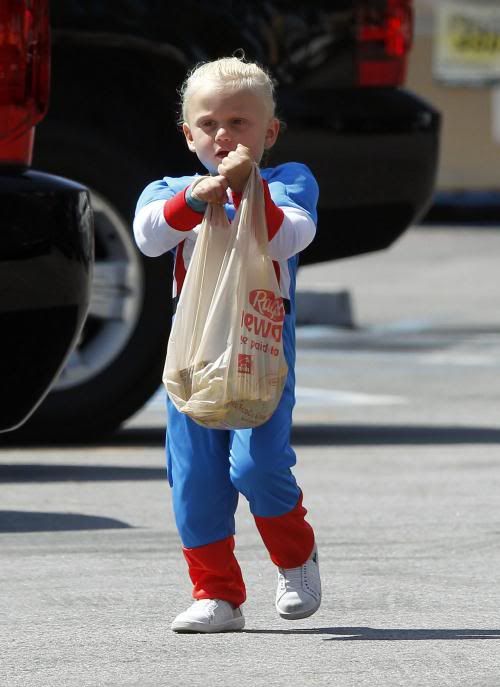 Fame Pictures
Zuma Rossdale went shopping for Independence Day and he dressed up as the perfect superhero for the holiday. Gwen Stefani's youngest son dressed up as Captain America and showed off his newfound strength by carrying the groceries like they were nothing. Seriously how awwwwdorable is the nearly three year dressed up like that?
---
The Stefani-Rossdale boys suit up!
April 25th, 2011 under Gwen Stefani. [ Comments: none ]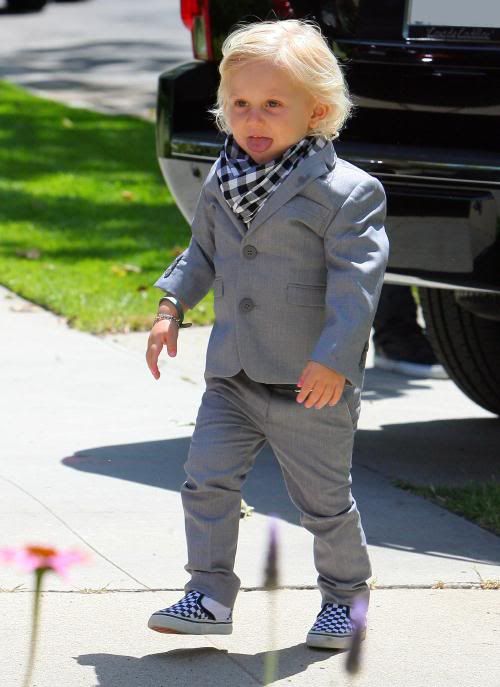 Fame Picture
Yesterday was Easter and Gwen Stefani and Gavin Rossdale took their little LAMBs to their parents for the holiday. Of course Kingston and his younger brother Zuma had to suit up and they did so in a rockin' way that only their parents could dress them up as. Seriously can any other 4 and 2 year old boy be any cuter and more GQ than these two?
---
Kingston Rossdale is the cutest little tiger!
April 4th, 2011 under Gwen Stefani. [ Comments: none ]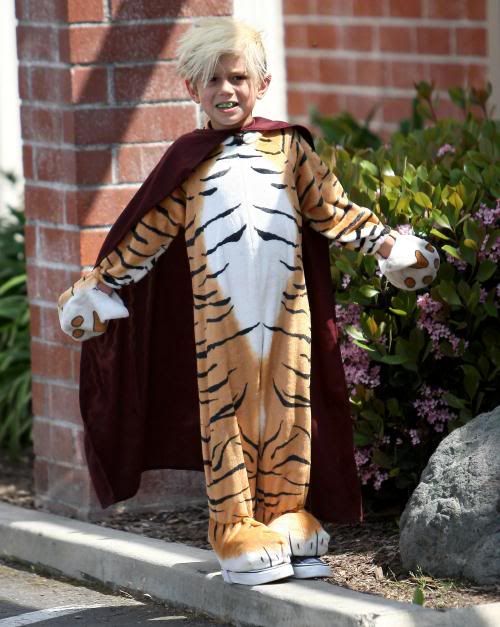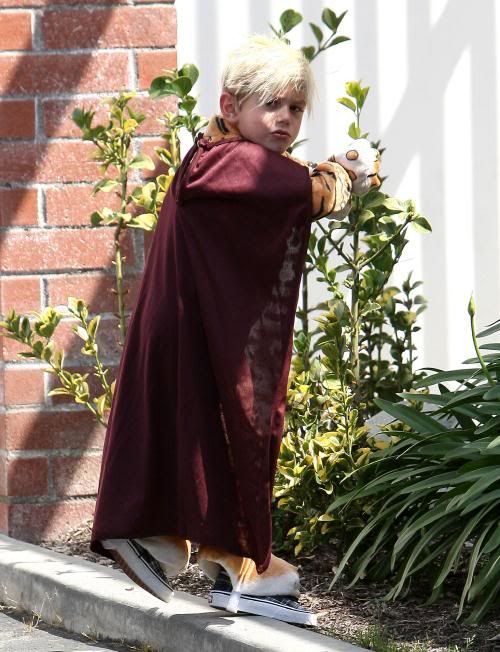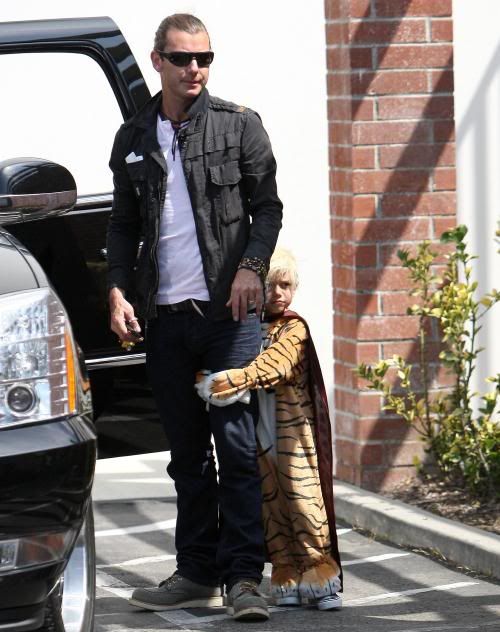 Fame Pictures
Kingston Rossdale enjoyed the day with his mom, dad and baby brother and spent it dressed up like tiger! Seriously isn't Gwen Stefani's oldest son the cutest 'lil toddler in Hollywood? Especially the way the nearly 5 year old clutches to Gavin's leg like that to show the world how much he loves his daddy!
---
The many faces of Zuma Rossdale!
January 26th, 2011 under Gwen Stefani. [ Comments: none ]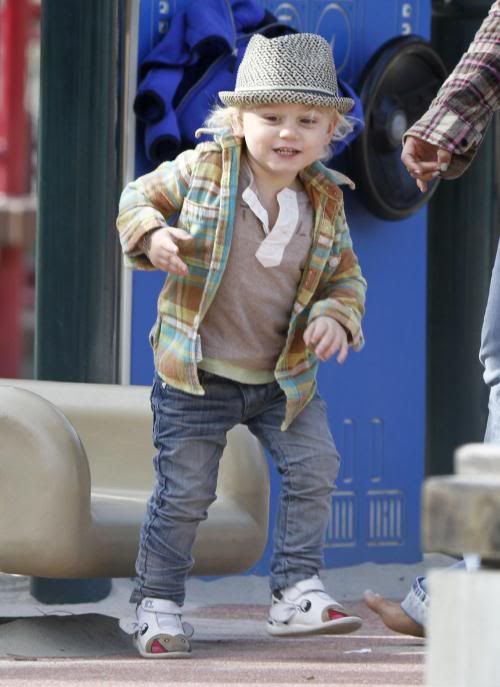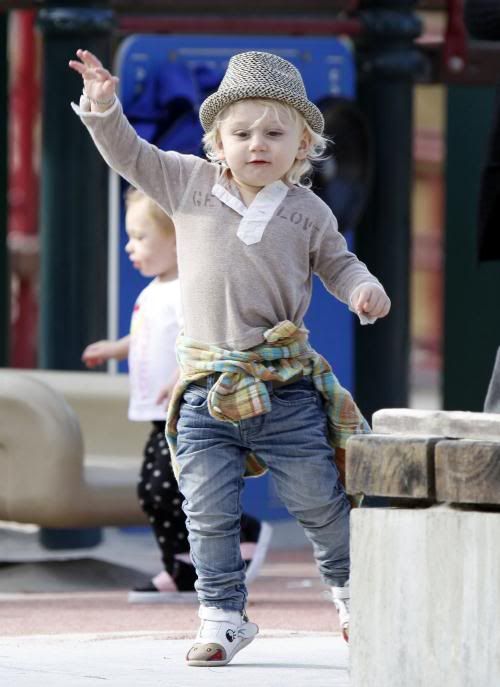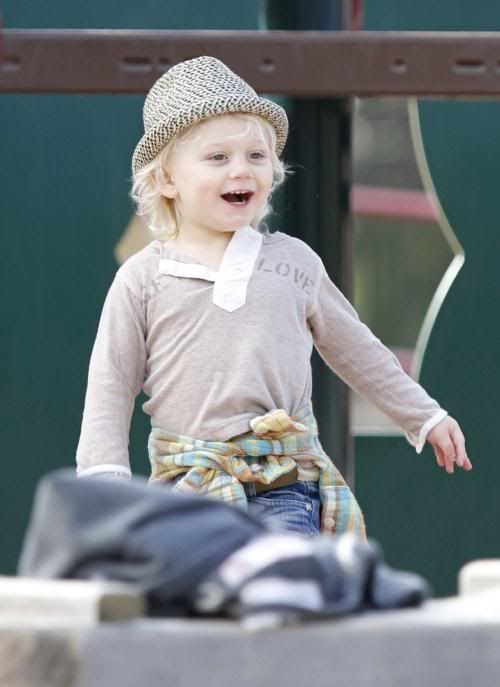 I know this will sound mean, but when Zuma Nesta Rossdale was a baby I didn't think that he was as cute as his big brother Kingston. But now that Gwen Stefani's little boy is two, I think he is just as cute…if not more so. Not only is he awwwdorable as all hell, he is the most stylish boy under 3!
---
Gavin Rossdale and his sons' futures are so bright they have to wear the same shades!
January 24th, 2011 under Gwen Stefani. [ Comments: 1 ]

WireImage
Gavin Rossdale took his two sons Kingston and Zuma to the premiere of Gnomeo and Juliet, and Gwen Stefani's boys all wore the same sunglasses! How awwdorable is it to see the 4 year old and 2 year old boys where the same shades as their dad? Those boys are seriously Hollywood's most rocked out toddlers!
---
Who has the dumber hairstyle Gavin Rossdale or Brian Grazer?
November 14th, 2010 under Bad Hair, Better than..., Gwen Stefani. [ Comments: none ]

WireImage
Gavin Rossdale and Brian Grazer both attended the MOCA's Annual Gala The Artist's Museum Happening and I have to wonder who has the dumber hairdo? Brian Grazer has had that crazy spike do since before he was Oscar winner, and it is time for him to lose it already before he looks like co-producer Ron Howard. And when it comes to The Bush singer he is married to Gwen Stefani and he should let her play with their boys' hair and not his. That ponytail/bun makes him look like an '80s douche, so I am saying his looks dumber with that hairstyle and by the looks of it Grazer agrees with me.
---
Gwen Stefani and her muscle man!
June 7th, 2010 under Gwen Stefani. [ Comments: none ]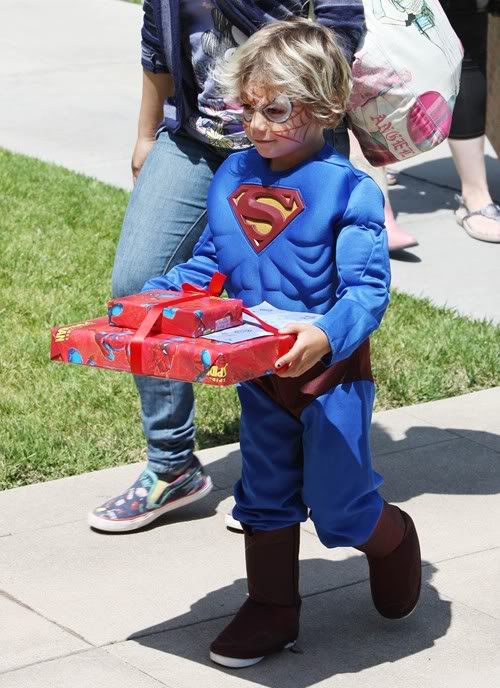 Bauer-Griffin Online
Gwen Stefani took Kingston to a birthday party and the 4 year old dressed as a Superman. Not only did he don the red, blue and yellow superhero uniform, but his costume also had muscles added to it. Seriously how awwwdorable does he look carrying that heavy load of presents? The only thing I don't get is why if he is dressed as Superman, does he have Spider-man makeup on his face?
---
Gwen Stefani's super day with her boys!
May 10th, 2010 under Gwen Stefani. [ Comments: none ]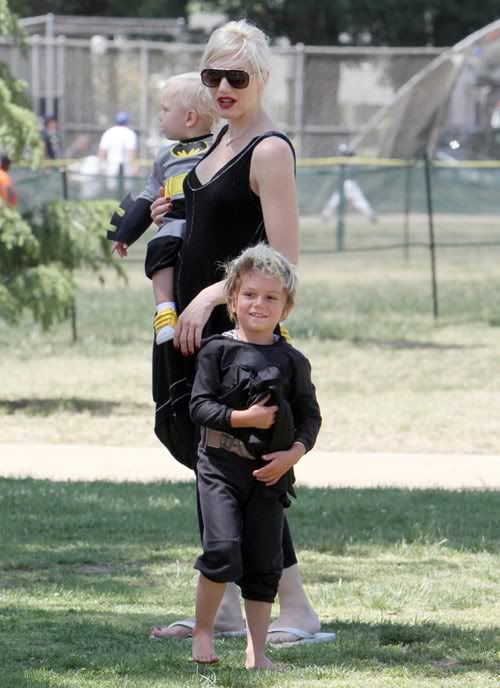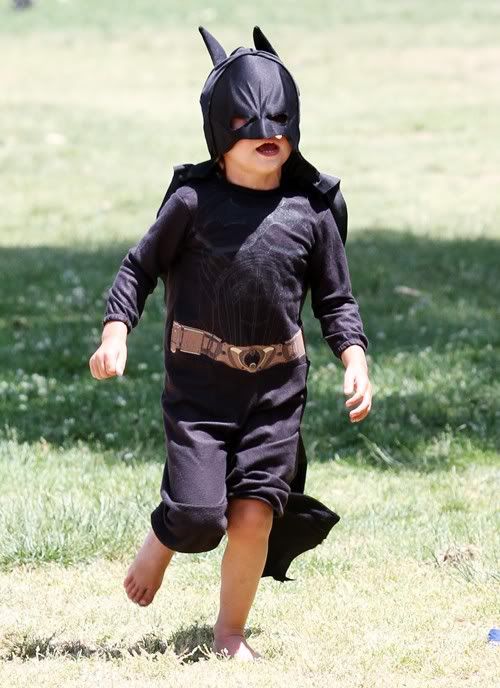 Fame Pictures
Gwen Stefani took her two sons to a Superhero birthday party and I am not sure who had more fun Kingston and Zuma or their mom? I am going with Gwen over her nearly four year old and 20 month old sons, although Kingston's smile is almost as huge as her's! Seriously how awwwdorable are those pictures of the 3 Rossdales?
BTW gotta love a Rock Star mom who can still make time to go down the slide with her son! That is totally b!tching!
---
Kingston Rossdale is bummed
February 26th, 2010 under Gwen Stefani. [ Comments: none ]

Fame Pictures
Awwwdorable little Kingston Rossdale did not live up to his T-Shirt while he was out shopping with his mom, Gwen Stefani in Beverly Hills. The 3 year old's shirt says "Vote for Big Smile" but as you can see he was pouting. Poor little Kingston. It didn't take the little man too long to realize shopping with women stinks.
---