Watch the Hot In Cleveland ladies have a hard time with a scene!
April 3rd, 2014 under TV Land. [ Comments:

none

]

All Valerie Bertinelli had to say on Hot In Cleveland was, "Oh my Gd! There's something in the toe. It's a note." For some reason she couldn't get that line out the way she wanted, so she had to do it over and over again. As she tried it again and again, her castmates found different ways to mess it up and they would have to redo the line. Then after the 7th, yes 7th, attempt Betty White did something that had everyone absolutely in hysterics.
Why couldn't something like this have happened during the live episode last week. Now even though it didn't happen then, it is still great that TV Land shares these bloopers for us to enjoy and boy did I enjoy them struggling through a scene. So much so, I still can't stop laughing.
Seriously, can Valerie Bertinelli be any cuter? And she never ages. She looks just like she did when she was on One Day at a Time over 30 years ago.
---
Donald Faison suffers for his art!
December 23rd, 2013 under TV Land. [ Comments:

none

]

(starts at 1:15) in)


On this past Wednesday's episode of The Exes, Donald Faison did an epic striptease (that you can see part of it below)! Well over the weekend, TV Land released the bloopers from that episode and you can see that he really suffered while filming it. I can't tell what he did to himself, but whatever it was it left him saying "Oh sh!t" before he doubled over in pain. Good thing he had a kid before filming that scene because not sure what his chances of having another are after it.
BTW am I the only who pictured him picturing Zach Braff as he seductively sang Deck the Halls???
Finally if you are not watching The Exes, you are missing out on TV Land's best sitcom yet. So tune in every Wednesday at 10:30p to get your laugh on or just to get turned on by Donald Faison and the rest of the gang!
---
Kirstie gets the naughty Cloris Leachman while The Exes just gets naugty!
December 18th, 2013 under TV Land. [ Comments:

none

]

It is Christmastime on TV Land tonight with Kirstie at 10p and The Exes at 10:30p and you don't want to miss these Yuletide tales.
It is Maddie's (Kirstie Alley) first Christmas with her adult son, Arlo (Eric Petersen), who she gave up for adoption when he was a baby, and he decides to invite his grandmother (Cloris Leachman), who he never met, over for the special day. Only problem is Maddie hates her mom and it is obvious why they don't get along. Can Christmas be saved or will it be ruined before it even begins?
Cloris is always nice when she is naughty and tonight she is just that.
Then at 10:30p Holly (Kristen Johnson), Stuart (David Alan Basche), Haskell (Wayne Knight), Phil (Donald Faison) and his girlfriend and Holly's assistant, Eden (Kelly Stables) decide to spend Christmas together; but when Holly cancels because she meets a cute guy at the airport Christmas is ruined before it even starts. So now they have to figure out if they should go ahead with their original plans or spend it with their new family, each other. When the miracle of Christmas happens, they no exactly what to do to make the holiday perfect!
But the best part of the episode comes when Phil decides to make a sexy video for Eden and it is a striptease you won't be forgetting anytime soon!
The Exes is a buddy sitcom that gets it right week and week and this holiday episode is the perfect way to honor them and Christmas! So tune in for a show that is always enjoyable especially tonight.
---
Do Wendie Malick and Jane Leeves have something to tell us?
December 6th, 2013 under Do they have something to tell us?, TV Land. [ Comments:

none

]

Wendie Malick shared this photo of Jane Leeves and her hugging each other under a blanket, and I have to wonder do they have something to tell us? Nope! While it is Hot in Cleveland, it is freezing (for us) here in LA and we are doing anything and everything to get warm. This is how these two actresses are doing it and I don't blame them!
---
The Mary Tyler Moore Show ladies make it Hot in Cleveland tonight!
September 4th, 2013 under TV Land. [ Comments:

none

]

Tonight at 10p Sue Ann Nivens and Georgette aka Betty White and Georgia Engel are reunited with the friends from Minneapolis, Mary, Rhoda and Phyllis aka Mary Tyler Moore, Valerie Harper and Cloris Leachman on TV Land's Hot in Cleveland; and what we get is that feeling we got when we watched The Mary Tyler Moore Show.
When Elka and Mamie find a bottle of wine from their Golden Ladies of Bowling days, they decide to reunite with their old team. Once they are all together they remember why they split up 50 years ago. Will they be able to bowl a strike or will they be left in the gutter?
The first episode isn't only about The Mary Tyler Moore Show reunion, it is also that time for the roommates to have their annual birthday date night. And if you have been watching the show, you know it is not going to go well. So you will want to tune in to see just how bad it goes for them.
Then at 10:30p it is finally time for Victoria Chase (Wendie Malick) to get married and everything that can go wrong, will go wrong. Will she say I do for the 6th time, or will she not have a ball and chain to keep her down?
One of the things that happens during her nuptials is that we find out that the Priest (Craig Ferguson) and Joy (Jane Leeves) know each other in a way that they shouldn't. How? I won't tell.
But that is not the most shocking thing that happens during tonight's season finale. Melanie (Valerie Bertinelli) is told that the mole that's from her body is cancer-free. But then she gets a call from another doctor, and what they tell her will leave her and you speechless. The news that the doctor gives will definitely change things up for next season, so to find out what that diagnosis is you will have to tune in for an hour of laughs and great memories.
Hot in Cleveland ends another great season that proves you can still make funny sitcoms for everyone to enjoy over and over again.
---
Betty White shakes it and bakes it on Hot In Cleveland tonight!
August 28th, 2013 under TV Land. [ Comments:

1

]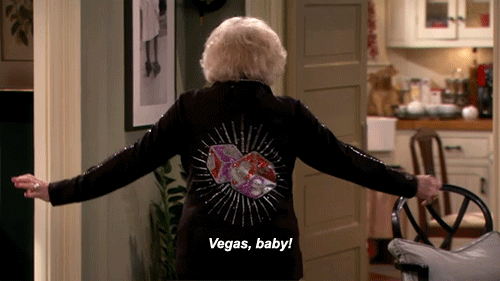 Tonight at 10p on TV Land's Hot in Cleveland Betty White is going to shake her money maker. To find out why, we will just have to tune in to find out. But until then we have this GIF that just keeps on giving.
Now even though she is 91 years young, she can still move body like someone who is the reverse of age, 19.
So I have seen Miss Betty White do that move from the front and it looks just as hot that way as it does from behind! I honestly wish I could my shake my curves the way she does.
---
Hot In Cleveland is shocking and The Exes catch a Teen Wolf tonight!
August 21st, 2013 under TV Land. [ Comments:

none

]

Tonight at 10p on TV Land's Hot In Cleveland Melanie (Valerie Bertinelli) wants to break up with her boyfriend Harry, but she just can't seem to do it. Then she gets her way out when she discovers his dead body at his apartment. Only problem is she called his cousin to tell her the news and some how she gets roped in to planning his funeral and giving the eulogy. What will she do?
Then there is Victoria Chase (Wendie Malick), the face of Mrs Lady Pants, who has been sent a new product to try out from that company. Now they want her to test out Mrs Lady Abs, which is a belt you put on your waist that will shock your belly back in to shape. Let's just say what happens as soon as she puts it on will be shocking and give you lots and lots and laughs just like the rest of the episode.
Then at 10:30p on The Exes Holly (Kristen Johnston) is down in the dumps when a 70 year old man hits on her, but her spirits are lifted when a law student (Teen Wolf's Tyler Posey) says he wants to study alone with her at her apartment. Once the two of them are alone, his shirt will come off and so much more. So what does he see in her? You will just have to watch the hilarious outcome to find out.
But Holly isn't the only one having first kiss issues, Eden (Kelly Stables) and Phil (Donald Faison) are having some fallout from their kiss last week. Will they be able to get over it or could that kiss have led to something more?
If you are looking for an hour to LYAO, then you are going to want to tune into TV Land tonight at 10p for Hot In Cleveland and The Exes. I know I am still hysterics after watching both episodes. In fact I loved HIC so much, I ran out and bought one of those electrical belts to tone my tummy!
---
Look Who's Talking on Kirstie Alley's new show, it's John Travolta!
July 23rd, 2013 under John Travolta, TV Land. [ Comments:

none

]

John Travolta is making a rare television acting appearance and he's doing it on Kirstie Alley's new TV Land show. Travolta will play a stagehand, who has a one night with Kirstie and he refuses to leave. Almost sounds like their movie franchise Look's Who Talking. Not that I have a problem with that because I was a fan of those movie and their chemistry, so I can't wait to see them together again in front of the camera.
The episode tapes next month and will air sometime after the show's debut on December 4th. This isn't the only reunion they are having on the show, Kirstie is also working with her Cheers' co-star Rhea Perlman. Michael Richards also stars on the sitcom and he got to work with his Seinfeld buddy Jason Alexander again in an episode. What other reunions would you like to see on the show? I would love to see Rhea with her Matilda co-star Mara Wilson or maybe someone from Taxi?
---
Mr. Tudball and Mrs. Wiggins are together again on Hot in Cleveland
June 26th, 2013 under TV Land. [ Comments:

none

]

Tonight at 10p on TV Land Carol Burnett and Tim Conway are reunited on a very funny episode of Hot in Cleveland, and you don't want to miss it.
Victoria gets a call from her sister (Jean Smart) that she won an award in her hometown of Canoga Falls and she has to come home to accept it. Not one to turn down an award, she bring Melanie, Joy and Elka to join her. Only problem is her sister lied to get her home because she wants her take care of their mom (Carol Burnett). She has had enough of being the caregiver and wants Victoria to finally take some of the responsibility off of her. Will she or won't she don't it?
You have to tune into a hilarious episode with so many TV legends, you can't believe how many of them can be in one episode.
When I heard that Carol Burnett and Tim Conway were going to be on the show, I had to go see the show tape. It was one of my favorite LA moments to see that many greats doing what they do best in front of me. What I am sad you won't see, is the long standing ovation Carol Burnett got when she came out to the unsuspecting audience. It had to be around 5 minutes long because everyone was so thrilled to see her. Then later in the episode, when Tim Conway was revealed the applauds were again long and loud. All of that equals the laughs Betty White got when she did Conway's infamous walk, but sadly you won't see that. It is a just a memory that will forever live in my mind.
While you won't see all of that, what you will see will give you plenty of enjoyment and laughter so tune in.
---
Hot In Cleveland goes live tonight, if it doesn't kill them first!
June 19th, 2013 under TV Land. [ Comments:

none

]

TV Land's first sitcom Hot In Cleveland is boldly going where it has never gone before, it is going live tonight! That's right Betty White, Valerie Harper, Wendie Malick and Jane Leeves along with William Shatner and Shirley Jones will do tonight's episode live on air at 10p est. If they screw up, we are going to see it. There are no reshoots, so that they have to get it right or else. No pressure whatsoever for those talented actors who have been doing this for over 200 years between them! I think they will be able to do it. Although I have seen them tape the show a few times and I have never seen them do it perfectly. But then again they knew they could redo the scene if need be.
Whether they mess up or the episode goes perfectly, I am sure it is going to be a very funny episode that will have us all in stitches!


Then at 10:30p it is time for The Exes and Stuart (David Alan Basche) uses Holly's (Kristen Johnston) "back massager" on a body part it has never been used on before…his back. When Haskel (Wayne Knight) and Phil (Donald Faison) tell him what it is for, he drops it and breaks it. So now the guys have to fix it before Holly finds out is missing. Will they be able to make it work or will Holly have to use a man to satisfy her needs from now on? You will have just have to tune for an episode that gets you very excited the show is back on the air.


Finally at 11p The Soul Man is back and Boyce (Cedric the Entertainer) is going for his first physical since he was a pre-teen. Since he hasn't been to the doctor in so long, something has to be wrong with him. Right? Before we find out the results, we get to see one of the funniest physicals you have ever seen on TV!
---