BTWF home videos: Hilary Duff singing the Alphabet Song
November 6th, 2014 under Before They Were Famous, Hilary Duff. [ Comments:

none

]
Before Hilary Duff was a straight B student in Lizzie McGuire, she didn't know her ABC's. How awwwwwwdorable was the 3 year old in 1990 singing the Alphabet Song in that home video?
---
Hilary Duff looks more like J-Lo than herself
March 24th, 2014 under Hilary Duff. [ Comments:

none

]

Hilary Duff Tweeted a photo of herself with a "High bun….hoops…" and I didn't recognize Lizzie McGuire. She looks more Jennifer Lopez than she does herself, even her eyes look different.
Who do you think she looks like? And what do you think of that look?
---
Hilary Duff's Cinderella story is over
January 10th, 2014 under Hilary Duff. [ Comments:

1

]

Hilary Duff and Mike Comrie have decided to separate after three years of marriage. The couple released a statement about their amicable separation, "They remain best friends and will continue to be in each other's lives. They are dedicated to loving and parenting their amazing son, and ask for privacy at this time."
A source close to the actress told People that they tried to make it work, but they has drifted apart and work better as friends..
The former couple have a 21 month old son, Luca, that they will continue to raise together.
---
Hilary Duff takes a sexy selfie!
August 23rd, 2013 under Hilary Duff. [ Comments:

none

]

No matter what Hilary Duff does, I always see her as that cute little teenager we got to know her as in Lizzie McGuire. But yesterday she Tweeted a picture of herself on a Mommy's Night Out and I finally saw her as a sexy adult. I don't know what did, but she should do it more often.
What do you think of her red lipped selfie?
---
Hilary Duff sucks!
November 29th, 2012 under Hilary Duff. [ Comments:

none

]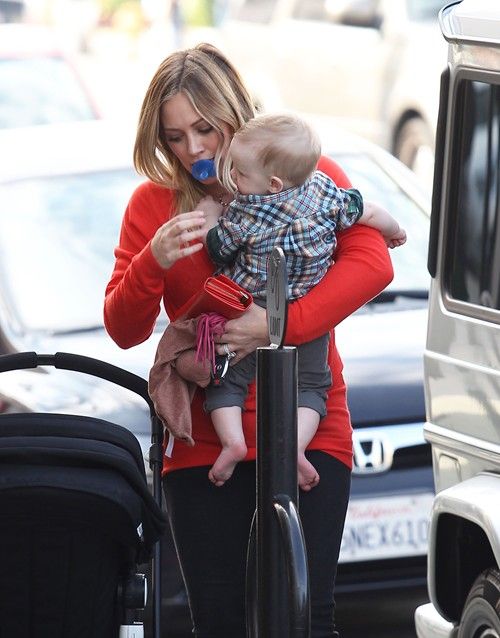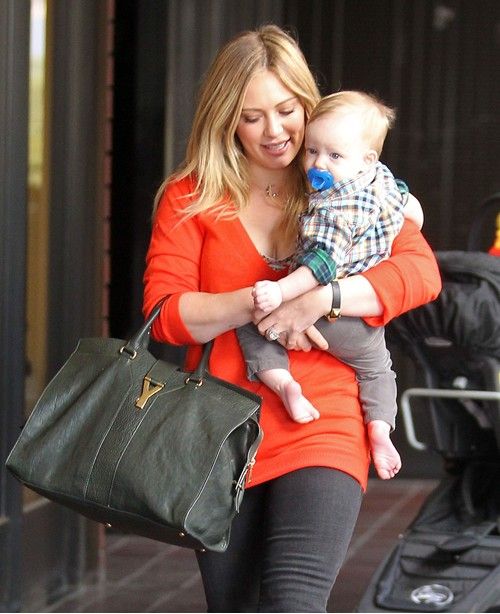 Fame Flynet
Hilary Duff was seen out and about with her Luca yesterday and she had something in her mouth that belonged to her 8 month old son. Lizzie McGuire was caught by the paps sucking on her son's pacifier. So for you boys who have been wondering what it would like if she was sucking on something, you now know. Although I think her son would prefer you didn't know what it looked like with something that belonged to him.
---
Vanessa Hudgens strips off her High School Musical image!
August 21st, 2012 under High School Musical, Hilary Duff. [ Comments:

none

]

Vanessa Hudgens is doing an Eve Plumb and taking on an adult role in order to shed herself of her squeaky clean image. The High School Musical star is playing a stripper in The Frozen Ground and this role seems better suited for her. Or unsuited as the case may be!
Now when it comes to John Cusack, why is it the Disney Darlings, like Hudgens and Hilary Duff in War Inc., like to dance seductively for him in movies? I mean I can understand why, but why is it always him???
---
Haylie Duff finds out what happens if you name your dog Birdie
July 12th, 2012 under Hilary Duff. [ Comments:

none

]

Haylie Duff Tweeted the above picture and said "My blackeye from Birdie (my big dog).. Owner abuse!!" Actually I think the abuse started when she named her dog Birdie, he is a puppy not a birdy. He doesn't fly, but the pooch sure does know hot give a black eye. Although she didn't explain how the four-legged friend gave her the shiner, I wonder how man's friend became her face's worst enemy?
---
Motherhood makes Hilary Duff even cuter
June 13th, 2012 under Hilary Duff. [ Comments:

none

]

New mother Hilary Duff Tweeted a picture of her and her son Luca Cruz and the nearly two month old baby is so freaking awwwwdorable in this photo. His sad face is so precious as his mother tries to console him that it actually makes Lizzie McGuire even cuter that she already is. Seriously didn't you just get a cavity from this sweet image of a new mom and her little boy?
---
Hilary Duff's son is all eyes!!!
April 3rd, 2012 under Hilary Duff. [ Comments:

1

]

On March 20th Hilary Duff became a mom for the first time and today she Tweeted a picture of her son Luca Cruz. How awwwdorable is the two week old baby with those big beautiful eyes like his mom.
What did we do before Twitter when we wanted to know what celebrity babies looked like? In all honesty I love that Twitter gives celebrities the chance to share pictures of their babies when they want to, on their terms and they are not using their baby to make a quick buck.

UPDATE: Hilary Duff Tweeted a second picture and said, "Oh no! The flood gates have opened! Proud mamma on the loose!i can't help myself.. Here's one more." With those eyes, how can she not be proud.
---
Pregnancy has made Hilary Duff is hairy
March 7th, 2012 under Hilary Duff. [ Comments:

none

]

Hilary Duff is days away from having her first child and she is letting the world know a little secret about her pregnancy. Impending motherhood has made Lizzie McGuire hairy. But she found a solution to her problem and she took to Funny or Die to let the world know about NoGrowActiv. Within a month of using the miracle product, she no longer that hairy problem. So sadly those paps won't get that shot of her hair back or unibrow. That is unless she runs out of it.
---