Kristen Bell wants you to look at her boobs
March 12th, 2014 under Kristen Bell, Queen Latifah. [ Comments:

none

]

Kristen Bell is going to be on Queen Latifah's show this Friday and she has a message for all of us. She wants us to look at her boobs, wink wink. Now if only Veronica Mars has a pair for us to look at…
---
Who did Liza Minnelli say she'd give her Oscar to?
February 3rd, 2014 under Liza Minnelli, Queen Latifah. [ Comments:

none

]

Liza Minnelli is on The Queen Latifah Show today and the daytime host asked her about a rumor she heard. Queen heard that the Cabaret singer said she would give her Oscar to Matthew McConaughey if he did win one this year for Dallas Buyers Club. After Liza with a Z confirmed she said it, she added in her own special way, "I sure hope he wins." Me too because she deserves to keep her Oscar and he definitely deserves to win one for the absolutely outstanding performance he gave in DBC.
Here is a little bonus video of Liza and Latifah singing New York, New York and they sound great together.
---
Watch Queen Latifah go from fresh faced to beauty in :20 seconds!
January 21st, 2014 under Queen Latifah. [ Comments:

none

]

Queen Latifah hosts a daily daytime talk show and part of the job is always being glammed up when she is on the air. Well the Steel Magnolias star shared with us how her glam squad makes her go from steel to a beautiful magnolia with some makeup and a brush. How cool was it to see the transformation come to life like that?
BTW I wonder how long hair and makeup really takes when the clock is not moving at time lapse speed.
---
Ian Somerhalder sucks at Just Dance!
January 20th, 2014 under Lost, Queen Latifah. [ Comments:

none

]

Ian Somerhalder is a guest on Queen Latifah's show today and he shows off his dance moves when the two of them play a round of Just Dance. Let's just say there are a lot of things that The Vampire Diaries can do, and dancing is not one of them. It's nice to find out he isn't as perfect as his eyes.
---
Queen Latifah shines the spotlight on Tupac!
December 10th, 2013 under Jimmy Kimmel, Queen Latifah. [ Comments:

none

]




Did you know that before Queen Latifah was a sitcom star, an Oscar nominee, an awards show host and a talk show host, she was a rapper. Well yesterday on Jimmy Kimmel Live she talked about her touring past with some of the biggest names in Hip Hop like Public Enemy, Heavy D, Will Smith and Digital Underground to name a few. She decided to highlight her experience by sharing a story about Tupac Shakur from back in the day. Back in the '80s there were groups that were out to censor music and musicians had to abide by the laws or face arrest. One night when Digital Underground was doing their hit Humpty Dance, they figured a way to do it as is and then make a run for it by escaping through the audience. Only problem is they didn't tell the spotlight operator and he shined the light on them the whole time. Needless to say they were busted by the popo. I wonder if they were laughing backstage or pooping a brick as they watched the whole thing go down. I think I would be laughing because it was like a jail break but at a concert and with no dogs.
---
Dolly Parton raps to Miley Cyrus about her wrecking balls!
October 18th, 2013 under Dolly Parton, Queen Latifah. [ Comments:

none

]

Dolly Parton is on Queen Latifah's show on Monday and the country singer will perform a rap on the daytime talker. I don't want to spoil it for you because it is all types of awesome. Words cannot express the joy you will get from watching it, so hit the play button right now.
I sincerely adored it so much that I so want her to do a rapping special for Christmas. I know it would make my holiday season so much better. I mean, imagine her rapping about her chestnuts that are roasting on an open fire!
---
The Steel Magnolias remake is really strong!
October 7th, 2012 under Lifetime, Queen Latifah. [ Comments:

none

]

When I heard that Lifetime was remaking Steel Magnolias, I have to admit that wasn't pleased about it. I was like why mess with a good thing. Well when I watched Lifetime's revival of the Oscar nominated movie, I have to say that I was pleasantly surprised that tonight's version that debuts at 9p is better than the original one. While the 1989 decided to add more comedy to the Dramedy, the new one focuses more on the heart. Because of that I really believe this version is even better and more emotional than the original.
The Lifetime movie has a cast that is just as stellar as the original. Queen Latifah plays M'Lynn and Condola Rashad plays her daughter Shelby. Even though Queen is playing her TV mom her real mom Phylicia Rashad is starring as Clairee. Clairee's best friend Ouiser is played by the perfectly cast Alfre Woodward. Jill Scott stars as the heart of the movie Truvy and Adepero Oduye is her assistant Annelle. Together these women, who shot the movie in just 18 days, make it seem like they have been lifelong friends and because of that you want to be in on their circle of friendship.
Recently I was on a conference call with the telemovie's producers Craig Zadan and Neil Meron and they told why the adapted this play for the small screen. Here is what Zadan said about it:
We approached it as though it was a new piece of writing and we're not doing anything to copy the original production because the original play was amazing and the original movie was amazing.
And we wanted to do something that was brand new and we wanted to do something that would be done our way with our cast and our production. And it's using the material as the basis of that. And the same way as if you work in the theater, you do what they call revivals.
And, you know, it may have been done originally the play earlier, you know, on and then it's done later on with other casts. And each production is relevant because they're done with different directors, different producers, different actors.
So we feel like what we've done is fresh and different from the original and yet as relevant as the original.
When you watch the movie on Lifetime tonight at 9p, you will see it is as relevant as the first one if not more so!
---
Queen Latifah wiggles it for David Lettermen
July 11th, 2012 under David Letterman, Queen Latifah. [ Comments:

none

]

Buddy Guy was playing with the band on The Late Show yesterday, so when David Letterman introduced Queen Latifah he made sure to have a song that would be fitting, for well, a Queen. Well she took the opportunity to sashay sexily to beat as she walked to the couch. Once she sat down, the CBS late night host talked about how special Guy's music is. She said she wanted to move her body like she was at Juke Joint. Then she stood up, the band began to play and she wiggled curves like a peacock as she slowly used her hands to walk down Dave's desk. How hot was she? Let's just say she steamed up Letterman's glasses. I don't think he has been that happy since Drew Barrymore flashed her boobs to him.
---
Queen Latifah "out" on the ocean?
August 6th, 2010 under Queen Latifah. [ Comments:

none

]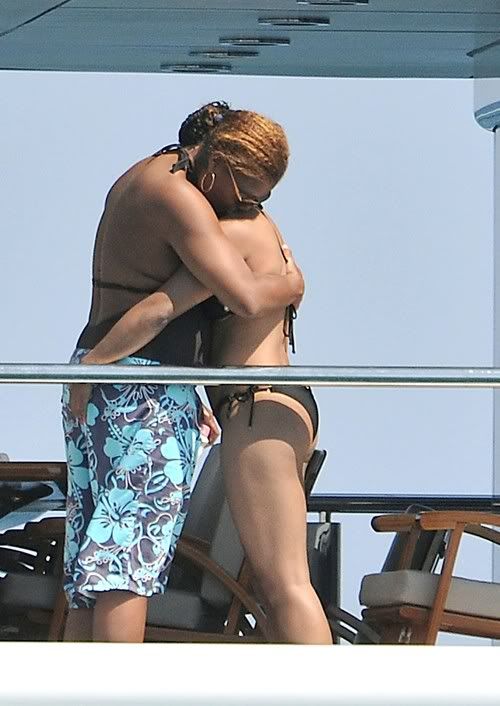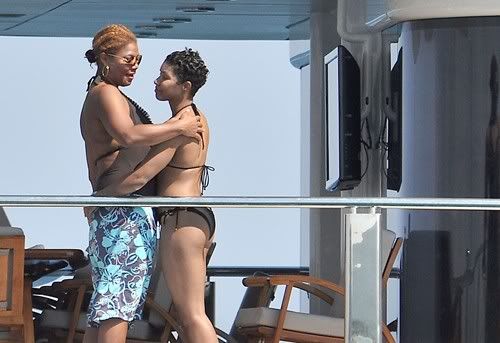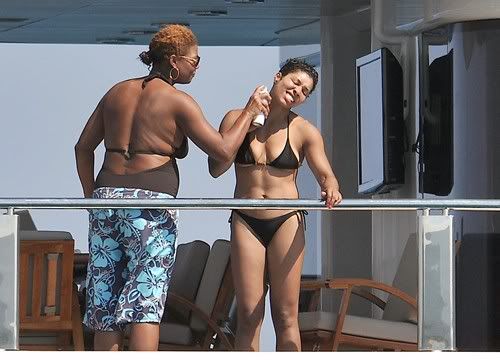 Bauer-Griffin Online
After years of denying her sexuality is Queen Latifah ready to finally to come out? The Oscar nominee and Jeanette Jenkins were photographed looking like a couple very much in love as they shared a boat with newlyweds Alicia Keys and Swizz Beatz.
While Queen was away California overturned Prop 8 and I wonder if spending the time with two honeymooners gave Jeanette and her the idea to get married or maybe at least confirm that they are a couple if they are one?
---
How America gets to have a King and Queen
July 12th, 2010 under Queen Latifah, TV News. [ Comments:

1

]

Unlike a lot of countries around the world the United States of America does not have a King or a Queen. But what we do have is a Larry King and Queen Latifah, and when she appears on his show we get a King and a Queen for one night. Too bad Prince wasn't on his show because then we would have a King, a Queen and a Prince!
Wow even I admit that was totally lame. But the real reason why I posted it not because Larry King Tweeted that picture along with, "In the make-up room with @IAMQUEENLATIFAH. She's our guest tonight. Tune in for the King & Queen!" But I posted it because he should never Tweet a picture of himself without his glasses and being fully made up because that Tweet just gave me nightmares. Seriously he is so scary without his glasses.
---