Guess who just got out of the shower?
January 14th, 2014 under Jared Leto. [ Comments:

none

]

Want to see who just fulfilled a requiem for my dream, then click here!
---
Jared Leto did not get the Brazilian for Dallas Buyers Club
October 18th, 2013 under Conan O'Brien, Jared Leto. [ Comments:

1

]

Jared Leto was on Conan O'Brien's show yesterday and he told the TBS late night host what great lengths he went to for his upcoming movie Dallas Buyers Club. We all know that he took off a lot of weight for the movie. Did you know he also waxed off almost all of his body hair to play the transgender role? Thankfully, for him it was a period piece, so he didn't have to wax down there. And he also wanted to let us know that he didn't have a '70s bush going on either.
Someone please tell me there is full frontal scene because I am curious to see how he manscaped for the part!
---
BTWF roles: Jared Leto in Almost Home
August 27th, 2013 under Before They Were Famous, Jared Leto. [ Comments:

none

]

Before Angela was in love with Jared Leto on my so called life, Dorothy Jane had a crush on him on Almost Home. He looks the same now as he did when he was 21 in that 1993 episode.
---
Looks like Dallas Buyers Club will give Matthew McConaughey his first Oscar!
August 27th, 2013 under Jared Leto, Matthew McConaughey. [ Comments:

1

]

via The Hollywood Reporter
The first trailer is out for Dallas Buyers Club and it looks like it will be an Oscar darling. The true life story of Ron Woodruff, who helped HIV+ people in the late '80s live past their expected end date by getting himself and them unapproved drugs from Mexico to help fight the disease, is coming to the big screen on November 1st.
After watching that trailer, I would honestly be surprised if Matthew McConaughey and Jared Leto didn't bring home the Oscars for their portrayals in it. Not only because of all of the weight they lost for their film, but because of their excellent acting in it.
---
Jared Leto finally found a way to make himself ugly!
November 27th, 2012 under Jared Leto. [ Comments:

none

]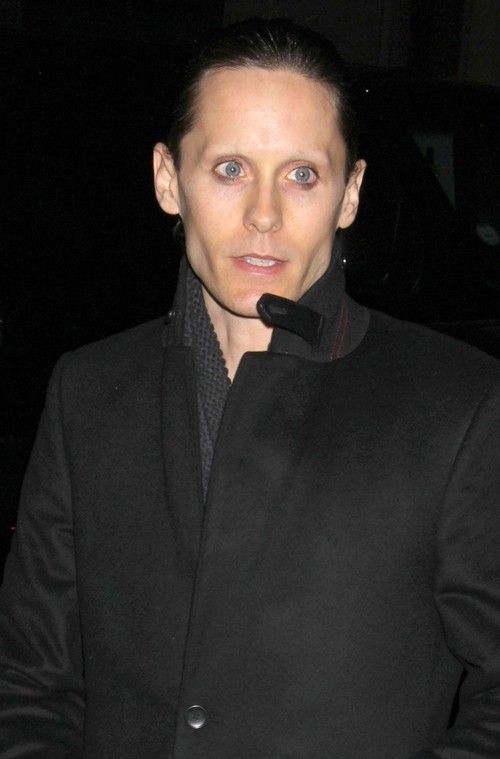 Fame Pictures
For years Jared Leto has tried his hardest to play down his gorgeous looks, but now he has finally found a way to do it. In the past he has grown a a big bushy beard but that didn't work. Then he used hydrogen peroxide and grew a tall mohawk and that didn't work. But now something he had to do for a movie has done the trick. Leto had his eyebrows waxed to play a cross-dresser in The Dallas Buyers Club and he is one ugly dude. Now if he is feeling bad about his new look, he can take some comfort in the fact that he makes an uglier woman than he does a man. Granted once that hair grows back over his eyes, he will be back to his good looking self. At least I hope he does.
---
Jared Leto is still alive?
July 8th, 2012 under Jared Leto, Not Dead. [ Comments:

none

]

(photo from WireImage)


Jared Leto took to Twitter to declare that he is not dead…sort of. The 30 Seconds to Mars singer said, "Yes, the rumors of my death have been greatly exaggerated. How could I be dead if I'm not actually alive? XO"
I try not to post "Not Dead" stories, but his Tweet was so ingenious I had to share it with you.
---
Jaret Leto gets the David Bowie
November 7th, 2011 under Jared Leto. [ Comments:

none

]

WireImage
One of David Bowie's most famous and ugliest hairdo was mullet like and now Jared Leto has that same style. The 30 Seconds to Mars star is also known for his wacky 'dos, but unlike Bowie this isn't even his worse hairstyle. It is ugly, but the peroxide blonde and pink mohawk was worse.
Oh and WTF is up with the gloves?
---
Jared Leto has 30 seconds to pee
January 13th, 2011 under Jared Leto. [ Comments:

none

]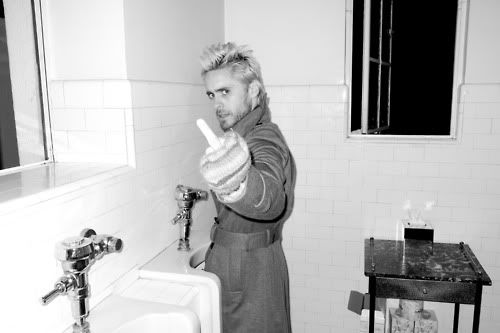 Jared Leto did another photoshoot with Terry Wood and I have to wonder who got the photographer's last name when they saw the picture of the my so called life actor peeing. The 30 Seconds to Mars singer Tweeted this along with the photo, "Terry ur such a fucking pervert. Water was cold. Deep too!

RT @Terry_World: Photo: Jared Leto taking a leak." I wonder do we have the answer form that Tweet???
---
MTV censors 30 Seconds to Mars
December 1st, 2010 under Jared Leto. [ Comments:

1

]

30 Seconds to Mars shot a 13 minute music video for their song Hurricane and sent it to MTV. The music television network sent a letter back to them telling them why they can't air it before certain hours on the network.
Jared Leto was not happy with their decision, so he posted what problems they had with it.
30 Seconds To Mars – Hurricane (rough cut) OFFLINE
Contains:
00:27 – in French "It's not reality, it's a dream"
02:33 – threatening man in gimp mask with sledge hammer 02:50 – singer
jumps out of hotel window – fantastical – not imitable
03:00 – flash
frame of erotic scene?
04:10 – singer puts leather eye mask on girl and pulls head back in an
erotic gesture – POST 9PM
04:15 – fight between gimp man and bystander – kick to leg / punch to
head -not graphic -POST 7PM
04:25 – girl in leather bunny outfit on knees briefly kisses a man 04:40
- man pulls a key on a ribbon chain from his mouth
04:54 – motorcyclist spins bike and skids across the ground
05:01 – bondage ball gag is put over girl's mouth – POST 10PM
05:18 – cyclist stabs man with stanley knife – POST 7PM
05:46 – priest, rabbi and monk (?) burn books
06:15 – large breasted lady in a bra and gas mask
06:16 – shot of domestic knife – POST 7pm
06:20 – couple in bondage gear
and handcuffs – POST 10PM
06:23 – girl with gag being partially suffocated by singer POST 10PM
06:30 – bondage couple 06:40 – gimp man hits singer with sledge hammer
not graphic POST 7PM
07:00 – French v/o about abandonning yourself and
sacrificing yourself to pleasure – no explicit language – ok
07:14 – bondage girls with nipple tassles -POST 9PM
08:06 – man chained to bench with masked men circling in a menacing
manner
08:17 – skuffle man hits masked men
08:21 – man punches man in rabbit's head
08:40 – singer trapped in
coffin
09:00 – French v/o about love and masks – no explicit language -
ok
09:15 – dripping hot wax over body – POST 10PM
09:17 – woman's finger running over other woman's bottom in g-string and
touching anus – COMPLETELY RESTRICTED 09:50 – lady with feathers and
nipple tassles – POST 9PM
10:15 – couple in bed performing erotic acts – POST 9PM
10:41 – man runs hands over lady's breasts – POST 9PM
10:43- man kisses lady's stomach – POST 9PM
10:53 – man grabs and squeezes lady's breasts – POST 10PM
10:54 – girl with nipple tassles – POST 9PM
10:55 – gimp man with woman in gas mask and bondage harness – POST 10PM
10:59 – bondage scene – POST 10PM
11:02 – forecful erotic pull of girl's head – POST 10PM
11:06 – bondage couple – POST 10 PM
11:50 – singer and gimp man fight – punches, kicks and slaps – not
graphic violence – POST 7PM
There is more and you can check it out his site to see what else they said.
I don't know about you, but I didn't know that MTV actually still aired music videos before 10p so is it really censored? Plus I think it is funny that they are censoring this when I have seen worse on The Hills and Jersey Shore and they air earlier in the day.
---
Who needs to stop working out more?
October 22nd, 2010 under Backstreet Boys /Aaron Carter, Better than..., Jared Leto. [ Comments:

none

]

A few weeks ago Aaron Carter Tweeted a photo of himself without a shirt revealing his very muscular body. Today Jared Leto did the same and I have to wonder who needs to stop working out more. Maybe it is me, but seeing a man's veins bulge out like that, is not attractive. I like a toned man with a little meat on his bones, not just muscles and skins.
Which former teen-Idol do you think needs to keep their shirt on more?
---