Jimmy Fallon tortured Lindsay Lohan and Jared Leto yesterday!
August 21st, 2014 under Jared Leto, Jimmy Fallon, Lindsay Lohan. [ Comments:

none

]




Yesterday, on The Tonight Show, Jimmy Fallon caused two of his guests some discomfort.
First up was Lindsay Lohan. When he was going though his suggestion box, someone mentioned that they challenged the Mean Girl to the ALS Ice Bucket Challenge. Since she had not responded to that person in time, they asked the NBC late night host for some help. He worked his magic and suddenly she appeared. Something I am sure she regretted after he dumped a cold bucket of ice water on her head.
If that wasn't bad enough, Fallon next trimmed Jared Leto's bush on the show. Not the one that we could only see on cable, but the bush that is on his face. Something he so desperately needed, even though he didn't want to go through with it. Too bad Jimmy didn't take it all off. I miss the 30 Seconds from Mars's singer's clean shaven face. Although with that hair and beard, I can't believe no one has asked him to play Jesus. He seriously looks like him. Doesn't he?
Now back to Fallon, since I am a sadist, I love when he tortures people!
---
Jared Leto takes his Jesus look to a whole new level
August 10th, 2014 under Jared Leto. [ Comments:

none

]

Jared Leto has been looking like Jesus for a while now, and yesterday he took it even further. He dressed in a Priestly robe holding a crucifix and said #faith. Since we worship his eyes, I guess you can say I have faith.
---
Jared Leto's morning wood!
July 6th, 2014 under Jared Leto. [ Comments:

none

]

You know that question, if you were tree, what type of tree would you be? My answer will now be, the tree that Jared Leto is hugging! And unlike that tree, I won't give a splinter. Unless he wants one!
---
Billy Ray Cyrus and Jared Leto look so much alike!
May 2nd, 2014 under Jared Leto, Miley Cyrus/Metro Station. [ Comments:

none

]

Billy Ray Cyrus Tweeted this photo of Jared Leto and him at the iHeartRadio awards yesterday and I couldn't get over how much they looked alike. With both of them having that long hair brown scraggly hair, the full beards and the shades, you'd almost think that they are related as compared to Billy Ray and hid daughter, Miley Cyrus. I'm not trying to cause his achy breaky heart to break again, I just can't get over the resemblance. Don't you think they could be father and son, or least brothers?
---
Guess who just got out of the shower?
January 14th, 2014 under Jared Leto. [ Comments:

none

]

Want to see who just fulfilled a requiem for my dream, then click here!
---
Jared Leto did not get the Brazilian for Dallas Buyers Club
October 18th, 2013 under Conan O'Brien, Jared Leto. [ Comments:

1

]

Jared Leto was on Conan O'Brien's show yesterday and he told the TBS late night host what great lengths he went to for his upcoming movie Dallas Buyers Club. We all know that he took off a lot of weight for the movie. Did you know he also waxed off almost all of his body hair to play the transgender role? Thankfully, for him it was a period piece, so he didn't have to wax down there. And he also wanted to let us know that he didn't have a '70s bush going on either.
Someone please tell me there is full frontal scene because I am curious to see how he manscaped for the part!
---
BTWF roles: Jared Leto in Almost Home
August 27th, 2013 under Before They Were Famous, Jared Leto. [ Comments:

none

]

Before Angela was in love with Jared Leto on my so called life, Dorothy Jane had a crush on him on Almost Home. He looks the same now as he did when he was 21 in that 1993 episode.
---
Looks like Dallas Buyers Club will give Matthew McConaughey his first Oscar!
August 27th, 2013 under Jared Leto, Matthew McConaughey. [ Comments:

1

]

via The Hollywood Reporter
The first trailer is out for Dallas Buyers Club and it looks like it will be an Oscar darling. The true life story of Ron Woodruff, who helped HIV+ people in the late '80s live past their expected end date by getting himself and them unapproved drugs from Mexico to help fight the disease, is coming to the big screen on November 1st.
After watching that trailer, I would honestly be surprised if Matthew McConaughey and Jared Leto didn't bring home the Oscars for their portrayals in it. Not only because of all of the weight they lost for their film, but because of their excellent acting in it.
---
Jared Leto finally found a way to make himself ugly!
November 27th, 2012 under Jared Leto. [ Comments:

none

]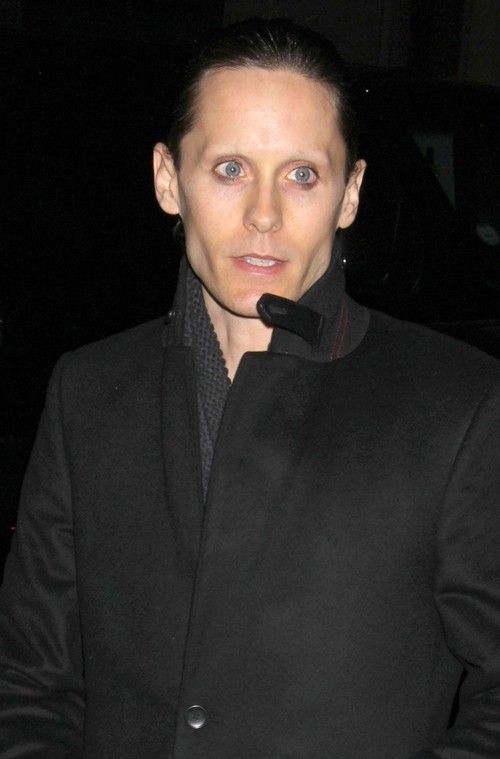 Fame Pictures
For years Jared Leto has tried his hardest to play down his gorgeous looks, but now he has finally found a way to do it. In the past he has grown a a big bushy beard but that didn't work. Then he used hydrogen peroxide and grew a tall mohawk and that didn't work. But now something he had to do for a movie has done the trick. Leto had his eyebrows waxed to play a cross-dresser in The Dallas Buyers Club and he is one ugly dude. Now if he is feeling bad about his new look, he can take some comfort in the fact that he makes an uglier woman than he does a man. Granted once that hair grows back over his eyes, he will be back to his good looking self. At least I hope he does.
---
Jared Leto is still alive?
July 8th, 2012 under Jared Leto, Not Dead. [ Comments:

none

]

(photo from WireImage)


Jared Leto took to Twitter to declare that he is not dead…sort of. The 30 Seconds to Mars singer said, "Yes, the rumors of my death have been greatly exaggerated. How could I be dead if I'm not actually alive? XO"
I try not to post "Not Dead" stories, but his Tweet was so ingenious I had to share it with you.
---