Do the guys from Duck Dynasty look homeless to you?
August 15th, 2013 under A&E, Live with Kelly and Michael. [ Comments:

1

]

The guys from Duck Dynasty are in New York City to promote their A&E show and one of the bearded members of the group was escorted out of the hotel for "facial profiling". Jase Robertson was on Live with Kelly and Michael this morning and he told Michael Strahan how when he asked a clerk at the hotel he was staying at where the bathroom was, that employee escorted out him of the hotel and pointed in the opposite direction. Instead of being all upset about it, he handled it very well. If he was a New Yorker by birth, then he would've gone back in the hotel and demanded for that guy to be fired. At least that is what this NYer would've done.
But then again you can't necessarily blame the guy who threw him out because after all the guys admitted that during duck season the longest they have gone without a shower/bath is 60 days. Although I am sure they cleaned themselves up when they left Louisiana for the Big City.
---
A&E KISSes Gene Simmons Family Jewels goodbye
August 14th, 2012 under A&E, KISS. [ Comments:

none

]

After 7 seasons A&E has decided they no longer want to rock with Gene Simmons Family Jewels. Shannon Tweed Tweeted the sad news today by saying, "I just got word that our show Gene Simmons Family Jewels will not be picked up." I guess after Gene and her finally tied the knot, there was not much for the network to do with them.
I will miss Gene, Shannon, Sophie and Nick on our TVs all the time, but Mrs Simmons promises this won't be the last of them! For some reason I don't think it will be.
---
Is Shannon Tweed ready to give Gene Simmons the KISS off?
June 15th, 2011 under A&E, KISS. [ Comments:

2

]

via The NY Daily News
Shannon Tweed will be on The Joy Behar Show tonight with her long time love and looks like she is ready the give father of her two children the KISS off. When the singer made a joke about his Family Jewels, she walked off the set. Joy Behar being the b!tch, that she seems to be, kept pushing him leading to Tweed being even ore frustrated.
I have to admit that is one of the most uncomfortable interviews I have ever seen. You can tell that Shannon Tweed just wants to be done with him and move on, but can't because of the show obligations. I don't know why A&E is letting (making) them do press together for their reality show because you can feel tension through the TV screen and makes you want to turn away. I seriously felt the chill between them and I am sure I am not alone. Brrrrrr.
It is sad that a couple that has been together for almost 30 are falling victim to reality show curse.
BTW I wonder how much of that HNL will actually air on the show tonight? Because there is a lot that needs to be edited out.
---
Rats its the season finale of Hoarders!
January 6th, 2011 under A&E. [ Comments:

none

]

We have seen some scary homes on Hoarders, but I think this season's finale that airs on A&E Monday at 10p will be the scariest one of them all. I say that because Glen's place seems like a real house of horrors as he hoards over 2,500 rats. You read that right, he shares his space with over 2,500 rodents and doesn't see a problem with that. I am totally freaked out by this episode just from the promo, I don't know how I am going to be able to watch the full show. Having said that for some reason I am drawn to watching it like a mouse is to cheese.
---
You will want to be Growing Up Twisted!
August 3rd, 2010 under A&E. [ Comments:

none

]

A&E teamed up with Dee Snider to give us a behind-the-scenes look into the family life of the lead singer of Twisted Sister and what it is like to be Growing Up Twisted with the Sniders. The We're Not Going to Take It singer has been with his wife for 34 years, since she was 15 and he was 21. Together they have 4 kids and their oldest son Jesse Blaze recently made them grandparents. Sounds like a normal family, but when you watch the reality show you will find out they are anything but. But the one thing they are, is very loving. At one point in the season premiere episode Suzette decides to do something special for her husband and dye her heart shaped pubes hot pink. Well she made the mistake of telling her girls and they tell her 3 sons. Well when they hear the news, they confront her on it and find an interesting way to tell her they think it is gross. Gotta love a family that can laugh at stuff like that.
BTW can you believe his wife is almost 50 years old and can still look and move like that? I wish I can say the same when I am her age.
So tune in to Growing Up Twisted tonight and every Tuesday at 10p on A&E for a family you wish you could be Growing up Twisted with!
---
The first look at Kirstie Alley's Big Life
February 8th, 2010 under A&E. [ Comments:

12

]

On March 21st A&E will debut their latest train wreck of a reality show and this one belongs to Kirstie Alley and her Big Life. After watching the trailer for that show, I can't wait for it to premiere like she can't wait for the cookies to come out of the oven.
---
Kirstie Alley gets real for A&E
November 3rd, 2009 under A&E. [ Comments:

2

]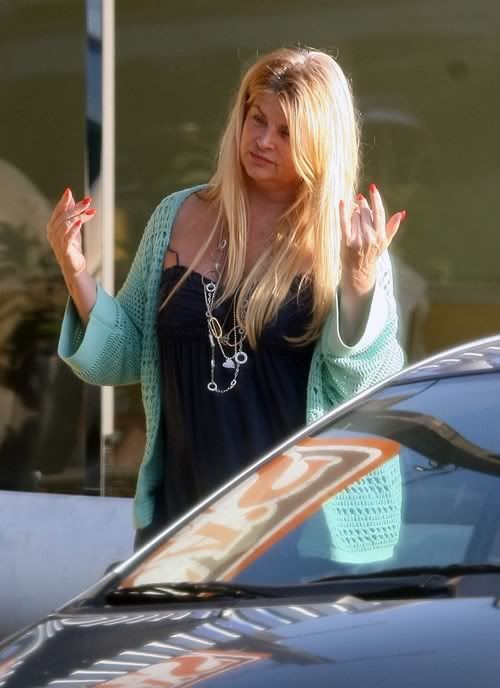 (photo from Fame Pictures)


Not since The Two Coreys and Paula Abdul were given reality shows have I been excited about anyone else getting one. That was until now because A&E is giving Kirstie Alley her own show according to Variety. The ten 30 minute episodes will follow her struggling to lose weight again and raising her two teens in Hollywood. This show is going to be one hot mess and I can't wait to watch it all go down when it premieres next year. Kirstie has proven to be such a live wire, that this show has to be entertaining. If Fat Actress was loosely based on her life, imagine how much better the real thing is going to be! And if you have been following Kirstie Alley's Tweets you know she speaks her mind and doesn't give a sh!t what anybody thinks of her!
As of now the show doesn't have a name. Since Fat Actress is taken, I suggest they go with Fatter Actress because well…
---
A&E cancels The Beast
June 4th, 2009 under A&E. [ Comments:

4

]
Variety
is hearing that A&E has made the agonizing decision not to renew Patrick Swayze's show The Beast. Although when trade publication asked if a decision had been made about the future of the show the network said none had been made. They also heard speculation that the show was looking for a possible replacement for Swayze just in case. One of the names tossed around was Lou Diamond Phillips, but the sources said he didn't feel like he was a headliner.
I feel for A&E having to make that decision. I mean what do you do when the star of your show has cancer, but the ratings are soft. Do you pick it up or cancel it? It is a decision I am glad I don't have to make. I can tell you I tried to watch the show, but it was way too dark for me and I am sure I am not the only one who felt that way which is probably why A & E made the decision they are about to make.
---
MC Hammer is the new The Two Coreys on A&E
February 18th, 2009 under A&E. [ Comments:

none

]

A&E is filling the void left by the The Two Coreys (who are now Corey Feldman and Corey Haim) by giving MC Hammer a reality show called Hammertime about his wife and five kids according to The Live Feed.
"Here's a dad with five kids, married to the same woman for more than 23 years, living in the same place where he grew up and going to church every Sunday," Roth said. "He's had his ups and downs, and it's what makes him such a character you root for."
"MC Hammer is an iconic figure in American pop culture, but many people only know him for his music and fashion sense. Now A&E takes an unprecedented look behind his larger-than-life personality and into his life as a devoted husband, father and business entrepreneur," said Robert Sharenow, senior vp alternative at A&E.
Hammer has been offered reality shows before. Roth said he told the rap star he wanted to focus on his future rather than the past.
"I really wanted to tell the future of MC Hammer," Roth said. "What kind of dad is he?"
I don't know for some reason this show doesn't get me excited like OMG I can't wait for this show. I just don't think he is as interesting as The Two Coreys, but I could be wrong.
The 11 episode series will air later this year and starts filming next year.
---
The Beast with Patrick Swayze premieres tonight!
January 15th, 2009 under A&E. [ Comments:

none

]
The Beast, starring Patrick Swayze and Travis Fimmel, centers on an unorthodox but effective FBI veteran, Charles Barker (Swayze), who takes on a rookie partner, Ellis Dove (Fimmel). Barker trains Dove in a hard-edged, psychologically driven approach towards undercover work, where a moment's hesitation can lead to death.
In the premiere episode of The Beast, the mischievous Barker hazes Dove as they go undercover on their first case to infiltrate a weapons smuggling ring. Barker brilliantly manipulates situations, constantly tests his new partner's abilities and pushes him to delve deeper into the roles of the undercover characters he creates. Although Dove takes a liking to Barker, the new job takes its toll on him. The stress and danger of being an agent quickly makes him realize that he can no longer maintain normal relationships outside of work. Yet that's not the worst of it. The rookie is confronted with a larger challenge: An FBI Internal Affairs team feels Barker may have gone rogue and they try to enlist Dove as a double-agent in the bureau's investigation of his mentor.
For those who have a void because The Shield has ended, A&E's The Beast is the perfect fix for you! The Beast is a dark show about an undercover FBI Agent who will do anything to prove that he is one of the people he is trying to bust. Swayze is amazing in the role, but I have to admit you have separate what he is going through in his real life at first in order to pay attention to the role he is playing. Once you are there, which is quick because the character is so raw, you will be blown away by his performance. Ellis is his new partner who has to learn the ways of being undercover and will do some extreme things to prove that he is one of the guys he is trying to bust. It draws you in as you watch his and Swayze's performances!
The show is dark, gritty and raw and that is what makes it so good. I am not normally into these type of shows, but The Beast really has me intrigued to see how it is all going to play out each week. So tune into The Beast on A&E tonight and ever Tuesday at 10p!!!
---