As if Hugh Grant wasn't cute enough
April 27th, 2012 under Ellen DeGeneres, Hugh Grant. [ Comments:

none

]




Hugh Grant is a guest on Ellen today and the new father gushed about his daughter JÄ«ngxǐ. He told Ellen DeGeneres that his little girl was not planned and that her name means "Happy Surprise" in Chinese, her mother's native language.
Now we all know that Hugh Grant is one of the cutest actors out there, and watching him talk about his baby girl like that made him even cuter.
But the cuteness didn't stop there, he also took part in tea party with Sophie and Grace. The Four Weddings and a Funeral star told them some jokes that had them and us laughing.
Seriously don't you just love the new DILF???
---
The many faces of Hugh Grant
April 23rd, 2012 under Hugh Grant, The Many Faces of. [ Comments:

none

]

WENN.com
Hugh Grant was promoting his film The Pirates: Band of Misfits and he made a bunch of faces that were a miss fit for him. Even though he is doing some really strange things with his face, he is still cute is in his own way. I think it is beautiful blue eyes that make his just so awwwdorable even when he is pushing the skin down around them.
---
Hugh Grant & Charlie Sheen could have something in common besides hiring hookers?
May 11th, 2011 under Chuck Lorre, Hugh Grant. [ Comments:

2

]
WireImage)


In one of the strangest developments since the Sheenigans began, Deadline Hollywood is reporting that Hugh Grant wasthisclose to replacing Charlie Sheen on Two and a Half Men. She said it was so close that they were in final negotiations up until last night when the deal fell through because of "creative differences". She also claimed they were offering him over a $1 million per episode, so I think it definitely wasn't the money that was holding him back from doing it.
I really hope he reconsiders because I think if he was to take over for Sheen the ratings would go through the roof. I already watch the show, but I am sure it would find a whole bunch of new viewers because who doesn't love Hugh Grant? C'mon he has to do it, what else does he have going on? Plus he can hire a lot of prostitutes with all that extra cash!!!
---
The many faces of Hugh Grant
January 14th, 2010 under Hugh Grant, The Many Faces of. [ Comments:

1

]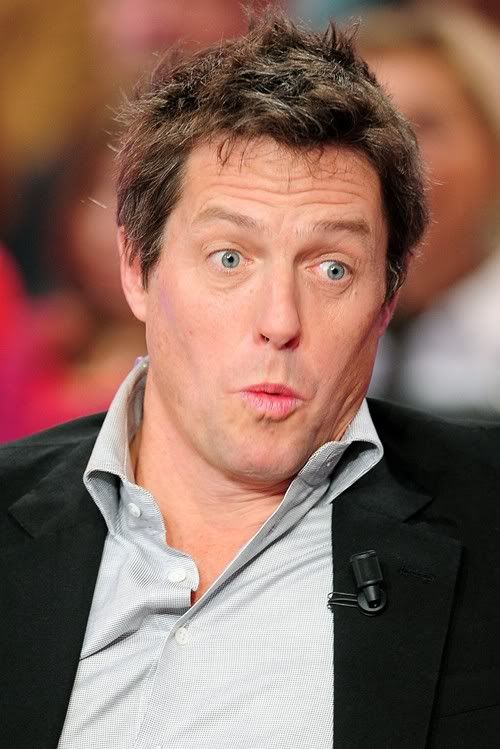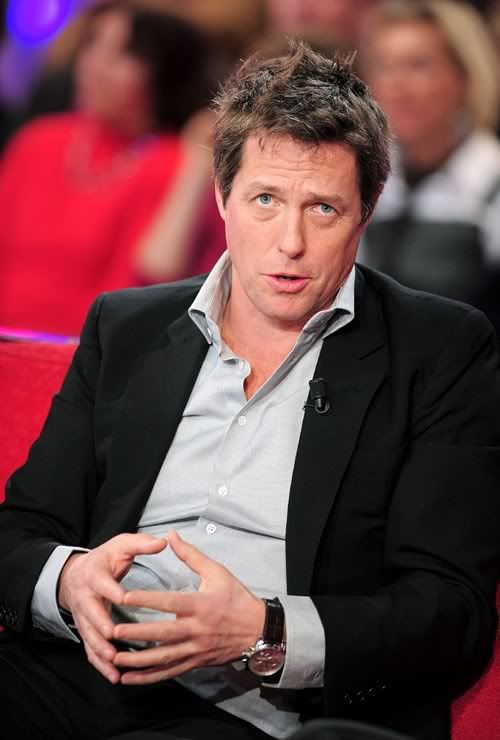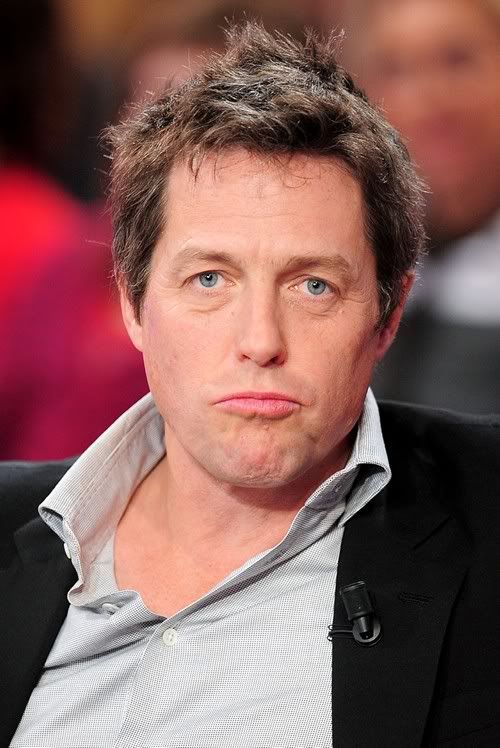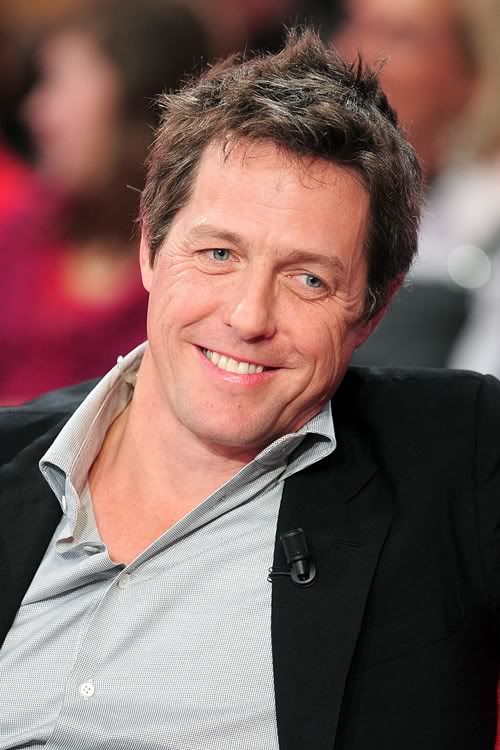 Bauer-Griffin Online
Hugh Grant is in France promoting his movie Did You Hear About the Morgans? (the movie no one heard about over here in The States) and he was very expressive while being interviewed on the show Vivement Dimanche. I don't know what it is, but there is just something so cute about him and his baby blues that I had to post his many different faces!
---
Hugh Grant really didn't want his photo taken
April 25th, 2007 under Hugh Grant. [ Comments:

none

]
According to
AskMen
Hugh Grant was jogging when one of the paparazzi asked them if he could take his photo. Hugh wasn't in the mood to have his picture taken so allegedly he ran after the guy, tried kicking him and threw a container of beans at him. The paparazzi guy said, "He gave me a couple of kicks in the legs and I think he kneed me." But what made the paparazzi call the police on him? "When I told him I had two children, he snarled, 'I hope they die of f***ing cancer. That really upset me and is why I went to the police to make a complaint of assault against him. He was out of order." The police plan on questioning on Hugh on the attack. I wonder what set him off?
UPDATE: According to This is London Hugh Grant was arrested over this.
---
Divine Brown brought Hugh Grant & Drew Barrymore together!
March 4th, 2007 under Drew Barrymore, Hugh Grant. [ Comments:

none

]
IOL
has this cute story how Drew Barrymore and Hugh Grant met way before they did Music and Lyrics. Back in 1995 when Hugh Grant was arrested for being caught with Divine Brown, Drew was one of the two people in the industry who actually sent him a letter of support. "I'm so not a Hollywood Bob, but I thought he was so charming with the gracious, humorous way he handled the whole thing, having been through some public scrutiny myself. He wrote me back and me and my room mate kept the letter on our fridge for years. He said only two people had written to him. The other was Francis Ford Coppola. Random." Seriously how cute is that…
On that note check out the official music video from Music and Lyrics, PoP! Goes My Heart with Friday Night Lights' Scott Porter. Can that video be any more '80s and can that song be any more stuck in your head?
---
Love Actually didn't work out for Hugh Grant
February 19th, 2007 under Hugh Grant. [ Comments:

none

]
Hugh Grant and Jemima Khan have separated. Robert Garlock told US website People.com: "Hugh and Jemima have decided to split amicably." Romantic comedy star Grant, 46, who is best known for his role in Four Weddings and a Funeral, had been dating Khan for about three years but had recently dodged questions about whether marriage was on the cards. Khan, socialite daughter of the late millionaire James Goldsmith, began her relationship with Grant after the breakdown of her marriage to Pakistani cricketer-turned-politician Imran Khan, with whom she has two sons. The split comes days after the couple attended the London and Los Angeles premieres of his new film, Music and Lyrics. There have been suggestions that their relationship was in trouble after they were reportedly seen arguing in public. The pair were seen rowing at Khan's 33rd birthday party held at The George Restaurant in Mayfair, London. Khan was reportedly overheard joking about Grant's commitment phobia to which he replied she was behaving like a dictator.
The Press Association (story) and Daily Mail (photo)
I wonder if he will go to Liz Hurley's wedding now because there were rumors that Jemima didn't want him to go? Hopefully he will find someone soon…someone he doesn't have to pay for!
---
Who does Hugh Grant want to play him?
February 19th, 2007 under George Michael, Hugh Grant. [ Comments:

none

]
Grants Wants Michael To Play Him In Biopic…. British actor Hugh Grant has earmarked pop star George Michael to play him in a potential biopic of his turbulent life. The Notting Hill actor, who was arrested for lewd conduct after cops found him with a prostitute in his car in 1995, insists Careless Whisper star Michael holds a burning ambition to play him. He tells British radio station Heart, "I know that it's something that George has always wanted to do.films "He sent me a script the other day actually. It's not my whole life – just really the years between 20 and 25 – and it's very flattering."
I think George Michael is too old to play him and doesn't have that cuteness that Hugh Grant does. I think Sean Maguire from the Class would be great!
---
Celebrities who had sh!tty jobs
August 16th, 2006 under Boy George, Hugh Grant. [ Comments:

1

]
Boy George may think he has it bad sweeping the streets of Chinatown as punishment for falsely reporting a robbery and cocaine possession, but he's shuffling in the footsteps of some of America's favorite celebrities. Many have had it even worse. Stars who can list toilet scrubbing on their résumé include Al Pacino (for $4 a week), Jamie Kennedy (he once wiped out Janeane Garofalo's bowl) and Stanley Tucci (who emptied outhouses at a summer camp). Those who made it through are happy to admit how far they've come. # "I had to clean houses it was gross," Madonna once confessed. "I had to clean the toilet bowls of boys I went to school with. No, there's nothing more degrading than being someone's housekeeper. I mean, God bless my housekeeper and … well … all my housekeepers!" # "I used to have to clean bathrooms in a Mexican restaurant," admits Sean (Diddy) Combs. "It was a job. But I was the best bathroom cleaner there ever was." # "The worst job I ever had was cleaning lavatories at IBM in London," says Hugh Grant. # "I was an usher at the Capitol Theatre in Sydney," Nicole Kidman once revealed. "One time the latrines broke and I had to clean it all up. It was not fun at all. I was on hands and knees cleaning everything up. It was disgusting."
If I am correct Boy George opposed the street cleaning because he used to clean hotel rooms before Culture Club.
---