Kathy Griffin is having a really bad hair day
March 17th, 2014 under Bad Hair. [ Comments:

none

]

Kathy Griffin Tweeted this picture herself having a really bad hair. The first thing I thought is that what Ronald McDonald looks like if her goes out in a rainstorm without an umbrella. Then I thought she looked like Side Show Bob if he brushed his hair. In other words, she finally looks like that cartoon character she sounds like.
---
Someone buy Scott Bakula a brush ASAP!
September 16th, 2013 under Bad Hair. [ Comments:

5

]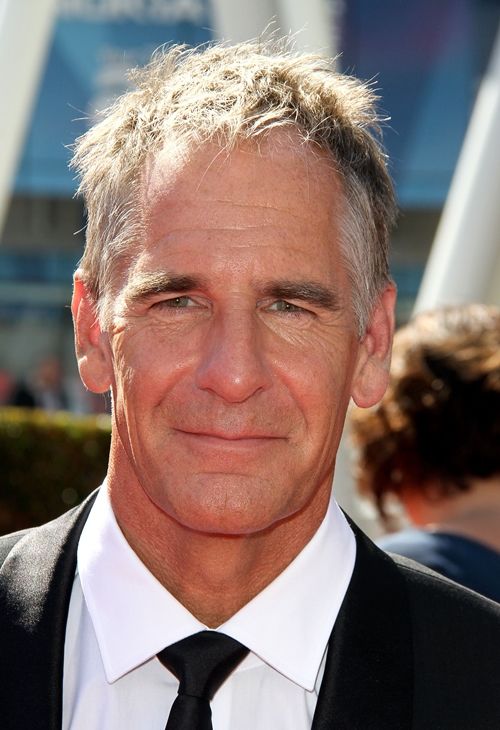 Fame Flynet
Emmy nominated Scott Bakula attended the Creative Arts Emmys yesterday dressed to the nines from the ears down, but from his lobes up his hair was a big old mess. Can someone please buy him a brush, so he doesn't go to the Emmys on Sunday looking like that?
BTW too bad Al can't send him back to a time where his locks didn't look like a rat's nest on the red carpet. But sadly this is real life and not Quantum Leap.
---
Amy Adams proves not all blondes have more fun!
July 24th, 2013 under Bad Hair. [ Comments:

1

]

Fame Flynet
Amy Adams' ginger locks are now blonde for her new movie Big Eyes, and she looks miserable with her new hair color. I don't know why she looks so pissed because she actually looks pretty with Marilyn Monroe's hairstyle. I would've said beautiful had she actually smiled in the pictures.
---
Did Mindy Kaling go short?
May 17th, 2013 under Bad Hair. [ Comments:

none

]

Mindy Kaling Tweeted a picture with cropped do, but the question is did she really do it? Nope as she explained, "When Jeanne tested me with short hair #themindyproject" Personally I think she passed the test and she should consider going under the scissors for real to get that look. Don't you think that hairstyle really works for her so much better?
---
Jeremy Renner has Donald Trump's hairstyle
May 13th, 2013 under Bad Hair. [ Comments:

none

]

Fame Flynet
Jeremy Renner is filming his new movie American Hustle and I can't stop looking at his hair. It's like they gave him Donald Trump's hairdo and it's just as ugly on him. Although Hawkeye looks so much better with it.
---
Guess who got a hairdon't?
September 13th, 2012 under Bad Hair, Guess who?. [ Comments:

none

]

Want to see who should not have done that to her hair then click here!
---
Parvesh Cheena outsources his hair color!
August 4th, 2012 under Bad Hair. [ Comments:

none

]

Parvesh Cheena went from his natural dark brown roots to a bleached blonde and he documented the change on Twitter. He started with the first picture and said, "Bye bye curls and black hair. What we do for our art and @Squad_85." Followed by a picture of his curls on the floor. Then today he Tweeted his new look and said "Well, now I'm a blond. Or is it a blonde? Help! @Squad_85 starts Monday!" So what is this Squad 85 that made the Outsourced star change up his hair? Here is the Twitter description, "In 1985, the LAPD experimented with a secret Time-Travel Division – catapulting Four of LA's finest 25 Years into the Future. That Future … Is NOW!!!" I can't wait to see it when it is available because it sounds like it will be like totally awesome!
---
Alexa Vega really washed that man right out of her hair
July 23rd, 2012 under Bad Hair. [ Comments:

none

]

Alexa Vega filed for divorce from her husband of a little over a year about two weeks ago, and looks like she already washed him right out of her hair. Before you freak and think the Spy Kid really shaved her head for real, it was just her wearing a skull cap for Repo! The Genetic Opera. Even bald she still looks gorgeous, too bad that movie was as ugly as she is beautiful.
---
Aubrey Plaza looks as dumb as her Parks and Rec character
March 15th, 2012 under Bad Hair. [ Comments:

3

]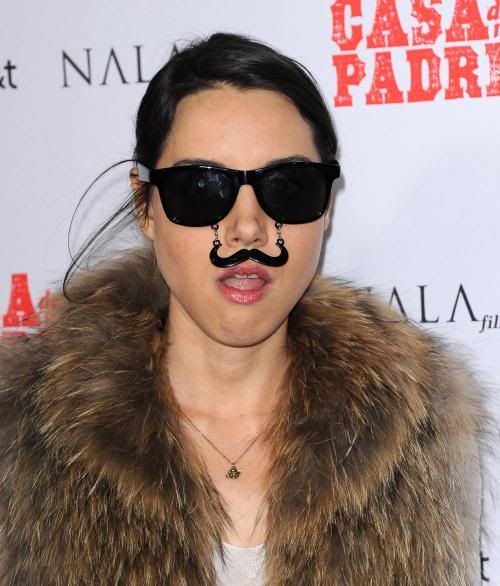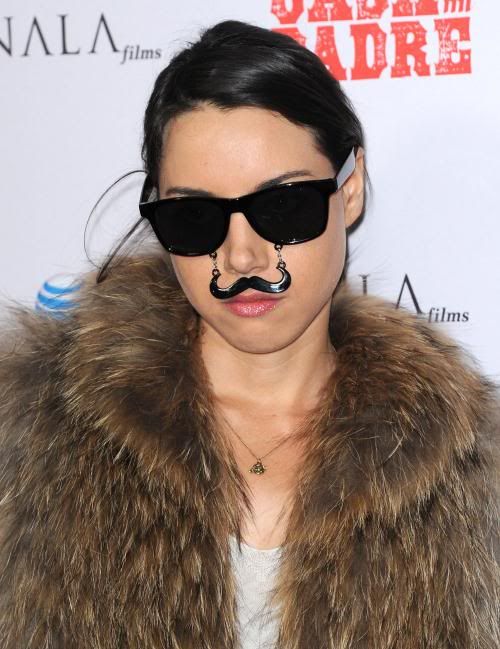 Fame Pictures
Aubrey Plaza plays April on NBC's Park and Recreation and she is not the smartest character on the show. Well yesterday she showed up the premiere of Casa de mi Padre and she looked as dumb as the role she plays. Not only did she do a Corey Hart by wearing her sunglasses at night, but she also stole John Oates mustache and wore with a chain over her lip from her shades. Sorry Aubrey your future isn't bright enough for that look.
---
What is that thing on Matthew Broderick's face?
March 13th, 2012 under Bad Hair. [ Comments:

none

]

WENN.com
Matthew Broderick attended the Roundabout's spring gala yesterday and he premiered his new look. Ferris Bueller is attempting to grow a mustache and I think he needs to give that look a Day Off every day. Seriously it is so bad, I want someone to go all WarGames on it.
---