BTWF roles: Jack Nicholson in The Cry Baby Killer
April 22nd, 2015 under Before They Were Famous, Jack Nicholson. [ Comments:

none

]

Before Jack Nicholson had an epic shootout as the happy faced Joker in Batman, he a much milder one in The Cry Baby Killer. Don't you just adore his 20 year old baby face in that 1958 movie?
---
Jack Nicholson considering Dancing with the Stars?
December 5th, 2014 under Dancing with the Stars, Jack Nicholson. [ Comments:

none

]

Dancing with the Stars reportedly put out a call to Jack Nicholson and he actually called back. A source told the National Enquirer that the coolest man in Hollywood told the dancing competition, "I love the show…I'll think about it." The tabloid adds that the show doesn't expect to say yes, but if he did it would be the much needed jolt the show desperately needs.
I would watch the Joker do his dance again, wouldn't you tune in every week to see that? The Carlton Dance was nice, but it ain't got nothing on anything Jack could possibly do.
---
Do Billy Crystal and Jack Nicholson have something to tell us?
April 5th, 2014 under Billy Crystal, David Letterman, Do they have something to tell us?, Jack Nicholson. [ Comments:

none

]

Yesterday on The Late Show, David Letterman shared a photo of Billy Crystal and Jack Nicholson kissing at a Lakers game, so do the two Oscar staples have something to tell us? Nope. They were caught by the Kiss Cam, and decided to give the fans what they wanted! Even though there is nothing between them, for a second it was fun to think they scored a slam dunk together!
---
Jack Nicholson falls harder for Jennifer Lawrence than she fell at the Oscars!
February 25th, 2013 under Hunger Games, Jack Nicholson. [ Comments:

none

]

After the Oscar ceremony was over the stars went to celebrate and the winners were being interviewed by the press. Jennifer Lawrence was being interviewed by GMA when all of a sudden her conversation was interrupted by Jack Nicholson. He walked over to see who they were interviewing and when he saw it was her, he said "You did such a beautiful job. I didn't mean to cross into your interview but I had to congratulate you." Then being the non-Hollywood star that she is, she jokingly responded by saying "You're being really rude." Then he told her she looked like an old girlfriend and she said, "Oh, really? Do I look like a new girlfriend?" Without missing a beat, he said "I've thought about it."
Embarrassed by the whole situation, she put her head in her hands asking if he was still there. And then he popped back in and told her "I'll be waiting."
No word if she played any Hunger Games with the man that is old enough to be her grandfather, but with some Viagra in him I am not sure I would turn him down. You don't have a reputation like his without a reason!
BTW in case you missed her most awesome fall that makes her even more endearing, here it is:
---
Jack Nicholson can still get down
August 4th, 2009 under Jack Nicholson. [ Comments:

none

]
Jack Nicholson can still get down with the ladies at 72, but the bigger is question who the f*ck do you get him up? Viagra of course!!!
---
Jack Nicholson really needed his cigarette fix
August 3rd, 2009 under Jack Nicholson. [ Comments:

none

]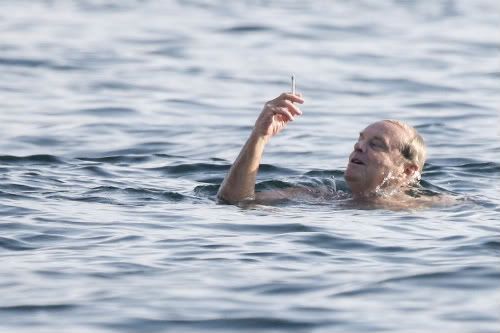 Only Jack Nicholson could go for a swim and a smoke at the same time. While I would never ever advocate smoking, there is just something so cool about these pictures that I had to post them. But I think that is just Jack Nicholson everything he does has such an aura of coolness about it!
BTW as a former smoker, I want to know how he lit his cig from the ocean like that and then how he kept it so dry. Not that I was ever that desperate enough to smoke when I was in the water but if I did it would be unsmokable by the time my feet touched the water.
---
An As Good As It Gets mini-reunion
April 15th, 2009 under Jack Nicholson, Reunions. [ Comments:

none

]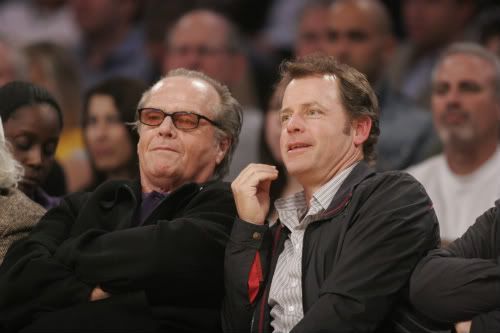 Splash News Online
As Good As It Gets stars Jack Nicholson and Greg Kinnear took in a Lakers' Game 11 years after creating that brilliant movie! Who would've thought Melvin and Simon would hang out together after the way the movie ended. I guess it is because Carol isn't there, whatever happened to Helen Hunt anyway?
---
An Anger Management reunion
March 4th, 2009 under Adam Sandler, Jack Nicholson. [ Comments:

1

]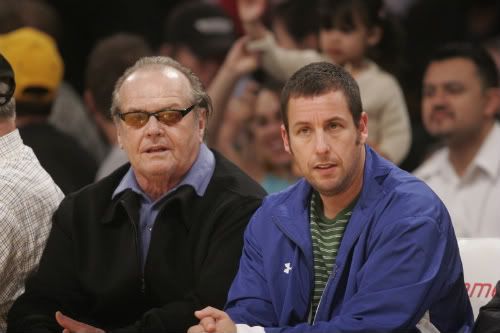 Anger Management stars Adam Sandler and Jack Nicholson were reunited last night at a Lakers game and looks like they learned how to control the anger from the movie. BTW am I the only who liked Anger Management?
---
BTWF roles: Jack Nicholson on The Andy Griffith Show
January 6th, 2009 under Before They Were Famous, Jack Nicholson. [ Comments:

none

]

25 years before Jack Nicholson sat in that seat in a A Few Good Men declaring to Tom Cruise "You can't handle the truth.", he was on The Andy Griffith Show telling a "fairy story". Seriously how adorable was Jack Nicholson back then before he was Jack "f*cking" Nicholson. I mean he is still hot, but he was just so cute back then! It is almost hard to believe it is him, but that voice gives him away!!! I wonder if he will be able to handle the truth and that his Anger Management classes are up to date so that he doesn't go all One Flew Over The Cuckoo's Nest and/or The Shining on me because that guest appearance was unearthed before Hoffa was!
Thanks Jennifer!!!
---
Imagine the bomb they could make together
June 11th, 2008 under Eddie Murphy, Jack Nicholson. [ Comments:

none

]
Seriously imagine the blockbuster dud that
Sylvester Stalone and Eddie Murphy, Jeffrey Katzenberg and Steve Speilberg
could make together. Rocky vs The Nutty Professor? Beverly Hills Rambo? Oscar Shrek and the Search for a Title People Can Remember?
Even Jack Nicholson agrees with me that those 4 working together would be a bad idea.
---