Jennifer Lopez called Ellen DeGeneres a bitch!
January 21st, 2015 under J-Lo. [ Comments:

1

]
Jennifer Lopez was on The Ellen DeGeneres Show and the daytime talk show host scared her. To say that J-Lo didn't like it would be an understatement, and because of that I enjoyed it very much. What I enjoyed even more is that her Jenny from the Block side came out. For the first time, I actually felt like the two of us grew up in the same Borough. Up until now she didn't act like a true Bronx girl. Maybe if she acted like that more often, I might actually like her. Nah, who am I kidding?
---
It's Jenny from the Bed!
November 20th, 2014 under J-Lo. [ Comments:

none

]

Have you ever wondered what Jennifer Lopez looks like in bed, well now you know. Jenny from the Block Tweeted a photo of herself lying down, and I think it is the softest she's ever looked. I think the picture makes her look vulnerable and it is look she don more often. Maybe more people like me would actually like her instead of switching the channel whenever she is on.
What do you think of this look for her?
---
Did Jennifer Lopez blind David Letterman?
November 6th, 2014 under David Letterman, J-Lo. [ Comments:

none

]
Jennifer Lopez was on The Late Show yesterday and David Letterman was going over all of her perfumes and colognes. The CBS late night host asked her if he could smell one of her colognes and no matter how many times she sprayed it, he wasn't able to get a whiff of it. He told her to spray it up in the air, but he leaned forward as she did it. Therefore, he got a face full of the stuff and some of it went in to his eyes. His reaction to what just happened is why I am going to miss the man who has been on our TVs for nearly a third of a century.
---
J-Lo makes an a$$ of herself in her Booty music video
September 18th, 2014 under J-Lo. [ Comments:

none

]
Jennifer Lopez released the music video for her song Booty today. If these doesn't scream desperation, I don't know what does. It starts out with Iggy Azalea and her butt humping and it just gets sadder from there. At one point in the video, she does a Miley and Twerks for cameras. And that is so like last year.
This is the type of video that a singer releases at the beginning of her career in order to draw attention to herself. When someone does it at this stage of her game, it is just sad.
And I love what a good role model the American Idol judge is to the contestants of the show. Not only the video, but teaching them that it's OK to autotune. Which seems to be against everything that the Fox show is searching for. But that is just my 2 cents and she's the reason why I stopped watching the show.
What do you think of J-Lo's Booty?
---
J-Lo is starting to look old
June 5th, 2014 under J-Lo. [ Comments:

4

]

via Getty Images
Jennifer Lopez did a show in our hometown of The Bronx yesterday and I couldn't get over how old she looked in this photo. She reminds me of an old lady sitting on the porch outside with her cane terrorizing anyone who walks by. Couldn't you see her doing that? In a way, now that I think about it, she kid of reminds of those fictitious witches who lure kids into her house so she can eat them. You know telling the innocent children to "Come here my pretty, I have some yummy candy for you." Do you get that image too, or is just me?
---
Do Jennifer Lopez and Ellen DeGeneres have something to tell us?
March 20th, 2014 under Do they have something to tell us?, Ellen DeGeneres, J-Lo. [ Comments:

none

]

Jennifer Lopez is going to be on The Ellen DeGeneres Show tomorrow and was pictured spooning the daytime talk show host in her chair. So I have to wonder if they have something to tell us? Nope, the current and former American Idol judges just shared a friendly moment together. But for second, they looked like a really cute couple.
---
The Voice didn't have time for Jennifer Lopez!
July 30th, 2013 under J-Lo, The Voice. [ Comments:

none

]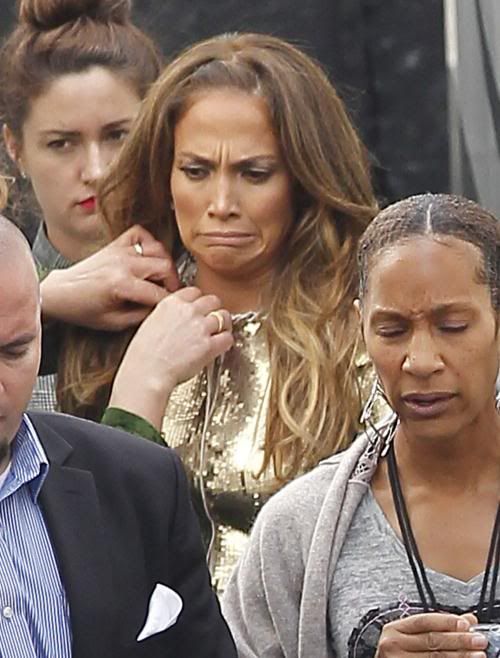 (photo from Fame Flynet)


Remember how Jennifer Lopez didn't have time for American Idol this season, well The Voice did have time for her during their season finale.
One source told Page Six, "It was simply a matter of timing. The producers love Jennifer Lopez and tried to make it work, but due to the show's format it just didn't allow for another solo performance." Then another one added, "Cher was booked months in advance. There was only room left for someone to do duets [with the finalists]. But the genres were country and EDM [electronic dance music] — which did not seem like a natural pairing." Or maybe she just wasn't a natural pairing for the show since she did the other singing competition?
---
Jennifer Lopez is quitting American Idol
July 13th, 2012 under American Idol 9+, J-Lo. [ Comments:

none

]

A day after Jennifer Lopez said she hadn't made a decision whether or not she would stay on American Idol and Steven Tyler announced he was leaving the Fox show, J-Lo confirmed to Ryan Seacrest she she is quitting the singing the competition. She said it was not an easy choice but she has too much on plate and just can't give the show the commitment it needs.
I say good riddance because I have never liked her and she added nothing to the show. She was too nice and boring.
So now Randy Jackson is once again the lone judge and I think it is time for him to go. Actually I think it was time for him to go a long long long time ago. If the rumors are true that he is a package deal with Mariah Carey then I think she needs a new manager. Carey would be great because unlike J-Lo she can sing. Plus she was married to one of the biggest record producers in history. She knows what it takes to creaye a music star unlike the other judges.
---
Jennifer Lopez's face says it all
April 26th, 2012 under J-Lo. [ Comments:

none

]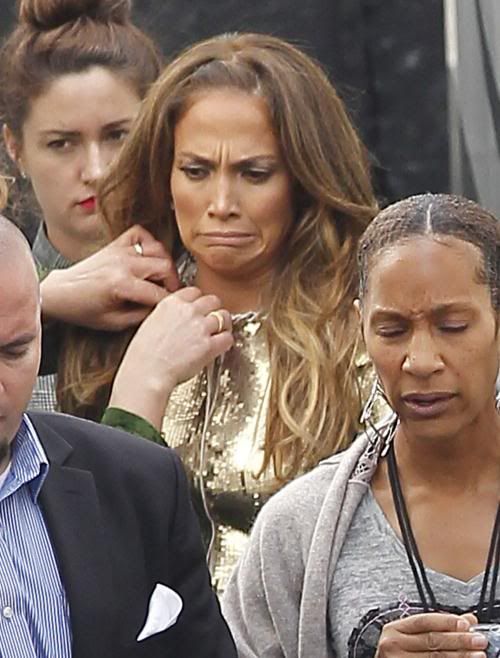 Fame Flynet Pictures
Jennifer Lopez was walking out to the set of American Idol and she made a face that totally captures how I feel about Jenny From the Block. Her yucky expression is exactly how I felt when she was announced as a judge on the Fox singing show, her songs and her movies. So basically her face says it all to me.
---
Jenny did not got back to The Block for Fiat?
November 23rd, 2011 under J-Lo. [ Comments:

none

]

One of the most annoying and mocked commercials on TV right now is Jennifer Lopez's My World ad for Fiat and it reportedly has been faked. The singer/actress/American Idol judge is said to have not gone back to The Bronx to shoot the commercial, but instead double drove around The Block for her while J-Lo shot her scenes in Los Angeles according to The Smoking Gun.
As a girl from Da Bronx who majored in Advertising, I say if this is true the ad should be pulled immediately for deceptive advertising.
BTW did anyone actually want to buy a Fiat after they saw the J-Lo ads? I know for me it had the opposite effect.

UPDATE: A rep for Jennifer Lopez confirms to The NY Post that she did not go back to The Bronx to shoot the Fiat commercial. Mark Young said, "Her portion was filmed in Los Angeles," he added, "I don't see a problem. There are many cases where films are done the same way." He might not, but that was the point of the whole commercial. If she couldn't get back to the hood, then why didn't they just shoot it in LA instead of faking that she was in NYC.
A rep for Fiat also confirmed that it was shot in LA by saying, "We took the opportunity to film wherever Ms. Lopez was working at the time to accommodate her schedule…One does not need to be in a specific location to be inspired or continue to be inspired." Ummm, but the ad made it seem like a specific location was the reason that a person found their inspiration. Just saying.
---