Enter to a win a The Boy Next Door prize pack!
May 5th, 2015 under Contests, J-Lo. [ Comments:

1

]

The Boy Next Door is out on Home Video today and I have 3 Combo Packs with cookie scented lip balm to giveaway. All you have to do is email me the answer to "Which actress is the lead in the suspenseful movie" at SeriouslyOMGWTF@yahoo.com by May 6th with your name and address! Three winners will chosen in random.
A momentary lapse of judgment leads to a dangerous obsession in the provocative thriller The Box Next Door starring Jennifer Lopez (Maid in Manhattan, Monster-in-Law, The Wedding Planner). Available on Digital HD on April 14 and on Blu-rayâ"¢ Combo Pack, DVD and On Demand on April 28, The Boy Next Door takes audiences behind the scenes with exclusive bonus content including deleted scenes, a filmmaker commentary and more.
Lopez stars as Claire Peterson, a high-school literature teacher struggling to get back in the dating game after separating from her cheating husband while raising her adolescent son. When handsome and charismatic 19-year-old Noah (Ryan Guzman, Step Up series, "Pretty Little Liars") moves in next door, Claire has a moment of weakness that leads to an intimate night together. Noah's attraction quickly turns into a violent obsession, threatening to tear apart Claire's world and endanger the people she loves. Kristin Chenoweth (The West Wing, Deck the Halls), John Corbett (Sex and the City, My Big Fat Greek Wedding) and Ian Nelson (Teen Wolf, The Hunger Games) co-star.
The Blu-rayâ"¢ Combo Pack includes a Blu-rayâ"¢, DVD and DIGITAL HD with UltraVioletâ"¢.
• Blu-ray™ unleashes the power of your HDTV and is the best way to watch movies at home, featuring 6X the picture resolution of DVD, exclusive extras and theater-quality surround sound.
• DVD offers the flexibility and convenience of playing movies in more places, both at home and away.
• DIGITAL HD with UltraViolet™ lets fans watch movies anywhere on their favorite devices. Users can instantly stream or download.
Bonus Features Exclusive to Blu-rayâ"¢ and DVD combo pack:
• Deleted Scenes
• The Making of The Boy Next Door
• Feature Commentary with Director Rob Cohen
---
Enter to win a bottle of #JLuxebyJLo perfume!
April 27th, 2015 under Contests, J-Lo. [ Comments:

2

]

Jennifer Lopez just released her newest perfume J Luxe by JLo, and I have a bottle of the sensuous smelling Eau de Parfum to giveaway. All you have to do is email me the answer to "What is the name of the perfume?" at SeriouslyOMGWTF@yahoo.com by April 28th with your name and address! One winner will chosen in random.
JLuxe by Jennifer Lopez is the perfect mix of Pineapple, bergamot, raspberry, watery notes, violet, damask rose, orris, ylang ylang, cedarwood, amber, gourmand and musk. The scent will drive any man wild just like the woman who came up with the tantalizing smell.
The Packaging The JLuxe by JLo bottle is inspired by Jennifer's love of high-end luxury and animal prints. Sexy and show-stopping, the opaque, square black glass bottle is enhanced with an elegant clear cap. The back of the cap is patterned with the fragrance's iconic black and gold zebra print, which reflects through to the front, creating a unique visual effect. The carton touts the same eye-catching black and gold zebra print as the cap, with the JLuxe logo embossed in a shiny, luminous gold.
JLuxe by JLo is available now at Kohl's for $49.
---
Jennifer Lopez called Ellen DeGeneres a bitch!
January 21st, 2015 under J-Lo. [ Comments:

1

]

Jennifer Lopez was on The Ellen DeGeneres Show and the daytime talk show host scared her. To say that J-Lo didn't like it would be an understatement, and because of that I enjoyed it very much. What I enjoyed even more is that her Jenny from the Block side came out. For the first time, I actually felt like the two of us grew up in the same Borough. Up until now she didn't act like a true Bronx girl. Maybe if she acted like that more often, I might actually like her. Nah, who am I kidding?
---
It's Jenny from the Bed!
November 20th, 2014 under J-Lo. [ Comments:

none

]

Have you ever wondered what Jennifer Lopez looks like in bed, well now you know. Jenny from the Block Tweeted a photo of herself lying down, and I think it is the softest she's ever looked. I think the picture makes her look vulnerable and it is look she don more often. Maybe more people like me would actually like her instead of switching the channel whenever she is on.
What do you think of this look for her?
---
Did Jennifer Lopez blind David Letterman?
November 6th, 2014 under David Letterman, J-Lo. [ Comments:

none

]

Jennifer Lopez was on The Late Show yesterday and David Letterman was going over all of her perfumes and colognes. The CBS late night host asked her if he could smell one of her colognes and no matter how many times she sprayed it, he wasn't able to get a whiff of it. He told her to spray it up in the air, but he leaned forward as she did it. Therefore, he got a face full of the stuff and some of it went in to his eyes. His reaction to what just happened is why I am going to miss the man who has been on our TVs for nearly a third of a century.
---
J-Lo makes an a$$ of herself in her Booty music video
September 18th, 2014 under J-Lo. [ Comments:

none

]

Jennifer Lopez released the music video for her song Booty today. If these doesn't scream desperation, I don't know what does. It starts out with Iggy Azalea and her butt humping and it just gets sadder from there. At one point in the video, she does a Miley and Twerks for cameras. And that is so like last year.
This is the type of video that a singer releases at the beginning of her career in order to draw attention to herself. When someone does it at this stage of her game, it is just sad.
And I love what a good role model the American Idol judge is to the contestants of the show. Not only the video, but teaching them that it's OK to autotune. Which seems to be against everything that the Fox show is searching for. But that is just my 2 cents and she's the reason why I stopped watching the show.
What do you think of J-Lo's Booty?
---
J-Lo is starting to look old
June 5th, 2014 under J-Lo. [ Comments:

4

]

via Getty Images
Jennifer Lopez did a show in our hometown of The Bronx yesterday and I couldn't get over how old she looked in this photo. She reminds me of an old lady sitting on the porch outside with her cane terrorizing anyone who walks by. Couldn't you see her doing that? In a way, now that I think about it, she kid of reminds of those fictitious witches who lure kids into her house so she can eat them. You know telling the innocent children to "Come here my pretty, I have some yummy candy for you." Do you get that image too, or is just me?
---
Do Jennifer Lopez and Ellen DeGeneres have something to tell us?
March 20th, 2014 under Do they have something to tell us?, Ellen DeGeneres, J-Lo. [ Comments:

none

]

Jennifer Lopez is going to be on The Ellen DeGeneres Show tomorrow and was pictured spooning the daytime talk show host in her chair. So I have to wonder if they have something to tell us? Nope, the current and former American Idol judges just shared a friendly moment together. But for second, they looked like a really cute couple.
---
The Voice didn't have time for Jennifer Lopez!
July 30th, 2013 under J-Lo, The Voice. [ Comments:

none

]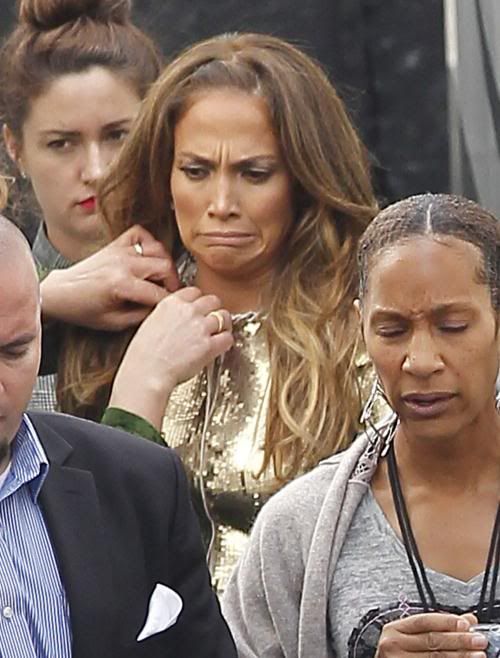 (photo from Fame Flynet)


Remember how Jennifer Lopez didn't have time for American Idol this season, well The Voice did have time for her during their season finale.
One source told Page Six, "It was simply a matter of timing. The producers love Jennifer Lopez and tried to make it work, but due to the show's format it just didn't allow for another solo performance." Then another one added, "Cher was booked months in advance. There was only room left for someone to do duets [with the finalists]. But the genres were country and EDM [electronic dance music] — which did not seem like a natural pairing." Or maybe she just wasn't a natural pairing for the show since she did the other singing competition?
---
Jennifer Lopez is quitting American Idol
July 13th, 2012 under American Idol 9+, J-Lo. [ Comments:

none

]

A day after Jennifer Lopez said she hadn't made a decision whether or not she would stay on American Idol and Steven Tyler announced he was leaving the Fox show, J-Lo confirmed to Ryan Seacrest she she is quitting the singing the competition. She said it was not an easy choice but she has too much on plate and just can't give the show the commitment it needs.
I say good riddance because I have never liked her and she added nothing to the show. She was too nice and boring.
So now Randy Jackson is once again the lone judge and I think it is time for him to go. Actually I think it was time for him to go a long long long time ago. If the rumors are true that he is a package deal with Mariah Carey then I think she needs a new manager. Carey would be great because unlike J-Lo she can sing. Plus she was married to one of the biggest record producers in history. She knows what it takes to creaye a music star unlike the other judges.
---