The many faces of Robert Downey Jr
October 29th, 2010 under Robert Downey Jr., The Many Faces of. [ Comments: none ]

WireImage
Robert Downey Jr was facing the firing squad aka the press for his movie Due Date and looks like he wasn't as much of a fan of their questions as they are of him. Even though his facial expressions don't all seem that happy-go-lucky, they are still just so RDJ cute! There is just something so likable about him even just seeing him in still photos!
---
Robert Downey Jr and Craig Ferguson are crazy, but in a different way!
May 14th, 2010 under Craig Ferguson, Robert Downey Jr.. [ Comments: none ]




Yesterday Robert Downey Jr saved the best for last, because his final interview to promote Iron Man 2 was on The Late Late Show with Craig Ferguson. When I saw that he was going to be on the show, I thought they were going to talk about their past drug use but instead we got an interview with the man who plays Tony Stark. It's Friday, so sit back, enjoy and watch the two of them just talk the sh!t because you know you want to!
Check out CBS tonight at 12:35a when Craig Ferguson interviews Amanda Seyfriend. And mark you calendars because on Monday CBS is re-airing the interview that Craig Ferguson did with Desmond Tutu that earned him a Peabody Award!
---
Robert Downey Jr might be the new Wizard of Oz!
April 20th, 2010 under Robert Downey Jr.. [ Comments: 1 ]

(photo from WireImage)


Just like the Wicked Witch of the West got Wicked, The Wizard of Oz is getting Oz The Great And Powerful. According to Production Weekly the second prequel from The Wizard Oz is getting ready to walk the yellow brick road on to the big screen with Sam Mendes as the front runner to direct and Robert Downey Jr to play the lead role. Up until now I never pictured him as the Wizard but now that it is out there I think he would be perfect for the part. When it comes to Sam Mendes, he has such a great eye for beauty I can only imagine what an amazing job he will do with the Land of Oz!
I hope that both hurry up and agree to do this movie, so we can see it on the big screen soon!
---
The new trailer for Iron Man 2 is rockin'
March 8th, 2010 under Robert Downey Jr.. [ Comments: none ]

Yesterday during Jimmy Kimmel Live After the Academy Awards they debuted the new trailer for Iron Man 2 and I really hope this movie is part of next year's Oscars. Seriously how freaking awesome does this movie look? I so can't wait until May 7th to see this movie!
---
Suit up for the Iron Man 2 trailer
December 17th, 2009 under Robert Downey Jr.. [ Comments: none ]

Finally the trailer for Iron Man 2 was released and the sequel looks as good as I thought it would if not better. Way to go Jon Favreau for creating a summer blockbuster that actually looks like one. Plus how awwwdorble is Robert Downey Jr? Mickey Rourke not so much, scary yes….awwdorable no. I so can't wait to see this movie when it comes out in May and I am sure I am not the only one!!!
---
Robert Downey Jr is on fire
December 15th, 2009 under Robert Downey Jr.. [ Comments: none ]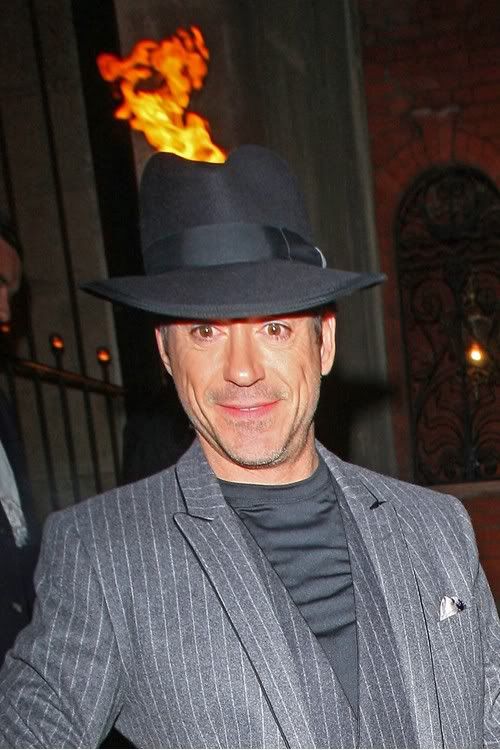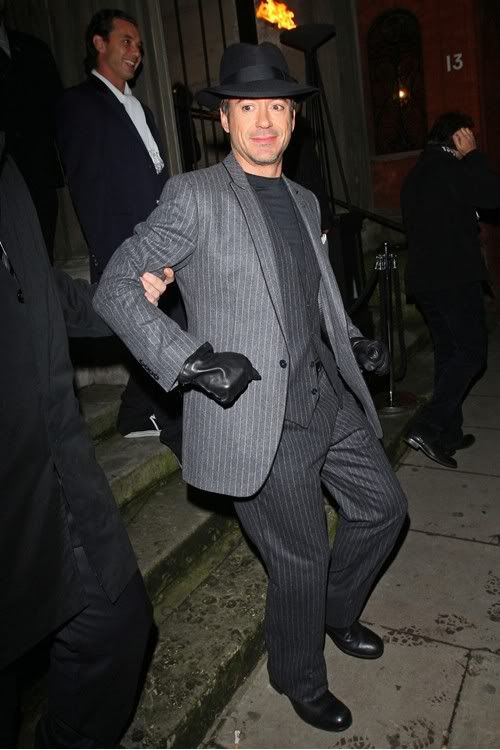 Pacific Coast News
Robert Downey Jr went to the premiere of his new movie Sherlock Holmes in an interesting hat and stood in the right place to create the illusion that his hat was on fire. As you can see when he steps away it wasn't, but it was too cool of a picture not to share with y'all!
---
BTWF roles: Robert Downey Jr in Pound
December 3rd, 2009 under Before They Were Famous, Robert Downey Jr.. [ Comments: 1 ]

Before Robert Downey Jr had hair on his balls, he wanted to know if a fellow dog had hair on his in Pound! OMG how much to do you want to eat up to cute for words 5 year old in his first role directed by his dad who told him to say that line? Seriously he was always just so freaking awwwdorable!!!
---
The many faces of Robert Downey Jr
December 3rd, 2009 under Robert Downey Jr., The Many Faces of. [ Comments: 2 ]

WireImage
The thing I love about Robert Downey Jr is that he is uniquely animated and these pictures of him at the Sherlock Holmes press conference just prove it. Seriously how awwwdorable is he in these pictures? His personality just radiates through. I just love him!!! How can you not?
---
Is Robert Downey Jr switching careers?
July 22nd, 2009 under Robert Downey Jr.. [ Comments: none ]
Last night Robert Downey Jr was at the premiere of the movie Orphan to support his wife, Susan who is a producer on the film, and he didn't spend the whole time in front of the camera. For some reason he took one of the flash photographer's cameras, and became one of them. I wonder if he is thinking of switching careers because he looks so debonair as a photographer. Seriously how suave does he look with a camera in his hand, I know I would let him take a photo of me. Wouldn't you?
---
I like the 2nd teaser for Sherlock Holmes better than the first!
July 15th, 2009 under Robert Downey Jr.. [ Comments: none ]
Warner Bros. released the second teaser trailer for
Sherlock Holmes
and I have to admit I like it better than the first one. I think I liked it more because this one was more Robert Downey Jr heavy and he is just so darn cute. He is enough to get people to run out and see him on the big screen! But is he enough and is this new trailer the push I needed to see this movie when it comes out on Christmas Day, I don't think so. Even though it is better, it just still doesn't look that good to me. It is just looks disorganized to like it is going to be stunt, joke, flirting and never really having any flow to it. Which I guess can work, but after Swept Away I will never have any faith in Guy Ritchie.
---