Sharon Osbourne offers to show Colin Farrell her tightended vajayjay
November 30th, 2013 under Colin Farrell, The Osbournes. [ Comments:

none

]

Sharon Osbourse was on Graham Norton's show and he made the mistake of asking her what was the most painful plastic surgery procedure she has gotten. She told him, "having my vag!na tightened." That revelation totally shocked Colin Farrell (who knew that you could) and he wanted to know more, so she offered to show it to him.
Thankfully Jo Brand broke the uncomfortableness by she saying she did the same thing, but she did her's at home with a Singer sewing machine.
Just when I think that Sharon Osbourne can no longer shock me with her TMI stories, she says something like this. Things I could've gone without knowing.
---
Do you get rise out of seeing Colin Farrell in his underwear or are you left flacid?
February 27th, 2013 under Colin Farrell, Ellen DeGeneres. [ Comments:

none

]

Colin Farrell is a guest on Ellen DeGeneres' talk show today and he modeled some of her underwear on the show. Although he was hesitant to put on the thong that resembled something Santa Claus would wear, the pair he decided to show off came with a gift. Leaving the actor embarrassed when he realized it was showing a bag with no present inside. He was so ashamed that his face was the same color as his red hot briefs!
---
Colin Farrell is a scaredy cat?
October 8th, 2012 under Colin Farrell, Ellen DeGeneres. [ Comments:

none

]

Colin Farrell is a guest on Ellen today and Ellen DeGeneres tried to scare him like she does to a lot of her other guests. But unlike them, the Irish man is no scaredy cat. His reaction to frightful feline was purrfect! But I have to wonder what happened to him when he was younger that something like that doesn't frighten him? I just 10′ up in the air if someone does that to me and yet he didn't even flinch.
---
Colin Farrell is a little obvious here!
August 14th, 2012 under Colin Farrell, Jessica Biel. [ Comments:

none

]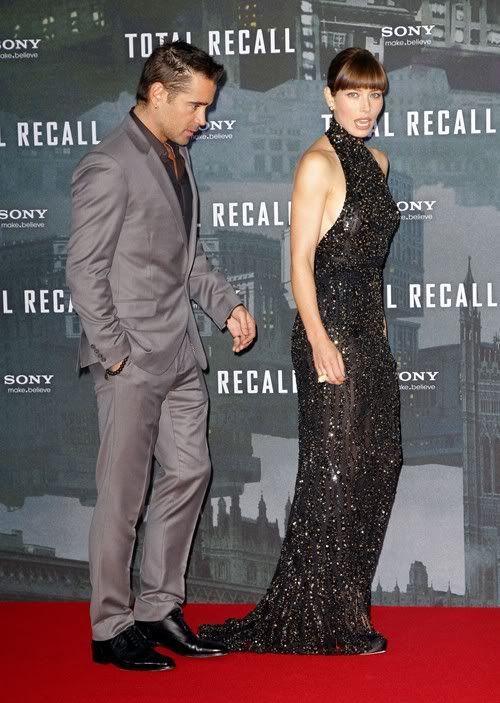 Fame Flynet
Colin Farrell and Jessica Biel are in Berlin to promote their film Total Recall and the actor was caught totally checking out Jessica Biel's sexy back. I wonder how her fiance' Justin Timberlake will feel when he sees this picture. Actually I think if it came down to it, the Horrible Boss would totally be the winner on that Fright Night!
---
BTWF roles: Colin Farrell in Disappearance of Finbar
June 27th, 2012 under Before They Were Famous, Colin Farrell. [ Comments:

none

]

Before Colin Farrell was a leading man, he was an extra in Disappearance of Finbar. How cute was the 19 year old actor in that 1996 movie.
---
Do you have Total Recall about this movie?
June 27th, 2012 under Colin Farrell. [ Comments:

none

]

The new trailer is out for the remake of Total Recall and I actually want to see the movie when it comes out on August 3rd. I don't know what it is about the Colin Farrell action movie, but it looks like a fun thrill ride from beginning to end.
Now I have to debate if I want to see the Arnold Schwarzenegger version beforehand as a point of reference?
---
Horrible Bosses looks so horrible, it might be good
May 11th, 2011 under Colin Farrell. [ Comments:

none

]

After watching the trailer for Horrible Bosses, I just don't know how to react to it. It looks beyond horrible, but yet I found myself laughing several times throughout it. Is it enough for me to go see it on July 8th? Nope, but I will see it when it is on cable because it looks like a lazy Saturday afternoon movie when you just want to watch something meaningless. That and I want to see how Colin Farrell is going to pull off that look.
---
Depp, Farrell and Law give their salaries to Heath Ledger's daughter!
August 16th, 2008 under Colin Farrell, Heath Ledger/ Michelle Williams, Johnny Depp. [ Comments:

none

]
Johnny Depp, Colin Farrell and Jude Law who took over the role that Heath Ledger played when he died, have given the money they earned from
The Imaginarium of Dr Parnassu
to his daughter Matilda Rose according to what the director told
The Sun
!
Director Terry Gilliam, 67, said: "They didn't take money — it goes to Heath's daughter.

"That's extraordinary! And wonderful . . . and when you're part of that, you think, 'Ah, this is maybe why I went into the movies in the beginning. I thought it would be full of wonderful people.'

"And we've got a movie full of wonderful people who did extraordinary things to help."
When the three heard that Heath did not have a will that protected her, they took it among themselves to help her. I think it so admirable what the fathers did for another kid. Just for that I will go see this movie to support those who support others.
---
Colin Farrell gets pulled over
September 10th, 2006 under Colin Farrell. [ Comments:

none

]
First by the police. . .
Then by fans. . .
---
Colin Farrell bad in bed?
August 6th, 2006 under Colin Farrell. [ Comments:

none

]
Hollywood heartthrob Colin Farrell has been lambasted by Woody Allen's former au pair–for being such a disappointment in bed.
French siren Angelique Jerome and the
Miami Vice
star hooked up just hours before his London premiere of the cop drama on the set of
Allen
's new movie, starring
Farrell
and
Ewan McGregor
. However, despite the 24-year-old brunette's delight at being singled out by the actor with an invitation to his hotel, Jerome has slammed his lovemaking as overrated and his bad-boy image as a myth. She says, "He must have told me I was beautiful eight times. I like bad boys. But he was too nice. He kept telling me how beautiful I was and I thought, 'just shut up.' "He comes across as a tiger on screen, but behind closed doors he's as wild as Mickey Mouse.
"Maybe he has lots of women because he's not that good in bed. Maybe they don't want to stay."
I tend not to believe this, I think she is just pissed because he did not call her.
---