Dads actually got a full season order!
October 25th, 2013 under Family Guy, Lifetime. [ Comments:

none

]

So when I watched the pilot for Dads the first time, I hated it. Then I watched it again and found myself actually laughing a lot. So much so that I decided to check out another episode. Well now I find myself watching the show every week and laughing much more than I should. I guess I am not alone because Fox gave the Seth MacFarlane live-action show a full season.
And the news is also good over at Lifetime because even though they tried to kill Drop Dead Diva, they announced today that show will be back for another season. The 13-episode sixth season will air some time next year.
---
Betty White is a Wrecking Ball!
October 21st, 2013 under Lifetime. [ Comments:

none

]
>


Even though NBC cancelled Off Their Rockers, Lifetime picked it up and it will be airing Wednesdays at 9p. Well to promote that second Lifetime the show Betty White found a popular way to promote it. The Golden Girl imitated Miley Cyrus as she rode a wrecking ball, kissed a sledgehammer and raised a foam finger to us! If that doens't impress Cyrus, I don't know what will.
---
Drop Dead Diva shocks, Witches of East End is magical!
October 6th, 2013 under Lifetime. [ Comments:

none

]

Drop Dead Diva is back tonight at 9p on Lifetime to finish off the season that almost wasn't and they end it with a lot of bangs. Tonight's episode begins with everyone trying to figure out how they are going to save Harrison-Parker now that Parker wants to sell the firm. As they wait to find out their fate, work must go on. Jane (Brooke Elliott) takes on a case that might be her undoing. The stress of losing her fiance' Owen (Lex Medlin), her best friend Stacy (April Bowlby) trying to get pregnant with his baby, Grayson (Jackson Hurst) moving on and the possibility of her losing job is too much for her and she screws up an easy case. So much so that the person she lost it for, sues her for malpractice. When Jane is on the stand defending her actions, she breaks down in front of everyone. Is she too far gone to be saved? Will this case be the end of the Harrison-Parker? You will have to tune in to find out. And to see if Stacy is pregnant with Owen's baby. Plus an ending that no one, including me, saw happening. It is that shocking!

Then at 10p Witches of East End makes its series debut and you don't want to miss what might be Lifetime's best show ever.
The Beauchamp sisters have a normal life, but little do they know that they are anything but normal. The series starts off with Freya (Jenna Dewan-Tatum) getting ready for her engagement party to Dash (Eric Winter). She tells her sister, Ingrid (Rachel Boston) that she had a dream the night before of the perfect man and then that guy suddenly shows up at the party. That guy is Dash's brother, Killian (Daniel DiTomasso) and she tries her hardest to fight the connection between them but it is too powerful.
Then there is their mom, Johanna (Julia Ormond) who doesn't have a relationship with her sister like the one her daughter's have. In fact she hasn't seen Wendy, (Mädchen Amick) in decades, but suddenly she has come to see her sister because she has to warn her that a shapeshifter is impersonating her for evil.
You see the Beauchamps are witches, and only the older generation knows it. Johanna has been cursed to have her daughters over and over and over again, and every time as they near 30, they die. This lifetime she opted not to tell the girls their destiny, but you can't run from it.
So now the girls are finding who they really are and there are people out their who want to get them. Will they learn their true powers before they suffer the same fate they have suffered in the past or will they finally beat the curse? We will have to watch every week to find out in this spellbinding series.
---
Dance Moms season finale will shock you over and over again!
September 10th, 2013 under Lifetime. [ Comments:

none

]

It is time for the third season finale of Dance Moms tonight at 8p on Lifetime and you don't want to miss this shocking episode.
It is finally time for Nationals and Abby Lee Miller is taking the moms and the girls to New Orleans for the competition. When they get there, she will make the girls compete against each other to see who will get the solos at Nationals. Being the tyrant that she is, she decides to bring Peyton and that means Leslie is back too.
Now that they are all down in New Orleans, the moms get some time away from the pressure and have a drink or two or more. Things will get so bad that two of them will get in to a physical fight on the street. The next day when all the moms are together again, one of them declares she has had enough and she's leaving right then and there. So when Abby Lee hears the news, she sends at least one person home before the competition.
So down at least two girls, will they win Nationals again or will they go home the biggest losers (2nd place) of the night. You will just have to tune in to find out. And make sure to watch until the end because Abby has a big announcement.
BTW Blake McGrath choreographs a dance for the Candy Apples that I thought was a million timea better than Abby's gimmicky tribute to Hurricane Katrina. Yeah she went there, but will it pay off?
If you can't get enough of Abby Lee Miller's voice, that is all raspy because of her screaming, then you can see her look like an idiot on Abby's Ultimate Dance Competition when she tries to do her best Lady Gaga. Why? Because the night is all about Mother Monster and she makes an appearance on the episode.
All I will tell you the episode is that the judges don't go gaga over the dances and the dancer are not living for their applause.
---
Abby Lee Miller finally gets a bra that fits on Double Divas tonight!
August 6th, 2013 under Lifetime. [ Comments:

none

]

Double Divas is back on Lifetime tonight at 10p and they want to help as many women as possible to finally get a bra that fits them. Cynthia Decker and Molly Hopkins' first customer is none other than Dance Moms' Abby Lee Miller, whose show airs right before this one, and we all know that she desperately needs a bra that will lift her girls up as high as her voice when she screams at everyone. While we all know that, what we didn't need is to see her take her shirt off. I am warning you now that we are going to see a lot of her skin and I do mean a lot of skin.
But don't worry that image will quickly be wiped away with the other women om the show who are looking for the right sized bra. The first lady was born without a sternum and because of that she has never gotten naked in front of any man besides her husband. She also has problems getting a brassiere that can show off her chest properly. But LiviRae Lingerie will work their wonders and we will cry along with her.
Then we will have happy tears, when a 109 year woman comes in looking for a red bra. Proving no matter how old you are, you can still be red hot. And that is exactly what she is!
Double Divas is a feel good show, where women can learn to find the perfect bra and men can see a lot of women try them on. Hey I am just trying to get men to watch!
---
Did Abby Lee Miller yell at the Chippendale dancers?
July 19th, 2013 under Lifetime. [ Comments:

none

]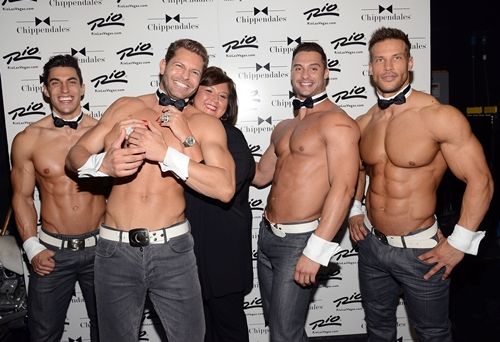 Fame Flynet
Abby Lee Miller went to see the Chippendale dancers in Las Vegas yesterday and I wonder if she yelled at them when their costumes fell off? We know how she yelled at Chloe when her hat came off, so why wouldn't the dance teacher lose her temper at the men when they took their clothes off? Oh because who knows the last time she saw a man in just a g-string? You know, since she always says she gave up her life for the girls. Can you imagine what she must've been like when they were dancing in front of her? Those poor poor men.
---
Would Drop Dead Diva's Lex Medlin suggest you hire him to represent you in court?
July 7th, 2013 under Lifetime. [ Comments:

none

]

Lex Medlin plays Owen French on Lifetime's highly-addictive fan-favorite show Drop Dead Diva that airs Sundays at 9p. His character ended last season with his life in peril after he caught his fiance' Jane kissing a co-worker on their wedding day. You see the Judge had heart issues and seeing Jane kissing Grayson was too much for him and his heart to handle. To make matters even more interesting for Owen's character just as it appeared he died, Dead Jane's soul decided to come back to Earth after a few years in heaven.
Most people, like me, assumed that Dead Jane would go into Owen that was presumed to be dead, and we were wrong. So I wanted to know from Lex was he like, "oh no I am going to be playing a dead woman trapped inside a man's body?" He told me, "I wasn't thinking, 'Oh no', I was thinking, 'Oh wow! Owen is going to become Jane. That was my initial thought to where it was headed." Then he explained, "Actorwise I was very much intrigued to possibly play that. But then I know the show's creator and I knew it could possibly not go that way. So I called (the show creator) Josh Berman and said, 'You got to give me a heads up, whichever way you go you need to let me know. If I am going to play a woman, I need that two months of prep.'" Well when the show was finally picked up after it was cancelled, Berman and Medlin had dinner together and he found he would not be Dead Jane in Owen's body.
While I liked the aspect of what could've been, he told me not everyone felt the same way. He said, "It's so strange to me because there were a lot of people who were not happy with that and there were a lot of people who were. I was fascinated by how polarizing that reaction was." Then he added, "I was open either way. But I am not going to lie to you, the actor part was drooling a little bit to playing a woman."
So now we know that he isn't playing Dead Jane in Owen's body, we are starting to see the ramifications from that kiss between his ex-fiance' with her soul's mate Grayson on his failed wedding day. What will we be seeing from Owen in the next few weeks, Lex couldn't tell me much, but he did say his character will be going through a lot of emotions this season now that he has seen first big love kiss another man. Owen is really struggling with the loss of Jane and Lex hints that the Judge might not be dealing with it in the best of ways. In fact tonight he has a monologue at the end of the show, that he tells me, we should look out for. He says that after you hear it, you will get to see where his character is going over the next few episodes.
So when I asked him where Owen will wind up this season, he told me, "You know what to be honest, I don't know exactly where it's going to end up. I'm just as curious as you guys, I am waiting for the next few scripts to see what happens. But I don't think it is going to be what anybody expects." Then he elaborated, "I have learned that much from Diva, just when I think it is going to be one thing, it is something else. Which I think is great."
So he learned you never know what is going to happen next on the show, but has he learned anything by playing a judge on it? He laughed with his response, "At the end of the day, I definitely wouldn't hire me to represent you for anything. Not unless you enjoy prison."
In his next role Lex Medlin will be playing someone who puts people in prison and not because he represented them. He's starring as Officer Kennedy in the upcoming straight-to-DVD movie The Little Rascals. He is looking forward to seeing how the film turns out because it "was basically a month of 6 children and a dog beating the hell out of me." Something his 6 year old daughter and I are also anticipating as much as he is.
But for now we will watch him every Sunday at 9p on Lifetime's Drop Dead Diva.
---
Brooke Elliott on the duplicity of her Drop Dead Diva role!
June 30th, 2013 under Lifetime. [ Comments:

none

]

Tonight at 9p on Lifetime's Drop Dead Diva New Jane aka Deb in Jane's old body meets Dead Jane in someone else's body. Sounds confusing, well imagine if you are the actress playing the woman whose soul is now in someone else's body.
I was recently on a conference call with Brooke Elliott and she talked about just that. She said, "You know, it's funny. When I'm Deb, Deb in Jane's body, which is the Jane everyone knows, and hopefully loves." Then she added, "It's actually the funniest part of the show for me. The most fun is that I get to be Deb, but I get to figure out when Jane's qualities are influencing here, which is a lot of fun."
She also has to go internal to figure out how to portray her character(s) as she explained to us, "So, I always come from Deb's perspective because it's Deb's soul in Jane's body, but a lot of times Jane's brain kind of affects her and makes her decisions possibly different than what she would normally have decided, and that's a lot of fun for me."
Now tonight she has to play a different role on the inside, but still have the same body on the outside. She enjoyed that cause she told us, "When I got to play old Jane, that was a lot of fun and it was a huge challenge, because I don't know old Jane as much as I know Deb because I play Deb every day."
So how did she feel about playing this new role? She said, "And so, playing old Jane was really, really fun and very challenging to figure out who this person what, and how she's different. And because I'm the body of both, that's an even bigger challenge because when you just figure out just exactly how old Jane stands and behaves, and how does she gesture and where is her emotional life living, as opposed to Deb, which we're so familiar with? You know the hair flipping and how Deb walks and all those things? So, it's actually – one of my most favorite parts of doing this character."
So do you have a better grasp of what Brooke Elliott went through to prepare for tonight's episode or is still like legal jargon to you? Either way tune in to watch Brooke Elliott play Deb inside of New Jane and Dead Jane in her own Jane body tonight at 9p on Lifetime.
---
Anna Nicole's story comes to life tonight
June 29th, 2013 under Anna Nicole Smith, Lifetime. [ Comments:

none

]

We got to know Anna Nicole Smith as an adult and followed the life we thought she had. Tonight at 8p on Lifetime, we will get to find out what she was like before she was Anna Nicole and she was just a little girl from Texas named Vicki Lynn Hogan.
Anna Nicole starts out when she was just a young girl and you will find out what her life was when she was growing up. Then you will see her struggle as a 20 year old mom because her own mother wouldn't take her in after she split from her husband. Eventually she will find a job as a stripper and there she will meet a man who will take care of her. You will see how the love affair between J. Howard Marshall and Anna Nicole blossomed into her saying I do to him. It is more than we ever heard it was and you will see there really was something between them. While her love to him was just starting out, so was her career as a model and that is what led to her downfall. You will see how the one thing that she wanted more than anything, is the thing that took her beauty away from us at too young of an age.
The movie mostly focuses on her life before we knew her name, since we saw all the other stuff play out. Getting to know what she was like before she was famous, is what makes this movie to interesting. Why rewatch a movie version of the story we already know, let's find out what we don't know. And there is a lot you will learn about a woman named Anna Nicole.
This Lifetime movie doesn't sugarcoat the truth, but it doesn't exploit it either.
Agnes Bruckner stuns as the beautiful Anna Nicole Smith. Her transformation is incredible and you will be very impressed with all that she did to play the role.
---
What was the Drop Dead Diva cast doing when they heard show was renewed?
June 28th, 2013 under Lifetime. [ Comments:

none

]

Drop Dead Diva ended their fourth season in a really good place, so when Lifetime announced that they were not bringing the show back for a fifth one people were shocked and devastated. So much so they let their voices be heard, and Lifetime decided to reverse their decision and the show is currently back on the air with all new episodes Sundays at 9p.
Well if the show you are working on is cancelled, you are going to start to move on with your life. That is exactly what the cast of DDD started to do. So what were they doing when they heard the show was, thankfully, picked up for another season. Something that was well deserved and has proven to be the right thing to do after Sunday's season premiere.

The first person to know the news, was not a cast member but the show's creator Josh Berman. When I asked him what he was doing, here is what he said:

Sony and Lifetime had asked me to come back in to tell them my thoughts for Season 5. And when I went to that meeting and I started pitching out where I was going with the seasons, and I saw the executive's faces light up and the smiles get bigger and bigger, and then when I was finished there was this silence and everyone kind of knew in that moment we were coming back.
While he knew right away, Brooke Elliot who plays Jane, had no choice but to, literally, move on with her life.

Oh, that's funny you ask. Because we were canceled, and that's the only information I had to go on. I had to get out of the place that I was renting in Atlanta. And had we been picked up I would have kept the place, mostly likely. But, we didn't know and I had gotten to the very end of the (lease) I was like, "I've got to go." And so, I was actually moving out of my Atlanta place of living when I found out that we were actually renewed, so that was kind of funny.
Did she find a new place?
I did, but I had to put everything in storage because, you know I was like, "Oh, my gosh, where am I going to live?" And so, everything was in storage, so I immediately – I – the minute I found out I went and got an apartment, and then everything worked out fine, but that's why I think it's pretty funny.
April Bowlby, who plays Jane's best friend on DDD, was spending some time with her friends when the good news broke.
I was with my friends at one of their houses. We were sitting outside drinking wine and trying to wrap our head around the show being canceled, when my cellphone started to buzz with multiple text messages of congratulations about the show being picked up.
It was great to be with friends at that moment. Lots of celebration……and confusion.
Finally Lex Medlin, who plays Jane's runaway fiance' after he caught her kissing another guy at their wedding, was running towards something when he heard the rumor that turned out be true. He shared his story with me and you could hear the laughter and the happiness in his voice as he told it.

I was actually in pilot season auditioning for pilots. It was about 4 in the afternoon, and I live in the Valley, and I had an audition for a pilot at Sony (Culver City which is hard to get to from most anywhere in LA) at 6 o'clock. The idea of getting on the 405 was daunting to me. Somebody broke that it was going to be picked up, so I immediately called my people and said, "I don't have to go to this audition, right?" And they said, "Well you probably should." And I said, "No, I probably shouldn't! If I'm going back to Diva, let's do that!" So that's where I was and I was very relieved.
Me and the wife and kids, all had a wonderful dinner together, and smiled and laughed.
So now that you know what the cast was doing when they heard the show was picked up, why not check out what they are doing with it now that it has been picked up. You can watch Drop Dead Diva every Sunday at 9p on Lifetime. This week Dead Jane confronts New Jane, so you know it is going to be good.
---