Christian Bale is looking like sh!t
March 21st, 2013 under Batman. [ Comments: 2 ]

Fame Flynet
Christian Bale is infamous for making himself look like sh!t in movies like The Machinist and The Fighter, but I think his latest transformation for a David O'Russell movie might be his worst one yet. I can live with him putting on an extra few pounds because he can afford it. But the combover look, I will never get used to.
Why can't he just look sexy in every film he does? Is that too much to ask for?
---
The 5 Bruce Waynes as 1!
January 5th, 2013 under Batman. [ Comments: none ]

Ever wonder what Bruce Wayne would look like if someone morphed the 5 actors who played him into one person. Well thanks to morphinapg we know how the Caped Crusader would look as Adam West, Michael Keaton, Val Kilmer, George Clooney and Christian Bale. And looking at the 5 Batmen as one Bruce Wayne, I think he looks a lot like an Arrow as in Stephen Arnell who plays another DC Comics legend and friend of Batman! Don't you think so?
BTW here is the super GIF showing how the 5 became 1!
---
Chistian Bale redeems himself
July 24th, 2012 under Batman. [ Comments: none ]
A few years ago Christian Bale was known for doing something bad, but today he negated all of that by doing something very good from the bottom of his heart. Bale flew to Aurora, Co on his own dime and visited several people who were injured in Friday's shooting according to the Denver Post. He did not do it for publicity, but the injured people and the hospital workers leaked that he was there. Not only did he spend time at the hospital, he also went to the shooting location. He didn't have to do it, but he chose to on his own. And because of that I respect the hell out of him. We need more actors like him because what he did brought a lot of people that really need it.
---
The Dark Knight Rises, but will it fall
May 1st, 2012 under Batman. [ Comments: none ]

The latest trailer is out for The Dark Knight Rises and it is better than the first two. I know I am in the minority, but I didn't think the first two movies were all that. They are just not for me and the final film in this franchise looks like it will be the same. So it seems that those of you who love the series are going to love this movie.
---
Bam! Pow! Batman pulled over in his Batmobile!
March 29th, 2012 under Batman. [ Comments: none ]

A Montgomery County Police Department officer was in for quite a ride last week when he pulled over a man who was dressed as Batman driving a Lamborghini. The Caped Crusader was stopped by cops because instead of displaying a license plate on his Batmobile, he had Batman's emblem showing. Lucky for The Dark Knight the cops were fans so they let him go. Well that is once they realized he had the proper tag in the car.
So why was Lenny dressed up as a Bruce Wayne? He was on his way to entertain sick kids at a Maryland Hospital. See Batman is a true Superhero!
---
Oh say can you see how bad The Dark Knight Rises looks
December 19th, 2011 under Batman. [ Comments: 1 ]

The first full trailer is out for Christian Bale's last Batman movie The Dark Knight Rises and it is a good thing his run is ending with this film. The trailer makes it look like it will be a long drawn out movie that will last so long your butt will hurt from sitting there waiting for it to finally get good and it never does. Plus it looks like it is was shot so dark that you will struggle to stay awake because all you are going to want to do is take a nap and have someone wake you up when it is over. Seriously I am already tired from watching and to be TMI my butt is starting to hurt.
---
Christian Bale is a Powerpuff Girl!
December 15th, 2010 under Batman. [ Comments: none ]

Christian Bale and Mark Wahlberg were doing the junket for their movie The Fighter, when they were asked to sing their way out of their interview for Popcorn with Peter Travers. Former-rap sensation Marky Mark was all down for it, but the Newsie wasn't. Eventually he gave in and sang the theme Powerpuff Girls. Listening to him explain why he chose that song with his native English accent and with the longer hair and facial hair, I think he feels more like a rock star than his co-star who really was one.
---
Christian Bale just lost his action hero cred!
June 16th, 2010 under Batman. [ Comments: 7 ]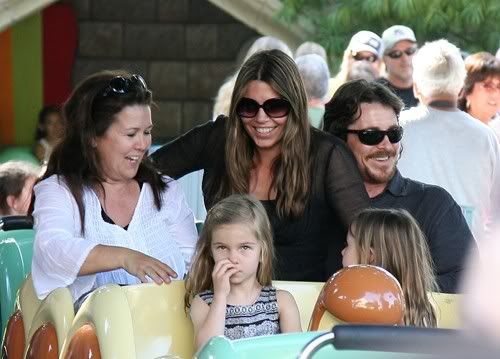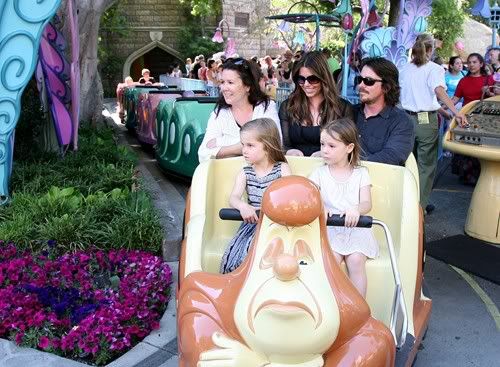 Bauer-Griffin Online
Christian Bale and his wife Sibi took their daughter Emmaline to Disneyland and together the family went on the Alice in Wonderland ride. I know he is being a good dad, but these pictures have totally ruined his action hero cred for me. Can you watch him fighting crime as Batman after these pictures? I know I won't be able to. Even though he does look so much better with the longer hair.
BTW I am surprised he was able to get in to the Happiest Place on Earth after his unhappy tirade on the Terminator Salvation set. You think he would be banned from the G-rated place after that F-laced rant. Guess doing a Disney movie (Newsies) gets him a get in for free pass for life.
---
Megan Fox as Batman's Cat Woman?
August 25th, 2009 under Batman, Megan Fox. [ Comments: 1 ]
(photo from WireImage) Has Megan Fox landed a role that is purrfect for her? Well according to The Sun she has signed on to play Cat Woman in the next Batman movie that is due to come out in 2011. In the past Cat Woman has been played by some of Hollywood's sexiest women like Halle Berry, Michelle Pfieffer and Eartha Kitt, so it only seems logical she would play it next. But with the film not starting production until next year anything can happen and Jessica Biel might claw her way into that tight black outfit.
---
BTWF ads: Christian Bale for Pac-Man Cereal
July 27th, 2009 under Batman, Before They Were Famous. [ Comments: none ]

Before Christian Bale was Batman, he was all about Pac-Man Cereal. How awwwdorable was the 9 year actor dancing around in his white suit in that 1983 commercial. I really hope he doesn't go off on a tirade on me like he did with that Terminator Salvation DP for posting that ad.
---