John Travolta breaks the Frozen ice over Sunday's f*ck up!
March 4th, 2014 under John Travolta, RENT. [ Comments:

none

]

Idina Menzel has gotten more press in the last two days over John Travolta mispronouncing her name at the Oscars than anything she has done in her spectacular career that includes starring in two of Broadway's biggest hits of the last 25 years, Rent and Wicked, combined. The actress has handled everything with class and has yet to respond to being renamed, Adele Dazeem, by the Hairspray actor.
Now even though the women with such a loud and powerful voice has been quiet, Travolta finally broke his silence. The Grease star told ABC News, "I've been beating myself up all day. Then I thought … what would Idina Menzel say, She'd say, Let it go, let it go! Idina is incredibly talented and I am so happy Frozen took home two Oscars Sunday night!"
So are you ready to let it go or will his embarrassing moment remain frozen in time with you? I am ready to let it go, even though I am happy that Menzel is finally getting the recognition she deserves.
---
Who, John Travolta?
March 2nd, 2014 under John Travolta, Oscars, RENT. [ Comments:

none

]

via Eric Stonestreet
All John Travolta had to do was introduce Idina Menzel at the Oscars, but I, like everyone, have no idea who the heck he introduced to sing Let It Go. How hard is it to say her name, Ee-Dee-Nah Men-Zell? Who is Adelle Dazeem?
I know I should follow the song and Let It Go, but I can't. I love you John, but really?
Here is a little tip for the producers next year, make sure all the presenters go to at least one rehearsal and they know how to say the name of the people they are announcing.
---
BTWF roles: John Travolta on Emergency!
February 18th, 2014 under Before They Were Famous, John Travolta. [ Comments:

none

]

Before John Travolta was The Boy in the Plastic Bubble, he needed a plastic bubble to protect him on Emergency! How cute was the 18 year old in his first role?
---
Look Who's Talking on Kirstie Alley's new show, it's John Travolta!
July 23rd, 2013 under John Travolta, TV Land. [ Comments:

none

]

John Travolta is making a rare television acting appearance and he's doing it on Kirstie Alley's new TV Land show. Travolta will play a stagehand, who has a one night with Kirstie and he refuses to leave. Almost sounds like their movie franchise Look's Who Talking. Not that I have a problem with that because I was a fan of those movie and their chemistry, so I can't wait to see them together again in front of the camera.
The episode tapes next month and will air sometime after the show's debut on December 4th. This isn't the only reunion they are having on the show, Kirstie is also working with her Cheers' co-star Rhea Perlman. Michael Richards also stars on the sitcom and he got to work with his Seinfeld buddy Jason Alexander again in an episode. What other reunions would you like to see on the show? I would love to see Rhea with her Matilda co-star Mara Wilson or maybe someone from Taxi?
---
Do John Stamos and John Travolta have something to tell us?
February 25th, 2013 under Full House, John Travolta. [ Comments:

1

]

John Travolta was photographed with his arm over John Stamos' shoulders and I have to wonder if they have something to tell us? Nope it was just two Johns hanging out after the Oscars or as Uncle Jesse put it, "that's cool baby, you know how it is, rockin' & rollin' & what not".
You know what after seeing this photo, I would love for them to do a buddy comedy together and they can call it A Tale of Two Johns!
---
John Travolta's son offers his Kelly Preston's boobs to all!
December 5th, 2012 under Ellen DeGeneres, John Travolta. [ Comments:

none

]

John Travolta is a guest on Ellen today and Ellen DeGeneres asked him about his two year old son Benjamin. The Look Who's Talking dad said that his wife Kelly Preston is still breat feeding him and some times she does it when guests are around. When that happens she covers her chest with a blanket and let's him eat. It is then that the toddler will lift up the cover and said, "Noonie for everybody." I am sure Kelly loves that, not.
BTW he better stop that before he gets married, because I don't think his future wife would like him tell all the guests "Noonies for everybody!"
---
John Travolta's hair today, gone last week!
September 21st, 2011 under John Travolta. [ Comments:

none

]

WireImage
Nearly two weeks ago we saw John Travolta with a shaved head and yesterday we saw him with a sh!t load more hair. I can't explain how his hair grew that much in just a 12 short days, that is unless he is the world's first human Chia Pet. If he is, I know a bunch of guys who would also like to be Chia Pets, or should I say I know a lot of guys who should try that form of hair transplant!
---
John Travolta's hairline revealed!
September 9th, 2011 under John Travolta. [ Comments:

none

]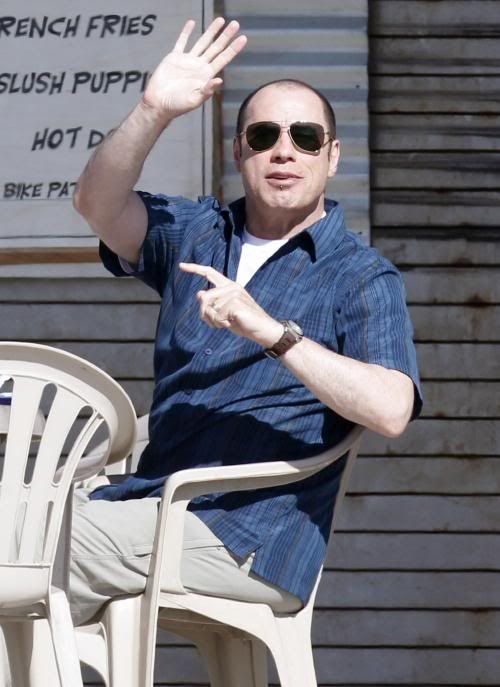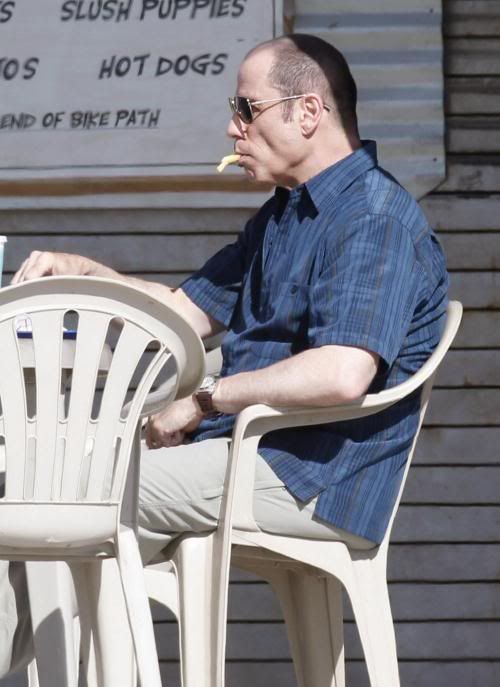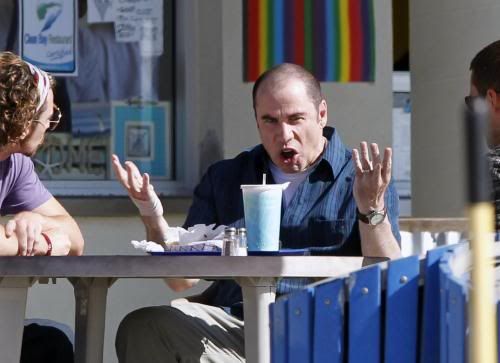 Fame Pictures
For years we have wondered where John Travolta's really hairline is and thanks to his shaved head in his upcoming movie Savages we now know. You know what he has more hair on his crown than I thought he would. I wonder why it took him so long to show it off!
---
John Travolta doesn't have time for Glee
January 25th, 2011 under Glee, John Travolta. [ Comments:

1

]

(photo from Fame Pictures)


John Travolta is one of the few actors who was asked to do Glee, and said no. According to PTI he said, "They've asked but when I do musicals I train for six to nine months… and a show like that is an on-demand thing. I really have a criteria or a pride that I would wanna knock 'em dead, and I don't think I'd knock 'em dead in a week." Obviously he hasn't seen the show because it is not like their choreography is that elaborate, and the way he glides as he walks normally he would totally knock 'em dead.
Actually I am glad that he said no Glee because the show is like Will & Grace and all about the stunt casting.
---
The Travoltas have a little boy to be thankful for!
November 24th, 2010 under John Travolta. [ Comments:

none

]

(photo from WireImage)


John Travolta and his wife Kelly Preston welcomed a big baby boy yesterday. According to People Benjamin came in to the world weighing 8 lbs., 3 oz. Now we know why Kelly got so big, she was having a huge baby.
I am sure they are going to spoil that little guy like crazy and Ella Blue is going to love being a big sister!
---