Big A$$ Spider looks like an instant classic!!!
February 6th, 2013 under Heroes. [ Comments: none ]

So Greg Grunberg Tweeted the above trailer for his upcoming movie Big A$$ Spider and said, "2 WORDS. Holy Sh!t!!" Holy Sh!t is right! The disaster/bug flick has spun a web around me and I can't wait to see this movie whenever it is released. Seriously doesn't it look like so freaking awful that is going to be the best movie of the year! It's the type of movie you will see over and over again and come up with a new drinking game every time, and get completely wasted every time you see it.
---
BTWF roles: Milo Ventimiglia on Fresh Prince of Bel-Air
January 21st, 2013 under Before They Were Famous, Heroes. [ Comments: none ]

Before Milo Ventimigilia was hooking up with Rory on Gilmore Girls, he was hooking up with some girl at a party on Fresh Prince of Bel-Air. How cute was the 18 year old in that 1995 episode.
---
Milo Ventimiglia is Chosen!
January 21st, 2013 under Heroes. [ Comments: none ]

On Crackle's Chosen Ian Mitchell (Milo Ventimiglia) is your average divorced dad of a young girl who works as a lawyer, but one day his life will go from normal to anything but with a simple the knock on the door. When he opens the door, there is a box on his doormat. He lifts it up and opens it. In it is a picture of a man and gun inside telling him he has 72 hours to kill that man or they will kill someone he loves. He calls the cops, but they are in on the game. Now he is all by himself about to do the unthinkable, but will he be able to do it?
This is a game that unsuspecting people have been playing for a long time and in the 6 webisodes that are now available on Crackle you will watch as the newest member tries to beat the unbeatable game. He will encounter other players who tell him there is no way out, but he is convinced that there is one. Is there one? You will have to watch this thrilling webseries to find out. And the best part is since it is Crackle, you can watch it all in a three-hour marathon!

I was recently on a conference call with Milo Ventimiglia and he talked about the webseries Chosen.

Why he did it:
for me it was a guy who – whose a total normal functioning member of society. And what the situation he gets thrown in where it's life or death for not only him but for those that he loves, you know. I think that is what attracted me to the character, to Ian Mitchell.
You know, and then it's just an added bonus when you've got cool, talented inspirational people that you're working with like Ben Ketai and Crackle and, you know, the rest of the assembled production team.
You know, so for me it was a treat every day to walk on the set, like wow, I'm so blown away with the company that I'm in, the people that I get to be around and get to work with and, you know, play with and make some hopefully some good cinema with.

How is he like Ian Mitchell:
You know what? I think I have to relate to every character that I play in some way or another. I mean, even the kind of sick horrible ones. But, you know, I think a guy who just goes through an everyday struggle, I mean, you know, we all have things we have to deal with in life and when a curve ball is kind of thrown at us it's like, whoa, what do you do? How do you react? How do you respond?
You know, would I do the same thing? You know, for me I always say, you know, have to protect the ones you love. You've got to look out for the people you care about and it's kind of a terrifying idea of thought like, Ian's daughter gets kidnapped, you know, something like that were to happen in real life and what it would – or what it would or could drive you to do, you know, especially when it's out of your control.

Is doing a webseries different than doing one on television?:
You know, I don't think so. I mean, and if by tactics you mean the way it's shot, the way it's released, the way it's promoted, the way the stories unfold — no. You know, we looked at it just the same.
We had six episodes, we had an arc. We had characters that are popping in and out, you know. And too, it's one of those things that look, with success with probably continue – will most likely continue and will hopefully continue.

What would he do if he got the box?:
Please don't ask me that question – that's – that's the worst thing. I hope to never, ever, ever get anything like that on my doorstep. I think I'd – I don't know. I don't know, you know. You can't talk about it with anybody. You can't do anything but kind of wait, you know. And, you know, I'm a pretty moral person and I mean, shit, I'm a vegetarian, show, you know, how would they expect me to kill anybody, so.
---
BTWF roles: Zachary Quinto in Touched By An Angel
November 21st, 2012 under Before They Were Famous, Heroes. [ Comments: none ]
(starts at 2:15 in)


Before Zachary Quinto had mommy issues on American Horror Story: Asylum, he had daddy issues on Touched By An Angel. He looks the same now as he did when he was 24 in that 2001 episode.
---
Hayden Panettiere is more stiff than the male streaker
November 7th, 2011 under Celeb Oops, Heroes. [ Comments: none ]

(NSFW)


Hayden Panettiere was presenting at the EMAs when a male streaker ran on the stage. Everything from beginning to end was so stiff from her, you know that bit had to be staged. Especially since the man dong it is an actor according to Daily Mail. Maybe David Monahan can give the Heroes star acting lessons on how to fake it better because after all he did impress me…and I am not talking about his acting.
---
Why Zachary Quinto came out!
October 16th, 2011 under Heroes. [ Comments: 1 ]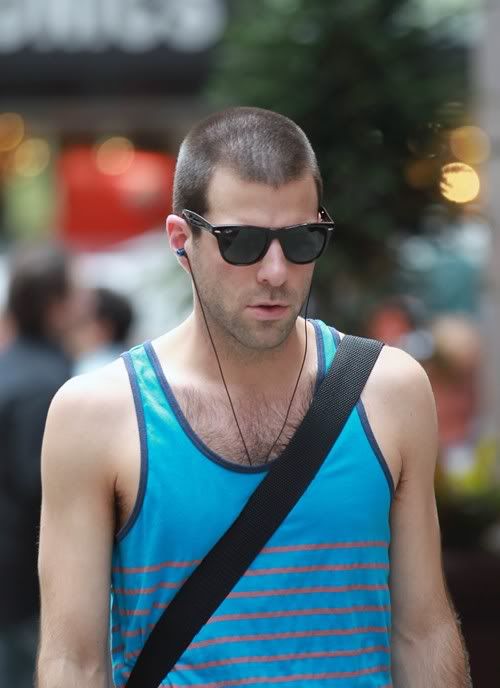 (photo from Fame Pictures)


Many celebrities who come out feel forced to do so because the media and blogs are questioning their sexuality. Well Zachary Quinto came out for a different reason, a much more important one and here is why he did it:
when i found out that jamey rodemeyer killed himself – i felt deeply troubled. but when i found out that jamey rodemeyer had made an it gets better video only months before taking his own life – i felt indescribable despair. i also made an it gets better video last year – in the wake of the senseless and tragic gay teen suicides that were sweeping the nation at the time. but in light of jamey's death – it became clear to me in an instant that living a gay life without publicly acknowledging it – is simply not enough to make any significant contribution to the immense work that lies ahead on the road to complete equality. our society needs to recognize the unstoppable momentum toward unequivocal civil equality for every gay lesbian bisexual and transgendered citizen of this country. gay kids need to stop killing themselves because they are made to feel worthless by cruel and relentless bullying. parents need to teach their children principles of respect and acceptance. we are witnessing an enormous shift of collective consciousness throughout the world. we are at the precipice of great transformation within our culture and government. i believe in the power of intention to change the landscape of our society – and it is my intention to live an authentic life of compassion and integrity and action. jamey rodemeyer's life changed mine. and while his death only makes me wish that i had done this sooner – i am eternally grateful to him for being the catalyst for change within me. now i can only hope to serve as the same catalyst for even one other person in this world. that – i believe – is all that we can ask of ourselves and of each other.

zq.
I wish we lived in a society where people didn't feel the need to come out and just were, and maybe his words will begin to change that! Congrats to Quinto for coming out the way he did.
---
Ali Larter goes short!
October 1st, 2011 under Heroes. [ Comments: 1 ]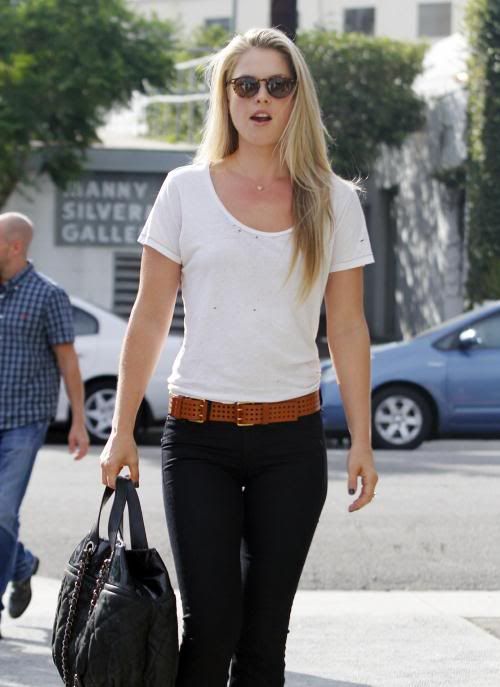 Ali Larter has had long hair as long as we have known her as an actress, but now the Heroes stars has got a much shorter do. If you want to see her new look then click here!
---
Yatta! A Heroes reunion on Hawaii Five-0!
September 30th, 2011 under Heroes. [ Comments: none ]

Hiro and Matt Parkman aka Masi Oka and Greg Grunberg were reunited on the set of Hawaii Five-0 and I love seeing the two Heroes stars together again. Dang you CBS first a Lost reunion and now a Heroes one, you keep trying to get me to watch but I just can't do it. You fooled me once with Moonlight, then twice with Three Rivers and you are not going to fool me a third time even if H50 was picked up for a second season and doing well in the ratings.
---
If Heroes cast this cheerleader, it might've saved the show!
June 29th, 2011 under Heroes. [ Comments: none ]

(photo from WireImage)


Emma Stone is a big movie star thanks to movies like Easy A and Zombieland, but losing out on a TV role caused her to lose it. She told Vanity Fair what happened when she auditioned for Heroes, "I could hear that, in the other room, a girl had just gone in and they were saying, 'You are our pick … On a scale of 1 to 10 you're an 11,' I went home and just had this meltdown." Stone then added that she hit "rock bottom." I really have to wonder if the NBC show had cast her instead, if it would still be on the air. A big reason why the show bothered me (and others) was because of how annoying Hayden was as the cheerleader who couldn't die.
Even though Emma lost out on the role she went on to bigger and better things and Hayden has gone from bigger to bigger men…
---
Hayden Panettiere is free to have sex with men her own size!
May 12th, 2011 under Heroes. [ Comments: none ]

(photo from WireImage)


The nearly 5′ Hayden Panettiere and 6'5″ Wladimir Klitschko have KO'd their relationship according to People and now they are free to f*ck people their own size. Last month the Heroes actress told Ellen DeGeneres that strangers come up to her and ask how her now ex-boyfriend and her have sex, and she says they find a way to make it work. I guess you can say what they couldn't make work was their relationship in general.
---