BTWF ads: Betty White for Richard Hudnut cosmetics
January 14th, 2014 under Before They Were Famous, Golden Girls. [ Comments:

1

]

via Parade Magazine
Before Betty White was a Golden Girl, she was selling Richard Hudnut cosmetics during the Golden age of television. She's just as beautiful now as when she was 37 in those 1959 ads.
---
Betty White gets provocative
November 28th, 2013 under Golden Girls. [ Comments:

none

]

Brit Smith's video for Provocative has some extra sass in it, thanks to the wonderful Betty White who co-stars in it. The song and video are catchy by themselves; but then you throw the Golden Girl in the mix shaking her hips and saying the word "B!thces!" and you have the best video of the year!
Seriously didn't it put a huge smile on your face?
---
Betty White + Robin Williams = Pure Happiness!
August 8th, 2013 under Golden Girls, Jay Leno, Robin Williams. [ Comments:

none

]

The extremely talented Robin Williams is a guest on The Tonight Show tonight and he Tweeted a picture of someone he ran into backstage. That person is the very much loved Betty White and what we got is a picture that is sure to bring a huge smile to your face.
I hope that someone who works on the much anticipated CBS's The Crazy Ones sees this pictures and casts Miss White as his mom. How freaking awesome would that would be? It would be comedy diamond, that's right better than gold!
---
Betty White admits she is a terrible flirt!
July 2nd, 2013 under Golden Girls. [ Comments:

1

]

Betty White is 91 years young and she told InTouch she feels "much wiser, much more aware and much sexier" at her age now. Then the Golder Girl added, "I like being my age, you really do get more comfortable with yourself over time."
Even though she is comfortable with her age, how old does she really feel? She said she's a "teenager trapped in an old body." And just like a teen she admitted she's a "terrible flirt — I love to do it! I get my jollies that way!" What guy wouldn't love to have her flirt with him?
And when it comes to us, we get our jollies watching her in every project she does.
---
Betty White can still shake her money makers!!!
January 3rd, 2013 under Golden Girls, Jay Leno. [ Comments:

none

]

Betty White was on The Tonight Show yesterday and during a commercial break the Golden Girl shook everything she had for the studio audience. Then when they came back Kevin Hart bowed down to almost 91 year old for doing it, and she did it again so the television audience could see it too.
I have seen her do that move at the tapings for her TV Land show and let's just say she puts the Hot in Hot in Cleveland.
---
Aren't Larry King and Betty White too old to run a lemonade stand?
November 19th, 2012 under Golden Girls. [ Comments:

none

]

Betty White is 90 years young and Larry King turned 79 today, but yet that didn't stop the two of them from opening a lemonade stand outside his Beverly Hills home. The two TV legends were selling it for a $1 a cup and shockingly they only made $6 whole bucks. So why did they do it? No, King is not going through some financial hard times since he is no longer working at CNN. It was something that he thought would be fun for them to do while she was a guest on his Ora TV talk show and you know what he was right! I love that Miss White is such a shrewd business lady, no wonder she is still working nonstop at her age with no end in sight!
BTW I am sure that was the sweetest lemonade that anyone has ever had because anything the Golden Girl touches turns out to be as sweet as sugar like her!
---
What is better than one Betty White? Two Betty Whites
June 5th, 2012 under Golden Girls. [ Comments:

none

]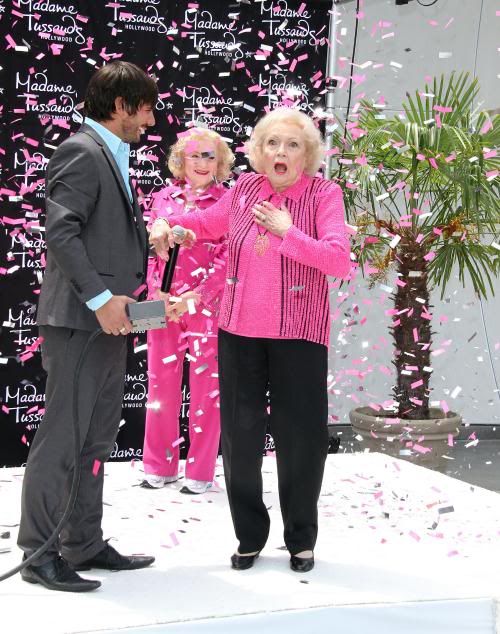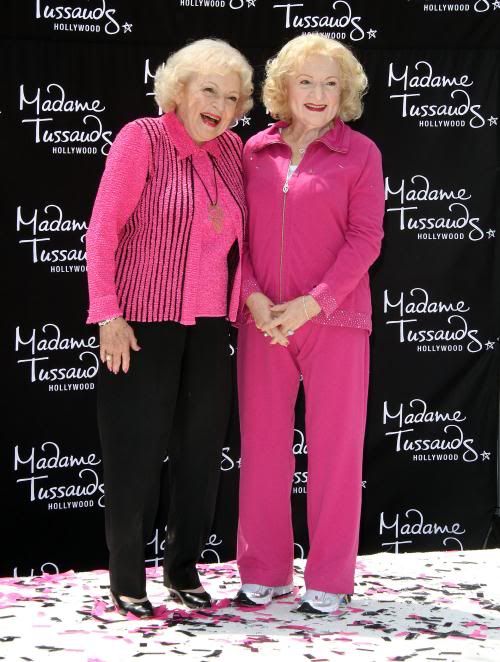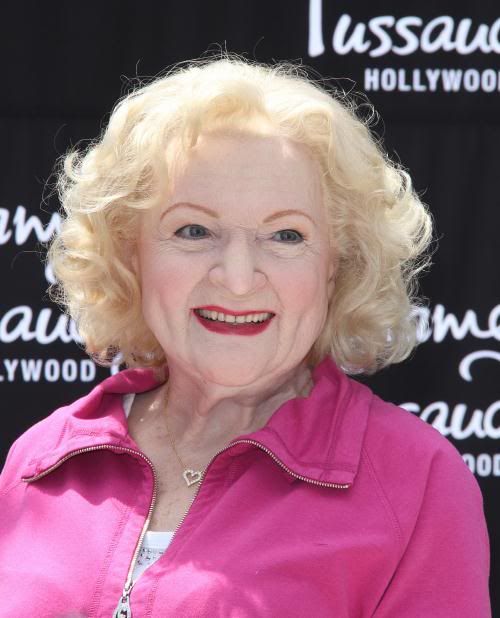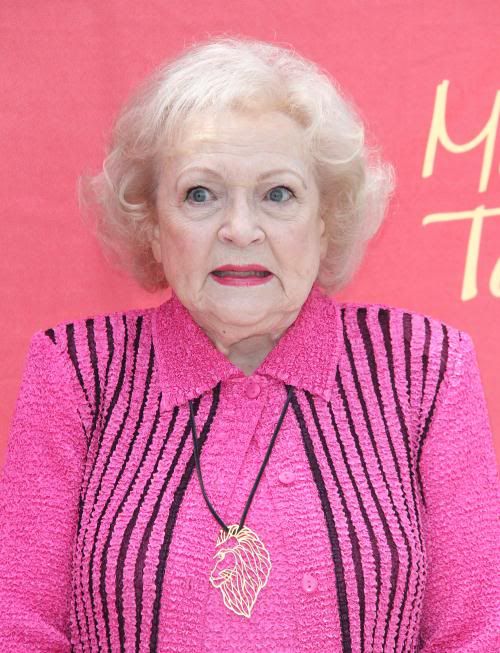 Fame Flynet Online
Betty White finally got a wax figure of herself and it desperately needs a nose job. I don't know if that is it, but something about her life-sized candle makes the Golden Girl look like a witch. They need to fix that ASAP.
BTW Madame Tussauds next time you honor a woman in her 90′s, don't scare her to the point that she won't live long enough to leave the ceremony. Especially if it is Hollywood's treasure Betty White.
---
Why did Regis Philbin kiss Betty White like she hasn't been kissed in a long time?
May 16th, 2012 under David Letterman, Golden Girls. [ Comments:

none

]

Betty White is on The Late Show tonight and she told David Letterman that Regis Philbin kissed her like she hasn't been kissed in a while. So why did The Reeg let the Golden Girl "have it"? As she explains he plays a gay hairdresser on Hot In Cleveland and he said he was so good at it, he wasn't sure if really was. So to prove that he was still straight, he kissed the hottest 90 year old in Cleveland and the world. No word what effect it had him, but I am sure Betty is thinking about swinging the other way after the smooch…
---
Betty White can still drive young men crazy
February 29th, 2012 under Conan O'Brien, Golden Girls. [ Comments:

none

]

Betty White was on Conan yesterday and she showed the TBS late night host her sexy leg. Even though she is 90 years old she was still able to turn Conan O'Brien on. She really doesn't look or act her age. So much so that even President Obama asked to see her birth certificate.
---
Betty White is rejected on Valentine's Day
February 15th, 2012 under Conan O'Brien, Craig Ferguson, Golden Girls. [ Comments:

none

]

Everyone loves Betty White, so you would think when she proposed to someone on Valentine's Day that that man would automatically say yes. Well when she asked Craig Ferguson on his Late Late Show last night, he said no. Well to say that the 90 year old didn't take the rejection well, would be an understatement. And if that is how she handled it when when her last resort said no, imagine what she was like when she asked Jimmy Fallon, Jay Leno, Conan O'Brien and Ellen DeGeneres also turned her down.
Betty I think if you want someone to say yes so that they can support you during your diamond years, you should've asked Jimmy Kimmel because he is not married and he would've let you keep the chocolates unlike the Scot.
You can see whose heart Craig Ferguson will break tonight at 12:37a on CBS and hopefully Elka getting some on TV Land's Hot in Cleveland at 10p.
---