Was Elton John thinking don't let the chair go down on me as it did?
December 8th, 2014 under Elton John. [ Comments:

none

]

Elton John was attending The Statoil Masters game yesterday, and after talking to his players he went to sit down. As soon as he put his butt down on the chair, it fell over with him in it. The reporter couldn't hold back her laughter, but then had to get her composure back as she asked him if he was OK. The singer reworked I'm Still Standing to shake it off, but she just didn't get it. Oh well, at least he didn't make an a$$ of himself. Oh wait…
---
Don't let that moon go down on me!
August 14th, 2012 under Elton John. [ Comments:

none

]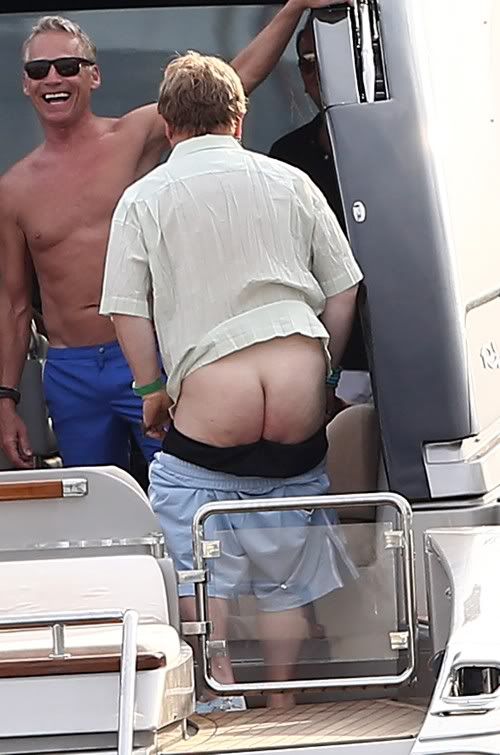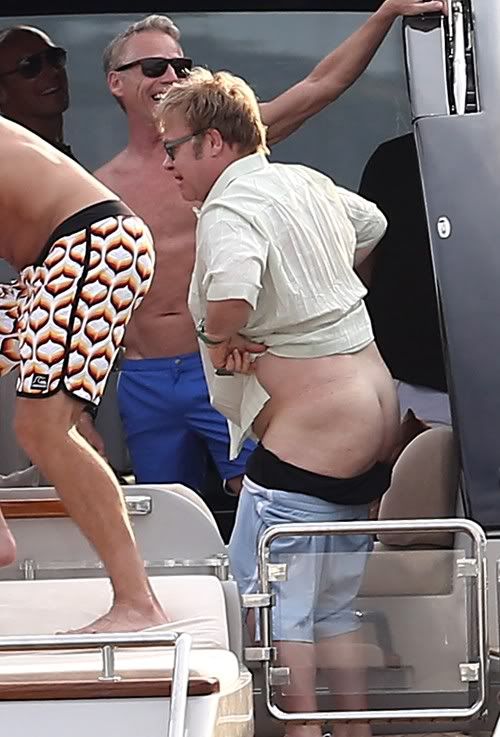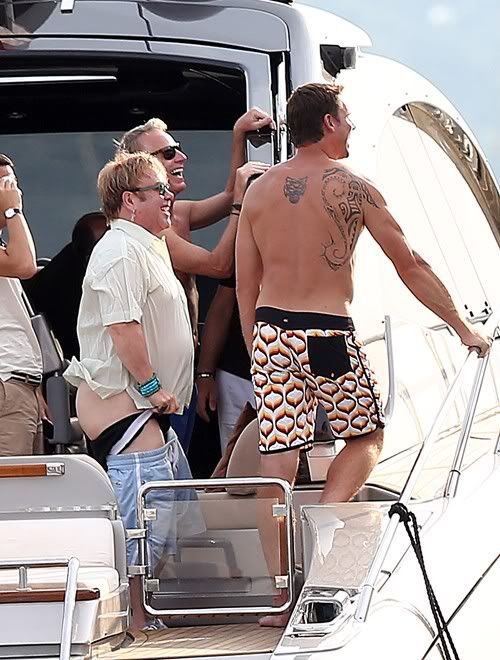 Fame Flynet
Elton John is on vacation in St Tropez and he decided to let Michael Caine know that he could tell everybody, this moon is for him. And you know what, I don't mind, that he put down his pants. The sun's been quite kind while his big bum was free, it's for people like you that keep it turned on. So today remember how wonderful life is while John's in the world
---
Elton John hospitalized with a serious respiratory infection
May 24th, 2012 under Elton John. [ Comments:

none

]

(photo from WireImage)


Elton John was hospitalized yesterday with a serious respiratory infection according to his website. He had been performing at the Las Vegas Coliseum, but had to cancel his last three shows because doctors said he couldn't sing for a week and needs to the time to heal. His next stop is Australia and there is no word yet if those shows will go on.
Hopefully he will get be standing again soon and stop singing those sad songs.
---
I thought that Elton John was a Queen?
February 3rd, 2012 under Elton John, Glee. [ Comments:

none

]

Pepsi has released their Super Bowl commercial that stars Elton John as a King who judges his commoners and the winners get a Pepsi can. In comes The X Factor winner Melanie Amaro and she blows everyone away. Once Elton goes to give her can of Pepsi, she does something to him that I am sure Madonna would love to if given the chance.
---
Elton John shows off his Tiny Dancer!
January 18th, 2011 under Elton John. [ Comments:

none

]

Elton John and David Furnish showed off their son Zachary to OK! and they talked about their Christmas miracle. He told the magazine he will find the love tonight of his dads and not their wallets because he said "I'm ready to have a child and lavish my love on our son and not spoil him materially." I am sure that is not going to be the case long because you know Zach's rattle is full of diamonds and they already made a crown for the Daddy and me classes…
---
Elton John has a Tiny Dancer of his own!
December 27th, 2010 under Elton John. [ Comments:

none

]

(photo from WireImage)


Elton John is no longer singing Sad Songs because his husband David Furnish and him are feeling the love tonight of their son. Can you believe that Elton John is someone's daddy? But he is because according to Us Weekly they became parents to Zachary Jackson Levon Furnish-John via surrogate on Christmas. The Tiny Dancer came into the world weighing weighed 7 pounds, 15 ounces.
I feel for David because now he has two screaming bald babies throwing tantrums everyday of his life. Let's see how long he will be standing? Seriously I can't believe the 62 year old singer is a father because he just doesn't seem the type. That and he is three years away from becoming a senior citizen. Who knows maybe having a baby will change his diva ways…
---
Elton John has the E Coli
November 1st, 2009 under Elton John. [ Comments:

1

]

(photo from WireImage)


Elton John has been postponing concerts for the last few days and today he announced on his website what has been ailing him.
Promoter Live Nation, The KeyArena and The Rose Garden were informed by management that Elton has been advised by his doctor to postpone these performances due to a serious case of e-coli bacterial infection and influenza.
At he doesn't have the Swine Flu, but E Coli is so much more serious. Hopefully he will get better soon because the world will be a quiet place without his tantrums.
---
Lily Allen vs Elton John
September 3rd, 2008 under Elton John, Lily Allen. [ Comments:

3

]

Last night Lily Allen and Elton John had it out while presenting at the GQ awards, and lots of sources were saying that there was a serious rift between the two during that presentation. But after watching it, you can tell it was all scripted. How lame.
On another note, Elton looked way out if it.
---
Elton John has another hissy fit
July 3rd, 2007 under Elton John. [ Comments:

none

]
Elton John acted like a complete diva the other night when a police officer told him would have to walk 50 yards to his dressing room because The Princes were coming according to
Daily Mail
. When the police officer told him that he would have to walk he said, "Get out of my ****ing way. Don't you know who I am? I've been working all ****ing day and I need to get to my ****ing dressing room." The officer knows who is boss really is and didn't care who Elton was. I love this cop because here in The States the cops give into celebs.
Here is how a source described the incident:
Our man among the crowd of 100 who were watching said: "The princes were due at any time and the police were getting pretty jittery.

"Elton pulled up in the back of a people carrier. A policeman stepped into the middle of the road to stop the car and he said to the driver, "Sorry you can't come in here at this point.

"You'll have to drive round the back or park up and wait five minutes". The driver then said, "I have an important artist in the back who needs to get to his dressing room".

"The policeman said, 'I don't care who's in the car, you cannot drive down this road right now".

"At that point, Elton wound down the window and screamed at him.

"The policeman calmly said to him, 'Sorry but you are not going in this road. You have to get out and walk from here or take a drive around the block. We're waiting for the princes, who are coming through here any minute'.

"Elton started ranting and swearing again. He just lost it and instructed his driver to drive around the policeman.

"The driver started to move and at that point, the policeman stood in front of the car gesturing to put his hands on the bonnet. The policeman was saying to the driver, 'Stop there or you'll be arrested'.

"Sir Elton wound his window back up as he realised photographers were starting to congregate.

"His security guard started reasoning with the policeman, saying they needed to get him in there right away but the policeman would not budge.

"Then at that point, Elton jumps out of the back of the car, stomps round to the front and barges through to get into the backstage compound.

He stomped down the road shouting at people to 'get out of my way'."
Elton blamed it on a long day and technical difficulties, but let's be real we are talking Elton John and he is the biggest Diva of them all! I wonder if he was mad at The Princes because they said Duran Duran was her favorite band?
On a side note, now I know who Perez Hilton's fashion icon is and that is not a compliment.
---
Elton John takes a sick break during a concert
November 27th, 2006 under Elton John. [ Comments:

none

]
Elton John left the stage briefly during a weekend concert in Brisbane after being struck by a bout of nausea, according to a news report Monday. John left the stage without a word about two hours into his Sunday concert. He was gone for about five minutes, the Australian Associated Press reported. When he returned, the 59-year-old pop star used an Australian colloquialism to explain that he had left the stage to vomit. "I thought I'd better chunder in the toilet (rather) than all over the front row," he was quoted as saying. Apparently feeling better, John closed the show about 45 minutes later.
You have to admire him for getting right back on and finishing the show!
---