Did Elton John diss Kelly Osbourne?
February 29th, 2016 under Elton John, The Osbournes. [ Comments:

none

]

Elton John held his annual Oscars viewing party yesterday to raise money for the Elton John AIDS Foundation and somehow Kelly Osbourne was invited. The socialite finagled her way over to the legendary singer's table and said something to Sheryl Crow and him. I guess it wasn't something to crow about because he said they were left unimpressed. Ouch! But then again, I can't think of a time when she ever says anything impressive. Can you?
On a positive note about her, at least we no longer have to watch her on those E! Red Carpet shows.
---
James Corden recreates that Varsity Blues' sex scene with Zac Efron!
February 8th, 2016 under Elton John, James Corden, Zac Efron. [ Comments:

none

]

Yesterday, James Corden hosted a special Super Bowl episode of The Late Late Show and he recreated infamous scenes from several Sports films with Zac Efron, Anna Kendrick and Adam Divine. Together they did their take on memorable moments from the Rocky movies, Any Given Sunday, The Blindside, Rudy and Bring It On. But the best one is when it was time to do Varsity Blues! Which means we got to see the CBS late night host in a whipped cream bra. And some times what is seen, can't be unseen.
That wasn't the only special thing that Corden did on his show yesterday, he also did Carpool Karaoke with Sir Elton John. The sweetest moment is when John talked about how his kids changed his life for the better.
---
Was Elton John thinking don't let the chair go down on me as it did?
December 8th, 2014 under Elton John. [ Comments:

none

]

Elton John was attending The Statoil Masters game yesterday, and after talking to his players he went to sit down. As soon as he put his butt down on the chair, it fell over with him in it. The reporter couldn't hold back her laughter, but then had to get her composure back as she asked him if he was OK. The singer reworked I'm Still Standing to shake it off, but she just didn't get it. Oh well, at least he didn't make an a$$ of himself. Oh wait…
---
Don't let that moon go down on me!
August 14th, 2012 under Elton John. [ Comments:

none

]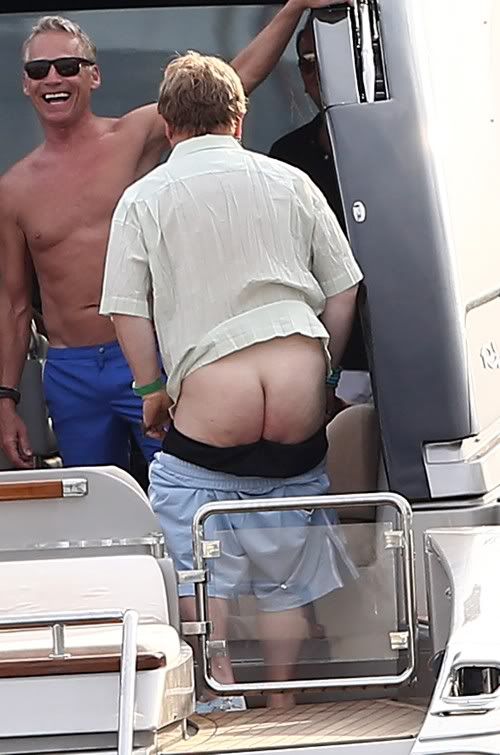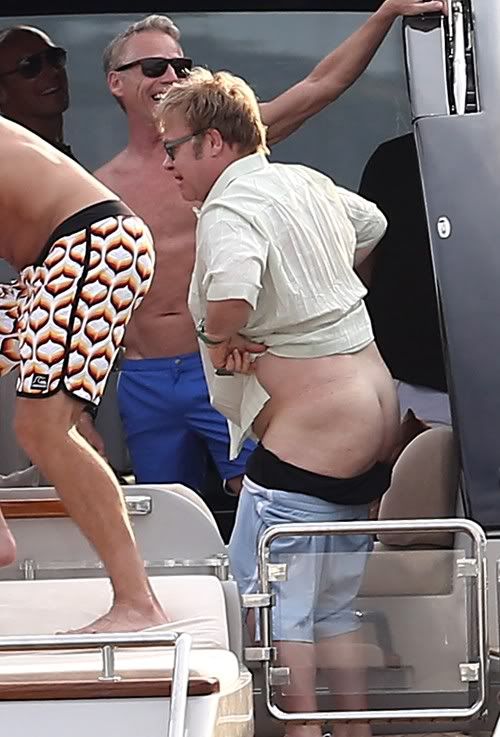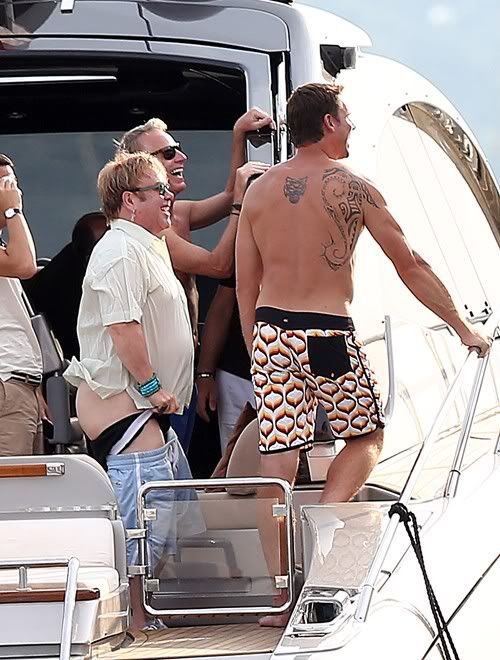 Fame Flynet
Elton John is on vacation in St Tropez and he decided to let Michael Caine know that he could tell everybody, this moon is for him. And you know what, I don't mind, that he put down his pants. The sun's been quite kind while his big bum was free, it's for people like you that keep it turned on. So today remember how wonderful life is while John's in the world
---
Elton John hospitalized with a serious respiratory infection
May 24th, 2012 under Elton John. [ Comments:

none

]

(photo from WireImage)


Elton John was hospitalized yesterday with a serious respiratory infection according to his website. He had been performing at the Las Vegas Coliseum, but had to cancel his last three shows because doctors said he couldn't sing for a week and needs to the time to heal. His next stop is Australia and there is no word yet if those shows will go on.
Hopefully he will get be standing again soon and stop singing those sad songs.
---
I thought that Elton John was a Queen?
February 3rd, 2012 under Elton John, Glee. [ Comments:

none

]

Pepsi has released their Super Bowl commercial that stars Elton John as a King who judges his commoners and the winners get a Pepsi can. In comes The X Factor winner Melanie Amaro and she blows everyone away. Once Elton goes to give her can of Pepsi, she does something to him that I am sure Madonna would love to if given the chance.
---
Elton John shows off his Tiny Dancer!
January 18th, 2011 under Elton John. [ Comments:

none

]

Elton John and David Furnish showed off their son Zachary to OK! and they talked about their Christmas miracle. He told the magazine he will find the love tonight of his dads and not their wallets because he said "I'm ready to have a child and lavish my love on our son and not spoil him materially." I am sure that is not going to be the case long because you know Zach's rattle is full of diamonds and they already made a crown for the Daddy and me classes…
---
Elton John has a Tiny Dancer of his own!
December 27th, 2010 under Elton John. [ Comments:

none

]

(photo from WireImage)


Elton John is no longer singing Sad Songs because his husband David Furnish and him are feeling the love tonight of their son. Can you believe that Elton John is someone's daddy? But he is because according to Us Weekly they became parents to Zachary Jackson Levon Furnish-John via surrogate on Christmas. The Tiny Dancer came into the world weighing weighed 7 pounds, 15 ounces.
I feel for David because now he has two screaming bald babies throwing tantrums everyday of his life. Let's see how long he will be standing? Seriously I can't believe the 62 year old singer is a father because he just doesn't seem the type. That and he is three years away from becoming a senior citizen. Who knows maybe having a baby will change his diva ways…
---
Elton John has the E Coli
November 1st, 2009 under Elton John. [ Comments:

1

]

(photo from WireImage)


Elton John has been postponing concerts for the last few days and today he announced on his website what has been ailing him.
Promoter Live Nation, The KeyArena and The Rose Garden were informed by management that Elton has been advised by his doctor to postpone these performances due to a serious case of e-coli bacterial infection and influenza.
At he doesn't have the Swine Flu, but E Coli is so much more serious. Hopefully he will get better soon because the world will be a quiet place without his tantrums.
---
Lily Allen vs Elton John
September 3rd, 2008 under Elton John, Lily Allen. [ Comments:

3

]

Last night Lily Allen and Elton John had it out while presenting at the GQ awards, and lots of sources were saying that there was a serious rift between the two during that presentation. But after watching it, you can tell it was all scripted. How lame.
On another note, Elton looked way out if it.
---