Did Elton John diss Kelly Osbourne?
February 29th, 2016 under Elton John, The Osbournes. [ Comments:

none

]

Elton John held his annual Oscars viewing party yesterday to raise money for the Elton John AIDS Foundation and somehow Kelly Osbourne was invited. The socialite finagled her way over to the legendary singer's table and said something to Sheryl Crow and him. I guess it wasn't something to crow about because he said they were left unimpressed. Ouch! But then again, I can't think of a time when she ever says anything impressive. Can you?
On a positive note about her, at least we no longer have to watch her on those E! Red Carpet shows.
---
James Corden recreates that Varsity Blues' sex scene with Zac Efron!
February 8th, 2016 under Elton John, James Corden, Zac Efron. [ Comments:

none

]

Yesterday, James Corden hosted a special Super Bowl episode of The Late Late Show and he recreated infamous scenes from several Sports films with Zac Efron, Anna Kendrick and Adam Divine. Together they did their take on memorable moments from the Rocky movies, Any Given Sunday, The Blindside, Rudy and Bring It On. But the best one is when it was time to do Varsity Blues! Which means we got to see the CBS late night host in a whipped cream bra. And some times what is seen, can't be unseen.
That wasn't the only special thing that Corden did on his show yesterday, he also did Carpool Karaoke with Sir Elton John. The sweetest moment is when John talked about how his kids changed his life for the better.
---
Was Elton John thinking don't let the chair go down on me as it did?
December 8th, 2014 under Elton John. [ Comments:

none

]

Elton John was attending The Statoil Masters game yesterday, and after talking to his players he went to sit down. As soon as he put his butt down on the chair, it fell over with him in it. The reporter couldn't hold back her laughter, but then had to get her composure back as she asked him if he was OK. The singer reworked I'm Still Standing to shake it off, but she just didn't get it. Oh well, at least he didn't make an a$$ of himself. Oh wait…
---
Don't let that moon go down on me!
August 14th, 2012 under Elton John. [ Comments:

none

]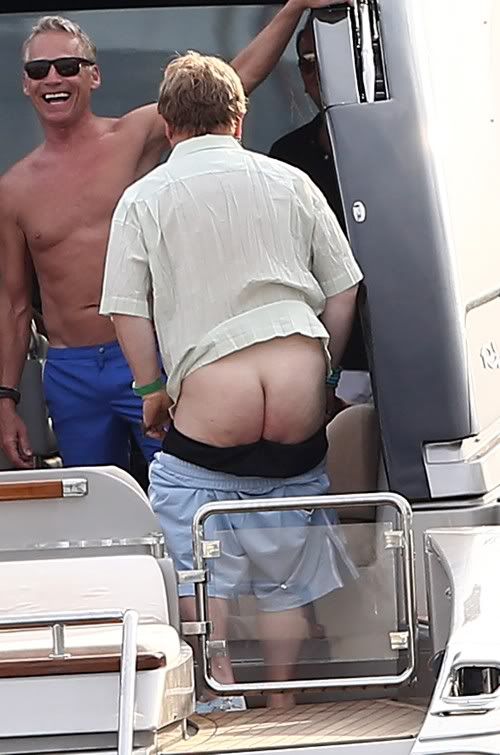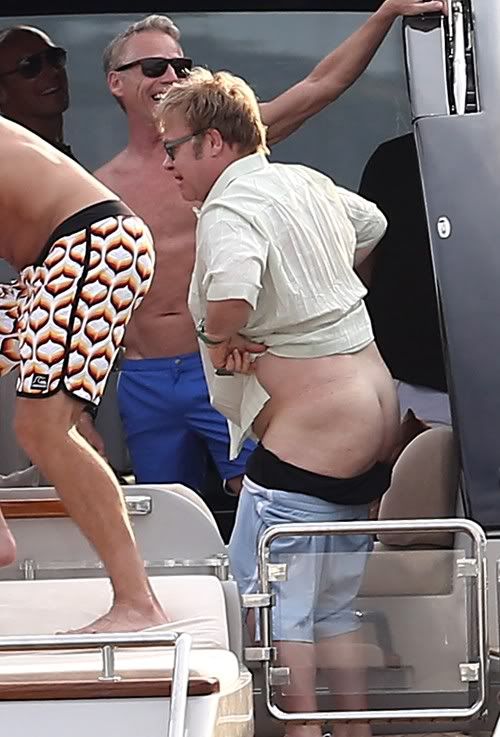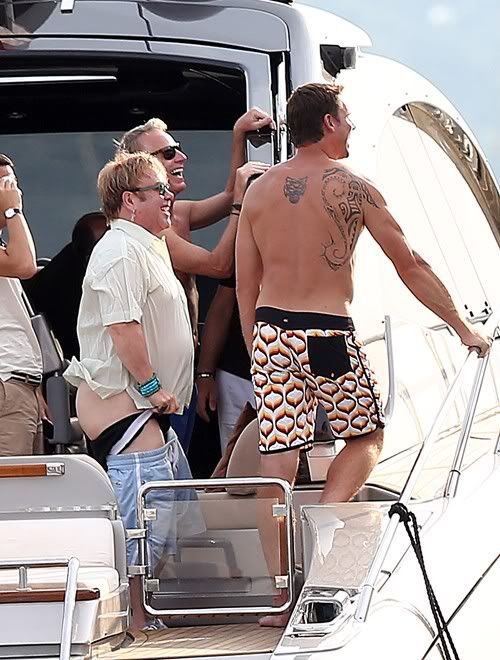 Fame Flynet
Elton John is on vacation in St Tropez and he decided to let Michael Caine know that he could tell everybody, this moon is for him. And you know what, I don't mind, that he put down his pants. The sun's been quite kind while his big bum was free, it's for people like you that keep it turned on. So today remember how wonderful life is while John's in the world
---
Elton John hospitalized with a serious respiratory infection
May 24th, 2012 under Elton John. [ Comments:

none

]

(photo from WireImage)


Elton John was hospitalized yesterday with a serious respiratory infection according to his website. He had been performing at the Las Vegas Coliseum, but had to cancel his last three shows because doctors said he couldn't sing for a week and needs to the time to heal. His next stop is Australia and there is no word yet if those shows will go on.
Hopefully he will get be standing again soon and stop singing those sad songs.
---