P!nk shows off her baby bumps!
November 22nd, 2010 under Pink. [ Comments:

none

]

WireImage
Last week P!nk confirmed that she is pregnant with her first child with her husband Carey Hart and yesterday she was showing her baby bump and pregnancy boobs at the AMAs! I love that she is totally embracing her pregnancy. You know she is going to have a rockin' baby. I bet the kid comes with a mohawk!
---
P!nk's baby announcement!
November 17th, 2010 under Pink. [ Comments:

none

]

(photo from Ellen)


I know we all know that P!nk is pregnant because the story broke last week and she confirmed it on Ellen today, so I am why I am posting her baby announcement? Well I thought what she Tweeted about the baby news was so cute that I had to share it with you!
ok tweethearts: here's my own personal official whatever…… Carey Hart knocked me up and i don't know how to tell my dad. what do i say?

maybe I'll ask him to watch @theellenshow today:) tee hee. no, we're very happy, and I can eat whatever I want. thanks for all the love:)

my daddy is very happy for us:) and my mom wishes me a daughter "just like me." yikes. thanks mom.

we haven't told Bubba yet. and no one better tell him! he is going to be DEVASTATED. poor little guy. (my smallest baby dog)

My wish for this pregnancy, besides a healthy happy baby, is for the paparazzi to LEAVE US ALONE and let me gain my weight in PEACE. #mywish
Thanks to Twitter, celebrities are finding new and interesting ways to break their own news and I love how the rock star is not be all So What about good news!
---
P!nk peed on a stick and a plus sign appeared?
November 10th, 2010 under Pink. [ Comments:

none

]

Get the Party Started because Us Weekly is reporting that P!nk and her husband Carey Hart are expecting their first child together. A source told the mag, "She's 12 weeks along," says the insider. "She wanted to do it between tours, when she has some time off." I guess we will Raise a Glass about the news because she will have to remain Sober for the next 6 months until the pink or blue baby makes their debut. Seriously if she has a boy she name it Blue, don't you think?
---
P!nk hospitalized after a concert stage accident
July 15th, 2010 under Pink. [ Comments:

none

]

(starts at :40 in)


P!nk was at the beginning of her nightly stunt during the song So What in Germany when something went horribly wrong. Even though the singer fell off the stage, she was able to get up and Tweet updates going to and from the hospital.
To all my nurnberg fans- I am so so so sorry to end the show that way.I am embarassed and very sorry. I'm in ambulance now but I will b fine

@PinkFacts didn't get clipped in2 harness correctly,drug me off stage, fell in2 barricade. Getting xrays.I hope it at least looked cool!!!

Ok all my lovers out there- nothings broken, no fluid in the lungs, just seriously sore. I made that barricade my b*tch!!!! Thanx nurnberg:(

Nooo!I WON!! RT @hartluck: Fyi@pink out of the hospital+ all good.Just got the shit kicked out of her by the barrier. Steel barrier-1 Pink-0
Wow that looked really scary, but thankfully she is OK. I wonder if the dancer who didn't strap her in correctly will be out of a job? Or better yet, P!nk fires that stunt from the show. Although as you can see in the below video, when it works it looks really cool!!!
---
Pink is…Pretty in Pink
February 4th, 2010 under Pink. [ Comments:

none

]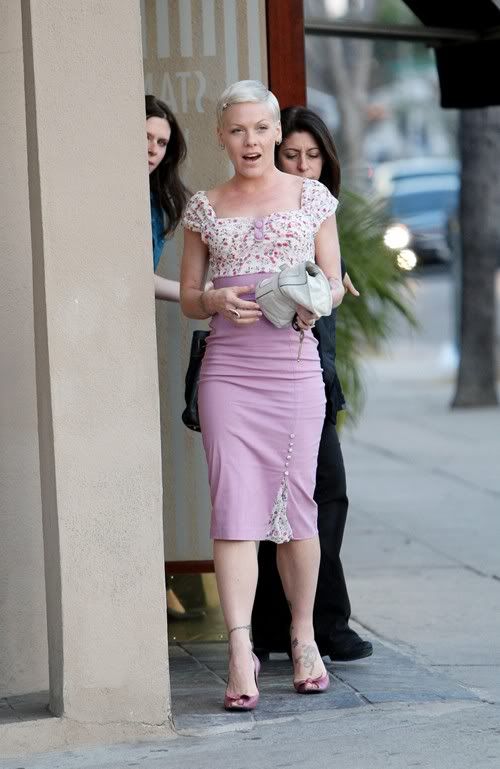 Pacific Coast News Online
Earlier in the week I posted pictures of Pink wearing basically nothing at the Grammys and said that her manly body scared me. Well now that we are seeing in her in a feminine shirt and skirt, I have to say she looks pretty…Pretty in Pink. I wonder how long she will keep up this girly look?
---