Is this how George Clooney gets women too?
December 14th, 2011 under George Clooney. [ Comments: none ]

George Clooney did an interview with Esquire and he told the magazine the sneaky way he won over a rescue dog to call him his own. The Oscar winner decided it has been a while since he had a pooch, so he went online and found a rescue dog called Einstein that he had to have. When he called the place, he asked when he could meet the dog with a smart name and the woman said, "Yes, we'll bring him to your house, but if he doesn't like you, he can't stay. We have to have good homes for these dogs." So when the time came for the two to meet, People's Sexiest Man Alive was nervous that someone would actually not like him. He then told the mag he did something tricky to win over the pup. He ran "into the kitchen, where I have these turkey meatballs, and I rub them all over my shoes." Well it worked because man's best friend "throws himself at my feet" and it was love at first sniff. The two are very much in love as seen in the picture above. I wonder if the dog chewed up all of Clooney's shoes to see if they also tasted like turkey meatballs?
After reading this story, I wondered what the eternal bachelor secretly uses to date women about half his age?
---
When did George Clooney get such bushy eyebrows?
December 7th, 2011 under George Clooney. [ Comments: none ]

I guess now that George Clooney is dating an older woman (as in she is in her 30′s), he doesn't care about his appearance as much and is letting his eyebrows grow out. Actually they are fake, it was something he did for The NY Times feature called Touch of Evil. But for a second how much fun was it to see what the Oscar winner will look like in a few year when age catches up to him? He will be perfect for Walter Matthau's part in Grumpier Old Men! He does look extremely grumpy in that picture. You know like those few hours when he is single in between dating women that are old enough to be his daughter.
---
The clock is ticking on George Clooney and Stacy Keibler's relationship?
November 21st, 2011 under George Clooney. [ Comments: none ]

(photo from Jonathan Ogden)


Stacy Keibler took to Twitter yesterday with a declaration that might cause problems to her relationship with George Clooney. The former-WWE Wrestler Tweeted, "You kno its love when your boyfriend has elbow surgery 2 days ago and takes u to a #ravens game…especially when he's a Bengals fan." Yikes she used the L word; and as it has seemed in his past relationships when they got too serious the wanna be single Oscar winner has ended them. So I wonder if they will make it to the New Year or maybe they will shock me and it really is love? Personally I think it was just sex because he has said he does like to wrestle with her and what is sex?
---
George Clooney had his first orgasm when he was in grade school!
November 9th, 2011 under George Clooney. [ Comments: none ]

George Clooney did an interview with Rolling Stone and what he revealed seems more like it was for Playboy instead. He talked about when he lost his virginity, his first orgasm, "Johnsons" and farts.
He told the magazine that he lost his cherry when he was 16, an age that he says was "young, very young, too young". Probably because if you think about his current girlfriend wasn't even born when he was practicing to make babies.
Now even though he says first time was too young, he actually shares that he had his first orgasm about a decade beforehand. He divulged, "I mean, nothing came out, but all the other elements were there. I remember getting to the top of the rope, hanging off the rope, and going, "Oh, my God, this feels great!" So if I ever meet him, I will make sure to wear ropes since I know it will bring back a fond memory and maybe I can help him remember his first time!!!
Now the interview wasn't only about orgasms and virginity, he also shared what always makes him giggle. He loves the word "Johnson" so much so that he said "Always. 'He showed her his Johnson and she left.' You can actually say that in mixed company or on late-night TV." He's also pretty fond of farts, especially when hanging out with his pals. "We think it's one of the funniest things in the history of mankind. Even the idea of a fart makes me laugh. Saying the word 'fart' makes me laugh. I have iFart on my phone. I have remote whoopee cushions. Farts. To me, there's nothing funnier."
Now that I know him better, I am not exactly sure it was for the better.
---
Elisabetta Canalis shouldn't have said "in the future I will be married"
June 22nd, 2011 under George Clooney. [ Comments: none ]

(photo from WireImage)


Recently Elisabetta Canalis told Chi magazine, "I am a firm believer in marriage, in the future I will be married, but for the time being I am happy as I am. I don't need anything to confirm how happy I am." Today George Clooney and her have made an announcement that is leaving the 32 year old unhappy. A rep for the couple that dated for two years told People, "We are not together anymore. It's very difficult and very personal, and we hope everyone can respect our privacy," No reason was given for the split, but who else besides me is thinking it is because she said she wants to be married some day and he has said he will never get married again.
Poor Elisabetta it was a good ride, while she was on him, I mean it.
Somewhere there is a cocktail waitress with aspirations of being famous that will soon find her prayers answered when George Clooney walks into the joint she works in.
---
And with one sentence I am over George Clooney…
February 23rd, 2011 under George Clooney. [ Comments: 1 ]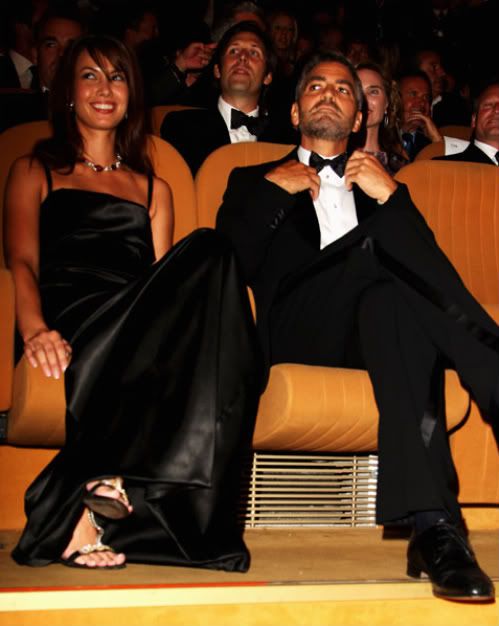 (photo from WireImage)


When George Clooney was on TV and doing horror movies, I liked him. When he jumped from the small screen to the big screen, I started to lose interest because I think his movies are unwatchable. But because of his looks, I remained loyal. That was until this interview he did with Newsweek and they asked him about what his political ambitions are.
"I didn't live my life in the right way for politics, you know," he said, sitting outside the Central Pub in Juba, scarfing down pizza. "I f–ked too many chicks and did too many drugs, and that's the truth." A smart campaigner, he believes, "would start from the beginning by saying, 'I did it all. I drank the bong water. Now let's talk about issues.' That's gonna be my campaign slogan: 'I drank the bong water.'?"
After reading how he described his many trysts as "I f*cked too many chicks," I have lost all respect for him. If he thinks that all the women he had sex with can be described like that, than I am done. I am not a feminist, but c'mon he is almost 50 years old (looking closer to 60), he should know better and have answered that question with a little more class. He acts like he is a classy guy, but that answer was not.
---
Sorority Life sees George Clooney as "The Older Guy"!
August 25th, 2010 under George Clooney. [ Comments: none ]

So I have two game addictions on Facebook, Mafia Wars and Sorority Life. A few months ago Sorority Life added boyfriends to game and they have looked like some famous celebrities and/or their characters. For example Hugh Jackman is Mickey the Muscle, Gregory the Geek based on Anthony Michael Hall's character from 16 Candles and Patrick the Pretty Guy based on Heath Ledger's Patrick Verona from 10 Things I Hate About You. Well yesterday they debuted Oscar the Older Guy and I think he looks a lot like Oscar winner George Clooney. The Playdom game described him as "There's a new silver fox in Sorority Life, Oscar the Older Guy! His added years haven't slowed down this guy's charm. Check him out today!" Major ouch, George Cloobney isn't even 50 years old and they are making him sound like he is a senior citizen. But I guess for with the average age of the players being half of his, 50 is their version of version of 65. Still I am sure even with his much younger girlfriend, this still has to hurt his ego a little…if he ever found out about it!
BTW sorry Doug Ross, you are not not worth 19 brownie points for me to spend on you.
---
Is George Clooney trying to be Angelina Jolie?
May 3rd, 2010 under George Clooney. [ Comments: none ]

The trailer for George Clooney's latest film The American is out and it doesn't look to be like all the other movies he has been doing recently. I couldn't help to think, is he was trying to be like Angelina Jolie and play a sexy assassin in a movie. Maybe if he takes an action role like her and doesn't do one of his critically acclaimed yet unwatchable films, he can take his bromance with Brad Pitt to the next level. Joking there is nothing going on between the former-People's Sexiest Men Alive, but could you imagine if there was? It would be more interesting than The American looks. I actually started to snooze off watching the trailer, so I made up a movie in my head instead and can tell by this post what that movie was about…
---
Anyone else feel cheated by George Clooney's ER return?
March 13th, 2009 under George Clooney, NBC. [ Comments: 7 ]





What was the point of bringing George Clooney aka Dr Doug Ross back on ER and not have him go back to the ER. And when he was doing the roll call of all the people he worked with, why didn't he mention Dr John Carter who would be getting the kidney he was trying to get for the transplant? I mean you would think he would have known that Dr Carter stayed the longest out of all the people he worked with? Maybe he wasn't a fan of Dr Carter's and we never knew?
Did anyone else feel cheated that Clooney was back in the house, but not in the hospital?
---
George Clooney wants to be adopted!
January 27th, 2009 under George Clooney. [ Comments: 2 ]
Last night George Clooney, 47 declared he has wanted to be adopted for a long time according to
People
!
"I always wanted to be adopted, but I couldn't find anyone," said the star, speaking at a Newseum event in Washington, D.C., with his father, former Ohio news anchor Nick Clooney, and veteran journalist Bill Small on either side of him.

"Will you adopt me?" George said to Small. "I'm very wealthy. I'll take care of you."
George I will adopt you, even though I am young enough to be your daughter!!!
---