Gwyneth Paltrow talks about her hairless vajayjay
May 12th, 2013 under Gwyneth Paltrow. [ Comments: none ]

(starts at 10:00 in)


So Gwyneth Paltrow was on The Kyle and Jackie O Show and the male host asked her bush. So then the Oscar winner told him the whole story. She said she no longer has the '70s vibe going because now she is like an 8 year old girl after wearing that see-thru dress to the premiere of Iron Man 3. She explained because she wasn't wearing any underwear that she had to shave because the hairs were poking through. And that is more than I ever wanted to know about her vajayjay, can she go back to her GOOPy talk instead? Because I don't know anyone who has an Iron Man enough of a stomach to hear that. So ewwwwwwwwww.
BTW I think before Gwyneth put on that dress, her vajayay looked like Kyle's beard! Yes I am so putting that image in your head because I am pure evil!
---
Gwyneth Paltrow works a '70s vibe' down there
April 26th, 2013 under Ellen DeGeneres, Gwyneth Paltrow. [ Comments: none ]

Gwyneth Paltrow wore a see thru-dress that was so revealing at the premiere of Iron Man on Wednesday that she couldn't wear any panties with it. So Ellen DeGeneres asked her about it and the daytime talk show host got more than she bargained for. The Shallow Hal star told her, "Well, let's just say everyone went scrambling for a razor. So I went from being the most beautiful to the most humiliated. In one day." Then Ellen needed to know more so Paltrow told her, "I work a 70's vibe. You know what I mean?" So so so didn't need to know that, did you? Personally I am surprised that she needed a razor because she comes off as so controlling about everything that you would think she would've lasered all off a long time ago. Right?
Seriously I wonder if she watches these interviews and sees how we see her? I think she comes off as a nasally b!tch in interviews.
Oh and here is a bonus for you. Ellen DeGeneres asked her to impersonate some singers and let's just say she whiter and more bland than Wonder Bread as she tries to do her best rap.
---
Gwyneth Paltrow shows off 22 year old stripper butt
April 25th, 2013 under Gwyneth Paltrow. [ Comments: none ]

Fame Flynet
Gwyneth Paltrow walked the red carpet in a sheer dress that showed off her a$$ that she brags about being as tight as a 22 year old stripper's. And here's the deal, she is not 22 any more and needs to cover up. I am not saying she doesn't have the body for that gown, I am just saying I don't want to see it. We get it you eat healthy and work out all the time, but doesn't mean you have to show it off whenever you can. Seriously that dress is made for the age of that stripper you talked about and not for a mother of 2 in her 40′s. In other words, cover up!
---
Gwyneth Paltrow slaps Robert Downey Jr for calling her what we all do!
April 22nd, 2013 under Gwyneth Paltrow, Robert Downey Jr.. [ Comments: 6 ]

(starts at 3:00 in)


Robert Downey Jr and Gwyneth Paltrow were doing press for Iron Man 3 and at one point Tony Stark called her snob. When he reached over for a kiss, she smacked his cheek. So the morale to the story is don't call her a snob to her face, just continue doing it behind her back like you've always been doing.
---
Gwyneth Paltrow looks happier than usual!
April 10th, 2013 under Gwyneth Paltrow. [ Comments: none ]

Fame Flynet
Gwyneth Paltrow was on Good Morning America and she appears to be so thrilled to be there. To me this picture captures her true essence as compared to when we see her with a smile. I think those smiley photos look as fake as I imagine her to be.
---
Gwyneth Paltrow brags about having the butt of a 22 year old stripper
April 6th, 2013 under Gwyneth Paltrow. [ Comments: 3 ]

(photo from Fame Flynet)


Gwyneth Paltrow was doing press and according to Us Weekly she boasted that her friend described her butt as "It's not so bad for a 22-year-old stripper!" I can see that. While most uptight people have a stick up their a$$es, she has a whole stripper pole up there. If that doesn't tighten you tushy muscles, I don't know what does?
---
The Three Amigos replace Chevy Chase?
February 27th, 2012 under Gwyneth Paltrow. [ Comments: none ]

Steve Martin Tweeted this photo of him with Three Amigos co-star Martin Short and someone that doesn't look like Chevy Chase. In fact the Community star is now looking a lot like Gwyneth Paltrow. I really hope they weren't discussing finally making a sequel to the 1986 movie with her replacing Fletch because then I would agree with what the Wild and Crazy Man who Tweeted "I hate my life" with the picture
---
Gwyneth Paltrow is "very into S&M"?
January 5th, 2012 under Gwyneth Paltrow. [ Comments: 1 ]

Gwyneth Paltrow is one of the guests on the special Out of Character with Krista Smith on USA the 11th at 11p and in it she reveals something we don't know about her. When she was asked what would surprise us about her, she responded with "Not sure…that I am very into S&M. Just kidding. I think I'm kinda what I seem. I probably do have a dirtier sense of humor than most people would think. It comes from my dad. It was fun to shock my mother." So if she is what she seems, then what we have all thought about her is dead on. When it comes to the S&M mention, there is always truth with joking so I guess we know what that means…
The GOOP lady isn't the only person on the show, Seth MacFarlane is also being interviewed on the special. When he was asked if his flagship show Family Guy ever went too far, he gave an example from early on. He said, "There have been jokes that I would have rather we not have done. The JFK Pez Dispenser [wound in his head] was something I would probably not do now." No, but now he will make fun of 9/11 and spousal abuse to name a few of the sickening jokes the show has made this season. It is almost like the Fox show is begging to be cancelled and for the first time I wouldn't fight their decision.
---
Chris Martin says Gwyneth Paltrow "has been a great beard"
October 25th, 2011 under Ellen DeGeneres, Gwyneth Paltrow. [ Comments: 1 ]

Coldplay will be making their debut on The Ellen DeGeneres Show this Thursday. And before they play Paradise and Every Teardrop Is A Waterfall from their new album Mylo Xyloto, Chris Martin will be talking about his wife Gwyneth Paltrow. What he says will get him some major Goop with the Mrs and let's just all their Play will be Cold between them for a while.
Here is what he told the host about his "wife":
Ellen: You don't talk about Gwyneth a lot?

Chris: No.

Ellen: But you have a great relationship and two precious kids. And we love Gwyneth. She's been here many times.

Chris: She's been a great beard for me now, for 10 years.

Ellen: Is that right? It's not really a real relationship? She just pretends that she's your wife.

Chris: Yeah, it's hard to believe. (Laughing)
They say truth comes from humor, do you think he is telling the truth or he is just trying to be funny? Either way for a second it is a fun to think he is telling the truth, but I am sure he is not…
---
What is the bulge in Gwyneth Paltrow's bikini bottom?
July 12th, 2011 under Gwyneth Paltrow. [ Comments: 3 ]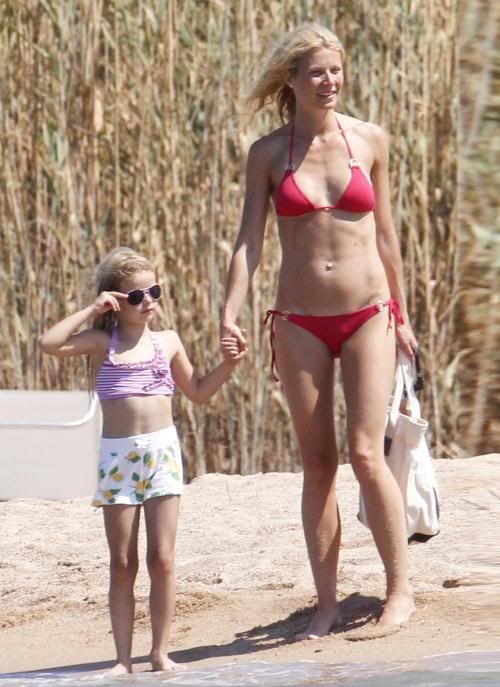 Fame Pictures
Gwyneth Paltrow spent the day at the beach with her kids and wore a little red bikini. Looking at the pictures of her showing off her body, all I could concentrate was on the bulge in her bikini. What is that bump? It almost makes it look like the female actress has a little pen!s. She doesn't, but it kind of looks that way.
---