BTWF roles: Vince Vaughn in A Question About Sex
December 26th, 2012 under Before They Were Famous, Vince Vaughn. [ Comments:

none

]

(starts at 1:20 in)


Before Vince Vaughn was playing Dodgeball, he was playing football in A Question About Sex. How sexy was the 19 year old in that 1990 movie.
---
Vince Vaughn is a cute dad!
December 26th, 2012 under Vince Vaughn. [ Comments:

none

]

Fame Flynet
When you think of Vince Vaughn, you don't think of him as being cute at anything. But seeing him doting over his 2 year old daughter Locklyn Kyla, he is exactly that. Who would have ever thought that he would be one of those type of dads, but he is! Nice to see married life has changed him for the better.
---
Vince Vaughn is a daddy
December 20th, 2010 under Vince Vaughn. [ Comments:

none

]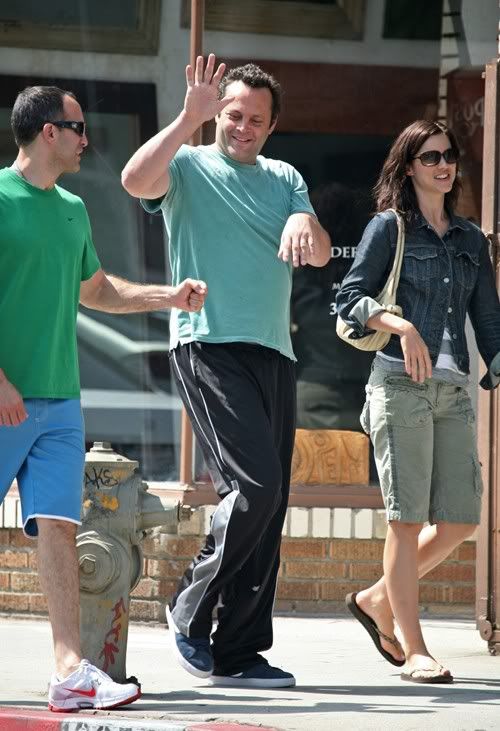 (photo from Bauer-Griffin)


I never thought I would be posting that Vince Vaughn is a happily married new father of a baby girl., but that is just what I am doing. On Saturday his wife Kyla Weber gave birth to their first child together. Locklyn Kyla Vaughn came into the world weighing in at 7 lbs. and measured 20 inches long in a Chicago hospital according to People.
BTW that loud sad roar you heard this morning was Jennifer Aniston when she heard the news.
---
Vince Vaughn downs a dog
February 28th, 2010 under Vince Vaughn. [ Comments:

2

]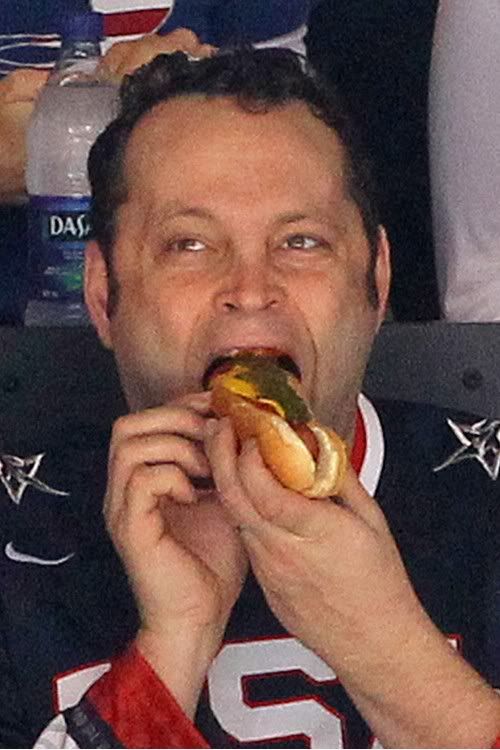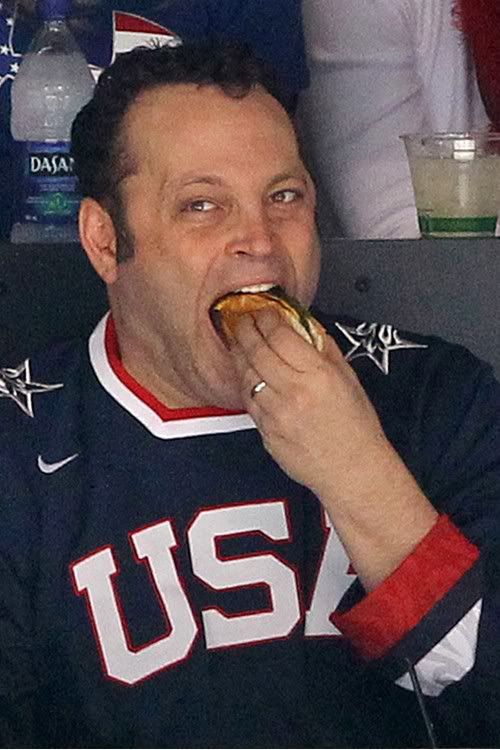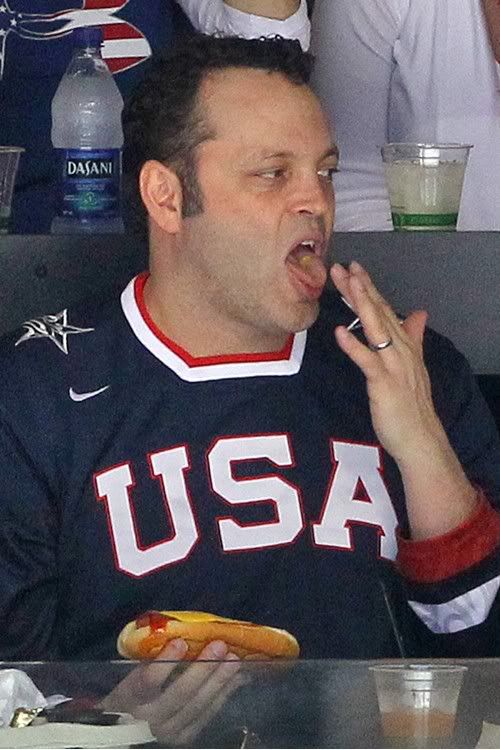 Pacific Coast News Online
Vince Vaughn and his friends watched the USA hockey team beat Switzerland and as you can see while they were playing in the semi-finals he was chowing down a hot dog. Dang I never thought that Vince Vaughn was that good looking, but after seeing him eat a hot dog like that I am finding him even less attractive. So gross.
---
Someone actually married Vince Vaughn
January 5th, 2010 under Vince Vaughn. [ Comments:

1

]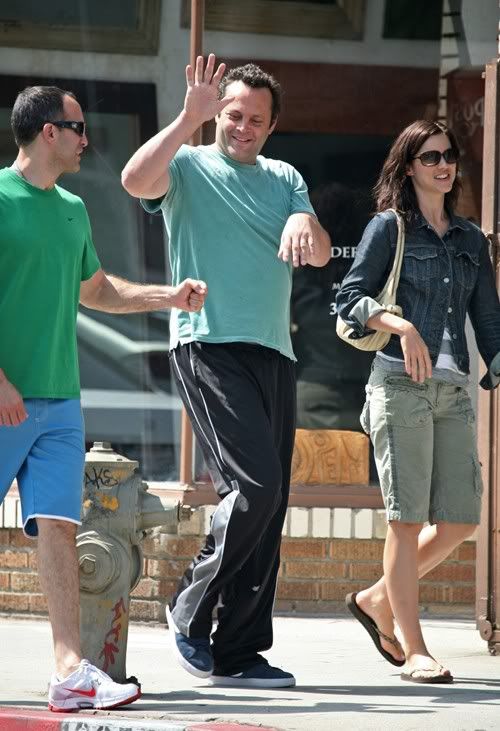 (photo from Bauer-Griffin Online)


Vince Vaughn got married on Saturday in Lake Forest according to Us Weekly. He walked down the aisle to Kyla Weber, a Canadian Real Estate Agent. The two were engaged on Valentine's Day.
Out of all the bachelors in Hollywood he is the one I expected least to get married, oh well guess I was wrong.
---
BTWF roles: Vince Vaughn on 21 Jump Street
October 28th, 2009 under Before They Were Famous, Vince Vaughn. [ Comments:

none

]

(starts at 1:15 in)


Before Vince Vaughn was a Wedding Crasher, he was just a student on 21 Jump Street. OMG! I can't believe I am going to say this but how doable was the 19 year old actor in that 1989 episode?
---
I guess there isn't going to be sequel for The Break Up with Jennifer Aniston and Vince Vaughn…unless real life counts.
December 5th, 2006 under Break-ups, Vince Vaughn. [ Comments:

none

]
After over a year together, Jennifer Aniston and Vince Vaughn have decided to part ways. "After Jennifer's trip to London several weeks ago, Jennifer and Vince mutually agreed to end their relationship, but continue to be good friends today," reps Stephen Huvane and John Pisani tell PEOPLE exclusively. The statement ends weeks of speculation that Aniston and Vaughn's relationship has been cooling off. Vaughn has been filming Fred Claus in London since late September, while Aniston has been busy working in Los Angeles and New York. Despite their distance, both had made efforts to ensure the relationship was still going strong. In October, Vaughn, 36, threatened to sue several tabloid newspapers that alleged he was seen kissing a mystery blonde and had ended his relationship with Aniston, 37. The actress also shot down rumors of a rift on Oct. 11 when she told Oprah Winfrey that the two were still together. Aniston visited Vaughn in London in late October after spending nearly a month apart. The two took in the London sights and caught a matinee showing of the musical Wicked. The actress returned to L.A. a few days later.
Who do you think she will be linked with first?
---
Vaughniston faking it?
October 21st, 2006 under Vince Vaughn. [ Comments:

none

]
Vince Vaughn and Jennifer Aniston continue to amaze with their bizarre relationship. Until recently, they've failed to acknowledge there even was a romance — despite dozens of pictures of them together and a near-drunk driving bust after boozy weekend partying. Then came news he can't take controlling Jen anymore and dumped her. This prompted the former Mrs. Brad Pitt to appear on Oprah (importantly denying she has breast implants) and claiming for the first time publicly to be dating Vince. He, meanwhile, sued three newspapers that alleged he was cheating on Jen while filming in England. Now, I'm told, for the sake of her tattered image, the pair will reunite to prove everybody wrong — then drift apart because their affair's definitely kaput.
I am not sure this guy is the most accurate, but would anyone be shocked if he got this one right?
---
Vaughniston "Break-Up" in time for their DVD release?
October 5th, 2006 under Vince Vaughn. [ Comments:

none

]
Talk about great timing! Just as Us Weekly and other mags are reporting that fun couple Jennifer Aniston and Vince Vaughn have really, truly broken up, the folks at NBC Universal Home Video have Fed-Exed scores of gimmicky gift boxes to hawk the DVD release of "The Break Up," the movie on which Vaughniston was born. The packages include a dozen fake lemons, one pink and one blue apron – "I want you to WANT to do the dishes," they say – and yellow rubber gloves. Who knew that Jen and Vince would make it all so unnecessary?
Sounds like a publicity stunt, no?
---
Victor Kirikas (Jennifer Aniston's dad) suffered a heart attack?
August 23rd, 2006 under TV Soaps, Vince Vaughn. [ Comments:

none

]
Life & Style magazine is reporting in their new issue that John Aniston, 73, who Days of Our Lives fans know as the cunning and ruthless Victor Kiriakis reportedly suffered a heart attack last Friday, August 18th. Aside from being on Days of Our Lives for a zillion years, Aniston is also known as the daddy to darling Jennifer Aniston. The magazine also says that when a distraught Jennifer heard the news about her father she reportedly rushed to West Hills Hospital + Medical Center in California and spent the weekend at his bedside. Vince Vaughn is said to have also been at the hospital giving Jennifer much love and support. Fans of John Aniston need not worry, word is that after a few scary hours, doctors said he is going to be just fine. Phew! Not surprisingly, Aniston's people had no comment on Life & Style's heart attack claims. Honestly, I am usually not a fan of Life & Style magazine as a source, so lets hope this is a story they got wrong.
I hope he gets better soon and they bring him back to Days.
---