Picture proof David Beckham is Prince Charming?
August 25th, 2015 under The Beckhams. [ Comments:

none

]

David Beckham is a real prince to his daughter Harper Seven. So much so that when he took her to one of the Disney parks, he posed with Frozen's Princesses Elsa and Anna because his 4 year old daughter wanted him to. Good thing she did because that is the cutest we've ever seen him look.
---
Are David Beckham and Kevin Hart auditioning for Twins?
July 6th, 2015 under Kevin Hart, Strange Encounters, The Beckhams. [ Comments:

none

]

For some reason Kevin Hart and David Beckham spent Saturday together. OK, that is weird enough, but it gets even stranger because the two of them wore not, but two outfits that looked exactly alike. Why? They wouldn't tell us, so we just have to assume. I am assuming that they are audition for the Twins remake that is not in the works. But then again Posh Spice might have reason to be jealous because they say couples who dress alike, stay together. So maybe they might have something to tell us?
---
Can David Beckham take a bad Selfie?
May 15th, 2015 under Jimmy Kimmel, The Beckhams. [ Comments:

none

]

We know that David Beckham is extremely good looking and I can't remember if we've ever seen him in a bad photo. So Jimmy Kimmel wanted to know if he could take a bad Selfie. At first, Golden Balls said no, but then he admitted he thought he could. The ABC late night host gave the football player his camera and instructed him to try. Did The Becks take a bad photo? He did, and its a face, I think, only his favorite spice could love. Hopefully, Cinnamon will still love him after this!
---
David Beckham gets prettified!
May 4th, 2015 under The Beckhams. [ Comments:

none

]

David Beckham and Posh Spice had three boys before Harper Seven, so he was able to avoid what happens when a little girl needs someone to make beautiful. He didn't know that dads are their daughter's best subject as my father begrudgingly found out. Now, that the toddler is 3 years old, she is making her model dad her model. We knew that he was handsome, now we know is pretty too! And a really sweet dad!
---
This is what Victoria Beckham wakes up to!
May 2nd, 2015 under The Beckhams. [ Comments:

1

]

David Beckham joined Instagram; and the first photo the birthday boy posted was that of himself in bed. To think that every morning Posh Spice opens up eyes and sees that, makes me so envious of her. It's like going from one dream to another one.
---
Not all men are created equal in underwear!
March 30th, 2015 under James Corden, The Beckhams. [ Comments:

3

]

David Beckham and James Corden have created a new line of underwear and they will debut the commercial for D & J Briefs on CBS's The Late Late Show at 12:35a. Thankfully, that shows air in the early hours in the morning because that ad is not safe for the daytime hours or the nighttime one. Who wants to see the soccer star's golden balls like that before they are in bed about to go into dreamland?
---
Is this Victoria Beckham's version of a MooMoo?
September 10th, 2013 under The Beckhams. [ Comments:

none

]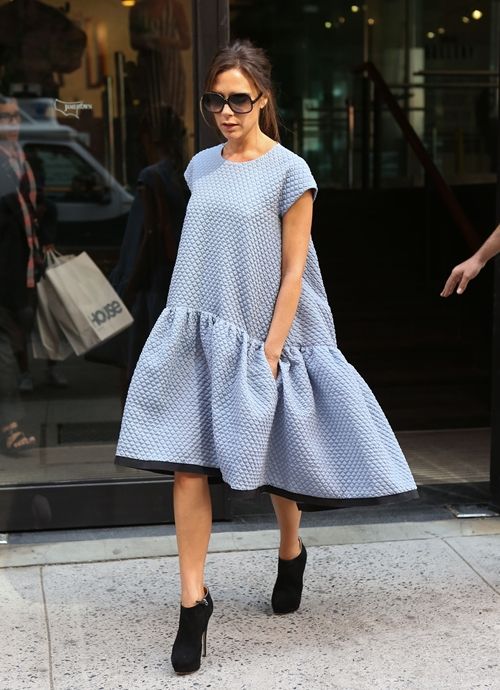 Fame Flynet
Victoria Beckham is almost always seen in tight body-hugging clothes, but yesterday she was seen in a dress that was so loose that all 5 of the Spice Girls could fit into together. So I have to wonder why she is suddenly wearing a dress that her whole family can fit into? Is this going to be her new look? I hope not because it reminds me of when Homer Simpson got really really fat and all he could wear was a MooMoo.
---
Did Victoria Beckham wear a slip to Wimbledon?
July 8th, 2013 under The Beckhams. [ Comments:

none

]

Fame Flynet
Victoria Beckham showed up to Wimbledon yesterday in a black dress that looked more like the slip that goes under one. Not that she looked bad, she just looked a little under dressed for the tennis match.
---
Harper Beckham scores on the Kiss-Cam!
May 29th, 2013 under The Beckhams. [ Comments:

none

]

David Beckham took his little girl Harper to the LA Kings game and the two of them were caught by the Kiss-Cam. Before the camera found them the 22 month old was dancing on her father's lap, but after they were caught she got to admire herself on the big screen as her loving daddy gave her a big kiss. Seriously can the apple of her father's eyes be any cuter? She is definitely going to follow in her parents' footsteps and become a big star.
BTW I am not telling you where their kiss is because there were some really fun kisses caught before and after the Beckhams' one.
---
Is that Victoria Beckham's exposed belly?
May 22nd, 2013 under The Beckhams. [ Comments:

none

]

Victoria Beckham normally lives up to her Spice Girls name by being really Posh. As in she rarely shows off the skin between her neck and butt. But today she Tweeted a picture of herself getting ready for a photoshoot with an open top that revealed her old lady bra and flat stomach. So is that her way of spicing things up in her marriage now that her husband is retired or just a slip up without a slip? I am thinking the latter. Or maybe she is trying to remain relevant and doing a revealing selfie like all those younger socialites, singers and actresses so desperate for attention.
---